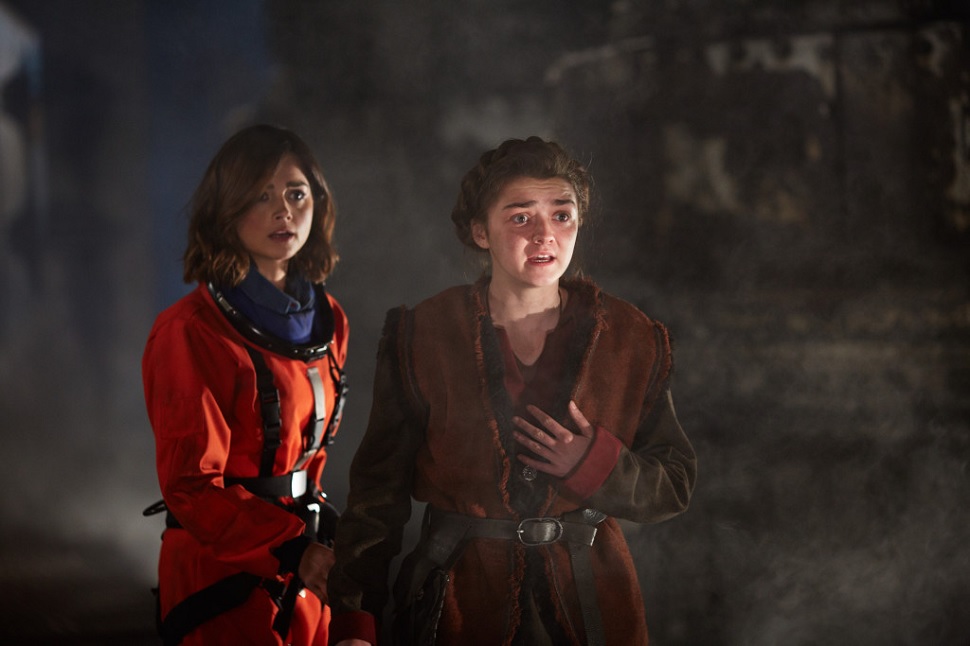 A girl has no spacesuit
It's October 17th, 2015. Justin Bieber is still at number one, with The Weeknd and Jamie Lawson newly entering the charts. In news, Home Office figures are released showing that hate crimes in England and Wales have risen by 18% in a year, and the first primary debate for the 2016 Democratic Party nomination is held in Las Vegas, over the course of which Donald Trump gained more Twitter followers from live-tweeting events than any of the actual candidates.
On television, meanwhile, it's the return of Jamie Mathieson and the debut of Maisie Williams's Ashildr/Me. Let's start with the latter, as it's Series Nine's big piece of celebrity stunt casting, and one the show seeks greater mileage out of than, say, Keeley Hawes or David Suchet's appearances. Part of this is that Maisie Williams is coming to Doctor Who from a currently-airing hit show. But Game of Thrones is not the cultural juggernaut in the UK that it is in the US; its all-time high ratings were 3.5m for the Season Seven finale, which is more than a million lower than Doctor Who's worst-ever episode, and more to the point came two ...
Posted by: Jack Graham 5 months, 3 weeks ago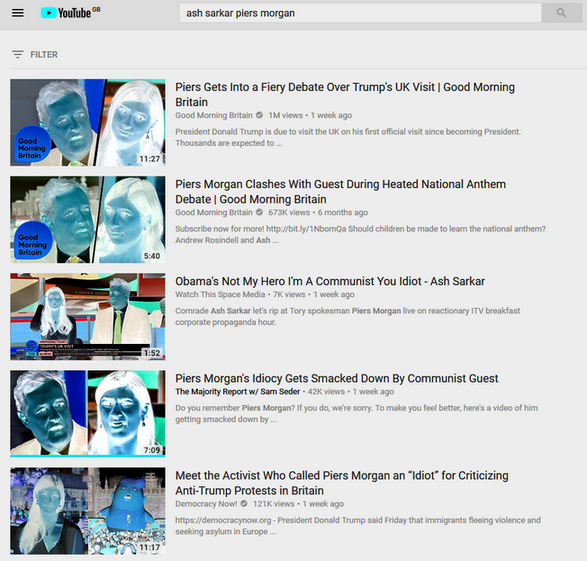 "I'm a communist you idiot!" declared Ash Sarkar on Good Morning Britain, in response to the heckling and strawmanning of Piers Morgan. (Video here.) She's subsequently been all over the media. Morgan has accidentally made this into her 'moment'. As she herself humourously overstates, he's even accidentally rehabilitated communism. Turns out, if it's communism or Piers Morgan, the British people seem more likely to give communism a try.
Sarkar, senior editor at Novara Media, was being interviewed as a representative of the anti-Trump protestors descending on London (despite Trump's well-advised absence from that city). As it happens, I suspect very few of the 100,000-250,000 who assembled were communists - despite the Daily Mail's characterisation of the protest as consisting of what they rather confusingly called a "rent-a-leftie mob".
(I'm wondering if there's any money in lefty-rental. Can I hire myself out? And who does the renting? George Soros? The Mail seems to imply it's Corbyn... but isn't he one himself? Shouldn't he be on the books rather than keeping them? Could I start my own franchise ...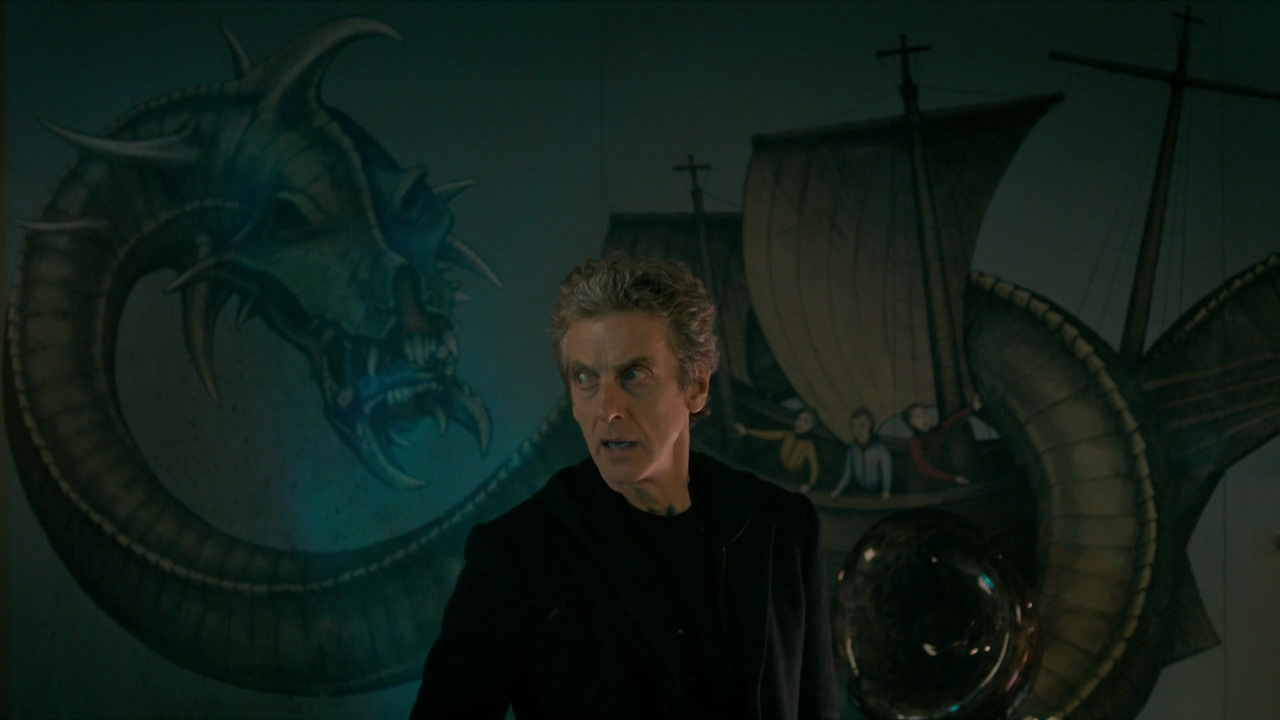 For once I don't have a joke about this, it's just a screenshot that adds further support to one of my points.
It's October 3rd, 2015. Sam Smith has debuted at number one with "Writing's On the Wall," while the rest of the top ten is basically the same as last week. Justin Bieber takes the number one slot back a week later, when Philip George & Anton Powers and Drake also enter the charts, the latter with "Hotline Bling." In news, NASA announces that there's liquid water on Mars, which can't mean anything bad at all, the US accidentally bombs a Médecins Sans Frontières hospital in Afghanistan, and a mass shooter at Umpqua Community College in Oregon kills ten after apparently warning posters on 4chan to stay home from school.
On television, meanwhile… *sigh*. Ultimately, every story about a hot streak ends the same way. No matter how imperiously brilliant, no matter how ambitious, eventually it all falls apart. The story of how it happened this time is simple enough: Moffat had to go make The Abominable Bride, and so needed two episodes of Doctor Who by someone he wasn't going to extensively ...
Posted by: Jack Graham 6 months ago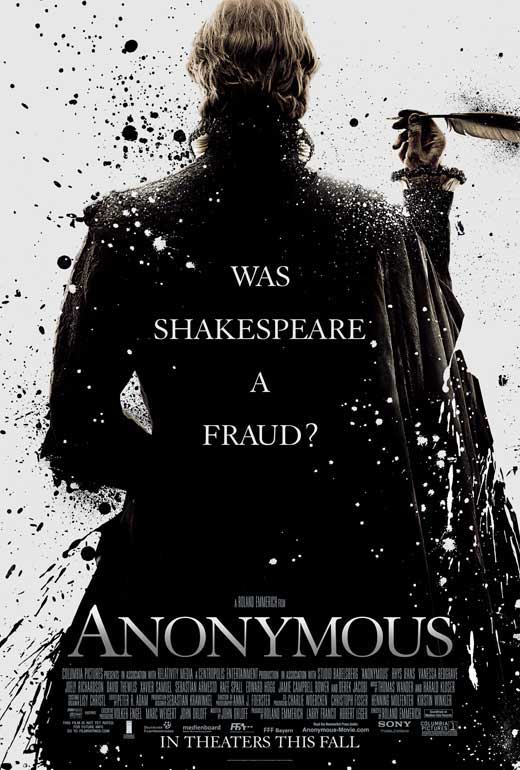 This time, Jack indulges his unhealthy obsession with Anti-Stratfordianism, and forces James, Kit, and Daniel to watch Roland Emmerich's 2011 self-funded passion-project Anonymous.
Anonymous; 2011; d. Roland Emmerich; w. John Orloff; starring Rhys Ifans, Vanessa Redgrave, Joely Richardson, David Thewlis, Rafe Spall, Jamie Campbell Bower, Mark Rylance, and Derek Jacobi; distributed by Columbia Pictures.

It lost about 15 million dollars.

Based on the wackiest version of the longstanding conspiracy theory that the plays of Shakespeare were secretly written by Edward de Vere, 17th Earl of Oxford, Anonymous is both less entertaining and less plausible than the rest of Emmerich's films, including the ones about aliens and giant lizards.

It was 'controversial' at the time, in the sense that everyone who knew anything about Shakespeare both ridiculed and denounced it, especially its attempts to market itself via 'information packs' provided to schools.

In the process of telling his dreary, plotless, and confusing shaggy dog story, Emmerich encourages some of the finest Shakespearean actors of our time to make utter fools of themselves. Not that some of them need all that much encouragement. The whole thing manages to be simultaneously totally insane, quasi-fascistic, and profoundly dull... which is ...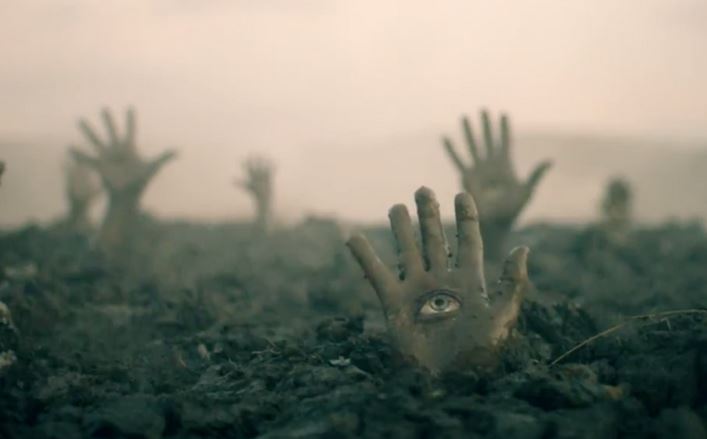 The hand mines were understandably agrieved that nobody had ever asked if they wanted chairs.
It's September 19th, 2015. Justin Bieber is at number one with "What Do You Mean," while Sigala, the Weeknd, Ellie Goulding, Calvin Harris and Disciples, and Rachel Platten also chart. In news since the whole Dream Crab infestation got cleared up, gunmen killed twelve in the Paris offices of Charlie Hebdo, a Saudi Arabia-led coalition intervened in the civil war in Yemen, FIFA was rocked by a corruption scandal when US officials arrested a host of officials leading to the farcical scene of Sepp Blatter handily winning reelection as FIFA President and then stepping down a week later, the newly elected leftist government of Greece held a referendum on whether to defy the European Union on debt repayment and then immediately ignored the result. In the week before the story aired Malcolm Turnbull replaced Tony Abbott as leader of the Liberal Party and Prime Minister in Australia, Jeremy Corbyn was elected leader of the Labour Party, and it emerged that Volkswagen had been cheating on emissions tests, while over the week it aired John Boehner announced his resignation as Speaker of the House ...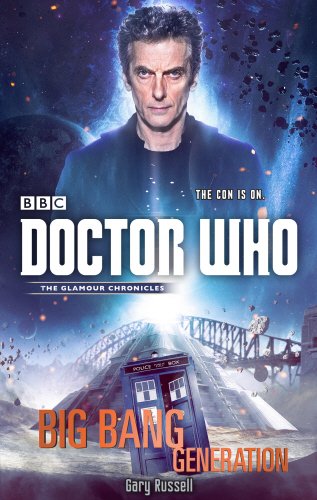 Books like this always pose something of a problem for the project. On the one hand, a book like this, in which Peter Capaldi's Doctor goes on an adventure with Bernice Summerfield, is irresistible to a project like this. Once I discovered it existed there was literally never a point where I considered not covering it. The new series intersecting with the Wilderness Years at the point where it's about to come as close to niche interest as it has been allowed to. The possibilities are vast. Except, of course, for the other hand, which is that it's by Gary Russell. I ranted a bit in the Blood Cell entry about the inexplicable failure of spinoff media to move beyond the same handful of names who have been around since the Wilderness Years, many of them firmly among the B-list of that era. But Gary Russell takes this to another level, or rather several of them. For one thing, he's been around far longer than the Wilderness Years, having been a prominent figure in Doctor Who at least since his 1984 Doctor Who Magazine review that described Warriors of the Deep as, and I quote, "a flawless story." While this ...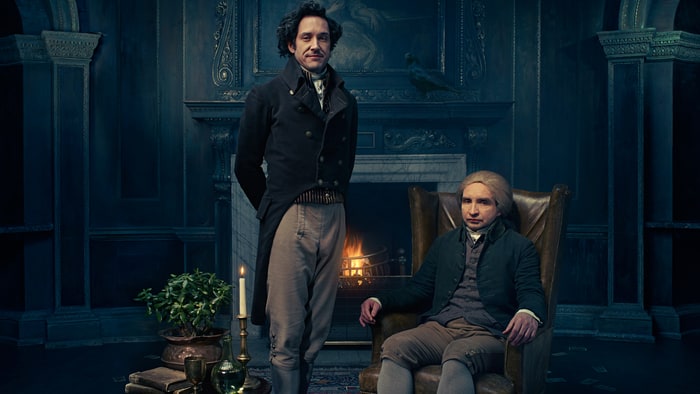 I'm not going to faff about pretending the justification for this involves Peter Harness's chances of someday showrunning Doctor Who. I mean, I'd obviously love if that happened, but I don't expect it (or think that we're in a place to talk about who should succeed Chibnall yet anyway). No, the reason I'm picking this as our stopover reality between Last Christmas and the start of Series Nine is more idiosyncratic: having declared Harness's debut the best Doctor Who story ever, I feel obliged to keep a bit of track of his work.
Anyway, this provides an interesting counterpoint to The Game. Like that series, it is an attempted breakout series that didn't quite work out. It was announced at about the same time as The Game, and went into production two months later. And like The Game, it lingered around not being released for a curiously long time. Its fate wasn't quite ignominious—instead of getting pre-empted by BBC America and then demoted to BBC Two, it stayed on BBC One but got burned off over the summer—but it was still visibly allowed to fail. To some extent, the same reason applies for both series, which is that they ...
Posted by: Josh Marsfelder 6 months, 4 weeks ago
I was away travelling during E3 week this year and thus was only able to follow it secondhand. I'm busy processing my trip (and frankly wishing I was still on it) and getting over yet another horrific summer cold, but here are a few thoughts on the stuff that jumped out at me from what I caught of this year's expo. As usual, I'm focusing on Bethesda and Nintendo as I'm no longer passionate enough about the industry on the whole to expend the time, space and effort it would take to follow all the other companies.
It was a somewhat quiet year for Bethesda and Nintendo, with not a lot of new announcements and much spotlighting of games that had been announced prior to E3, *leaked* prior to E3 or that had been open secrets that were all but confirmed already. Which is fine by me frankly: After a massively successful launch and a year of doing nothing by skyrocketing in popularity, the Switch has made it a *very* expensive few months for me (at last count the system has *over 700 games* already! I don't own all of them, but enough that ...