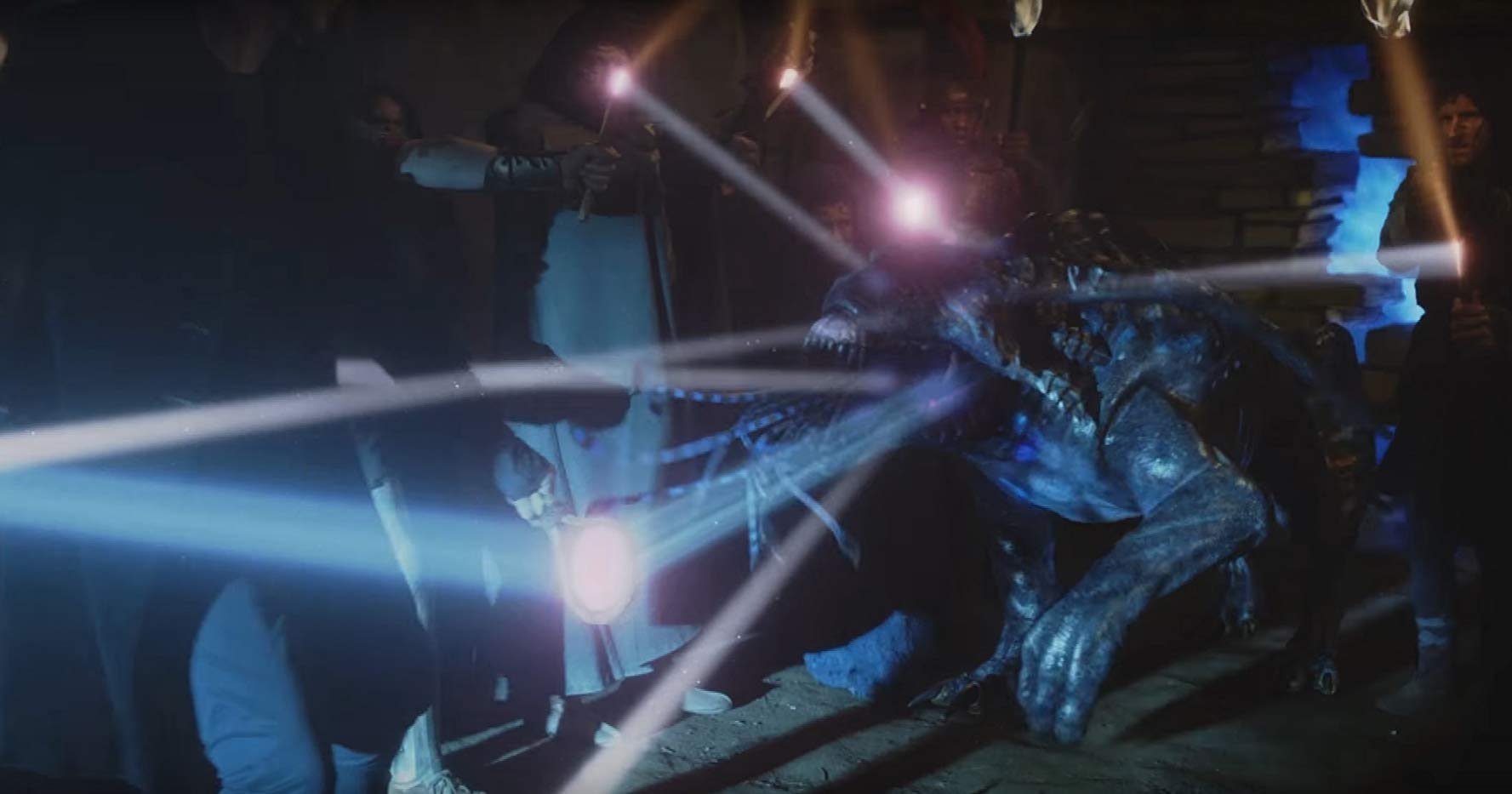 Finally, he lives up to the name Doctor Disco.
It's June 17th, 2017. Despacito continues its endless dominion over the charts, while Charlie Puth, Ariana Grande, Liam Payne, and David Guetta also chart, the latter featuring Justin Bieber, which means that he has three songs in the top ten without being the primary artist on any of them. Ed Sheeran has zero. In news, Otto Warmbier is returned home after over a year in a North Korean prison, with North Korea releasing him largely so he wouldn't actually die in their custody. Tim Farron resigns as leader of the Liberal Democrats. Republican Congressman Steve Scalise is wounded by gunfire during practice for a Congressional baseball game. And, most significantly, the Grenfell Tower block erupts in flames when a malfunctioning refrigerator started an electrical fire that ignited the exterior aluminum cladding selected for its low cost. Seventy-two people are killed. Numerous buildings across the UK are still using similar cladding, and in many of the buildings that have had their cladding replaced the costs have been passed on to the residents, who often cannot afford them.
Meanwhile, on television, Doctor Who offers one of its most remarkable episodes in The Eaters ...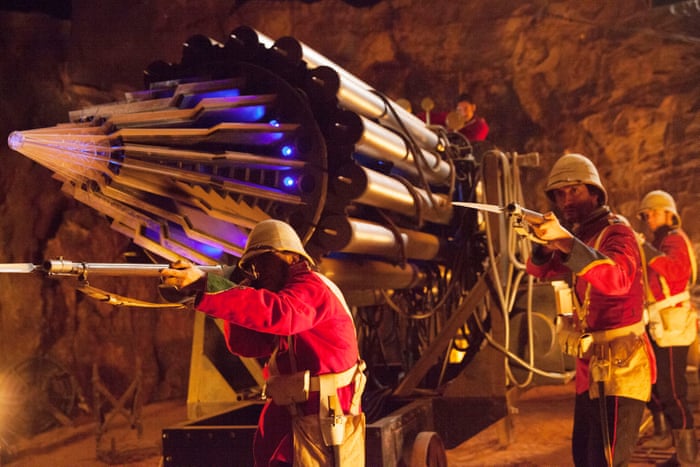 With Alpha Centauri only appearing on a screen, the "looking like a giant penis" needs of this episode had to be filled elsewhere.
It's June 10th, 2017. Despacito? Despacito. Ariana Grande makes it up to number two, while Niall Horan, French Montana, and Ed Sheeran also chart, with the latter having his last week in the top ten following the great Sheeraning. In news, Montenegro joins NATO, a Saudi Arabian-led blockade of Qatar begins, and James Comey testifies before the Senate Intelligence Committee. But the big news is the general election, which ends with a hung parliament after unexpectedly large gains for Jeremy Corbyn's Labour Party, resulting in Theresa May forming a confidence and supply agreement with the Northern Irish Democratic Unionist Party that gives her an incredibly narrow majority that would require near unanimous support from within her own party for any major legislation such as, say, a Brexit agreement.
Speaking of Brexit, on television we have Empress of Mars. This is a story that, by all rights, should be easy to dislike. It's Gatiss doing pure and unadulterated fanwank, without any of the wider concerns that allowed things like The Stolen Earth/Journey's End or Hell ...
Magician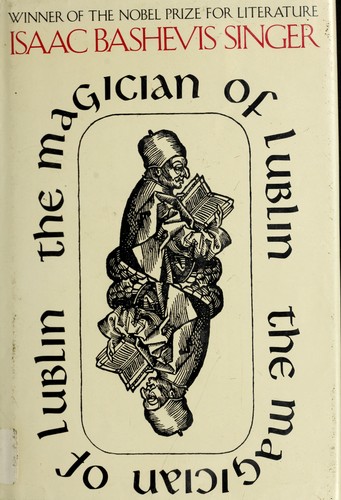 A good landmark of an artist's prestige is when they start doing music for films. A new star will show up on the scene and filmmakers will take advantage of their star power to grab a young, hip audience for their movies. There was a period a few years ago where young bands like Florence + the Machine and Paramore gained traction by recording songs for the Twilight Saga. Of course the inverse is also true, as long-established stars are also likely to help a film earn more press. The UK's bestselling single of 1979, Art Garfunkel's "Bright Eyes," is inextricable from its haunting appearance in Watership Down. Just as a song can mark a film, a film can mark a song.
Of course, this is in no way an assurance of a song or movie's quality. A song and a movie can both be deservedly forgotten. Such is the case with "Magician," which, while a footnote in Kate Bush's wider career, still marks the beginning of a trend for her.
"The Magician," or "Magician" as it's usually called, was written by lyricist Paul Webster and composer Maurice Jarre for the virtually unseen film The Magician of ...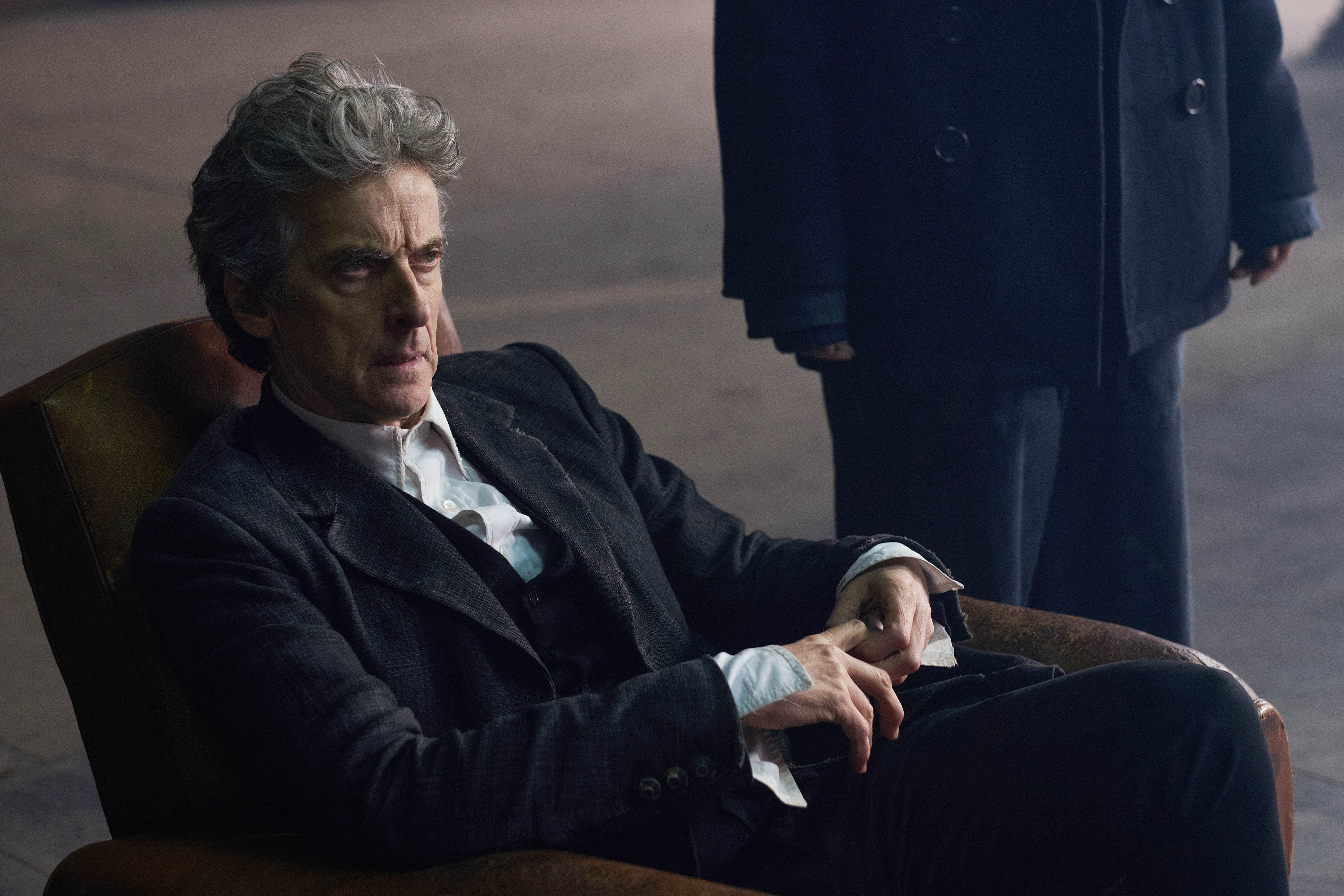 This is not actually a screenshot of the episode, but a candid photograph of Peter Capaldi shortly after recieving the script.
It's June 3rd, 2017. "Despacito" isn't going anywhere, but Captain Ska and Jonas Blue are newly in the top ten, while Ed Sheeran, DJ Khaled, and Clean Bandit continue their runs. In news, the US government announces its intention to withdraw from the Paris Climate Agreement, and Arsenal eats Chelsea to win the FA Cup. While on the day this episode airs, Reality Winner is arrested for leaking information about Russian interference in the 2016 Presidential election to journalists, and a few hours after it airs, a terrorist attack on London Bridge kills eight people.
On television, meanwhile, we have The Lie of the Land. This is a story that fits smoothly into an important tradition of Doctor Who stories, along with things like The Celestial Toymaker, The Dominators, The Monster of Peladon, Warriors of the Deep, Planet of the Dead, or Nightmare in Silver. Which is to say, fundamentally lazy fuckups at the tail end of otherwise good eras. There are a number of ways to get to this sort of story—Nightmare in Silver, in particular ...
Posted by: Christine Kelley 3 months, 2 weeks ago
Wow (album version)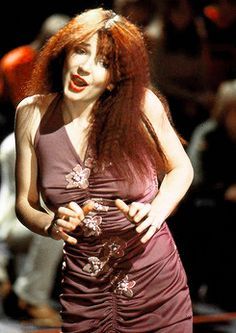 Video 1 (Keith Macmillan)
Video 2 (The Whole Story)
San Remo
ABBA
French TV
Tour of Life
It begins with the sound of an orchestra warming up, strings humming in anticipation of an incoming trobairitz. Then, a four-note synth loop, which is played for nearly the entire first minute of the song, when it gives way to the song's rhythm section. Twenty-nine seconds in, the wail of a processed guitar ushers in the vocal of Kate Bush, who delivers the opening line. "We're all alone on the stage tonight," she sings with equal trepidation and excitement. "We've been told we're not afraid of you." With that, the audience is hoisted onto the stage, and "Wow" commences.
The similarities between "Wow" and "Wuthering Heights" are largely structural. Both songs have arpeggiated hooks ("Wow" opens with the notes of a C major chord), followed by tense, melodically wrought verses, before breaking into the song's triumphant chorus. "Wow" is shorter, its album version capping off at four minutes, compared to the four-and-a-half minutes of "Wuthering Heights," with its intro which is built into the verse, keeping the song moving after its chorus. The chorus and ...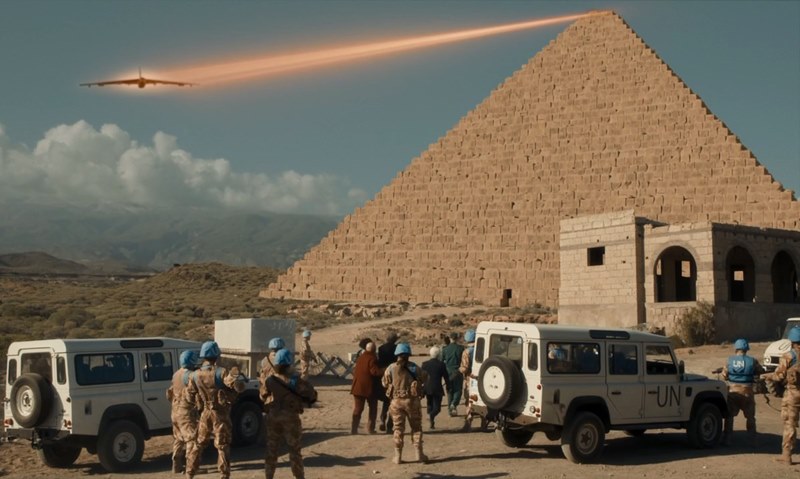 More likely than not, aliens invented airplanes.
It's May 27th, 2017. Luis Fonsi, Daddy Yankee, and Justin Bieber remain at number one with "Despacito," while Liam Payne, Charlie Puth, Harry Styles, and DJ Khaled also chart. Narrowly missing the top ten is Ariana Grande's "One Last Time," which re-enters the charts more than two years after its last appearance. This provides us a grim transition to the news, where a terrorist attack at the Manchester Arena kills twenty-two people during one of her concerts. Ringling Bros. and Barnum & Bailey stage their final circus show, while on the day of this story six out of seven leaders at the G7 summit reaffirm their commitment to the Paris climate accord. No points for guessing who the odd man out is.
Meanwhile, on television, we have The Pyramid at the End of the World. The Pyramid at the End of the Worldmay or may not have the messiest gestation of any Moffat era story. Certainly it has the messiest one to play out in public. Announcement of Harness's involvement was left extremely late, and when it came he was laden with the season's only cowriting credit. The story of ...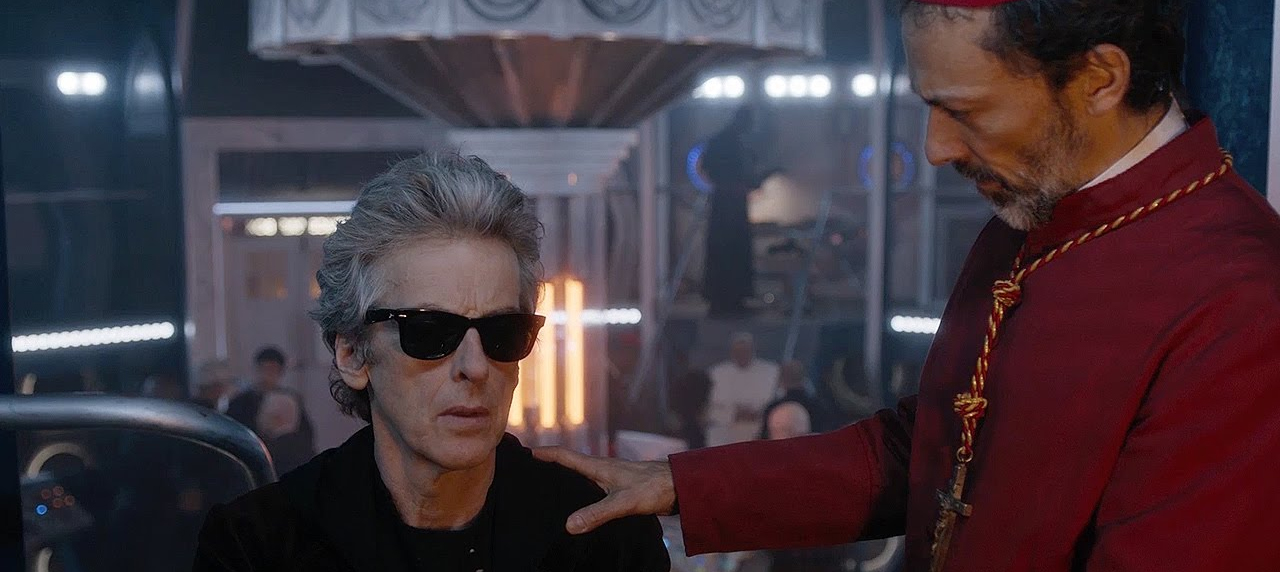 Don't worry, Doctor, I'm sure the Chibnall era will be fine
It's May 20th, 2017. Luis Fonsi, Daddy Yankee, and Justin Bieber remain at number one with "Despacito." J Hus, Ed Sheeran, Shawn Mendes, Clean Bandit, and French Montana also chart, the latter presumably introducing enough consumer confusion to explain Miley Cyrus being stuck at #11. In news, Chelsea Manning is released from prison. It emerges just how bad Trump's firing of James Comey was, resulting in the appointment of former FBI director Robert Mueller as a special counsel to investigate Russia's interference in the election. Trump makes his first foreign visit as President, to Saudi Arabia, leading to that low key amazing supervillain photo of Trump, the king of Saudi Arabia, and Egyptian President Abdel Fattah el-Sisi all touching that glowing white globe.
On television, meanwhile, Extremis. Let's set aside, for a moment, the monks arc as a whole; there's time enough to talk about what could have been, what was, and how that happened. Contrary to the greatest moment of Jack's podcasting career, Extremis is too interesting for that. That said, the monk arc hangs over it in that there is no way to ...
Posted by: Christine Kelley 3 months, 4 weeks ago
Coffee Homeground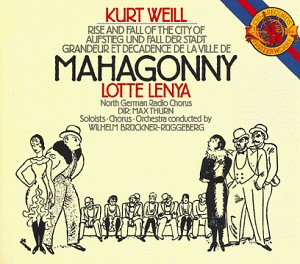 Tour of Life
"Coffee Homeground" comes at the tail end of Lionheart, when the album's slower and quieter tracks have all trailed off. As the album's penultimate track, it provides Lionheart with a relatively bombastic and staunchly theatrical climax. For all that Lionheart explores stagefright and theatrics in depth, it's a much quieter album than that description might suggest. There are few especially up-tempo songs on it, and Bush's piano guides her backing musicians through her songs. "Coffee Homeground" almost sounds out of place on the same album which has "Oh England My Lionheart" and "In the Warm Room," with Bush's camp attempt at a German accent and Kurt Weillian orchestral scoring. It's by the grace of Lionheart's strong thread of camp that "Coffee Homeground" is allowed to work, exploding into full blown theatrics at the end of an album which previously treated them as something more to be discussed than outright embraced.
As we've discussed at length in this blog, Kate Bush is a consistent purveyor of camp. Her mime training, her focus on character in her songwriting, and a constant awareness of form are camp attributes of her songs thus far. When we get ...