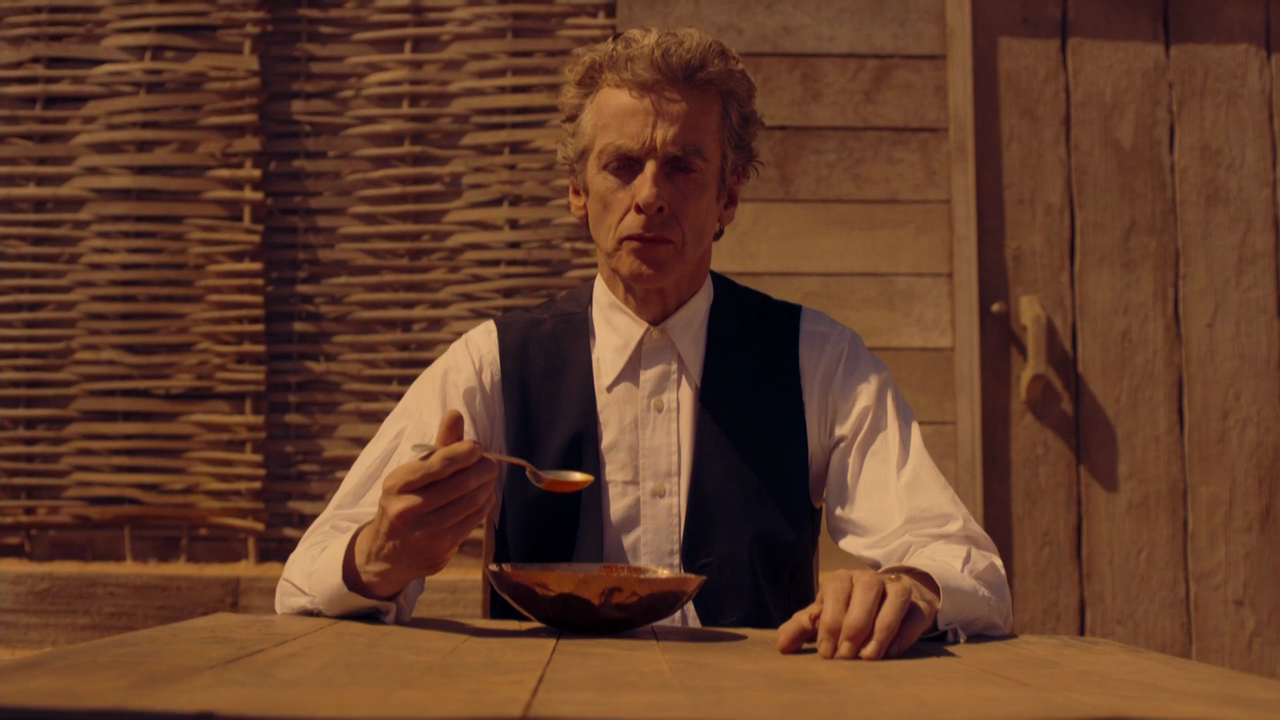 For the second episode running, the Doctor struggles to eat soup.
It's December 5th, 2015. Justin Bieber still has three songs in the top ten, with "Love Yourself" at number one. Wstrn, the Weeknd, and Grace featuring G-Eazy also chart, with Adele still in there too. In news, the United Nations Climate Change Conference convenes in Paris, beginning the process of the Paris accords. A terrorist attack in San Bernandino, California kills fourteen, while the UK begins air strikes in Syria following a parliamentary vote to authorize them.
On television, meanwhile, Moffat's masterpiece. This is, I imagine, a rather more controversial claim than last week. Sure, Hell Bent had a 2% higher AI rating than Heaven Sent, which means that it's objectively as good as Kill the Moon and Aliens of London, but I don't actually think that joke needs a punchline. The consensus here is clear: Heaven Sent is a brilliant and emotional triumph, while Hell Bent is a hot mess. To an extent I can't even argue with this. Hell Bent is unequivocally messy, and it has Jenna Coleman in that blue-grey sweater. But many of my favorite Doctor Who stories are messy. Heck, possibly all of ...
Posted by: Jack Graham 5 days, 21 hours ago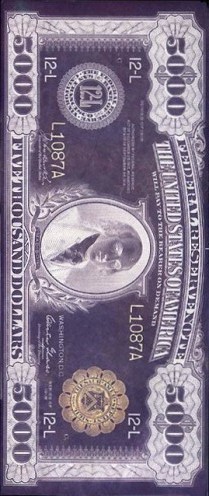 In an article entitled 'Democracy Isn't Freedom', Ron Paul wrote:
Americans have been conditioned to accept the word "democracy" as a synonym for freedom, and thus to believe that democracy is unquestionably good.

The problem is that democracy is not freedom. Democracy is simply majoritarianism, which is inherently incompatible with real freedom. Our founding fathers clearly understood this, as evidenced not only by our republican constitutional system, but also by their writings in the Federalist Papers and elsewhere. James Madison cautioned that under a democratic government, "There is nothing to check the inducement to sacrifice the weaker party or the obnoxious individual." John Adams argued that democracies merely grant revocable rights to citizens depending on the whims of the masses, while a republic exists to secure and protect pre-existing rights. Yet how many Americans know that the word "democracy" is found neither in the Constitution nor the Declaration of Independence, our very founding documents?
Now, an important thing to note here is that Paul is absolutely right. Most of the Founding Fathers did not envisage their new republic as a democracy. Indeed, Madison (as Chomsky is fond of reminding us) explicitly saw the task of designing the new government ...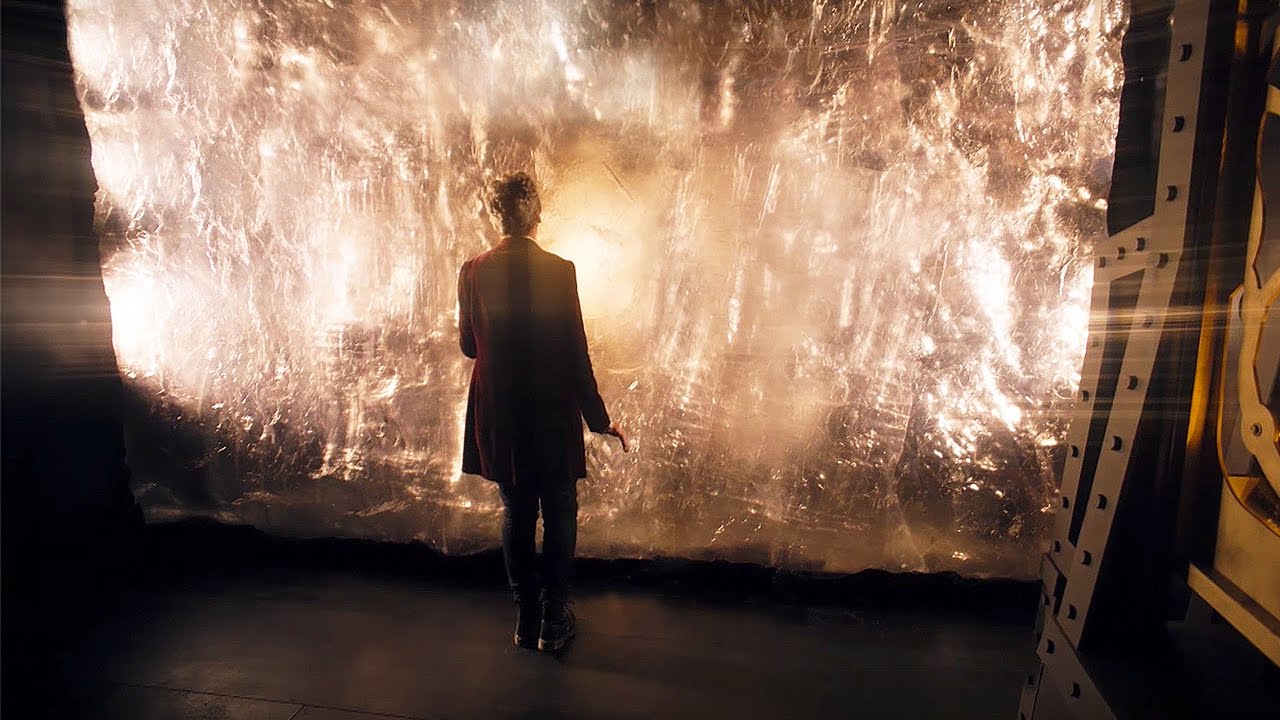 I got a rock.
It's November 28th, 2015. Justin Bieber continues his assault on the top ten, holding number one with "Sorry" while "Love Yourself" and "What Do You Mean" are also in the top ten. One Direction and Nathan Sykes also chart. In news, a gunman attacks a Planned Parenthood clinic in Colorado Springs and Turkey shoots down a Russian jet on the Syrian border, sparking a bit of an international incident.
On television, meanwhile, Moffat's masterpiece. Which means that we should start by talking about Blink, the story to which any supposed Moffat masterpiece must be compared. It is not that Blink is straightforwardly and unquestionably the best Moffat story; picking The Pandorica Opens/The Big Bang or Day of the Doctor is an eminently respectable choice. But a masterpiece is different from a mere best, implying not just raw quality but a sort of technical proficiency that shows off the writer's skill. This is why Blink serves as the type specimen for Moffat—a story long on formal constraint and ostentatiously clever structure that plays elaborate games with time and causality. Its ostentatious grandeur hangs over the whole Moffat era, a high watermark whose reputation seems to ...
Posted by: Jack Graham 1 week, 5 days ago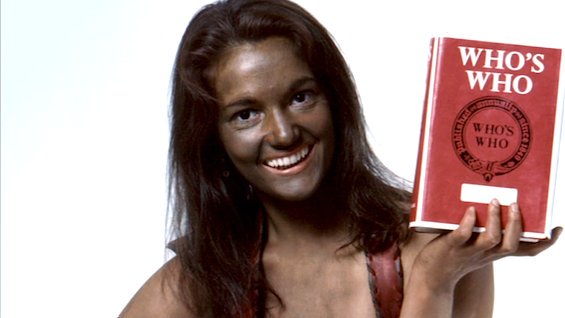 "There has never been a document of culture, which is not simultaneously one of barbarism. Not even Doctor Who."
- Walter Benjamin, 'On the Concept of History' (quoted from memory)
*
Where was I?
Oh yeah, it's unfair to pick on 'Talons of Weng-Chiang' for being racist because all Doctor Who is racist.
So what do I mean by that?
Well, I don't just mean that there are lots of stories in Doctor Who that contain implicit or explicit racist ideas, representations, or implications … though it does, and it might be worth going through some of them.
There's 'An Unearthly Child', for instance, which associates 'tribal' life with brutishness and savagery, and suggests that tribal people need to be taught concepts like friendship and cooperation by enlightened Western liberals from technologically advanced societies… as if, historically, enlightened Western liberals from technologically advanced societies haven't been the ones slaughtering tribal peoples. Native peoples, by the way, know what friendship and cooperation are. Sometimes better than us. And we are talking about native peoples in 'Unearthly'. Because of Europeans' historic encounters with native peoples as European imperialism and colonialism spread across the globe, we've come to associate the notion of ...
All right. Since we finally have an airdate announced, it's probably time to formalize Eruditorum Press's plans for Series 11. As usual, our hope is to do reviews and podcasts of all ten episodes and the Christmas special. And I mean, we really hope to do that. I'm dying to weigh in week by week on a new era of Doctor Who. It sounds amazing. But, of course, bills must be paid, and so there are some Patreon goals we have to meet first. At the time of writing, the Patreon is at $371 a week, just $4 shy of the $375 threshold at which I'll review every episode. So one $5 pledge is all it'll take to make sure that happens. And I've just made an AMA post for $5 patrons, so it's the perfect time to do that.
Podcasts are a little more ambitious, at $400. We might not make that; it'd be the highest the Patreon has ever gone, certainly. But I am an optimistic devil, and I think we can probably just squeak through at that level. So. If you want to hear me round up ten awesome ...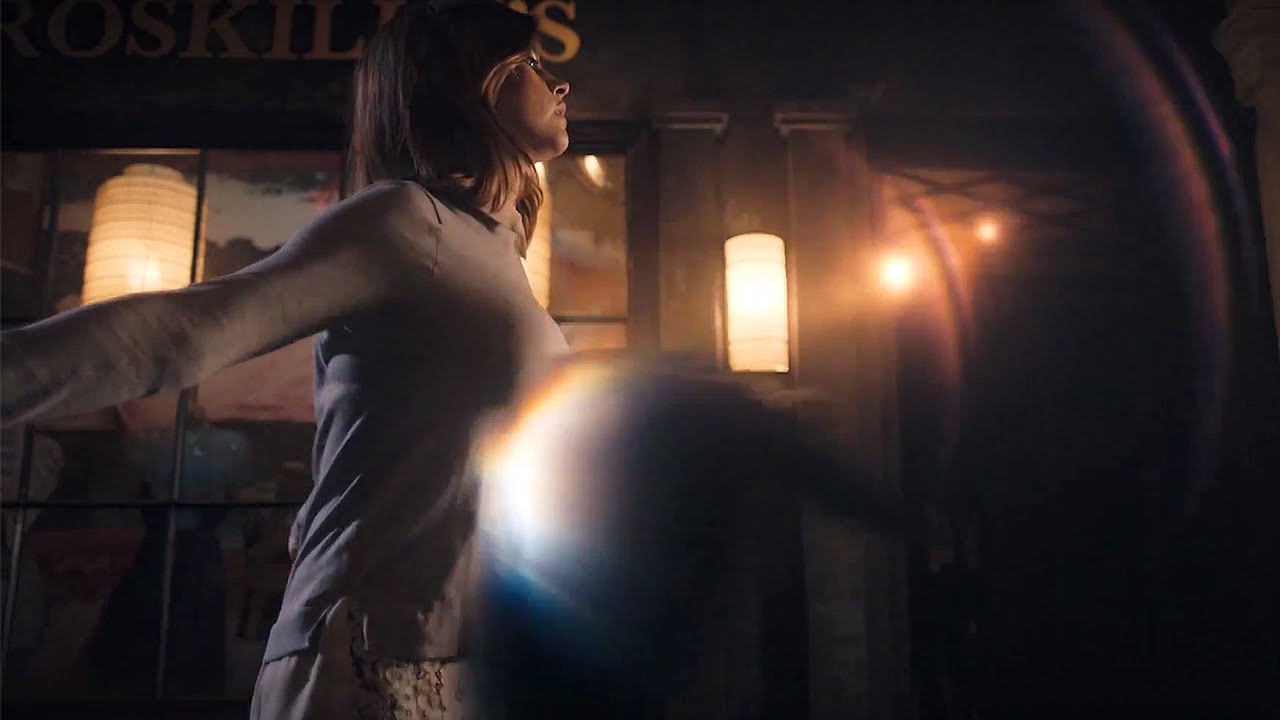 List of ways companions have died on Doctor Who: asphyxiated in space, instantaneously aged to death by the Time Destroyer, spaceship crashed into Earth, a bird flew into her tits
It's November 21st, 2015. Justin Bieber's "Sorry" has unseated "Hello" at number one, with both "Love Yourself" and "What Do You Mean" also in the charts. Jess Glynne and One Direction are also newly in the top ten. In news, Storm Barney strikes Britain, knocking out thousands of people's power, and not a ton else happens unless you find Bobby Jindal withdrawing from the 2016 presidential election interesting, which you probably shouldn't.
While on television, the Doctor Who debut of Sarah Dollard. "What's the most impressive debut of a Doctor Who writer" is a fairly entertaining parlor game. Harness has obvious cred, as does Mathieson. There's a host of obvious one hit wonders to consider: Peter Ling, Andrew Smith, or Barbara Clegg. There are big classics like Terry Nation, Malcolm Hulke, or even Steven Moffat himself. Or you could go with an impishly perverse choice like Stephen Wyatt. But for the most part the debate's plausible margin of error evaporates here. Face the Raven may not be the best first story ...
Posted by: Jack Graham 2 weeks, 5 days ago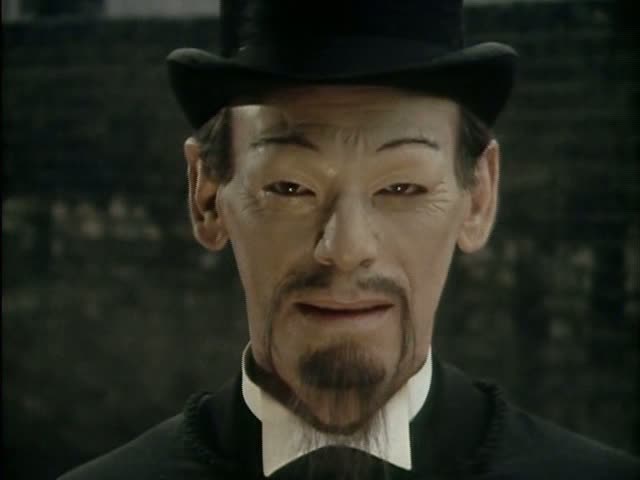 Thanks to the various people who looked over this and made suggestions, especially Holly. The mistakes are, of course, mine alone.
This post was originally going to have the alternative title 'Why I'm No Longer Talking to Doctor Who Fans About Race' but Andrew Rilstone got there before me, damn his eyes. Seriously, go read Andrew's post because it's excellent. Amongst other things, he looks directly at the arguments put forward in Marcus Hearn's Doctor Who Magazine editorial. Which is, of course, what started this.
*
We live in a strange world. I'm being told, on the one hand, that Jeremy Corbyn, the most consistently and committedly anti-racist MP in the Commons, is an antisemite, and, on the other, that 'Talons of Weng-Chiang', a story in which a Fu Manchu style villain - played by a white actor in rubber 'yellowface' - abducts white women with the help of a Tong of "opium sodden" Chinese cultists working out of Limehouse, isn't racist. You just know, don't you, that some professional Doctor Who hacks are convinced that Corbyn, if elected, would institute Britain's very own reenactment of the Final Solution, but will also quibble with you over whether or not Julius Silverstein ...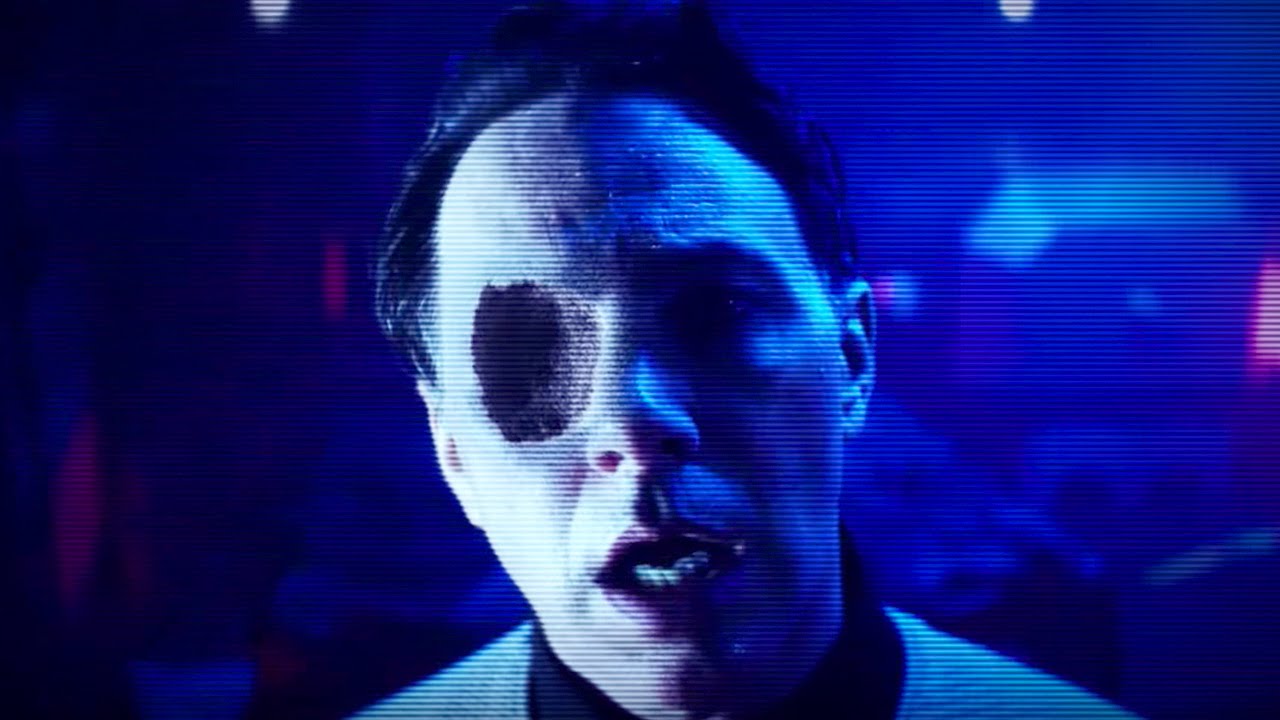 Jeez man most people just use a sleep blindfold
It's November 14th, 2015. Adele is at number one with "Hello." Fleur East, Wstrn, and Justin Bieber also chart, the latter with both "Sorry" and "What Do You Mean." In news, a series of terrorist attacks take place in Paris including a mass shooting at the Bataclan theatre during an Eagles of Death Metal concert and a series of suicide bombings around the Stade de France during a match between France and Germany. The first storm named by the Met Office, the extratropical cyclone Abigail, hits Scotland, while a series of protests at the University of Missouri lead to the resignation of the president of the system.
On television, meanwhile, a distinctly unusual episode of Doctor Who. Sleep No More is not, by general acclamation, a classic. Even those inclined towards sympathy for Gatiss tend to focus their redemptive efforts elsewhere. And it's easy enough to see why this might be. It's a decidedly lumpy story with idiosyncratic pacing that never quite sells its stakes or offers a coherent account of its concept. Character remains something of an afterthought for Gatiss, which is frustrating for Clara's last ...