Posted by: Josh Marsfelder 2 months, 3 weeks ago

In Garfield, everything has a voice, or has the potential to have one. Birds, mice, spiders and household appliances (not to mention cats and dogs) all have readable internal dialogue. Everything has a soul. Everything is a potential spiritual agent. Naturally it's only the animals, plants and objects who display regular awareness of this fact, because Garfield is about Western modernity and we as humans have forgotten such things in our society. Recall, however, that it is us as the audience who have privileged access to the thoughts and concerns of these creatures even as the humans in the strip do not. There's hope for us yet.
(Of course, the strip goes back on forth about this depending on what makes the better joke on that day. If you are still looking for the laws of physics underlining the "Garfield universe" you are manifestly missing the point of this series and are approaching it utterly the wrong way.)
This level of awareness comes, however, at the price of extremely heightened empathy. Those who feel deeply their connection to the myriad other souls in nature may also find their feelings of suffering and loss to be magnified as ...
Posted by: Phil Sandifer 2 months, 4 weeks ago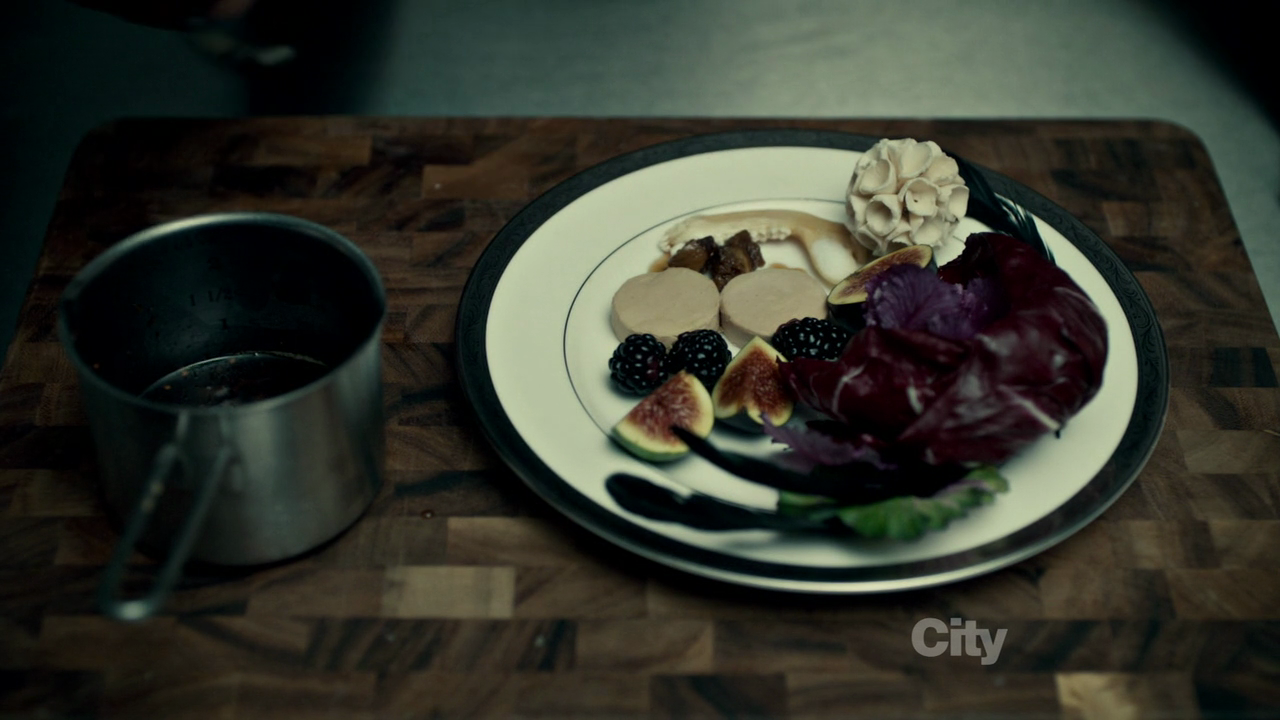 COQUILLES: Coquilles are shells, referring either to shellfish like oysters or to casseroles served in a shell-shaped dish. The poetic meaning would involve something about how people are just shells for the higher angelic spirit within. The crass (and likely intended) meaning is a visual pun based on what happens when you flay wings off of someone's back.
POLICE OFFICER: Do you have a history of sleepwalking, Mr. Graham?

WILL GRAHAM: I'm not even sure I'm awake now.
The best interpretation of this line, of course, is that even Will has noticed the weird way in which the sky moves at the wrong speed and fucking stags keep showing up, and has come to realize he lives his life in a strange and murderous dreamscape. Either way, though, he's right.
HANNIBAL: I'd argue good old-fashioned post traumatic stress. Jack Crawford has gotten your hands very dirty.

WILL GRAHAM: Wasn't forced back into the field.

HANNIBAL: I wouldn't say forced. Manipulated would be the word I'd choose.
Manipulation is a vital yet inchoate topic in Hannibal, and this line sets up much, both about the next episode and about Jack. Later in the episode, as Jack tells Will that he'd feel guilty ...
Posted by: Phil Sandifer 2 months, 4 weeks ago
It's hard to avoid the "damn with faint praise" opening of "well it's better than In the Forest of the Night." In a whole bunch of very obvious ways, after all, it is. The balance between the ridiculous and the dramatic is better struck. Cottrell-Boyce sets himself the non-trivial Ark in Space challenge of spending half the episode with nothing but the TARDIS crew wandering around an alien setting figuring out the rules, and he generally rises to the challenge. And there's a sense that he's figured out what the program can and can't do well, and so is avoiding pitfalls like relying almost entirely on child actors or an outlandish visual spectacle that's ultimately going to amount to throwing some traffic lights in the middle of a Welsh forest and pretending it's good enough.
The "damn with faint praise" aspect, however, comes from the fact that you can't actually put the bar much higher than "oh, hey, Cottrell-Boyce avoided fucking up this time." The script still never soars. Worse, as with In the Forest of the Night, the moments where it tries to soar are generally its weak points. The script has an awkward habit of leering ...
Posted by: Jack Graham 3 months ago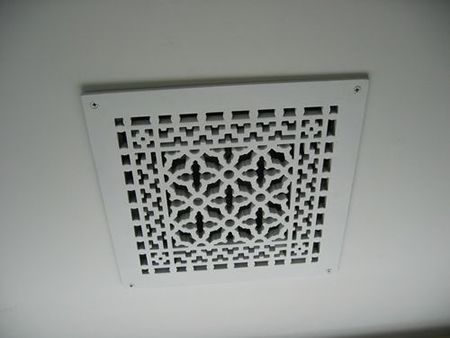 You were supposed to be getting another Shabcast - with another great guest - this week, but life had other plans. So, having staked everything on that, I am left without an essay to post. So you'll have to make do with the third chapter of one of the novels I'm currently occasionally writing. Here are chapters one and two. My Patreon sponsors saw an earlier draft of this chapter ages ago (under a different title). And if that doesn't make you salivate with an irresistible desire to give me money, I don't know what will.

There were times when Iza envied Ria. Ria didn't have spiders in her hair, or webs plastered across her face. She didn't have dust falling into her eyes. She wasn't losing the skin on her elbows and palms. Her fingernails weren't splintering as they dug into brickwork. She didn't have to hold on for dear life. She wasn't alive. Iza felt guilty thinking this, but thought it all the same.
"This is amazing," said Ria. For once, she didn't sound sarcastic or cynical.
There was no room for Ria in the dark behind the ...
Right! So apparently we're doing podcasts after all! Thanks to everyone who backed the Patreon and made this happen. That link there where it says "backed the Patreon" is a link to the Patreon, btw, and you can click it and give me even more money.
Anyway, I'm joined this week by our very own Jane Campbell to talk about "The Pilot." That link is to the podcast. You know, if you were confused.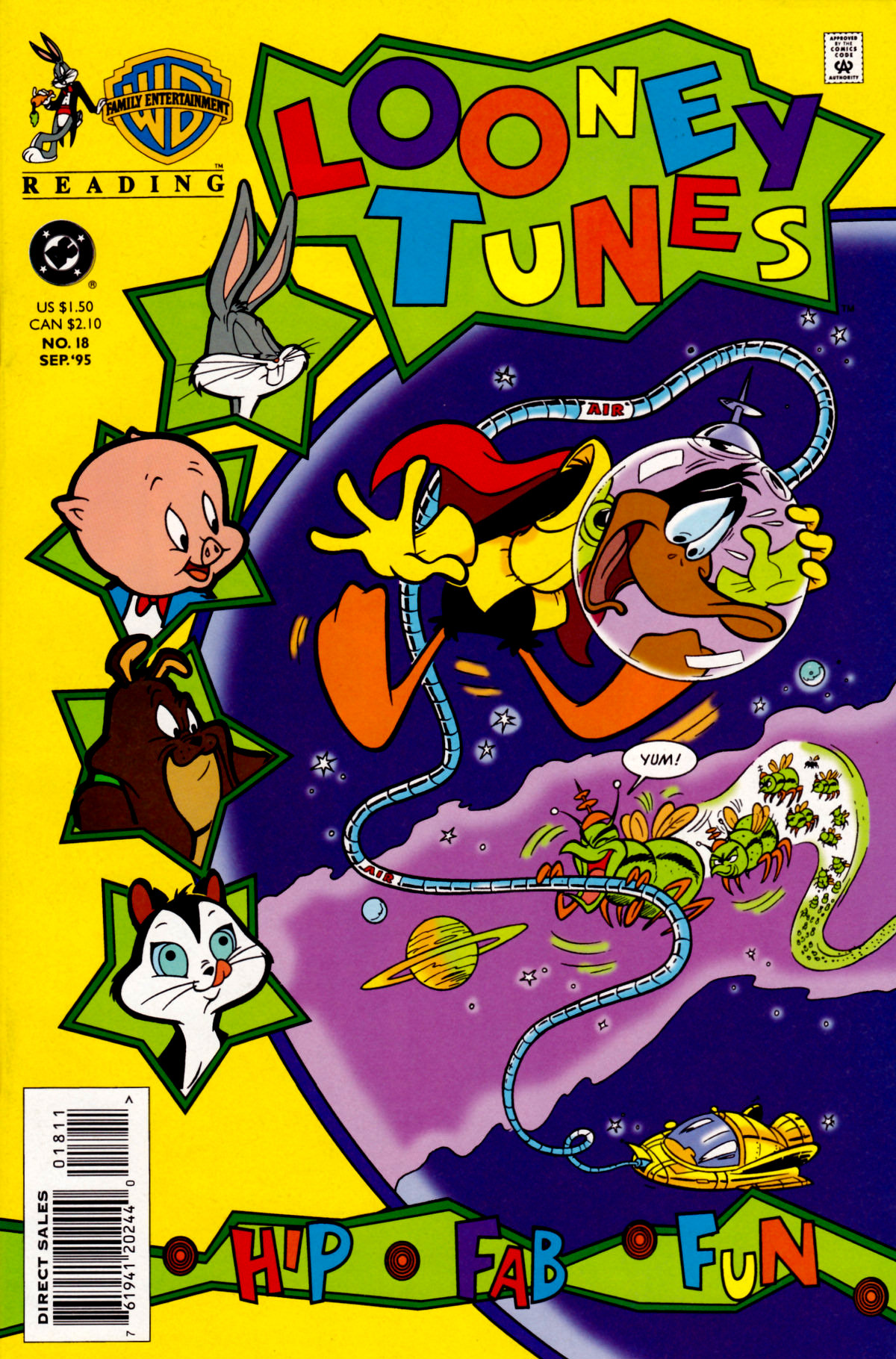 I've said before I'm no expert on comic books. I know I've spent basically the whole back half of this book talking almost exclusively about Star Trek comics, but Star Trek was an exception for me, like it was in a lot of other ways. My knowledge of the history of the medium and its important events and figures is functional at best, but, like a lot of people I should imagine, I did use to read them every now and again. Now I never read a ton of comics (at least, not US comics), but neither was Star Trek the only thing I followed in four colours at the time. I never read superhero comics (though I was aware of the characters from other media), but aside from Star Trek I did have a few books I kept an eye out for at the newsstand whenever I'd go shopping with my family. Probably unsurprisingly, they were all licensed titles: Archie Comics' Scooby-Doo series, Gladstone Publishing's reprints of Carl Barks' Donald Duck and Uncle Scrooge stories, and a monthly book from DC Comics published under the Warner Brothers name based on Looney Tunes.
Being that ...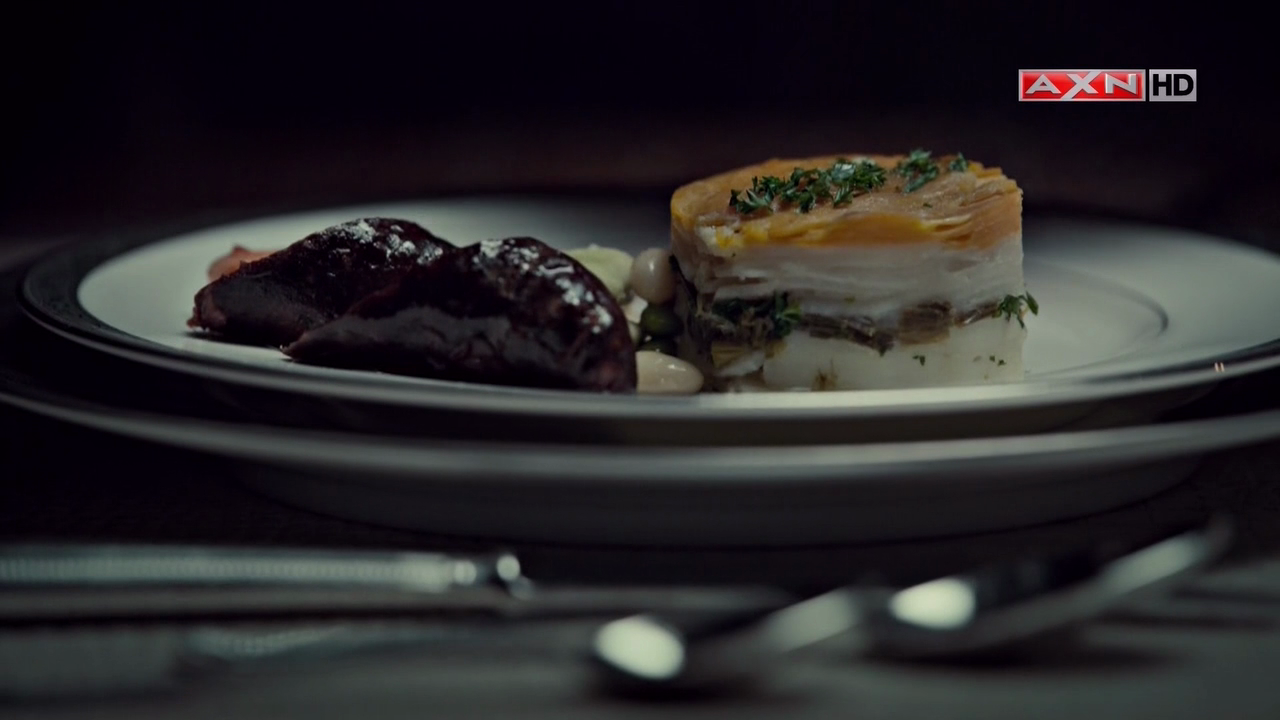 ŒEUF: One of the least nuanced titles (and indeed episodes) of the show, œuf simply means eggs, a straightforward reference to the episode's themes of family and parentage.
WILL GRAHAM: Sometimes at night, I leave the lights on in my little house and walk across the flat fields. When I look back from a distance, the house is like a boat at sea. It's really the only time I feel safe.
One of the more curious interpolations of Harris's original novels, this comes from his 2000 introduction to Red Dragon in which he describes the circumstances of writing it, working in a small shotgun house in a cotton field while taking care of family in Mississippi. Fuller's addition (this scene having been imported from the previous episode, where it originally preceded Hannibal and Abigail's end-of-episode encounter) is that Will feels safe when he does this. This is curious - the security and isolation of his house as a boat in the sea coming only when he is outside of the boat, lost in the darkness of the vast sea. This suggests that safety, for Will, is a sort of dissociative state, only attainable when he is outside of himself.
WILL GRAHAM ...
Posted by: Phil Sandifer 3 months, 1 week ago
I'll confess, I went into this with no small amount of pessimism. It was hard (and still is, really) to imagine Moffat crafting a better way to go out than Series Nine. Sherlock felt so utterly tired and creatively spent that it became easy to fear that Moffat was simply done. The Return of Doctor Mysterio was neither here nor there. So it was easy to assume that we were already past the peak in terms of what I wanted out of Moffat writing Doctor Who. And with the sure to be frustrating Chibnall era looming, well, my excitement's definitely short of 100%. None of that's changed based on The Pilot. That's not to say I didn't like the episode or anything. It was fun; in no way a classic, but Moffat's season-openers generally aren't. It's just a sort of necessary bit of context. My initial setting here is cautious engagement.
And perhaps more to the point, that feels like the mood. I've been thinking about the Capaldi stretch of TARDIS Eruditorum, which I reckon will happen in 2018, Patreon willing. And obviously, there's a Pop Between Realities on Brexit and the awful Doctor Who-less shitstorm that was 2016. I ...