The Shabogans are the invisible underclass on Gallifrey. The plebs. The nobodies. The skivvies. They're not the posh drop-outs. They're not the soup-making rustics. They're the unseen guttersnipes trapped inside the Capitol. They always leave the room just before you enter it. They're the vandals who shoot stasers at the Seal of Rassilon. And maybe, sometimes, they do more than that. Maybe they riot. Maybe they erect barricades. Maybe they throw stones. Maybe they daub things like "GALLIFREY WILL NEVER BE HAPPY UNTIL THE LAST CASTELLAN HAS BEEN HANGED WITH THE GUTS OF THE LAST CARDINAL" on the walls of the Time Toilets. Because if there is hope, it lies in the Shabogans.
I'm Jack Graham. Gothic Marxist. Advocate of the struggle in terms of the strange. Shakespearean villain. Doctor Who fan. Less an organic intellectual than a one-man morbid symptom.
And I did this:
Posted by: Jack Graham 1 month, 2 weeks ago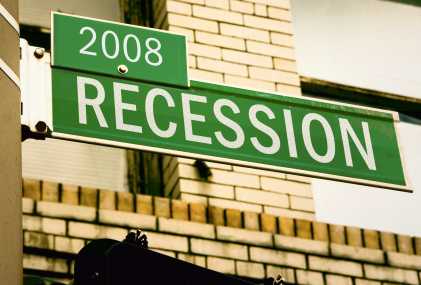 Hello, just a heads up from me today about the existence of the fourth episode of Wrong With Authority, the podcast about movies about history, hosted (in turns) by myself, Kit Power, James Murphy, and Daniel Harper.
As I say, episode 4 is up, and you can download both parts of it here and here, or go to the blog page, here.
This episode is Kit's, and its about The Wolf of Wall Street and The Big Short. It's so long it had to be split into two. This happened not only because these movies gave us a lot to talk about but because we had recurrent recording problems, which forced us to record in three blocks, which ironically meant we ended up with more content that we would've done otherwise.
As much as it was a nightmare to make, especially for Kit, I think we ended up with something to be proud of (again, especially Kit).
We are considering the future shape of WWA, but we also feel that the kinds of people who want to listen to the four of us talk about this stuff probably
a) want us to go the whole ...
Posted by: Jack Graham 1 month, 3 weeks ago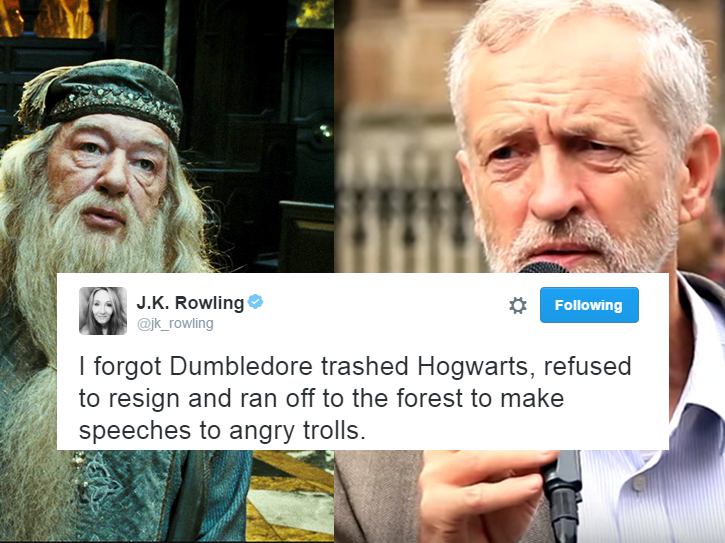 Should Jeremy Corbyn somehow manage to win the United Kingdom's General Election on 8th June, J. K. Rowling will be forced to take a principled stand against his rule. Which will presumably mean that she'll go and sulk in a tent for several months. After all, she's been vocal, even vociferous, in her opposition to his leadership of the Labour Party since before it started.
Well… it might not be a tent. She's a billionaire, remember. This is something that people seem to forget, at least in effect. But I imagine sulking would form a large part of it, even if it took place in very comfortable surroundings. And snarking on Twitter. That would be a big part of it too. She's done a lot of that about Corbyn already. She has tweeted and retweeted truckloads of declarations of his unelectability, his incompetence, etc. She piled on in the fake 'Labour anti-semitism' row, in which a handful of incidents - ranging from the piffling to the wantonly misconstrued to the fabricated - were talked up by the media into the chimera of a Labour Party stuffed with raging Jew-haters, with Corbyn as either Anti-Semite-in-Chief (Ken Livingstone presumably being his deputy) or as ...
Posted by: Jack Graham 2 months ago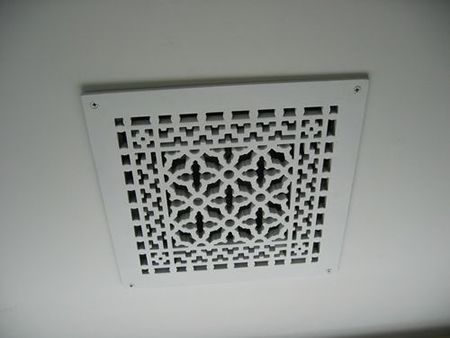 You were supposed to be getting another Shabcast - with another great guest - this week, but life had other plans. So, having staked everything on that, I am left without an essay to post. So you'll have to make do with the third chapter of one of the novels I'm currently occasionally writing. Here are chapters one and two. My Patreon sponsors saw an earlier draft of this chapter ages ago (under a different title). And if that doesn't make you salivate with an irresistible desire to give me money, I don't know what will.

There were times when Iza envied Ria. Ria didn't have spiders in her hair, or webs plastered across her face. She didn't have dust falling into her eyes. She wasn't losing the skin on her elbows and palms. Her fingernails weren't splintering as they dug into brickwork. She didn't have to hold on for dear life. She wasn't alive. Iza felt guilty thinking this, but thought it all the same.
"This is amazing," said Ria. For once, she didn't sound sarcastic or cynical.
There was no room for Ria in the dark behind the ...
Posted by: Jack Graham 2 months, 1 week ago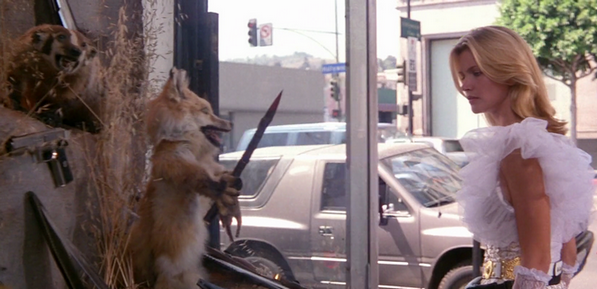 Happy April 14th to you all. The Shabcast is back once again (slightly more structured and sobre than last time), featuring the return of one of my favourite semi-regular guests, our very own Josh. This episode is a tie-in with his last essay, and features the two of us chatting about Species (1995), perhaps the very definition of a movie that is really interesting despite being pretty bad. Josh's redemptive reading is fascinating, and we also ponder such imponderables as why people like Ben Kingsley and Forest Whitaker agreed to be in it, why cars explode when they crash in movies, and why this film goes out of its way to feature a scene where Natasha Henstridge stares bemusedly at a stuffed fox. Plus there are the usual digressions. H. R. Giger, dinosaurs, Captain Kirk, Avital Ronell, etc.
Download the episode here. Beware spoilers and triggers.
Also, here are some links to things we mention:
Here is the Vimeo video comparing Species to David Lynch's Mulholland Drive.
And here's the (excellent) article about how and why Kirk is misremembered, by Erin Horáková at Strange Horizons.
Posted by: Jack Graham 2 months, 2 weeks ago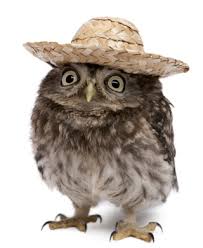 No proper post today, sadly. Too busy. There is some more stuff in the pipeline, and it's not all about Rogue One. But for today you'll have to be content with a round-up of recent podcasts of mine.
Firstly, I was recently a guest (again) on the excellent They Must Be Destroyed on Sight! movie podcast, joining Lee and Daniel to talk about the Coen Brothers' 1996 masterpiece Fargo. Check that out here.
(You may recall I wrote something about Fargo once upon a time, that can be found here.)
My previous appearances on TMBDOS (tmbdos!) can be found here (Blood Simple & Blue Velvet) and here (both versions of Nosferatu).
Also, there's Shabcast 30. I gave this a rather desultory write-up when I posted it last week, because I was feeling cheeky. And, it being a little unusual, I wanted listeners to encounter it without any expectations. But it's actually a fun episode, if very, very long. Myself, Kit, and Daniel (with a brief guest appearance by James) discuss Series 1 and the Ninth Doctor... with various detours along the way... while in various stages of ...
Posted by: Jack Graham 2 months, 3 weeks ago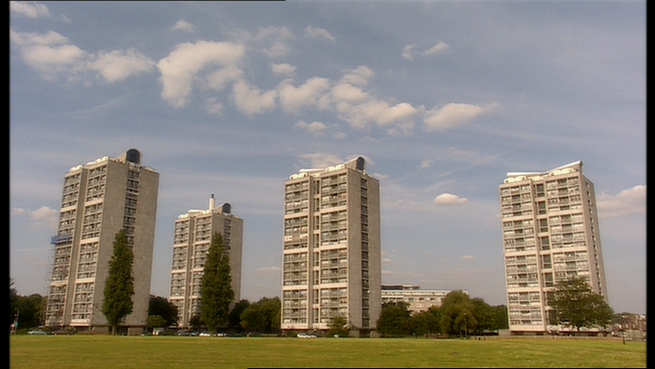 Here's Shabcast 30.
It has some guests in it and is about something.
Posted by: Jack Graham 3 months ago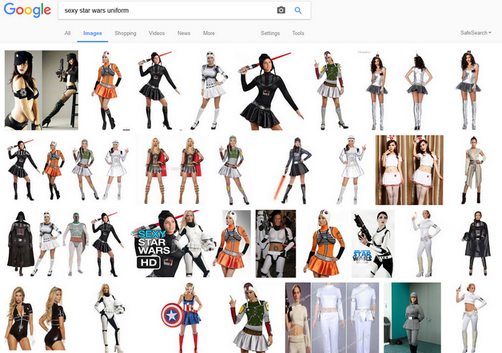 I was a guest on Daniel & Shana's Oi! Spaceman podcast again, this time talking about 'Rose' and 'The End of the World'. But now, back to the ongoing saga...
The last time I wrote about Star Wars, I said that it sees the galactic politics and history it depicts as being essentially powered by neurosis, specifically male neurosis. Rogue One very explicitly adheres to this pattern - though, laudably, it represents a counter-strain in opposition.
In Rogue One, the Death Star openly represents the immense strength and immense vulnerability of any imperial system, the simultaneously terrifying and ridiculous urges and principles which animate such systems. At a different-yet-connected level, it represents the same mixture of dangerous power and ridiculous vulnerability within one of the techno-bureaucrats who run that system. It sees the causal throughline as very clearly running from inside the heads of at least two men, out into the universe.
I have mixed feelings about this. The thesis that politics comes from emotions and psychology, though I believe it is ultimately wrong, doesn't necessarily have to collapse into a reactionary 'fix yourself first' ideology. Psychology clearly plays a role in politics, and in resistance ...
Posted by: Jack Graham 3 months, 1 week ago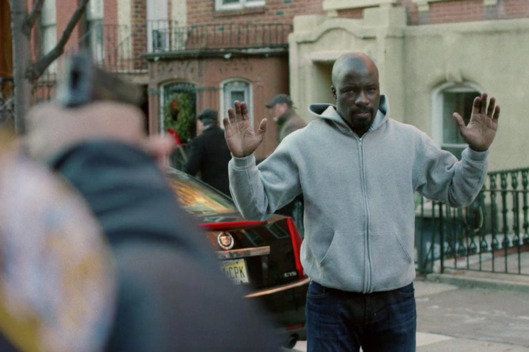 (No, not that Luke. The other one.)
Okay, first of all, I'm aware that Luke Cage has been much written about. I confess, I haven't read much of the commentary. Pure laziness. I understand a lot of the criticism was about the show subscribing to a rather conservative form of Black 'respectability politics'. I can certainly see that issue, but I'm not going to concentrate on it. Even so, I strongly suspect I'm still going to be reiterating stuff other people have already said. Also, I'm a white British guy, so inevitably I'm at a disadvantage when it comes to understanding and criticising this particular text.

Throat-cleared, and ass hopefully covered, here we go.
Oh, and SPOILERS and TRIGGERS.
For various complex, tedious, and irrelevant reasons, I've seen a lot of Law & Order in my life, despite not really liking it. At times, the Marvel/Netflix series Luke Cage strongly reminded me of Law & Order. Specifically, bits of it strongly reminded me of the Law & Order 'race episode'. I say 'race episode' singular because Law & Order really only had one race episode, which they made over and over and over again.
Roughly, it went ...