Hi there. I'm an explorer, rogue academic, natural historian, athlete, anarcha-feminist and mystic. So naturally this means I write about video games, Star Trek, the 1980s, Alice in Wonderland and Garfield. My column is Wednesday morning, Eastern time.
My biggest project to date, and probably the one you're looking for, is Vaka Rangi: A self-described work of comparative mythology examining the motif of the voyaging starship (namely Star Trek) through the lens of post-scarcity utopianism, myth cycles and anarcha-feminism. I'm also working on a deconstructive heretical exegesis of The Legend of Zelda series called Hyrule Haeresis, and a semiregular critical exploration of the comic strip work of Jim Davis called Permanent Saturday. I sometimes write about other things too.
Posted by: Josh Marsfelder 4 days, 4 hours ago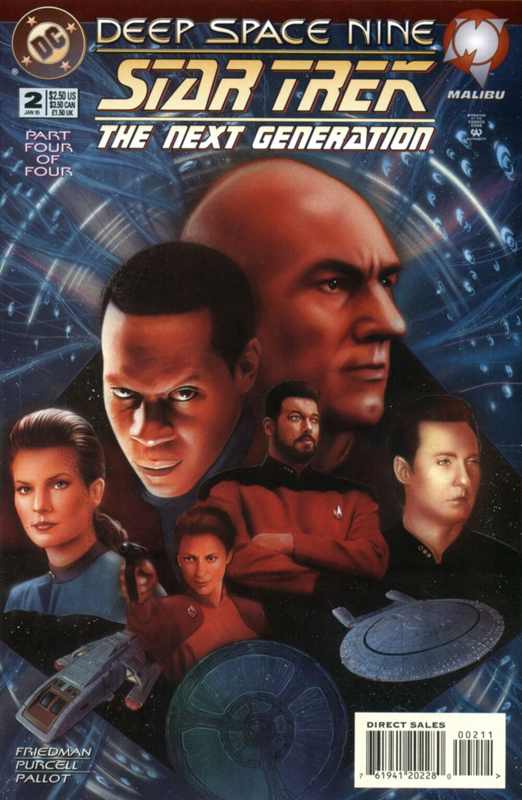 The Othersiders are gloating at having captured Data, Odo and Deanna. They order them to drop their weapons, which they do, but not before Data sets them to overload, causing yet another terrific explosion. The scattered away team uses the opportunity to kick massive amounts of ass, with Data punching people square in the gut with the full brunt of his android strength, Deanna unleashing sick karate moves and Odo turning into an awesome sludge monster to dispatch the rest. In sludge monster form, Odo praises Deanna's fighting skills in a tone that, if I didn't read him as asexual and aromantic, could almost be construed as a come-on. Deanna brushes it off by saying Worf trained her.
On Deep Space 9, Miles and Geordi have figured out what's causing the Wormhole to throw a fit. It turns out it's being assaulted by a certain kind of waveform, being broadcast simultaneously from two different stations: One in the Alpha Quadrant and one in the Gamma Quadrant. Miles figures that if they could knock at least one of those out, the Wormhole would go back to normal. Captain Picard doesn't want to send another away team ...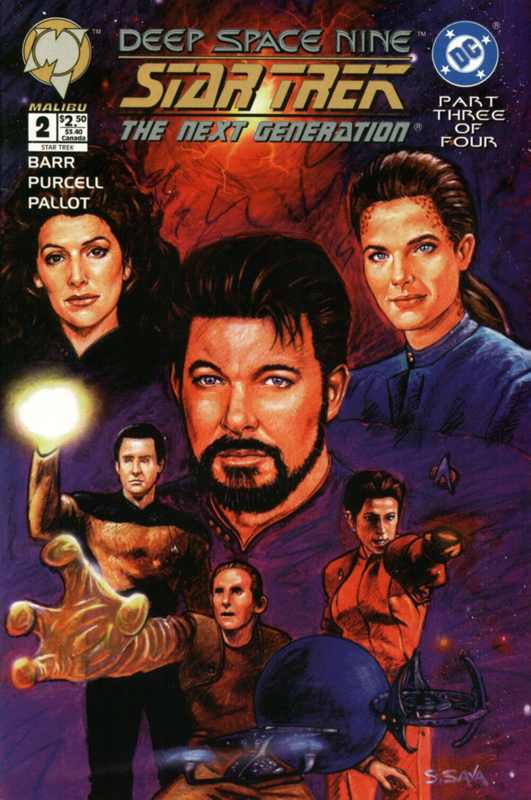 Commander Riker orders the ship to turn around immediately, but of course we can't do that. If they go back through the Wormhole too quickly, the circuitry that allowed the Runabout safe passage in the first place might be damaged. So Will thinks fast, has the crew divert all power to shields and beam over to the other Runabout (the one that carried the admirals' party). This shouldn't be possible because transporters famously can't penetrate shields, but whatever. And naturally, this plan doesn't work either as the Evil Aliens soon catch onto it and beam everyone aboard themselves in a stasis field. Because captures and escapes are just how serials work.
So after that bit of padding, we get some exposition. Because, again, serials. These Aliens, hereafter the titular Othersiders, explain to the team that they are pissed off at people from the Alpha Quadrant intruding on space they claim is theirs, and they're determined to strike back. Back on our side, Captain Picard suggests that he and Commander Sisko pass the time waiting for word from the away team by helping out with a humanitarian mission on Bajor. Because this team can't have ...
Posted by: Josh Marsfelder 2 weeks, 4 days ago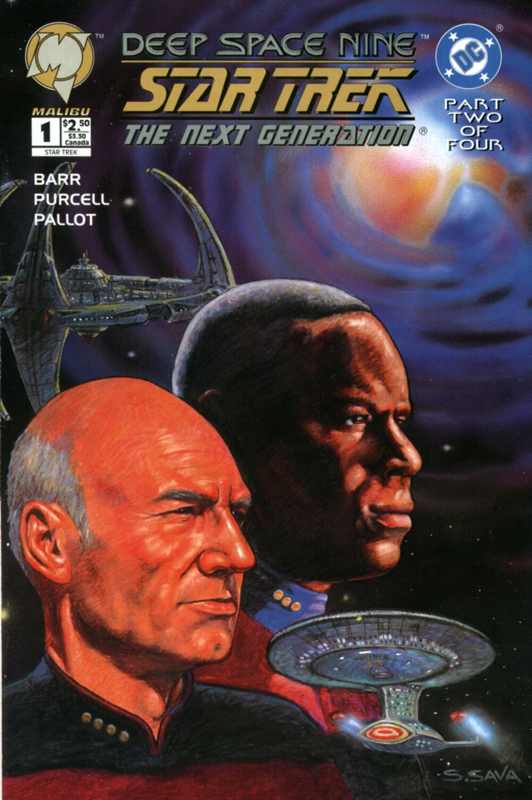 A fearsome storm rages on Bajor. Vedek Bareil surveys the fury from a balcony outside his temple. An attendant acolyte (who looks a hell of a lot like Vedek Winn but isn't cited as being her) fears for his health, but Bareil only asks if everyone who has lost their homes due to the storm has been given sanctuary within, stressing that no-one must be turned away. The acolyte hopes the Prophets stop the storm, but Bareil hopes they grant them their wisdom on how to act.
On Deep Space 9, Kira, Worf and Odo confront the Cardassian saboteurs. One of the assailants tries to gas the security team, but Worf is a quicker shot, and Odo turns into a praying mantis tentacle monster to subdue them. Not to be outdone, Kira swings from the rafters and kicks some dudes in the fucking face. But before they can arrest them, the intruders activate an emergency transport. Jadzia Dax couldn't catch them in time, but Data has found some technobabble that allows him to nullify the cloaking device used on their ship. Unfirtunately, neither Dax nor Data is able to snare the ship in a tractor beam before it ...
Posted by: Josh Marsfelder 3 weeks, 3 days ago

It is with great pleasure that I am joined again by Ben Knaak for the second part of our examination of The Elder Scrolls series of video games. You may want to check out part 1 first, if you haven't already heard it. In that podcast, we did a brief (ish) rundown of the history of the franchise from our own personal perspectives. But tonight, we're diving headfirst into the infamous Elder Scrolls lore, for some arguably the series' signature standout component.
The Elder Scrolls has a collection of in-game (and frequently out-of-game) lore and worldbuilding that is unparalleled in video games. The scope and detail of its worldbuilding, in particular the heavy emphasis on metaphysics, cosmology and spirituality, is without compare anywhere else in the medium and raises unbelievably provocative implications. Comparisons can be drawn with Eastern mysticism, Blakean mythology, Gnostic heresy and ancient oral traditions and myth systems from all over the world. In fact, The Elder Scrolls has itself been influenced by all of these perspectives and more, and syncretizes them into an utterly unique high fantasy setting. It has the shape of magick, and is a metaphor for ourselves. And yet while The ...
Posted by: Josh Marsfelder 3 weeks, 4 days ago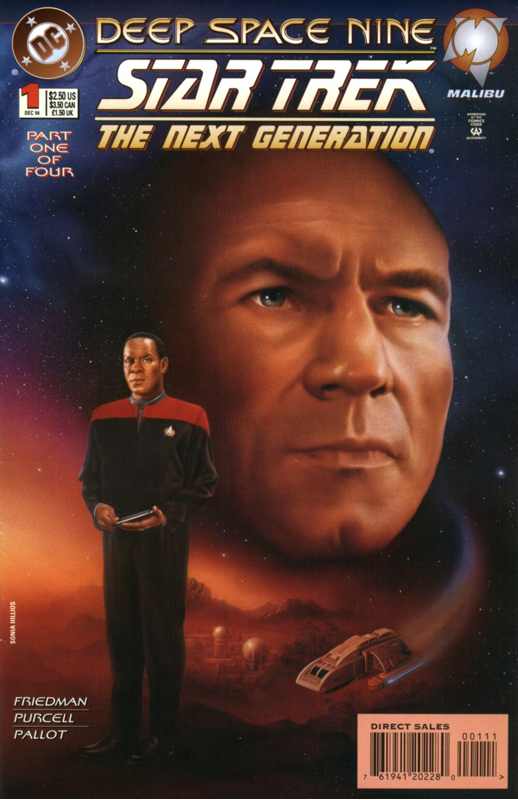 Rom is grousing to himself about how underappreciated he is at the bar and how things would run much smoother if he was in charge when his pity party is interrupted by an irate customer. A Starfleet officer, on scheduled shore-leave, is upset that all the Dabo tables seem to be rigged to favour the house (well, more then gambling machines already are I suppose). Rom goes to fetch Quark, eager at the chance to buck responsibility higher up the managerial chain. This sort of thing would slip by most people unnoticed, but then again, most people aren't Geordi La Forge, who, thanks to his remarkable VISOR, can see things most people can't.
Geordi is joined by Doctor Beverly Crusher and Commander Deanna Troi, and all three question an evasive Quark. The barkeep denies all responsibility and threatens to call station security, "A close, personal friend" of his to escort the bothersome Starfleet officers out before Odo himself shows up and sternly asks Quark if "that Dabo table" was still "giving [him] trouble". Geordi tries to thank Odo, but Odo actually agrees with Quark: He's not happy the commander and his two associates are here, claiming that ...

With deepest apologies to Chris Stangl, Permanent Saturday is a semiregular critical exploration of Jim Davis' comic strips Garfield and U.S. Acres/Orson's Farm.
Garfield and Friends was well known for its referential and self-aware style of comedy. Much of the humour from the second season onward was gleaned from poking fun at both pop culture and the capitalist industry that creates it thanks to its head writer Mark Evanier. Evanier is a veteran Hollywood jobbing scribe who was born, raised and still lives in Los Angeles, so he brings a very unique perspective to Garfield. For Evanier, celebrities and entertainers were his neighbours and fellow community members, and the business of making movies was the local industry. So when Garfield and Friends makes a joke about Hollywood agents or breaks the fourth wall and treats the Saturday Morning Cartoon Show as just another piece of primetime network television, this is not the series being especially perceptive and postmodern as much as it is Mark Evanier looking for inspiration in the people and things around him, and writing what he knows.
(Indeed, Mark Evanier's secondary role as voice director is responsible for another thing Garfield and Friends ...
Posted by: Josh Marsfelder 1 month, 1 week ago
Here's the thing about cycles. The wheel turns, but that does not imply that history will repeat wholecloth. Time, of course, does not exist. History doubly so: History is a patriarchal fiction. There are endings and new beginnings as the seasons change. Recognisable archetypes reiterate and reincarnate, but each spin of the wheel is an event of its own. Impermanence is all part of the cycle.
We in video game journalism appropriate some of this truth when we use terms like "hardware cycles" to describe the passing of the console generational torch ("generation" and "torch", of course, both being metaphors taken from patriarchal master narratives). Video game consoles do not so much go out of date as they get supplanted. A history of invasions and conquests, or a season for everything?
Were I to do this normally, I would go through my notes and recap the Nintendo Switch Reveal Event Presentation beat-for-beat. But on this occasion, normality doesn't seem appropriate. Nintendo did indeed flip a Switch with this event, but I doubt highly it's the Switch they wanted to flip. Over the course of about an hour, my entire world was turned on its head ...
Posted by: Josh Marsfelder 1 month, 2 weeks ago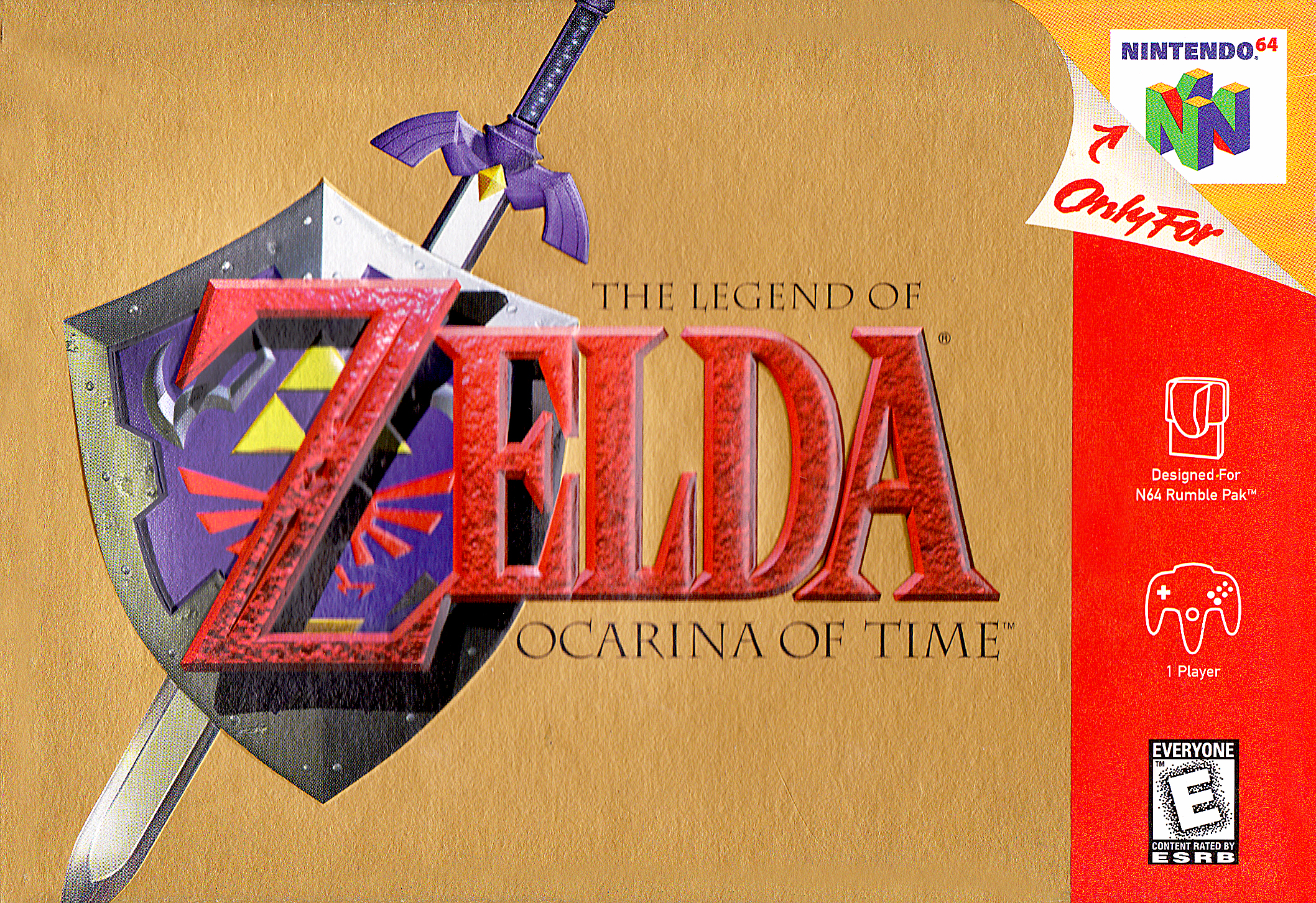 Patriarchy is built on epic time. Learned male history requires exhaustive documentation of political kingdoms and dynastic successions. The Chosen Warrior-Hero God-King must come of age, become anointed, take a throne and lead his people to victory in battle before retiring and passing his crown on to the next generation. Rise, fall and rise. In our language, we call this canon, and the canon of the aristocratic literate patriarchy stands in stark contrast to the cyclical deep time of the feminine and feminine understanding. This is, in fact, the true first war in the world, and its battle scars have played out across the visage of our ideaspace since the start of all time.
And so, deeply fraught and conflicted is The Legend of Zelda: Ocarina of Time. Like the Celtic mythology from which it draws its inspiration, the tune this Ocarina plays is a melancholy one, a lament for a world that was lost before history began. Its story opens as if a folk tale (perhaps a fairy tale). The narrator speaks in the voice of a storyteller relating events to an enraptured audience, presumably comprised of children. Ironically, or maybe inevitably, this is a story about having childhood ...