Hi there. I'm an explorer, rogue academic, natural historian, athlete, anarcha-feminist and mystic. So naturally this means I write about video games, Star Trek, the 1980s, Alice in Wonderland and Garfield. My column is Wednesday morning, Eastern time.
My biggest project to date, and probably the one you're looking for, is Vaka Rangi: A self-described work of comparative mythology examining the motif of the voyaging starship (namely Star Trek) through the lens of post-scarcity utopianism, myth cycles and anarcha-feminism. I'm also working on a deconstructive heretical exegesis of The Legend of Zelda series called Hyrule Haeresis, and a semiregular critical exploration of the comic strip work of Jim Davis called Permanent Saturday. I sometimes write about other things too.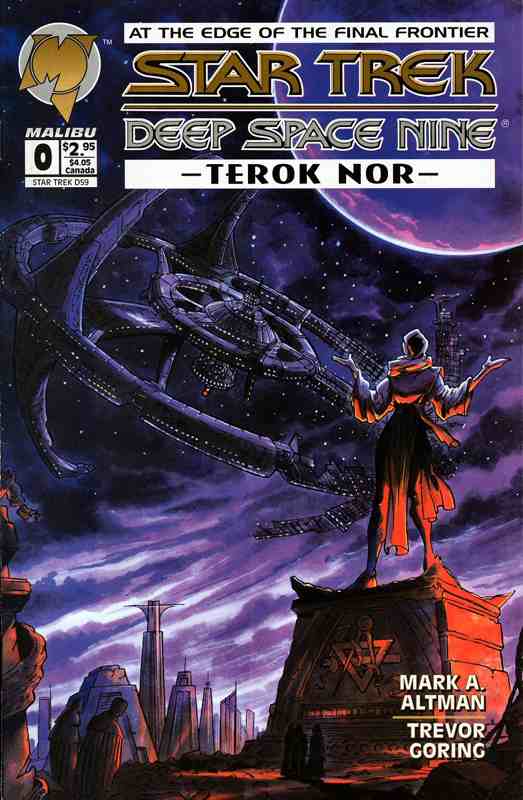 Jadzia Dax and Doctor Bashir are taking time out from a camping trip in the Bajoran wilderness to visit a museum honouring the planet's art, history and culture. Jadzia compliments the beauty of one of the pieces, whereas Julian tries to act like an art critic to impress her with his "knowledge" of different Bajoran styles. Jadzia is exasperated and, perhaps sensing he's fucked up, Julian changes the subject. He asks her if any of her hosts went on class field trips to museums as children. Standing atop a towering balcony, the two gaze down into the museum below, where it just so happens one such field trip is underway right now.
It's a large room, full of gigantic statues, all looming imposingly over the museum guests. A teacher is disappointed in her students, none of whom recognise the figure immortalized in stone before them. Her name was Charna Sar, who she says was a great hero of the Bajoran people whose name has been forgotten. The children wish to hear her story and the teacher obliges, but only on the condition they will continue to tell it themselves. The teacher begins the tale, saying the story ...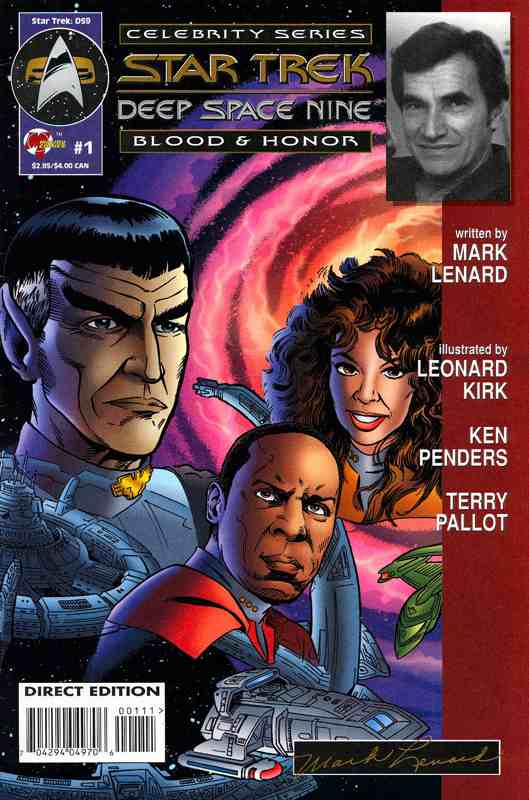 Returning from an exploratory mission in the Gamma Quadrant, Jadzia Dax informs us through a Science Officer's Log that her team has discovered something unique: A mysterious blue glowing artefact of unknown origin. Also on her team aboard the runabout USS Orinoco are her erstwhile travelling companion Doctor Julian Bashir, and an operations division ensign called Jamie. Before they can dock, however, Julian gets an urgent call from Commander Sisko that he's needed in the infirmary to tend to a medical emergency. Before he can even acknowledge, however, he's beamed there directly from the runabout cockpit.
A Lieutenant Jayakar has been unfortunately killed in some sort horrible malfunction. She was escorting a diplomatic party from the Romulan Star Empire led by an Ambassador Jannek when something seemed to go wrong with one of they airlocks. Jannek himself is on hand to offer his condolences, and urges diligence to Commander Sisko in determining whether it really was an accident, or whether the Lieutenant was murdered. Odo reports that mechanical failure seems like the obvious initial culprit, but he would never accuse Chief O'Brien of negligence, and is far more inclined to point the finger at deliberate sabotage ...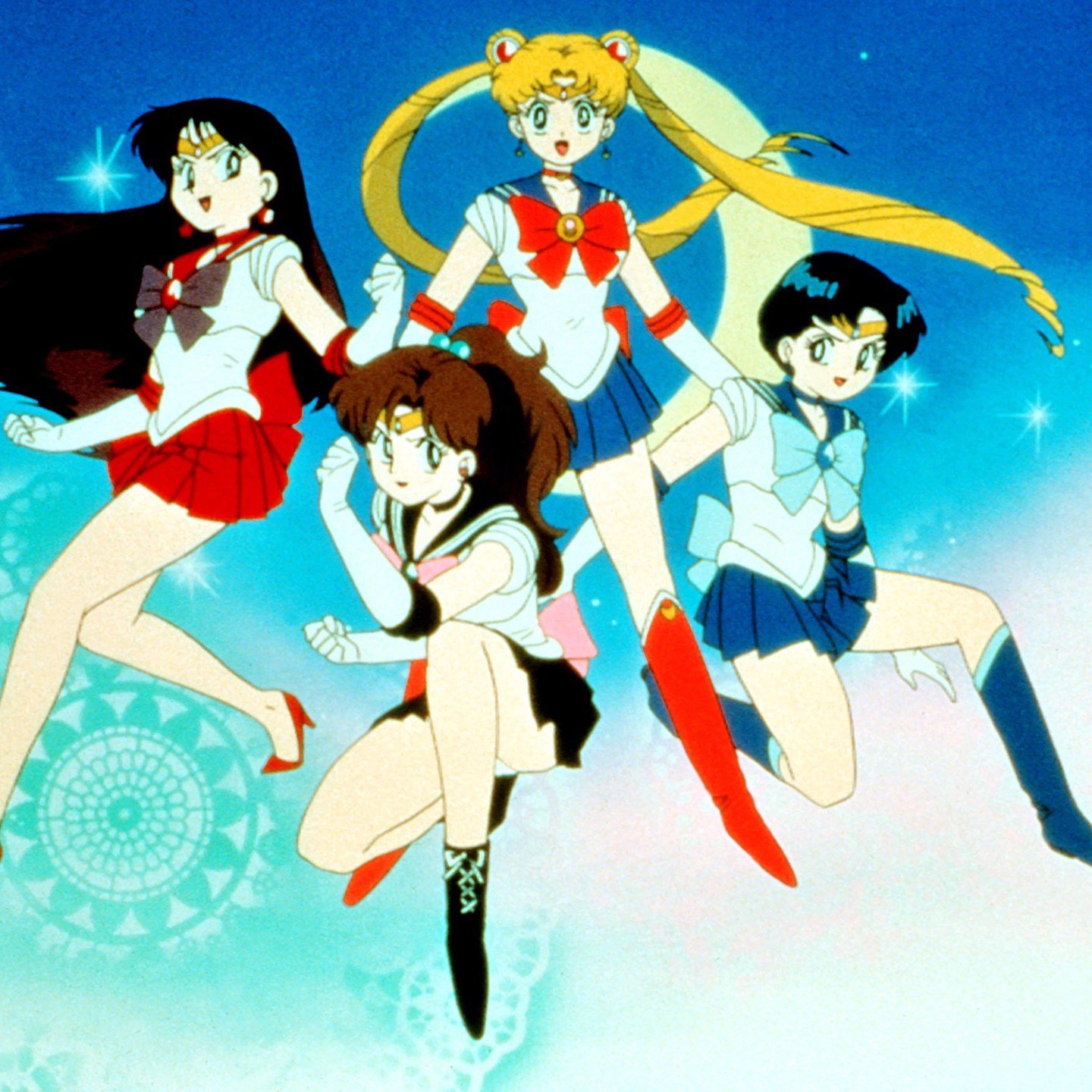 Fuck.
I swore never to speak of such things again. But there's no way I can get out of talking about this, is there?
This past week, as of this posting, was the 25th Anniversary of the premier of the first animated adaptation of Bishōjo Senshi Sailormoon, or, as it's better known in the west, Sailor Moon. Like most Japanese pop media, Sailor Moon actually started as a manga first, and thus the *true* 25th Anniversary of the series was last year. But the first anime is considered by the overwhelming majority of fans to be the definitive version of the story, and is certainly the most well known internationally. So this is the date that's going to be seeing the most widespread attention and acclaim from critic and fan circles. Sailor Moon is one of those huge anime shows that even people who aren't familiar with Japanese media will instantly recognise. It, along with Dragon Ball Z and Ranma 1/2, defined the anime landscape of the early 1990s and was an integral part of the international anime breakout. It was also far and away the most interesting of the three to my eyes, which ...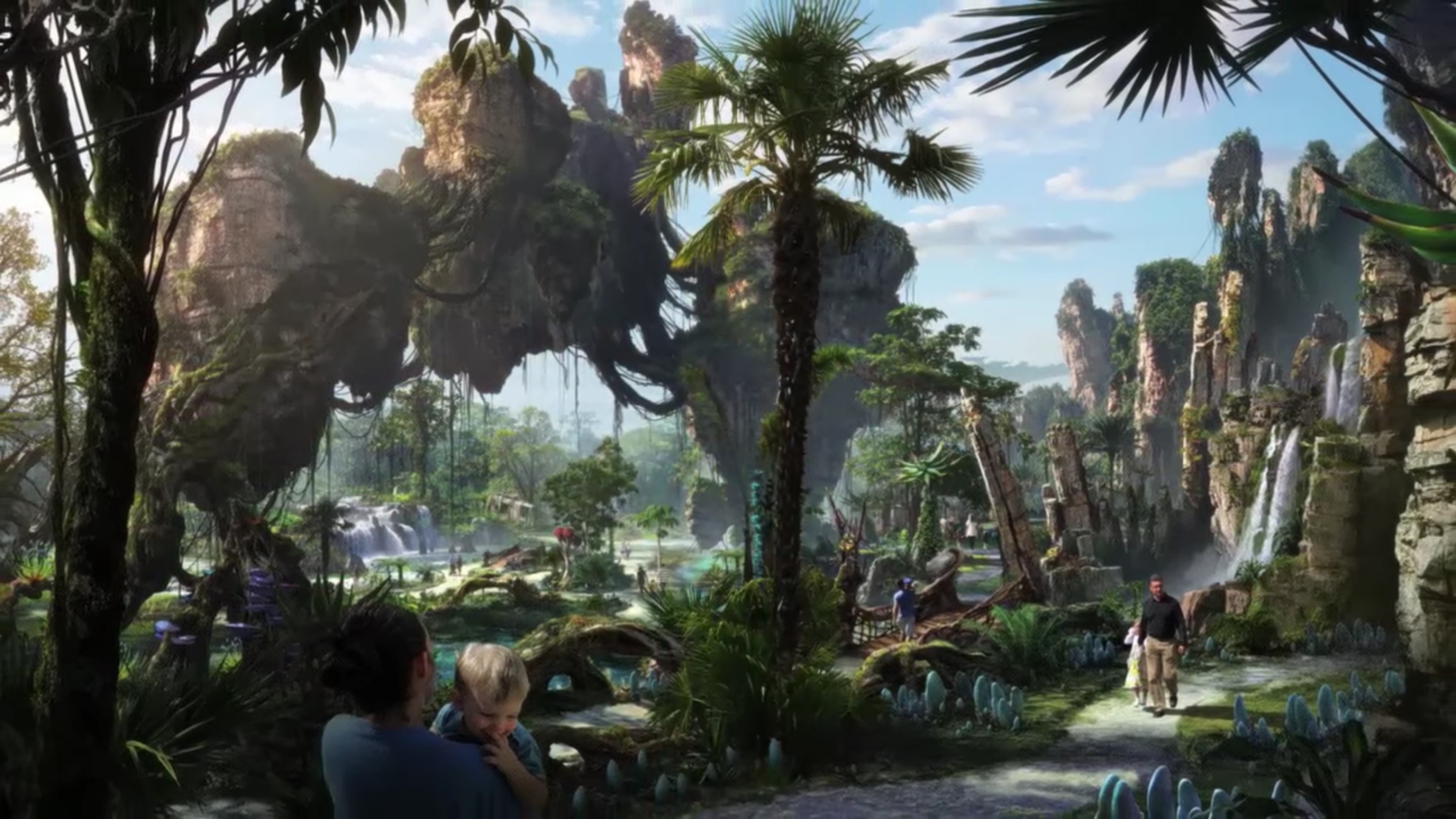 I was watching TV the other night when a commercial caught my eye. It's the exceptional ad that does this, since I usually have commercials muted so I can focus on constructive things instead. In this case, I immediately recognised, entirely against my will, the iconography of planet Pandora from James Cameron's Avatar, a movie I never saw. I was wondering if this meant we were getting an imminent Avatar sequel and was just beginning to ponder the ramifications of that before the true purpose of the commercial became clear: Opening in May of this year in the Animal Kingdom park of Walt Disney World Resort will be Pandora: The World of Avatar, an entirely new land attraction that seeks to create the world of the beloved film in physical form.
My first thoughts were, unironically, "well, that's going to do incredibly well" followed soon after by "this seems like a good fit". Though the religiously ecstatic paean to CGI that is Avatar at first glance seems like a strange fit for the ostensibly environmentalist tone of Disney's Animal Kingdom, the connection seems like a much more intuitive one if you look at it deeper for ...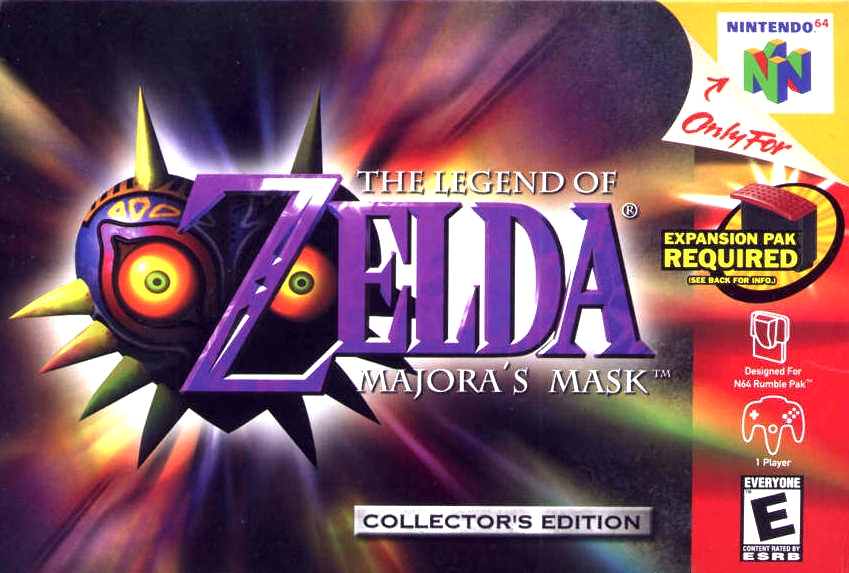 There was a child once long ago who went into the woods outside Kokiri Village. The child was looking for someone, and was very sad because all of their friends had gone away, and they thought that they didn't have any. As it came to be, these woods were enchanted, and it was said strange and mysterious things happened to those who travelled through them. Some of the village people thought these woods had been the dwelling-place of the Old Ones in the time no-one could remember anymore, and that their spirits and memories still haunted those same woods.
The child searched high and low, near and far, but couldn't find any trace of the person they were looking for. Then, the child found a cave inside a hill they had never explored before. Supposedly, this cave opened up into a gigantic hole, and the child fell in. That was the last anyone ever heard of them. Some say the child found the kingdom of the faeries who are thought to live inside that hill, and that it was those same Good People who raised that child, and that they remain inside that hill to this very day ...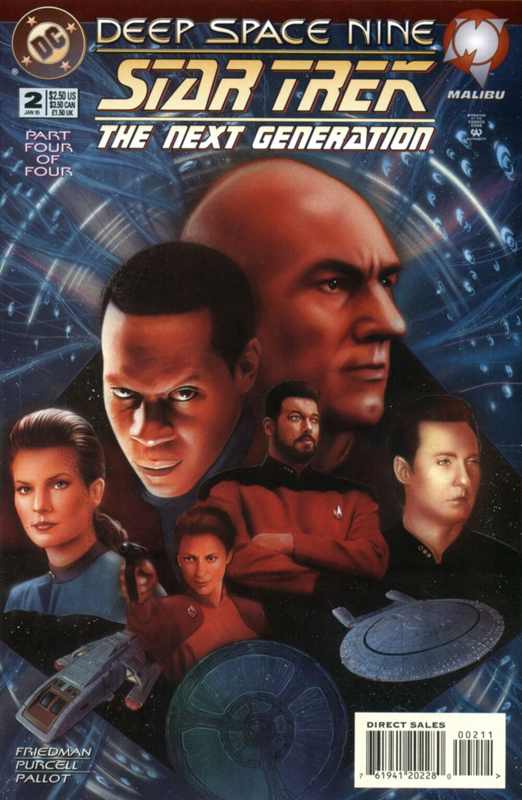 The Othersiders are gloating at having captured Data, Odo and Deanna. They order them to drop their weapons, which they do, but not before Data sets them to overload, causing yet another terrific explosion. The scattered away team uses the opportunity to kick massive amounts of ass, with Data punching people square in the gut with the full brunt of his android strength, Deanna unleashing sick karate moves and Odo turning into an awesome sludge monster to dispatch the rest. In sludge monster form, Odo praises Deanna's fighting skills in a tone that, if I didn't read him as asexual and aromantic, could almost be construed as a come-on. Deanna brushes it off by saying Worf trained her.
On Deep Space 9, Miles and Geordi have figured out what's causing the Wormhole to throw a fit. It turns out it's being assaulted by a certain kind of waveform, being broadcast simultaneously from two different stations: One in the Alpha Quadrant and one in the Gamma Quadrant. Miles figures that if they could knock at least one of those out, the Wormhole would go back to normal. Captain Picard doesn't want to send another away team ...
Posted by: Josh Marsfelder 1 month, 1 week ago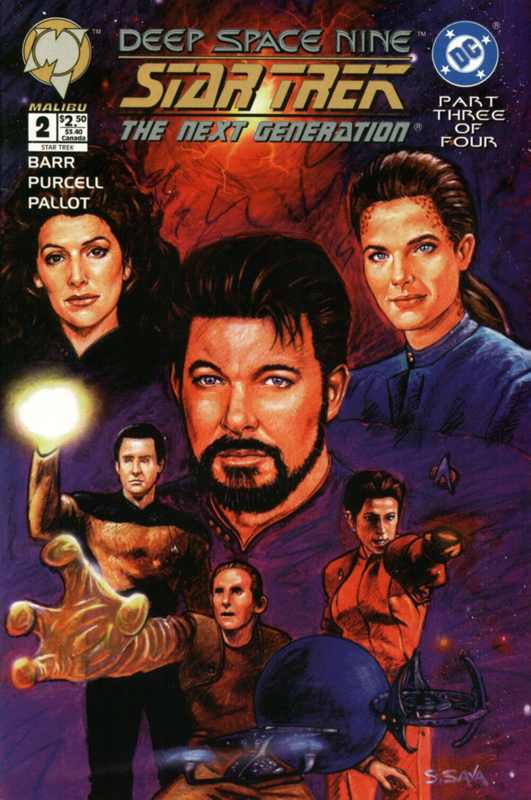 Commander Riker orders the ship to turn around immediately, but of course we can't do that. If they go back through the Wormhole too quickly, the circuitry that allowed the Runabout safe passage in the first place might be damaged. So Will thinks fast, has the crew divert all power to shields and beam over to the other Runabout (the one that carried the admirals' party). This shouldn't be possible because transporters famously can't penetrate shields, but whatever. And naturally, this plan doesn't work either as the Evil Aliens soon catch onto it and beam everyone aboard themselves in a stasis field. Because captures and escapes are just how serials work.
So after that bit of padding, we get some exposition. Because, again, serials. These Aliens, hereafter the titular Othersiders, explain to the team that they are pissed off at people from the Alpha Quadrant intruding on space they claim is theirs, and they're determined to strike back. Back on our side, Captain Picard suggests that he and Commander Sisko pass the time waiting for word from the away team by helping out with a humanitarian mission on Bajor. Because this team can't have ...
Posted by: Josh Marsfelder 1 month, 2 weeks ago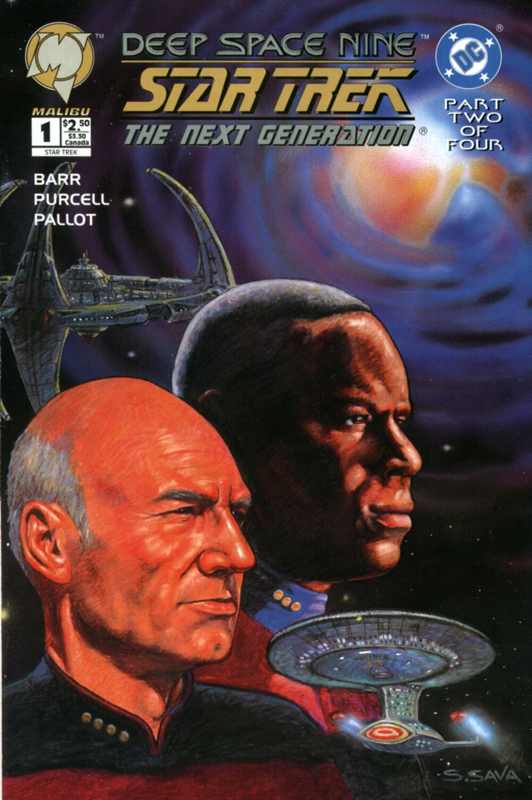 A fearsome storm rages on Bajor. Vedek Bareil surveys the fury from a balcony outside his temple. An attendant acolyte (who looks a hell of a lot like Vedek Winn but isn't cited as being her) fears for his health, but Bareil only asks if everyone who has lost their homes due to the storm has been given sanctuary within, stressing that no-one must be turned away. The acolyte hopes the Prophets stop the storm, but Bareil hopes they grant them their wisdom on how to act.
On Deep Space 9, Kira, Worf and Odo confront the Cardassian saboteurs. One of the assailants tries to gas the security team, but Worf is a quicker shot, and Odo turns into a praying mantis tentacle monster to subdue them. Not to be outdone, Kira swings from the rafters and kicks some dudes in the fucking face. But before they can arrest them, the intruders activate an emergency transport. Jadzia Dax couldn't catch them in time, but Data has found some technobabble that allows him to nullify the cloaking device used on their ship. Unfirtunately, neither Dax nor Data is able to snare the ship in a tractor beam before it ...