I write things and am nominally in charge here. Below are my most recent posts.
The bulk of my work is in a style I have, in an act of mild narcissism, named psychochronography. Psychochronography, an offshoot of the artistic concept of psychogeography. Psychogeography is a practice originally developed by the Situationist International as part of their efforts to forcibly dismantle the established social order. Psychogeography is the study of how physical spaces impact social, cultural, and personal lives. Its central technique is what is called the derivé, or drift, in which one wanders through an urban area according to some idiosyncratic logic that causes one to cut against the usual lines and paths traced.

Psychochronography applies this notion to our internal landscape. Taking seriously Alan Moore's notion of ideaspace, psychochronography suggests that we can wander through history and ideas just as easily as we can physical spaces, and that by observing the course of such a conceptual exploration we can discover new things about our world. Topics I've applied this approach to include Doctor Who, British comic books, and Super Nintendo games.
Posted by: Phil Sandifer 6 days, 4 hours ago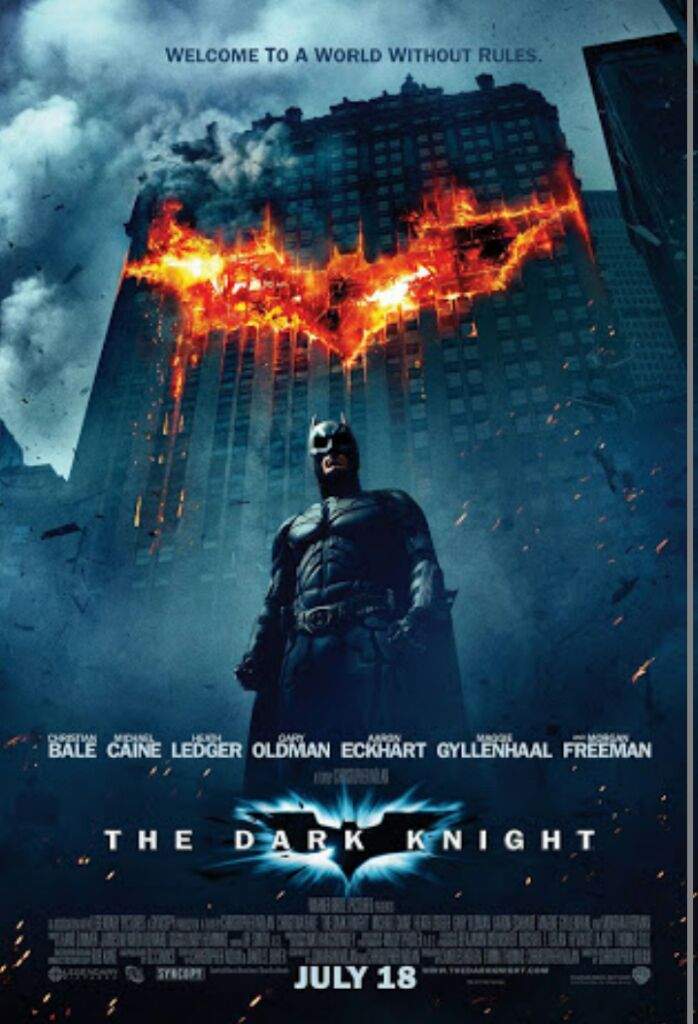 It seems silly to start anywhere besides the Joker. We'll set aside the cynical but not entirely unfounded question of whether the performance would be as celebrated as it is were it not for Heath Ledger's untimely death and the ghoulish speculation (since refuted) that the psychological intensity of the role was a cause. Sure, it's tough to imagine a Batman film winning an acting Oscar under less tragic circumstances, but that's in no way what's interesting here. What's interesting is that Ledger and Nolan took the most oversignified character in Batman mythos (and yes, of course I'm including the big rodent himself) and offered a game-changing take on him. The hunched, disheveled figure with a Glasgow smile is a new angle, skewing the Joker towards a materialism that is generally precisely what's discarded in other efforts to make him more grandiosely crazy. Ledger and Nolan offered a new way for the Joker to be.
By some margin the least interesting parts of this are the most often remarked upon. Yes, Ledger's schlubby maniac was an easier fit for a certain strain of geek masculinity than the more overtly queer portrayals that came before him. But frankly, anybody who needed ...
Posted by: Phil Sandifer 1 week, 6 days ago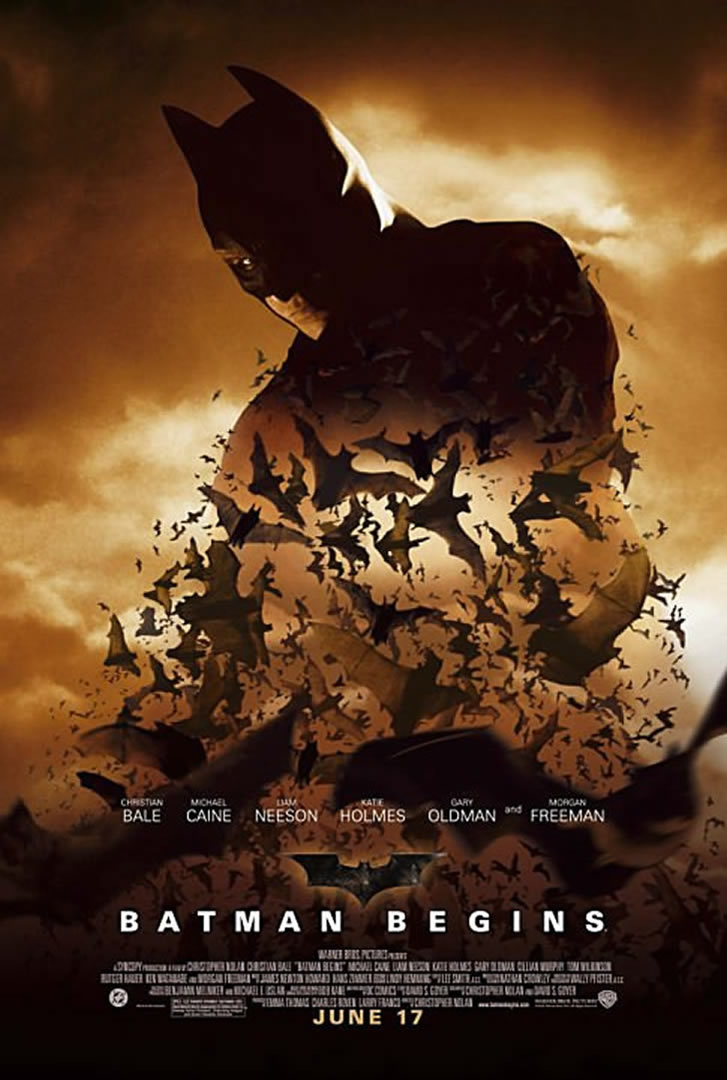 It may be an accurately named trilogy, but its edges are both fuzzy. The Dark Knight Rises ends by gesturing forwards to an unrealized draft of DC's film aspirations. Batman Begins, on the other hand, is inexorably tethered to the Burton/Schumacher films its title declares its separation from. Batman begins because his franchise had been driven into the ground by Batman and Robin eight years earlier. The choice of villains is perhaps the clearest remnant of this - two villains who had not been used in the previous series, including the Scarecrow, who was going to be the villain of a fifth Batman film ever since it was going to be directed by Joel Schumacher and called Batman Unchained. Even Hans Zimmer's score interpolates Danny Elfman's.
Even considered purely within terms of the Dark Knight Trilogy, Batman Begins is odd. Again, the title is a clue - it's the one part of the trilogy not to have the phrase "Dark Knight" in it. But more to the point, it's the only film in the trilogy to be directed by Christopher Nolan, promising young director coming off of Memento and Insomnia as opposed to Christopher Nolan, director of major blockbusters. And this shows ...
Posted by: Phil Sandifer 2 weeks, 6 days ago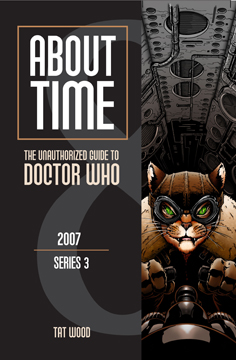 At long last, there's a new volume of About Time. For those who are unaware, About Time is the gold standard of comprehensive studies of Doctor Who - a towering project whose Alan Moore it has been my pleasure and privilege to serve as Grant Morrison to. This latest volume covers from The Runaway Bride through Voyage of the Damned, with stops off for "Time Crash" and The Infinite Quest. The short form is that it's another great entry in a great series that's absolutely worth buying if you're the sort of person who buys massive and sprawling reference boks on Doctor Who. You can get it on Amazon right here, or on Amazon UK here. I recommend it highly.
Now for the meaty bits. I want to start with the kind of obvious red flag the book throws up, which is the fact that the entire book is covering just one year of Doctor Who. For one thing, this incremental progress is frustrating given that the book's been a long time coming - Volume 7 was four years ago. For another, at 350 pages this means that About Time is spending more time on the Martha ...
Posted by: Phil Sandifer 3 weeks, 5 days ago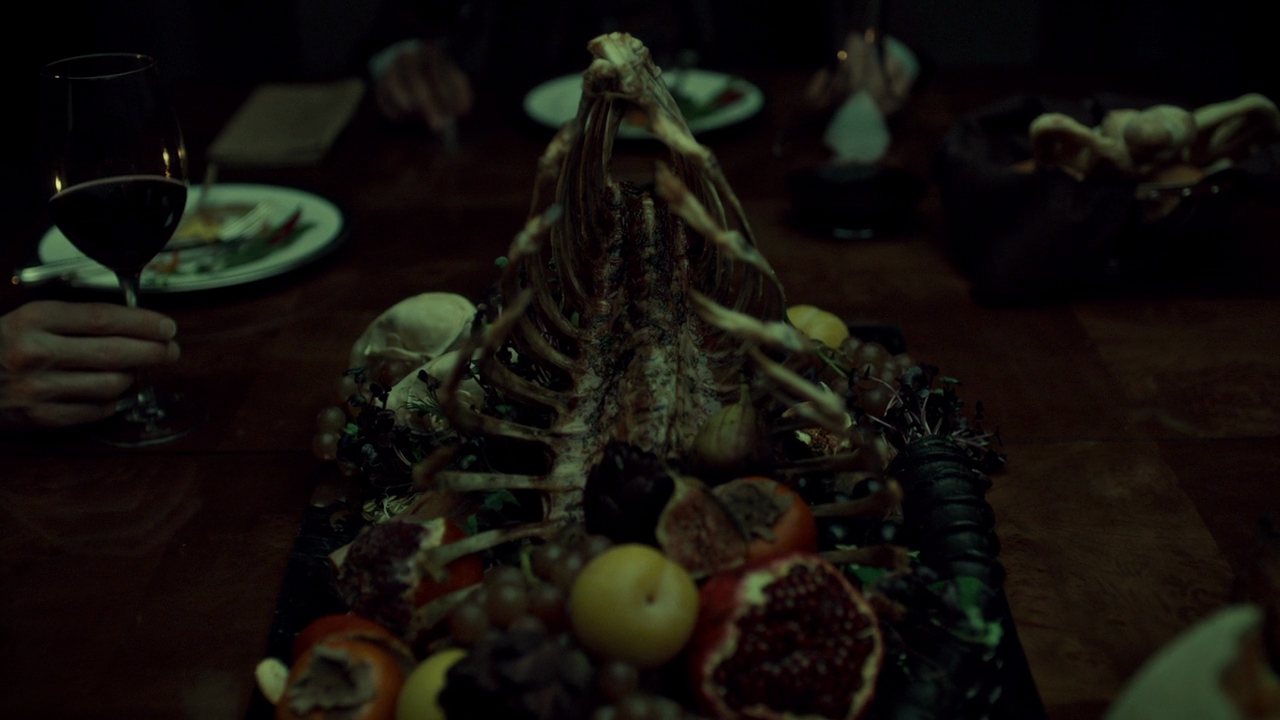 MIZUMONO: Dessert. Unlike savoureux, mizumono is in fact sweet, suggesting that the show has allied itself with Hannibal's perspective as opposed to Will's.

The shooting script called for a flash forward of Will screaming in pain from the end. Instead the episode begins with a moment of quiet ritual, with Hannibal writing out, in exquisite calligraphy, an invitation to Jack, setting their eventual confrontation as a piece of theater - a staged event the shape of which is defined by formal considerations of etiquette.

The opening sequence, which cuts between both Hannibal and Jack talking to Will and enjoining him to their side in the coming face-off. This is in some regards an odd framing for the episode, in that Will is never really given the chance to take a side, arriving on the scene after Jack and Alanna have already been dispatched. But it's such a weird and uncanny visual that one is inclined to lay the blame on the denouement for not paying off its setup than on the setup. (Even more uncanny is the reaction shot to this, a split-screen Will.)

The otherwise unmotivated reappearance of Garret Jacob Hobbs - who seems at this point slightly dated in the ...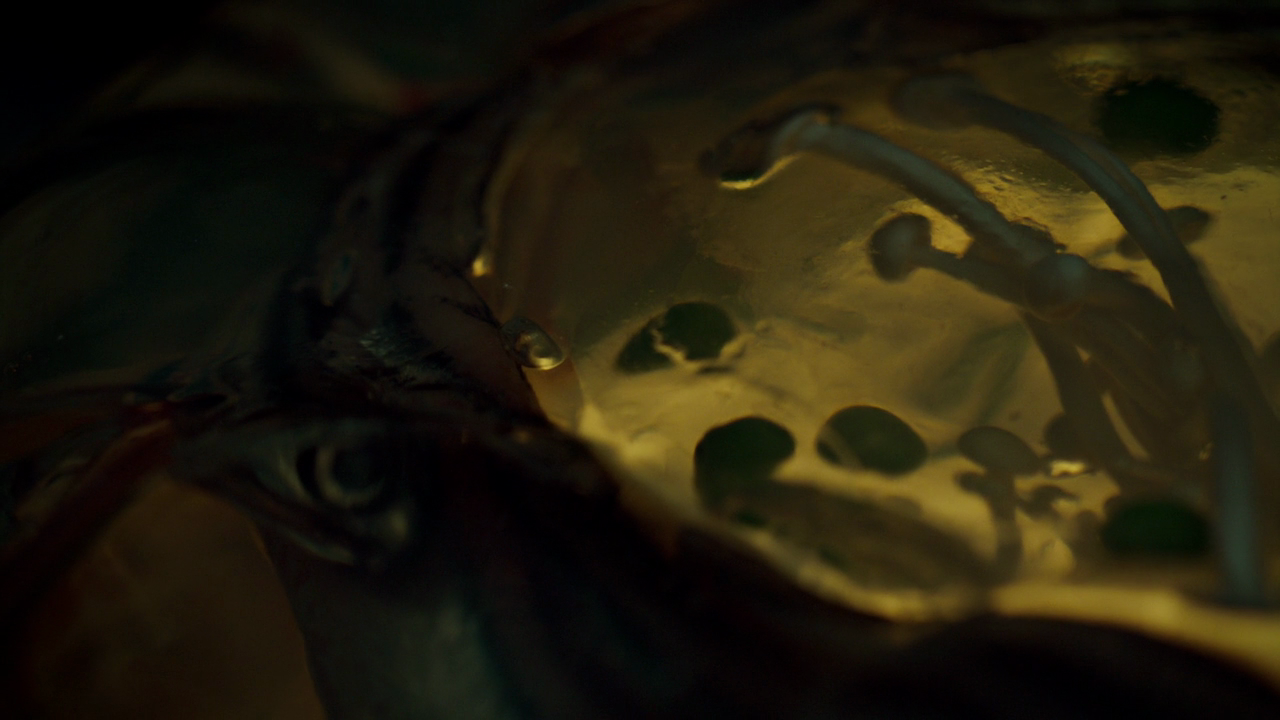 TOME-WAN: A miso or vegetable soup with rice. This signifies nothing more than the approaching end of the meal.
WILL GRAHAM: Can you explain my actions? Posit my intentions? What would be your theory of my mind?

HANNIBAL: I have an understanding of your state of mind. You understand mine. We're just alike. This gives you the capacity to deceive me, and be deceived by me.

WILL GRAHAM: I'm not deceiving you, Dr. Lecter. I'm just pointing out the snare around your neck. What you do about it is entirely up to you.

HANNIBAL: You put the snare around my neck.
This is going appreciably differently from Will and Hannibal's previous efforts to get people to murder the other for them. Hannibal's first line is the closest thing to an explanation - at this point they are so enmeshed in one another's psyches that trying to kill each other is, as Steven Moffat would put it, their flirting. Will, however, misses the real takeaway, which is Hannibal's note that he has the capacity to deceive him. Spoilers: this is going to go badly for Will. (Admittedly that spoiler is basically just always true.)
HANNIBAL: Why did you tell Mason ...
Posted by: Phil Sandifer 1 month, 1 week ago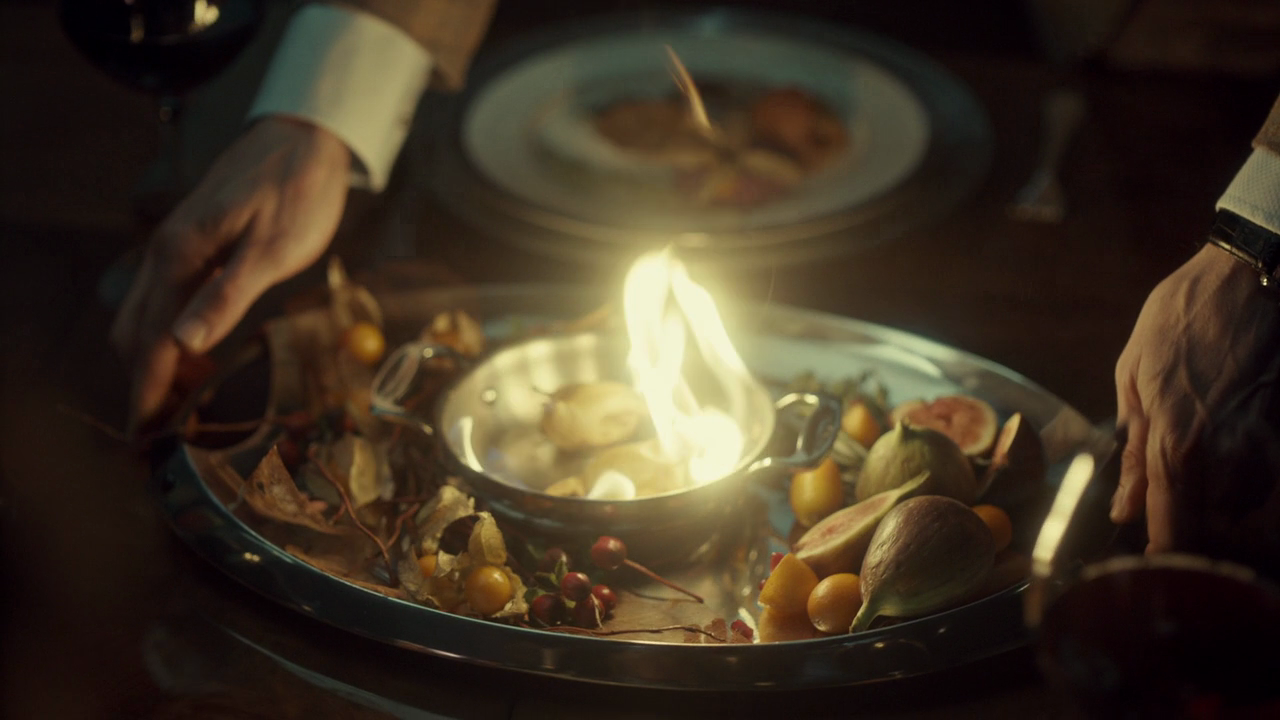 KŌ NO MONO: An assortment of pickled vegetables. Janice Poon suggests that this signals the approaching denouement, and also makes a nice metaphor about the vegetables sharpening the senses, which is what Alanna needs. The reality is that the second season is not so much going off the rails as plummeting down the gorge, watching mournfully as the rails disappear into the sky.

The script calls this the Wildigo, which is the best part of the entire conceit. That a silly portmanteau is the best part speaks to the intense and pointless violence being done to the show's narrative principles here. "Kō No Mono" is primarily structured around a cheap and theatrical bit of audience deception, maintaining the illusion that Will killed Freddie. This is already cheap - a way to manufacture drama out of structure when you obviously don't have it in your actual character work. This is a common way for formally inventive storytelling to run aground - when the formal complexity becomes a way of making a story work in the first place instead of working better. Mostly Hannibal avoids it, not least because it's got the core of the Harris books, which clearly and demonstrably do work dramatically ...
Posted by: Phil Sandifer 1 month, 2 weeks ago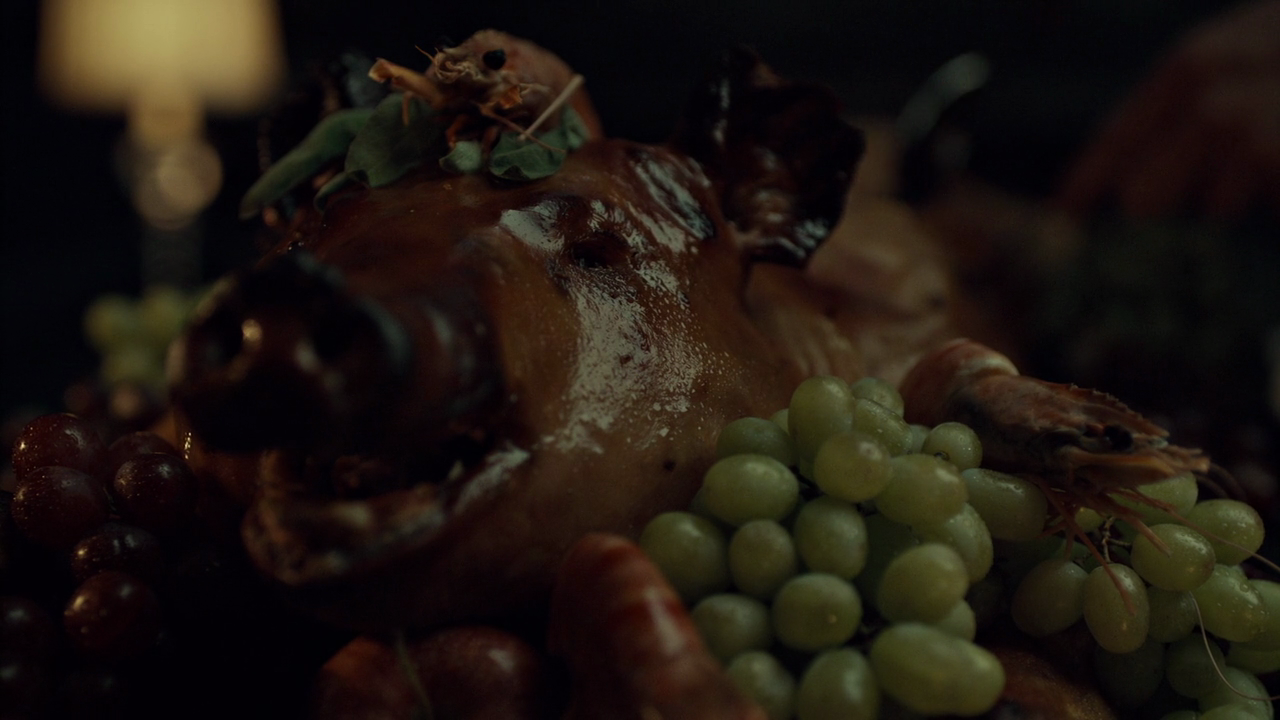 NAKA-CHOKO: A citrusy soup, used as a palate cleanser. Hannibal does suggest that a meat has citrus notes, but that's a stretch. Not even Janice Poon tries to explain this one.

It is tempting to say that this episode opens with a revision of the previous one's finale, but based on the scripts it's more accurate to say that the previous episode's finale was revised to be a streamlined version of this opening, cutting the actual fight scene down to Randall bursting through the glass (and making one other major change, which we'll get to in a moment). Here we get the psychic landscape version, in which Will murders Randall-as-representation-of-Hannibal, which, in light of the cuts to the previous episode, becomes the sole and definitive version.
WILL GRAHAM: I'd say this makes us even. I sent someone to kill you, you sent someone to kill me. Even-steven.

HANNIBAL: Consider it an act of reciprocity. One positive action begets another.

WILL GRAHAM: Polite society normally puts such taboos on taking a life.

HANNIBAL: Without death, we'd be at a loss. It's the prospect of death that drives us to greatness.
The other post-shooting script revision to the end of ...
Posted by: Phil Sandifer 1 month, 3 weeks ago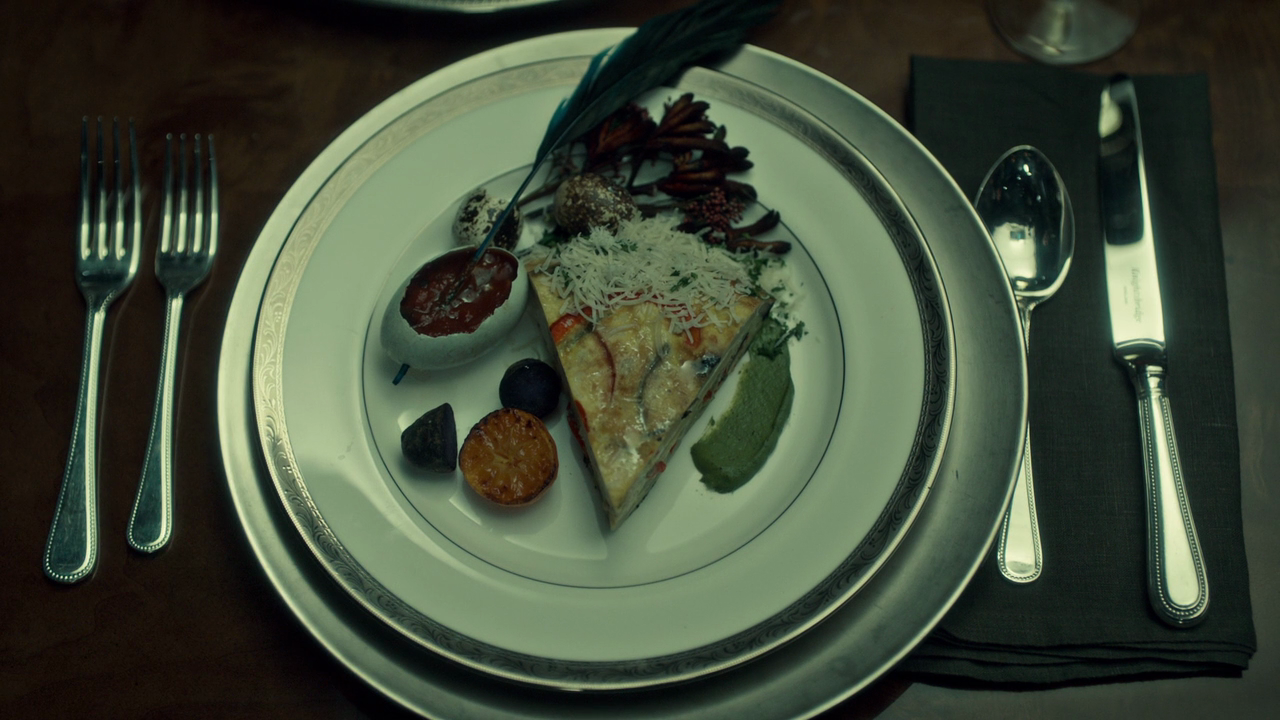 SHIIZAKANA: A hot pot dish, meat-based and the nominal main course. I'm going to go ahead and just call it "no relation" to the contents of the episode, because reading this as somehow forming a culminating centerpiece of the season is just too ridiculous.
HANNIBAL: Why not appeal to my better nature?

WILL GRAHAM: I wasn't aware you had one.

HANNIBAL: No one can be fully aware of another human being unless we love them. By that love we see potential in our beloved. Through that love we allow our beloved to see their potential. Expressing that love, our beloved's potential comes true. I love you, Will.
Given that it also includes Will slowly crushing Hannibal via elaborate rope bondage and the black stag, this dream sequence is firmly the slashiest scene in Hannibal.
HANNIBAL: Memory gives moments immortality. But forgetfulness promotes a healthy mind. It's good to forget. What are you trying to forget?

JACK CRAWFORD: Doubt. I let doubt in.
For those inclined towards the "Steven Moffat was significantly influenced by Hannibal" school of thought, the similarities between this and "forgetting is the human superpower" is significant. Of course, that was Frank Cottrell Boyce, so the ...