Viewing posts tagged eruditorum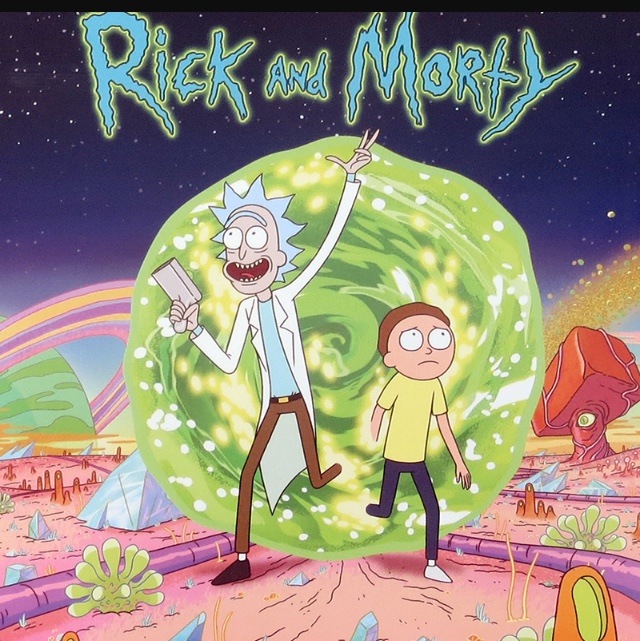 On October 7th, 2017, just over two months after The Doctor Falls, police were called to several McDonald's locations following a disastrous promotion in which the fast food restaurant brought back an obscure McNuggets dipping sauce, "Szechuan sauce," that had briefly been released nearly twenty years earlier to tie-in with the release of Disney's Mulan. The limited amount of sauce released to select McDonald's was wildly insufficient for the crowds that arrived, which consisted of hundreds of people lining up for hours only to discover that restaurants had as few as twenty sauce packets. The result was bedlam—young men (the crowds were almost exclusively male) hurling obscenities and venting their frustration on minimum wage workers. On Twitter, people seriously suggested class action lawsuits and claimed that any workers who had a bad day deserved it because of the company's bad actions.
The key bit of context needed to understand this madness is why McDonald's was bringing back an ancient dipping sauce that Eater described as having "the color and consistency of strawberry jelly" and tasting "mainly like corn syrup with maybe a tiny bit of Worcestershire thrown in." The answer is that several months earlier, when the ...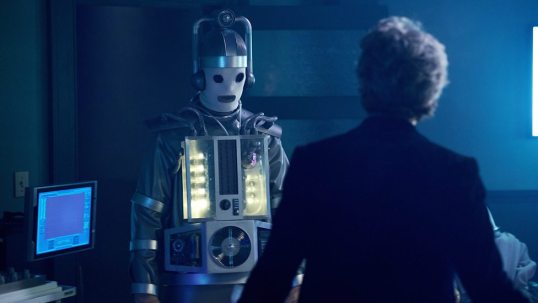 Moffat sent Capaldi off with an acting challenge to rival Heaven Sent, namely selling the line "A Mondasian Cyberman!"
It's June 24th, 2017. Artists for Grenfell, a charity supergroup including Stormzy, Robbie Williams, Brian May, and Pete Townshend, are at number one with "Bridge Over Troubled Water," which lasts for a week before "Despacito" makes its inevitable return. Little Mix, Rita Ora, and DJ Khaled also chart. In news, a terrorist attack occurs in Finsbury Park as a man drives a van into a crowd near a mosque while shouting "Kill all Muslims," while ISIL destroys the Great Mosque of Al-Nuri in Mosul. And Theresa May finally reaches an agreement with the DUP to support her government for the low, low price of one billion pounds.
While on television, the end, or at least, the beginning of it, as Moffat ultimately found himself persuaded to do one more Christmas special, as Chibnall wasn't going to be ready for one yet. Indeed, this final duology serves to interestingly highlight the nature of a regeneration story by taking the two crucial elements of one and splitting them into different stories. Twice Upon a Timegets the marquee moment in ...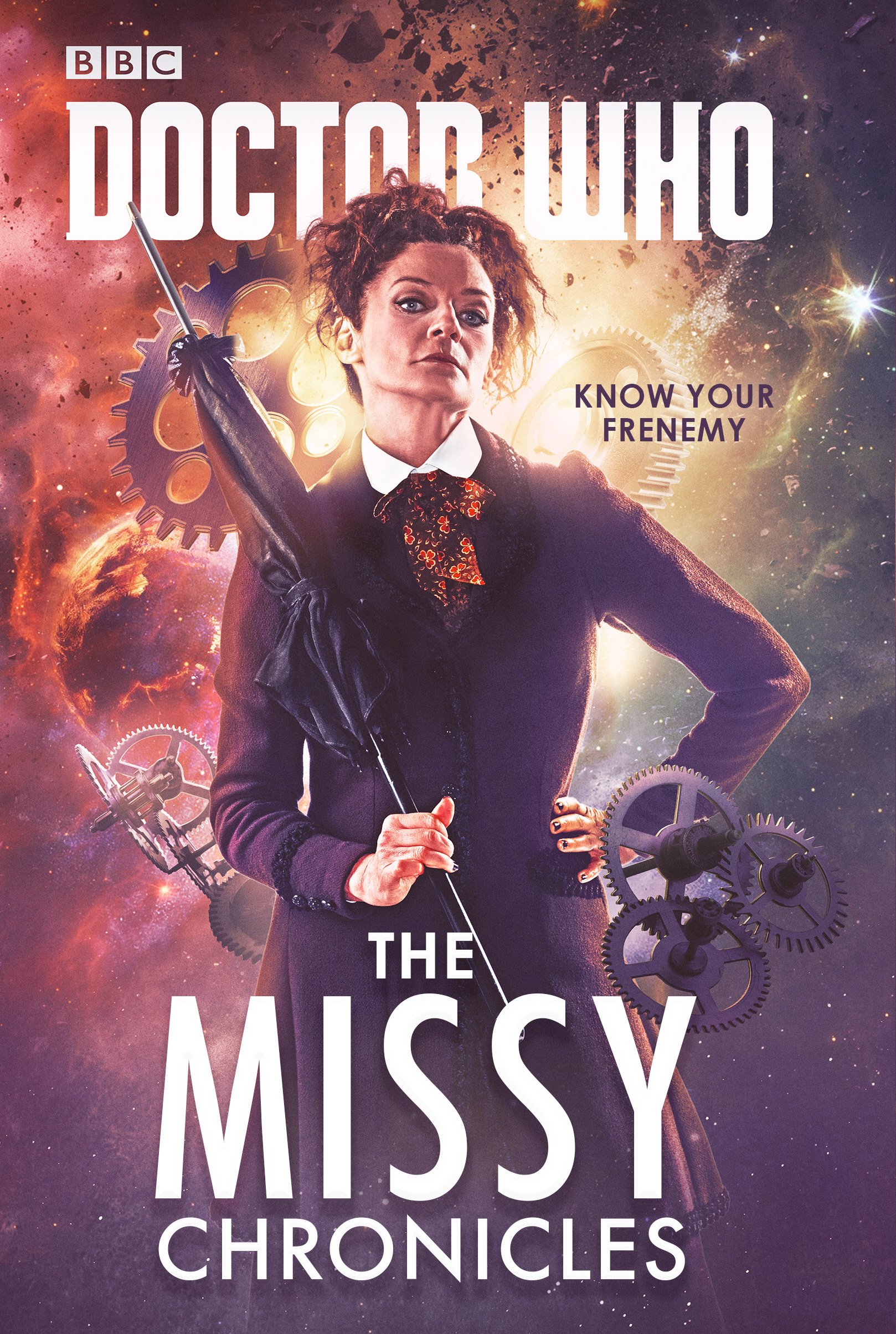 And so begins the endgame of an era, in which I traditionally wander around a bit and look at other things before actually resolving the era. We've two more Capaldi-era stories and five entries to cover them with. And today we dip into the BBC Books line for the fourth time this era because I want to talk a little more about Missy, and the alternative is Big Finish's box set and, well, we don't do that anymore. So instead we get BBC Books' anthology of Missy-centric short stories.
Like most BBC Books products, it suffers from the obvious problem of dead weight writers. I'm sure Peter Anghelides is a lovely person (although really you'd think I'd have been burned enough times by the BBC-sanctioned pro-fan class to just stop with that assumption), but there's simply no reason why one of the writers of The Ancestor Cell should be writing new release Doctor Who material in 2018 except for the fact that they haven't actually changed editors since the book after that. And yes, there's also an inevitable firmly adequate story by James Goss and an effort by Cavan Scott that includes metaphors like "a look that would wither Krynoids" ...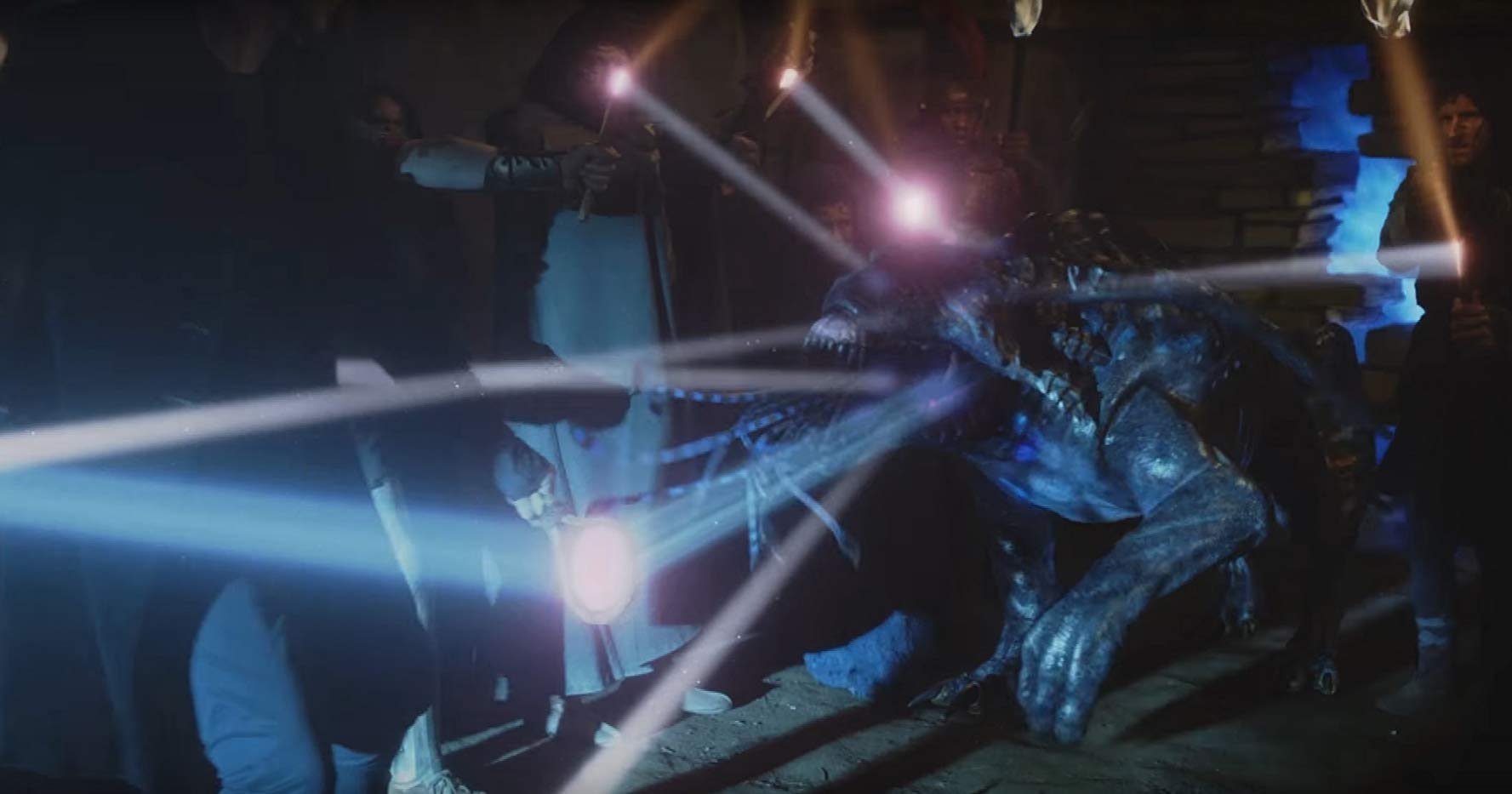 Finally, he lives up to the name Doctor Disco.
It's June 17th, 2017. Despacito continues its endless dominion over the charts, while Charlie Puth, Ariana Grande, Liam Payne, and David Guetta also chart, the latter featuring Justin Bieber, which means that he has three songs in the top ten without being the primary artist on any of them. Ed Sheeran has zero. In news, Otto Warmbier is returned home after over a year in a North Korean prison, with North Korea releasing him largely so he wouldn't actually die in their custody. Tim Farron resigns as leader of the Liberal Democrats. Republican Congressman Steve Scalise is wounded by gunfire during practice for a Congressional baseball game. And, most significantly, the Grenfell Tower block erupts in flames when a malfunctioning refrigerator started an electrical fire that ignited the exterior aluminum cladding selected for its low cost. Seventy-two people are killed. Numerous buildings across the UK are still using similar cladding, and in many of the buildings that have had their cladding replaced the costs have been passed on to the residents, who often cannot afford them.
Meanwhile, on television, Doctor Who offers one of its most remarkable episodes in The Eaters ...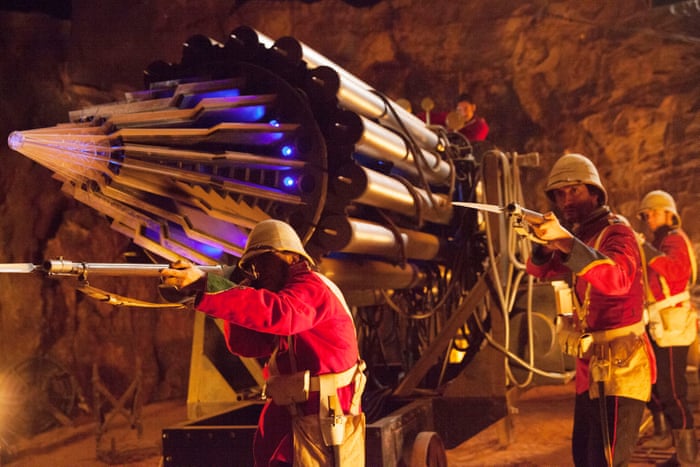 With Alpha Centauri only appearing on a screen, the "looking like a giant penis" needs of this episode had to be filled elsewhere.
It's June 10th, 2017. Despacito? Despacito. Ariana Grande makes it up to number two, while Niall Horan, French Montana, and Ed Sheeran also chart, with the latter having his last week in the top ten following the great Sheeraning. In news, Montenegro joins NATO, a Saudi Arabian-led blockade of Qatar begins, and James Comey testifies before the Senate Intelligence Committee. But the big news is the general election, which ends with a hung parliament after unexpectedly large gains for Jeremy Corbyn's Labour Party, resulting in Theresa May forming a confidence and supply agreement with the Northern Irish Democratic Unionist Party that gives her an incredibly narrow majority that would require near unanimous support from within her own party for any major legislation such as, say, a Brexit agreement.
Speaking of Brexit, on television we have Empress of Mars. This is a story that, by all rights, should be easy to dislike. It's Gatiss doing pure and unadulterated fanwank, without any of the wider concerns that allowed things like The Stolen Earth/Journey's End or Hell ...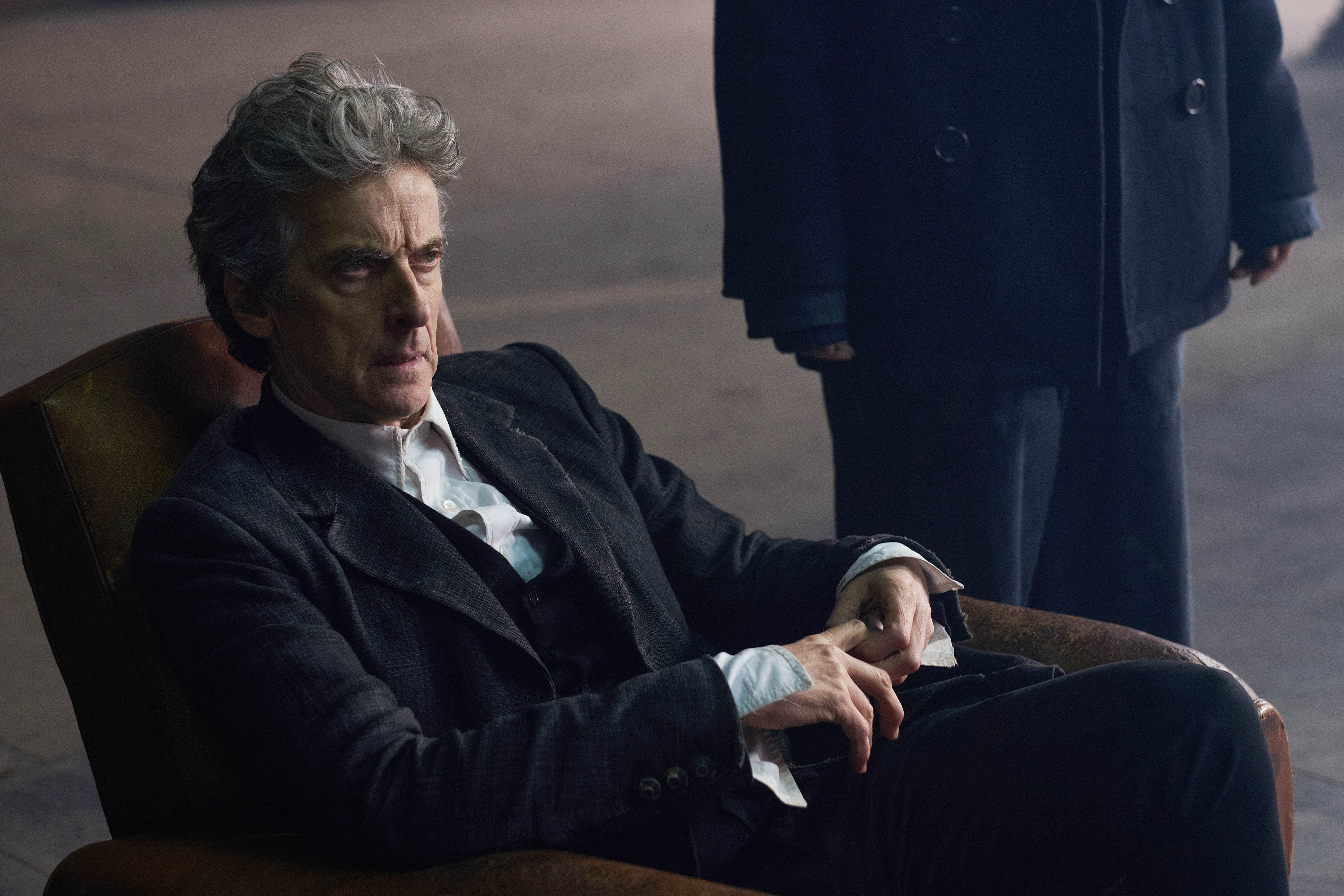 This is not actually a screenshot of the episode, but a candid photograph of Peter Capaldi shortly after recieving the script.
It's June 3rd, 2017. "Despacito" isn't going anywhere, but Captain Ska and Jonas Blue are newly in the top ten, while Ed Sheeran, DJ Khaled, and Clean Bandit continue their runs. In news, the US government announces its intention to withdraw from the Paris Climate Agreement, and Arsenal eats Chelsea to win the FA Cup. While on the day this episode airs, Reality Winner is arrested for leaking information about Russian interference in the 2016 Presidential election to journalists, and a few hours after it airs, a terrorist attack on London Bridge kills eight people.
On television, meanwhile, we have The Lie of the Land. This is a story that fits smoothly into an important tradition of Doctor Who stories, along with things like The Celestial Toymaker, The Dominators, The Monster of Peladon, Warriors of the Deep, Planet of the Dead, or Nightmare in Silver. Which is to say, fundamentally lazy fuckups at the tail end of otherwise good eras. There are a number of ways to get to this sort of story—Nightmare in Silver, in particular ...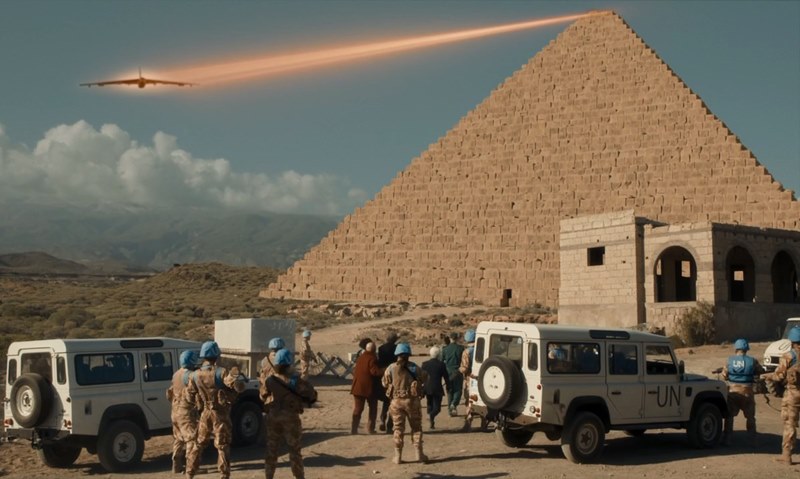 More likely than not, aliens invented airplanes.
It's May 27th, 2017. Luis Fonsi, Daddy Yankee, and Justin Bieber remain at number one with "Despacito," while Liam Payne, Charlie Puth, Harry Styles, and DJ Khaled also chart. Narrowly missing the top ten is Ariana Grande's "One Last Time," which re-enters the charts more than two years after its last appearance. This provides us a grim transition to the news, where a terrorist attack at the Manchester Arena kills twenty-two people during one of her concerts. Ringling Bros. and Barnum & Bailey stage their final circus show, while on the day of this story six out of seven leaders at the G7 summit reaffirm their commitment to the Paris climate accord. No points for guessing who the odd man out is.
Meanwhile, on television, we have The Pyramid at the End of the World. The Pyramid at the End of the Worldmay or may not have the messiest gestation of any Moffat era story. Certainly it has the messiest one to play out in public. Announcement of Harness's involvement was left extremely late, and when it came he was laden with the season's only cowriting credit. The story of ...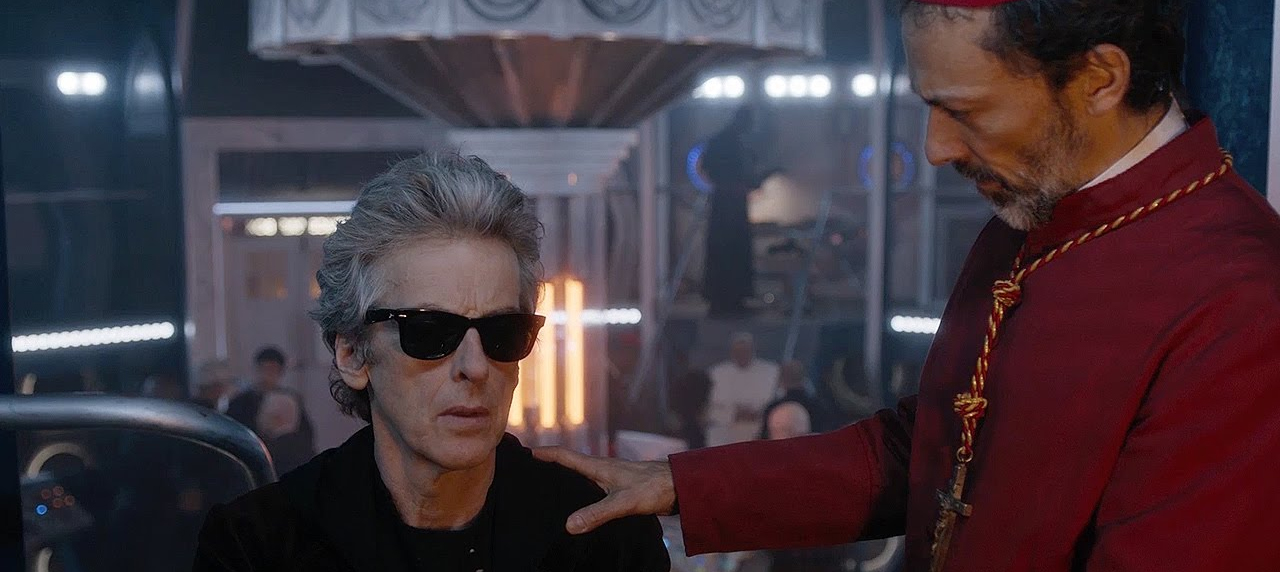 Don't worry, Doctor, I'm sure the Chibnall era will be fine
It's May 20th, 2017. Luis Fonsi, Daddy Yankee, and Justin Bieber remain at number one with "Despacito." J Hus, Ed Sheeran, Shawn Mendes, Clean Bandit, and French Montana also chart, the latter presumably introducing enough consumer confusion to explain Miley Cyrus being stuck at #11. In news, Chelsea Manning is released from prison. It emerges just how bad Trump's firing of James Comey was, resulting in the appointment of former FBI director Robert Mueller as a special counsel to investigate Russia's interference in the election. Trump makes his first foreign visit as President, to Saudi Arabia, leading to that low key amazing supervillain photo of Trump, the king of Saudi Arabia, and Egyptian President Abdel Fattah el-Sisi all touching that glowing white globe.
On television, meanwhile, Extremis. Let's set aside, for a moment, the monks arc as a whole; there's time enough to talk about what could have been, what was, and how that happened. Contrary to the greatest moment of Jack's podcasting career, Extremis is too interesting for that. That said, the monk arc hangs over it in that there is no way to ...