Viewing posts tagged humanitarian intervention
Posted by: Jack Graham 4 years, 4 months ago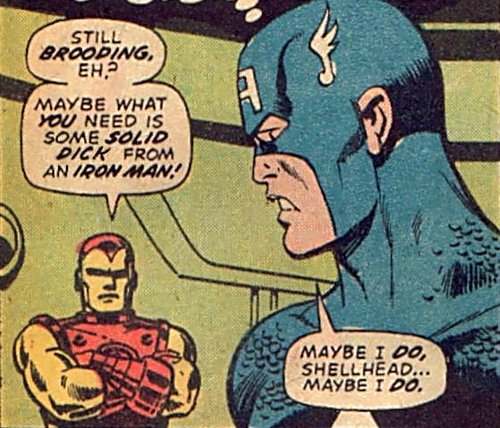 NOTE: This article has been amended to correct factual mistakes and clarify arguments.
Iron Man (2008), starring Robert Downey Jnr. and directed by Jon Favreau, is objectively one of the most evil films ever made. Possibly the most evil, actually.
Boilerplate
I'll get around to justifying that opening statement in a bit. But first, I just want to say… ahem… fuck Tony Stark. Seriously, fuck him. The arrogant, smug, privileged, sexist, immature, selfish, capitalist prick. The rich, preening, self-satisfied asshole. The callous, self-involved, vainglorious, narcissistic wanker. This guy isn't charming or funny or lovable. He's scum, masquerading as humankind's best friend. He's the 1% as saviour of the world, at a time when the 1% are directly and knowing destroying the world. He's the smiling face of the anthropocene (or rather capitalocene) extinction. He's genocidal imperialism as (lone) humanitarian intervention. He's neoliberal capitalism and neoconservative foreign policy as a series of bad-boy quips. He's private capitalist industry as heroism. He's mega-wealth as heroism. He's white male privilege as heroism. He's militarism, imperialism and American exceptionalism as heroism. He's the War on Terror as heroism. He's everything sick and twisted and rotten and filthy and evil and insane ...
Posted by: Jack Graham 5 years, 4 months ago
It is incredibly depressing to realise that I have been asking the rulers of the state I live in to refrain from bombing Iraq
for my entire fucking life.
There's an extent to which the 'it won't work' critique is entirely valid as an objection to waging yet more war upon the Middle East. Because the surface aim of the politicians is almost certainly to impose 'stability' on 'the region'. They like stability. No threats to embarass them, no revolts to topple their friendly dictators, no threat to Israel, no danger to neoliberal exploitation of local resources and markets, etc. And, as has been shown, it doesn't work. They try and try to bomb the Middle East into passive compliance, and all they succeed in doing is generating more troubles for their empire.
This is, of course, what empires have always done. Create the problems of tomorrow by viciously conquering the problems of today.
But there's another sense in which the 'it won't work' argument is fatally flawed, because there's a sense in which it
does
work. It may never achieve 'stability' but it does keep the ...
Posted by: Jack Graham 5 years, 6 months ago
Israel is currently killing hundreds of people in Gaza. As they do from time to time. To make something Abba Eban once said true by simply inverting his meaning: the Israelis never miss an opportunity to miss an opportunity for peace. Though even that is too kind to them. As even White House senior staff acknowledge, the Israelis don't want peace. Give them everything they've ever wanted, and it still isn't enough - because what they say they want isn't what they want. What they really want is to continue the war until they have finally completed the work that David Ben-Gurion left unfinished, and eradicated the Palestinians. The mindset of Israel is genocidal, and becoming more openly so by the day.
It is now clear to a great many people that what happened to the Native Americans as a result of the institution and independence of the United States of America was a scandal, a holocaust and a tragedy. The idea is so commonplace it's become a sentimental truism in pop-culture. Well, Israel had not done very much that America didn't do in the process ...
Posted by: Jack Graham 6 years, 2 months ago
"I know it sounds mad," says Martha, "but when the Doctor became human, he took the alien part of himself and he stored it inside the watch. It's not really a watch, it just looks like a watch."
"And 'alien' means 'not from abroad', I take it," enquires the frankly incredulous Joan.
"The man you call John Smith... he was born on another world."
"A different species."
"Yeah."
Joan is a sensible woman from 1913 and she's not having any of this nonsense.
"Then tell me," she presses, "in this fairy tale, who are you?"
"Just a friend. I'm not... I mean, you haven't got a rival, as much as I might... Just his friend."
"And human, I take it?"
She humouring the deranged girl. As John said earlier, it must be culture shock. Someone from a less developed culture trying and failing to understand the scientific romances of an ordinary school teacher... an ordinary school teacher, by the way, with whom she is far too familiar.
"Human," confirms Martha, "Don't worry. And more than that: I just don't follow him around. I'm training to be a doctor. Not an alien ...
Posted by: Jack Graham 6 years, 2 months ago
Enlightenment and Persuasion have walked in on the Doctor and his friends. They now look human. A man and a woman, created from a sketch Tegan drew. Pale, impassive, handsome, impeccably-groomed people in clothes that Tegan thought fashionable. They look like she modelled them on First Class passengers on Concorde. The Jet Set.
Persuasion hands round drinks. Nothing more persuasive than that.
Enlightenment is explaining her transformation from frog to aspirational 80s princess. She speaks in cut-glass vowels and icicle consonants.
"We enjoy the most advanced technology in the universe," she claims, her voice suffused with nonchalant arrogance.
She was kissed by technology.
"The dominant emotion on planet Earth is fear," says Persuasion suavely. Yes, that's always how the 'natives' look to the 'explorers'. Fearful little things. "When last we were there, our reception was hostile."
Tegan, a woman from a nation built on the destruction and subjugation of 'natives' by 'explorers', is not fooled.
"Yeah, that doesn't surprise me," she sneers.
"Well, we must read your history books," says the Doctor. There is no better way to learn about the mindset of the rulers of ...
Posted by: Jack Graham 6 years, 4 months ago
TW
Okay, so there's a house. Inside, an abusive husband is in the process of beating up his wife and kids.
"We've got to do something" says a concerned passer-by outside.
"I agree," says a liberal onlooker.
"Right," says the concerned passer-by, "wait here a mo..."
The concerned passer-by reappears in a suspiciously short amount of time with a fleet of bulldozers armed with wrecking balls, some petrol in a jerry can and a box of matches. The bulldozers set about demolishing the house while the concerned passer-by sets light to it.
Once all is quiet, the concerned passer-by and his mates raid the smoking ruins of the house for all the valuables that are still in one piece and unscorched, treading over the burned corpses of the wife and children as they go. They strike a deal with the husband (it turns out they are old mates of his and actually sold him the knuckle-duster he was using to punch his wife). In return for letting him live, he gives them his bank account details. (He's secretly quite pleased to be rid of the wife and kids.)
"Hmm," says the ...
Posted by: Jack Graham 7 years ago
This
article - from Rachel Shabi in
The Guardian
- is really great. It's about the Islamophobia encoded in the recent spate of much-lauded movies (and a TV show) about Americans, Arabs, terrorism... and all that kind of stuff.
Argo, Homeland, Zero Dark Thirty
- all recently rewarded at the Golden Globes. Supposedly nuanced and complex, they peddle the same old lies... just in a way acceptable to liberals.
Here's a snippet:
The three winners have all been sold as complex, nuanced productions that don't shy away from hard truths about US foreign policy. And liberal audiences can't get enough of them. Perhaps it's because, alongside the odd bit of self-criticism, they are all so reassuringly insistent that, in an increasingly complicated world, America just keeps on doing the right thing. And even when it does the wrong thing – such as, I don't know, torture and drone strikes and deadly invasions – it is to combat far greater evil, and therefore OK.
Funny how the culture industry obediently steps up when the imperium is trying to relaunch (yet again) a rinsed-clean project of Muslimcidal 'humanitarian intervention'. I'm all for complex, structural analyses of ...
Posted by: Jack Graham 8 years, 10 months ago
So, Western imperialist powers (especially the US and UK) spend years trying to undermine, attack and destabilise Gaddafi... presumably because his regime engaged in some nationalisation and brought some economic independence, not to mention his support for various "anti-imperialist" groups. The West indulges in occasional homicidal bombing raids that achieve nothing but the slaughter of innocents (including Gaddafi's own baby daughter).
(Don't get me wrong, by the way - I'm no fan of the evil old bastard... though, if we're doing body counts, he's probably less blood stained than most leaders of the "free world".)
Then Gaddafi starts making grovelling offers to deactivate his own WMD programme... which the Western powers repeatedly ignore until they can paint it as a victory for the Bush/Blair moral crusade...
As part of his new chumminess with Blair & Co., Gaddafi opens Libya up to foreign banks, foreign corporations and the IMF. As per the usual script, along comes structural adjustment, i.e. privatisation, austerity, etc. Gaddafi is announced as a reformed character now that his regime is becoming integrated into neoliberal globalisation.
Then the Middle East ignites. The people of Tunisia and Egypt rise ...