The Last War in Albion, aka "A Four-Colour Psychochronography"

The Last War in Albion is an ongoing feature of this site, currently running on Fridays. It is an ongoing critical history of the British comics industry focused primarily on the magical war between Alan Moore and Grant Morrison. Its primary narrative runs from the publication of Grant Morrison's earliest professional comics work in 1979 through to the present day, although its style is characterized by frequent digressions both forwards and backwards in history.
The structure of The Last War in Albion is an ongoing serial - each entry begins with the last few sentences of the previous entry, and leaves off with a simple "[continued]" after what will become the first few sentences of the next entry. Jumping around will thus produce some confusion, although hopefully a pleasant and entertaining level.

The nature of this project means a lot of crawling around through the archives and trying to piece together timelines of decades old events. This at times requires tremendous practical help, and several people have provided various forms of material support in writing this project. To wit, I would like to extend special thanks to Meredith Collins, David Dovey, Ben Hansom, Andrew Hickey, Pádraig Ó Méalóid, Lance Parkin, Alex Reed, Matt Feltman, Roger Whitson, Anna Wiggins, and, of course, Jill Buratto.
Tables of contents for individual books of the project follow:
Book One: The Early Work of Alan Moore and Grant Morrison
CW: rape, sexual assault, violence against women, transphobia, and homophobia. This chapter contains multiple NSFW images.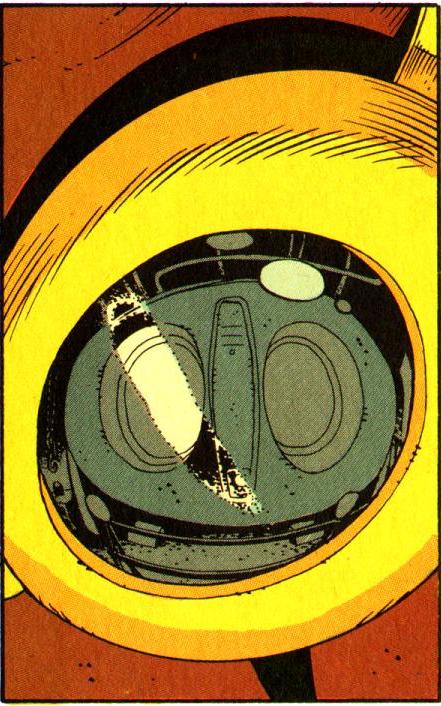 There is, however, another important sense in which Rorschach represents a myopia within Watchmen and, more broadly, Moore's larger artistic vision. As mentioned, a crucial part of Rorschach's psychology is his tortured relationship with sexuality. Sex is a major theme of both Watchmen and Moore's career, and one that he has much of value to say about, but there is something unseemly about the directness with which Rorschach's disgust with sex is pathologized, not least because it's a character trait inherited from his underlying relationship with the apparently asexual Steve Ditko. More broadly, there is something oversimplified and unsatisfying in Moore's approach to sexuality—a flaw intimately connected to his persistent inadequacy on the subject of sexual assault. This would be a relatively minor issue were it not for the awkward fact that the relationship between superheroes and sexuality is one of the comic's major themes.

The theme of sex within Watchmen ignites in the seventh issue, "A Brother to Dragons," which forms, along with "The Abyss Gazes Also," a symmetrical axis at the center of the series. Watchmen can be divided into ...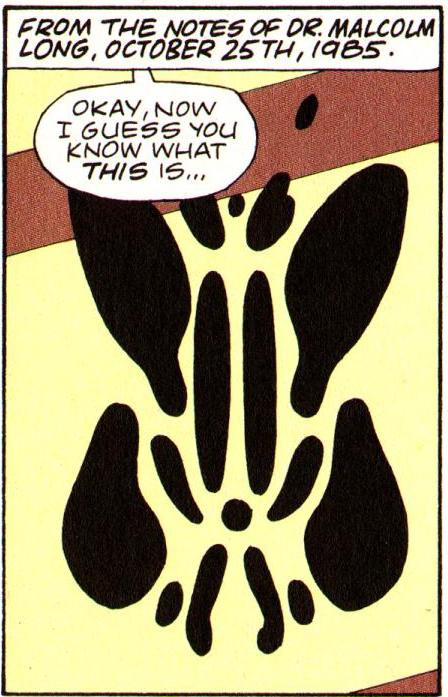 The line, of course, belongs to Rorschach, the glamorous poison at the heart of Watchmen's appeal. Moore is self-effacing about the character these days, joking that his popularity is down to the fact that Moore "had forgotten that actually to a lot of comic fans that smelling, not having a girlfriend - these are actually kind of heroic." But unlike a lot of Moore's self-deprecation, there's an edge to this quip. He's emphasizing his failure to anticipate the reaction to Rorschach, but only as a means to insult Rorschach's fans even more spectacularly. There are obviously a lot of things about Watchmen that have gone sour for Moore, but at times it seems that there is nothing he resents quite as deeply as the reception of Rorschach.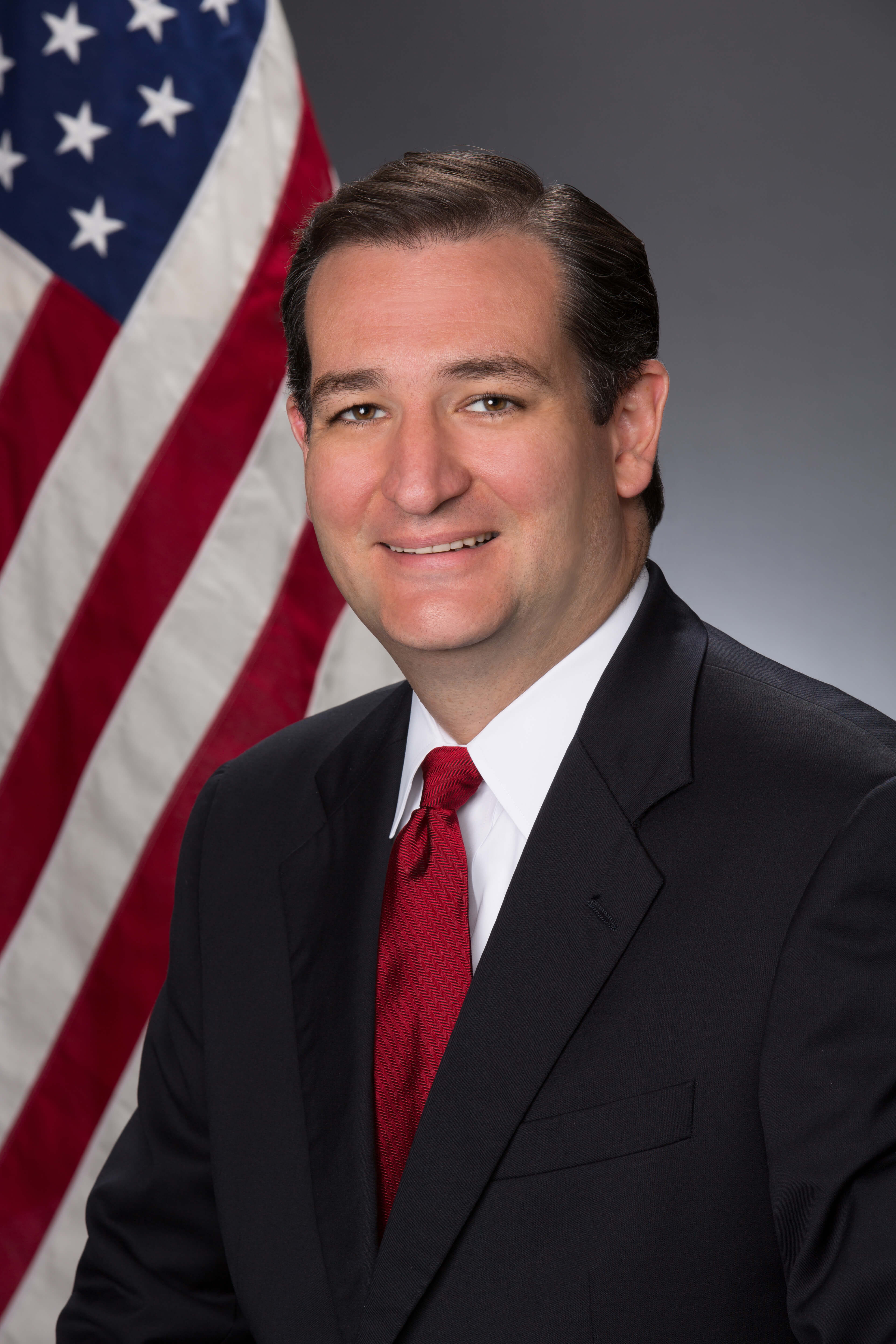 Figure 977: The Zodiac Killer, a Californian serial killer named for his literally cryptic letters, has nothing to do with either Watchmen or From Hell.
In some ways it's no wonder. It's not just the throngs of fans eager to tell Moore how much they admired Rorschach, a phenomenon that is surely associated with the sudden spike in Moore's popularity that turned comics conventions into deeply unpleasant experiences where he felt crushed ...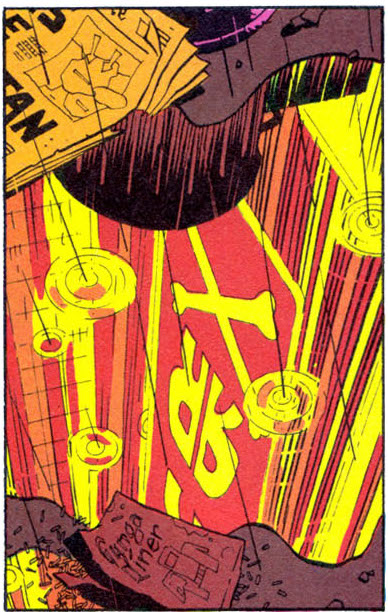 Moore's disorientation and confusion in the wake of Watchmen is wholly understandable. Even reading Watchmen is, at times, enough to generate a sense of dazed exhaustion. And this is very much the point - an effect consciously generated by Moore's use of the dense uniformity of the nine-panel grid. As Kieron Gillen puts it in Kieron Gillen Talks Watchmen, "if we're talking about the many icons of Watchmen, [the nine-panel grid] is the invisible one. It underlies everything. We're to watch these little boxes - hundreds of them - and make sense by combining them all into a larger piece of meaning. Watch," he says, and snaps his fingers to cue his projectionist to advance his PowerPoint to a shot of Ozymandias watching his wall of television screens. Gillen talks about the comic as a "clockwork machine" in which "everything is predetermined. The forces that are put into motion mean this… the clock will carry on ticking, and if you read Watchmen enough you'll know what the next tick is." Gillen, here, is talking about the comic's famously ambiguous ending, making a strong case that in fact there is only one possible "next step" for the book to take, and that ...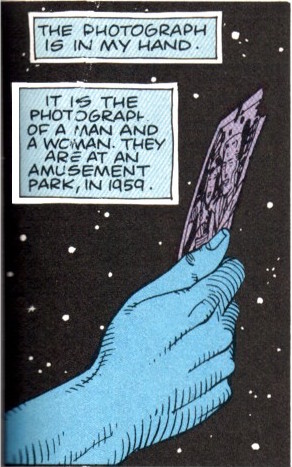 It is January, 1988. Alan Moore is thirty-three, and writing the introduction to the collected edition of Watchmen. His relationship with the publisher is in tatters, a fact he alludes to only vaguely when he notes that it is "the very last work that I expect to be doing upon Watchmen for the foreseeable future." He looks back to 1984, when the idea originated, and the giddy enthusiasm of it all. And yet there is something he cannot quite locate in this. He notes that at the start "we wanted to do a novel and unusual super-hero comic that allowed us the opportunity to try out a few new storytelling ideas along the way. What we ended up with was substantially more than that." But he cannot pin down the transition. Instead he describes a growing realization of the story's complexity and scale, but without a sense that the realization had an end point. Instead, "there was the mounting suspicion (at least on my part) that we might have bitten off more than we could chew, that we might not be able to resolve all these momentous strands of narrative and meaning that seemed to be springing up ...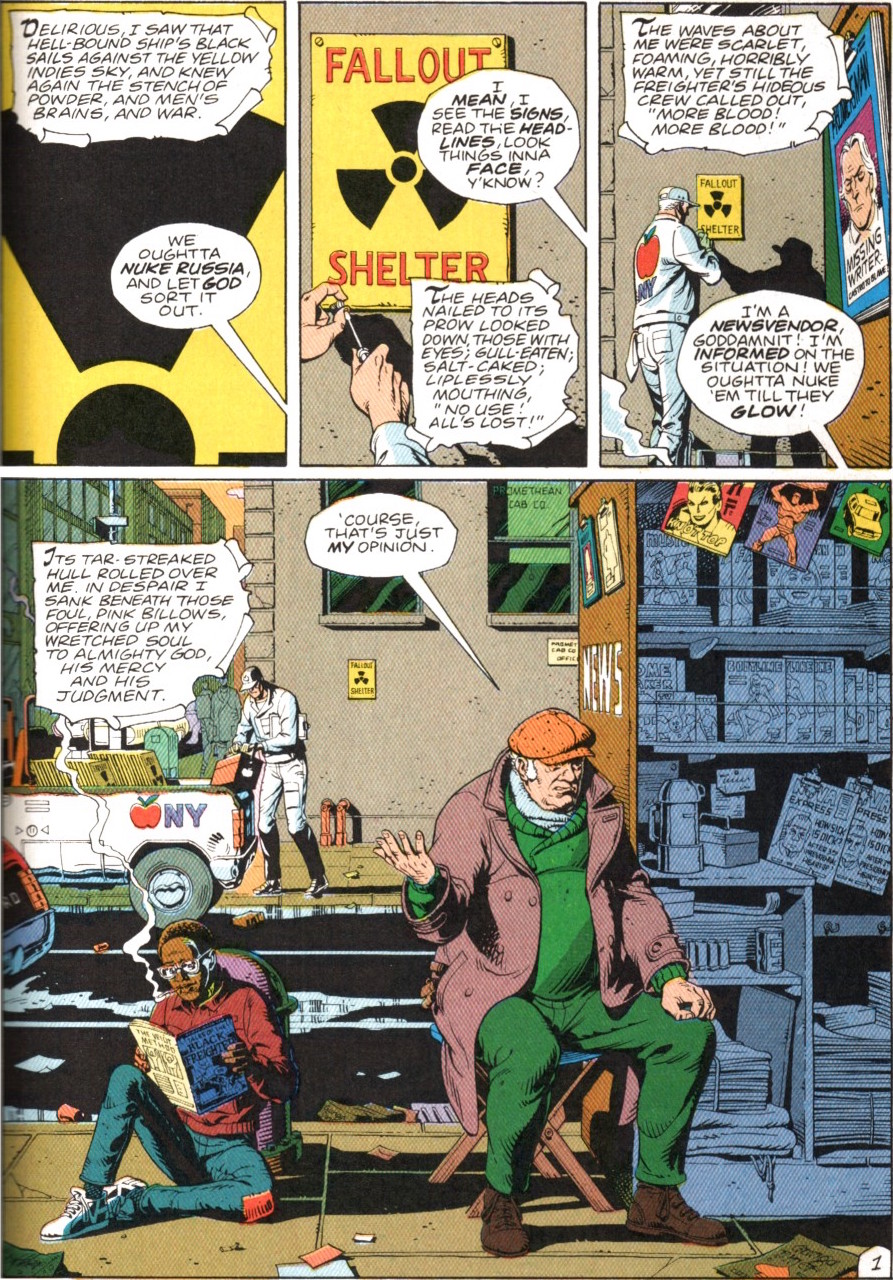 Part of the difficulty in tracking the fallout of Moore's split with DC is simply that it's so extensive. Once the rupture began it spread quickly, fueled in no small part by Alan Moore's tendency to, as he's put it, burn his bridges when reacting against something so as to make sure he's never tempted to go second guess himself. But in this case the fractal repetition of Moore's grievances with DC have served to make the initial issues harder to see, to the point where the standard wisdom is that Moore's break with DC came over a dispute in the handling of the Watchmen trade paperback when, in reality, he had made his decision not to accept any new work from DC in January of 1987, eight months before the trade paperback even came out, and five months before Moore was actually done working on it. This decision came during a wider dispute about DC's proposed creation of a ratings system for their comics. And even that point is not a single discrete cause that can be separated out from all of the others and identified as the original, true rift, but at best the third issue to arise ...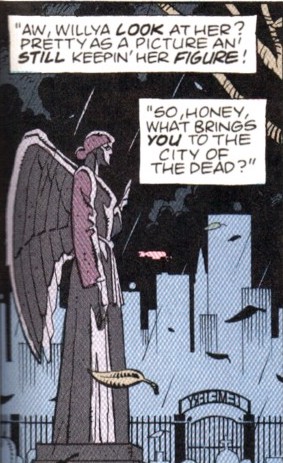 This is, perhaps, why so much ink has been spilled within the War on attempts to argue that this gap, in effect, does not exist - that
Watchmen
can be understood purely, or at least primarily, in terms of its influences, thus allowing those living in its wake to exist as though they are free from its vast and monolithic splendor. It is, after all, the easier option; it does not require staring too long at the cavernous depths within. It gives the comforting illusion that
Watchmen
is, at its heart, an easily solved mystery - a question with a definite answer. Nothing could be further from the truth, but for those who would otherwise find themselves caught in its blast, reduced to mere shadows cast by its incinerating radiance the idea that the book is simply some inevitable consequence of what came before is a useful delusion.
There are, of course, other factors involved in the particular obsession with Watchmen's influences, most notably the fact that Moore and Gibbons have both asserted consistently that Watchmen was envisioned as a creator-owned book, a claim that makes the degree to which its ideas originated with Moore and Gibbons relevant. More ...
Figure 832: The cover of Watchmen #1,
depicting the iconic badge.
In anticipation of the forthcoming new chapter of Last War in Albion, I thought I'd re-run the first seven chapters of Book Two, in part to make chapters 1-5 organized in single post omnibus form like latter chapters.
Previously in The Last War in Albion: In 1979, two men got their starts in the British comics industry. One, a young Scotsman named Grant Morrison, largely sunk without a trace, writing only a few short stories for a failed magazine called Near Myths, a local newspaper strip, and a couple of sci-fi adventurers for DC Thomson's Starblazer, a magazine renowned for only ever giving the editorial note "more space combat."
The other, a decade older man from Northampton named Alan Moore, steadily worked his way from some low rent gigs writing and drawing his own strips to a career in the mainstream British industry, pulling together a living writing disposable short stories for 2000 AD, superheroes for Marvel UK, and low-selling but critically acclaimed work like V for Vendetta for Dez Skinn's Warrior, before making the jump to American comics to try to salvage the failing title ...
Previously in The Last War in Albion: Blake's artistic career was a continual and unceasing war against the very notion of certainty and fixity, as represented in the figure of Urizen.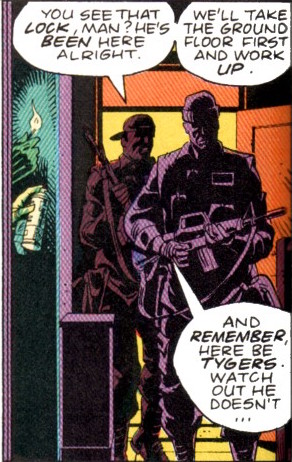 But there is a more foundational aspect of Blake's unfixed style - one upon which these textual incommensurabilities build. Blake's illuminated works exist in individually printed and hand-colored copies, no two of which are identical. In the case of The Book of Urizen, for instance, eight copies are known to exist, six of which are widely available. And the differences among these copies are significant; as mentioned, the fourth plate (from which the "solid without fluctuation" line originates) only exists in three of the copies. No two copies place the full-plate illustrations in the same order or locations throughout the text. Plates 8 and 10 each contain the beginning of a section labeled Chapter IV, each of which begins with a stanza numbered 1; on top of that, the order of the two plates is reversed in several copies. Several illustrations change dramatically across copies as well; Plate 6 depicts three figures hung upside-down, bound in serpents, and cast into fire, save for in Copy D, where there is ...