The Last War in Albion, aka "A Four-Colour Psychochronography"

The Last War in Albion is an ongoing feature of this site, currently running on Fridays. It is an ongoing critical history of the British comics industry focused primarily on the magical war between Alan Moore and Grant Morrison. Its primary narrative runs from the publication of Grant Morrison's earliest professional comics work in 1979 through to the present day, although its style is characterized by frequent digressions both forwards and backwards in history.
The structure of The Last War in Albion is an ongoing serial - each entry begins with the last few sentences of the previous entry, and leaves off with a simple "[continued]" after what will become the first few sentences of the next entry. Jumping around will thus produce some confusion, although hopefully a pleasant and entertaining level.

The nature of this project means a lot of crawling around through the archives and trying to piece together timelines of decades old events. This at times requires tremendous practical help, and several people have provided various forms of material support in writing this project. To wit, I would like to extend special thanks to Meredith Collins, David Dovey, Ben Hansom, Andrew Hickey, Pádraig Ó Méalóid, Lance Parkin, Alex Reed, Matt Feltman, Roger Whitson, Anna Wiggins, and, of course, Jill Buratto.
Tables of contents for individual books of the project follow:
Book One: The Early Work of Alan Moore and Grant Morrison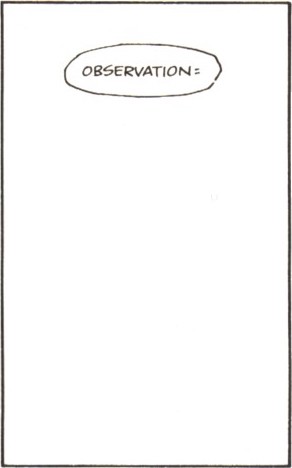 Quick update on Christine's Patreon. There's been a tremendous response, but she's stalled at around $208 at the time I'm writing this on Saturday. Financial security for her really needs about $300, so if you're at all interested in her amazing Kate Bush work, please check it out. Also, she's got fun intermediate goals: at $225 she'll be doing a podcast with Daniel Harper, and at $250 another with Jack Graham about Alien and The Shining. So please, help my daughter afford an apartment via her Patreon.
And so at last the story returns to where it began. Grant Morrison has, of course, been ever-present. As already discussed at length, his first professional credit predated Moore by five months. But he has been a shadow presence in the narrative, lurking at the edges, occasionally contriving to intersect it, waiting for his moment to take the stage in earnest. And now at last he arrives having always been here, and it becomes necessary to trace the story backwards, figuring out who he has been all this time.
This is, of course, a strange moment in which to observe Morrison, as he remains resolutely unspectacular ...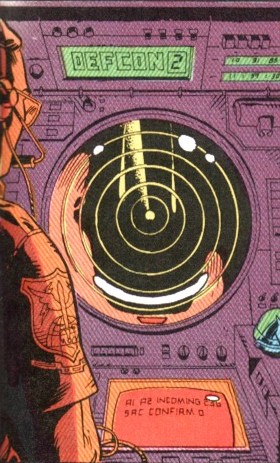 In order to understand Moore's transformation it is necessary to fully understand precisely what Watchmen was and what it did. And to understand this it is necessary to appreciate one of its major thematic concerns, the prospect of nuclear annihilation. This aspect of the War entered the scene approximately one picosecond after the creation of the universe, when the electroweak force, unable to cohere once the universe cooled below 1015 K, split into the electromagnetic force, which would go on to underpin more or less the entirety of communication, and the weak nuclear force. This latter force was responsible for a phenomenon called beta decay, in which a neutron can transform itself into a proton by expelling an electron, along with other forms of radioactive decay. Together, along with gravity and the strong nuclear force, they create a delicate mathematical balance in which matter and life are possible. And yet within that crucial weak force is a terrifying implication.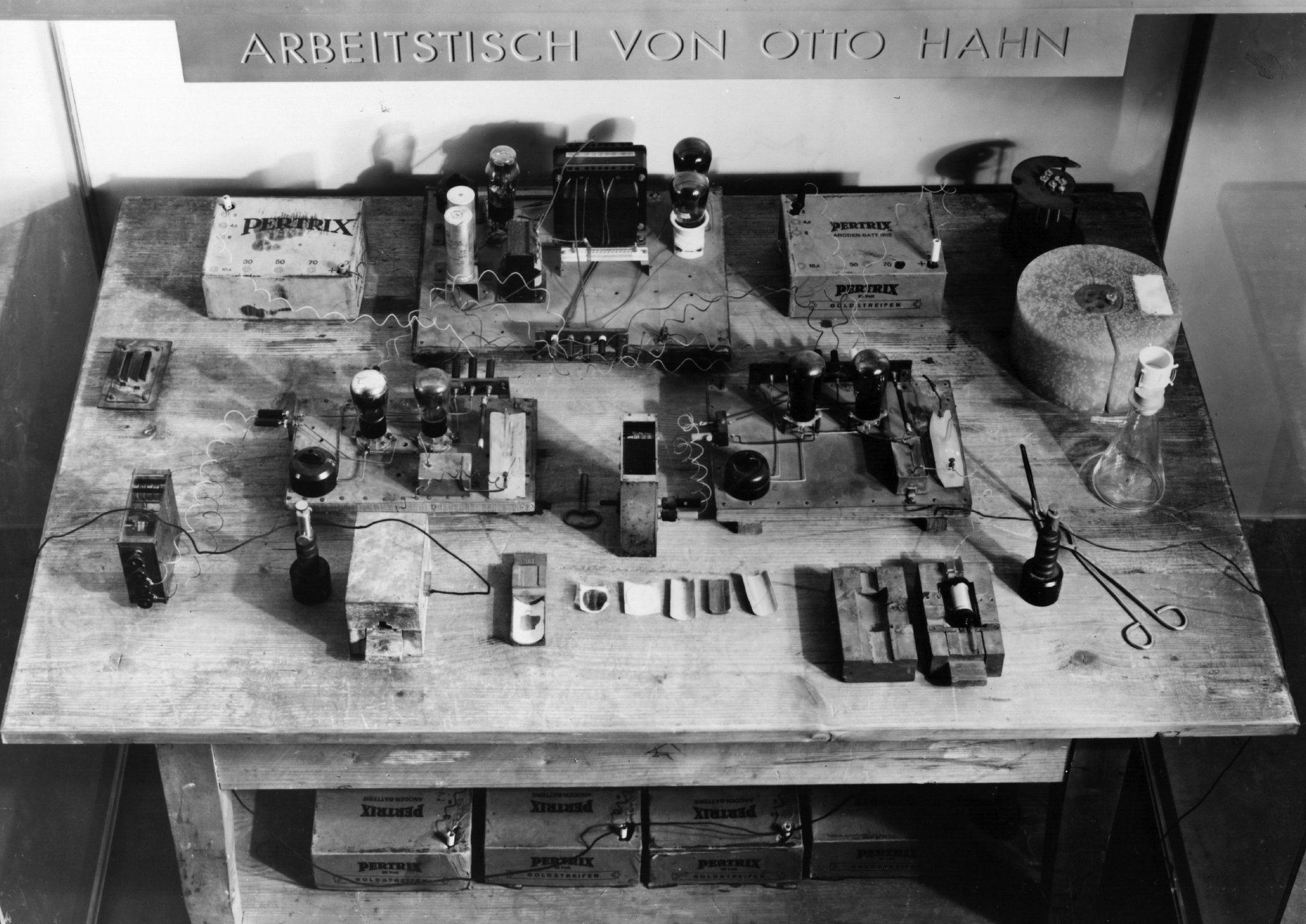 Figure 1109: The equipment upon which Hahn and Strassman first generated nuclear fission.
This implication (and indeed the weak force itself) went unnoticed for approximately fourteen billion years, until German chemists Otto Hahn and Fritz Strassman first achieved nuclear fission ...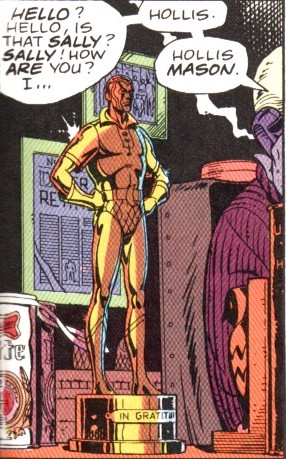 The core of the problem was that from DC's perspective, the lesson of Watchmen could only ever be one thing: things like this sold. And within the post-Crisis reality of the direct market, what DC specifically cared about was what fans said. The simple reality is that what the vocal fans who showed up and bought Watchmen in their specialist comic book stores liked most about the book wasn't the moving explorations of sexuality in "A Brother To Dragons"; it was Rorschach being a moody badass in "The Abyss Gazes Also." And so this is what DC imitated.
This, of course, was not unique to Watchmen—the kind of hard-edged and violent antihero represented by Rorschach was, to DC's mind, part and parcel of a trend of dark and violent superhero comics that also included Frank Miller's The Dark Knight Returns and Mike Grell's Green Arrow: The Longbow Hunters. This, in other words, was something they already knew how to imitate, and that Moore was always one of several writers capable of providing. Indeed, in most regards Moore was always an imitator in this regard, putting his own spin on a foundation that had been laid down ...
CW: rape, sexual assault, violence against women, transphobia, and homophobia. This chapter contains multiple NSFW images.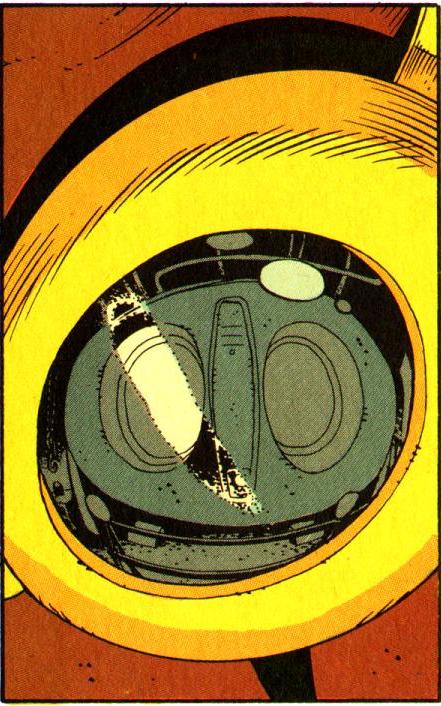 There is, however, another important sense in which Rorschach represents a myopia within Watchmen and, more broadly, Moore's larger artistic vision. As mentioned, a crucial part of Rorschach's psychology is his tortured relationship with sexuality. Sex is a major theme of both Watchmen and Moore's career, and one that he has much of value to say about, but there is something unseemly about the directness with which Rorschach's disgust with sex is pathologized, not least because it's a character trait inherited from his underlying relationship with the apparently asexual Steve Ditko. More broadly, there is something oversimplified and unsatisfying in Moore's approach to sexuality—a flaw intimately connected to his persistent inadequacy on the subject of sexual assault. This would be a relatively minor issue were it not for the awkward fact that the relationship between superheroes and sexuality is one of the comic's major themes.

The theme of sex within Watchmen ignites in the seventh issue, "A Brother to Dragons," which forms, along with "The Abyss Gazes Also," a symmetrical axis at the center of the series. Watchmen can be divided into ...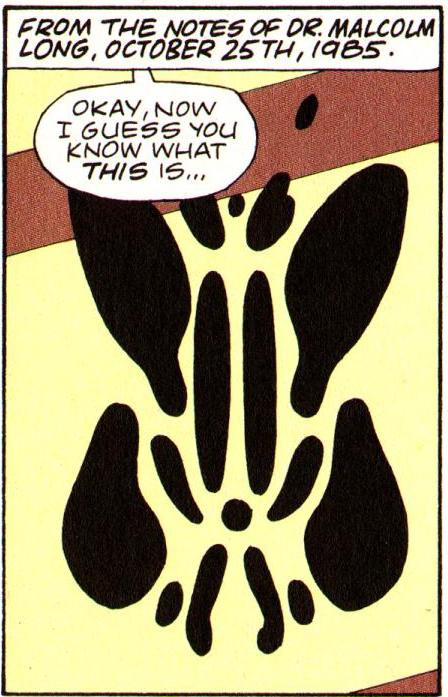 The line, of course, belongs to Rorschach, the glamorous poison at the heart of Watchmen's appeal. Moore is self-effacing about the character these days, joking that his popularity is down to the fact that Moore "had forgotten that actually to a lot of comic fans that smelling, not having a girlfriend - these are actually kind of heroic." But unlike a lot of Moore's self-deprecation, there's an edge to this quip. He's emphasizing his failure to anticipate the reaction to Rorschach, but only as a means to insult Rorschach's fans even more spectacularly. There are obviously a lot of things about Watchmen that have gone sour for Moore, but at times it seems that there is nothing he resents quite as deeply as the reception of Rorschach.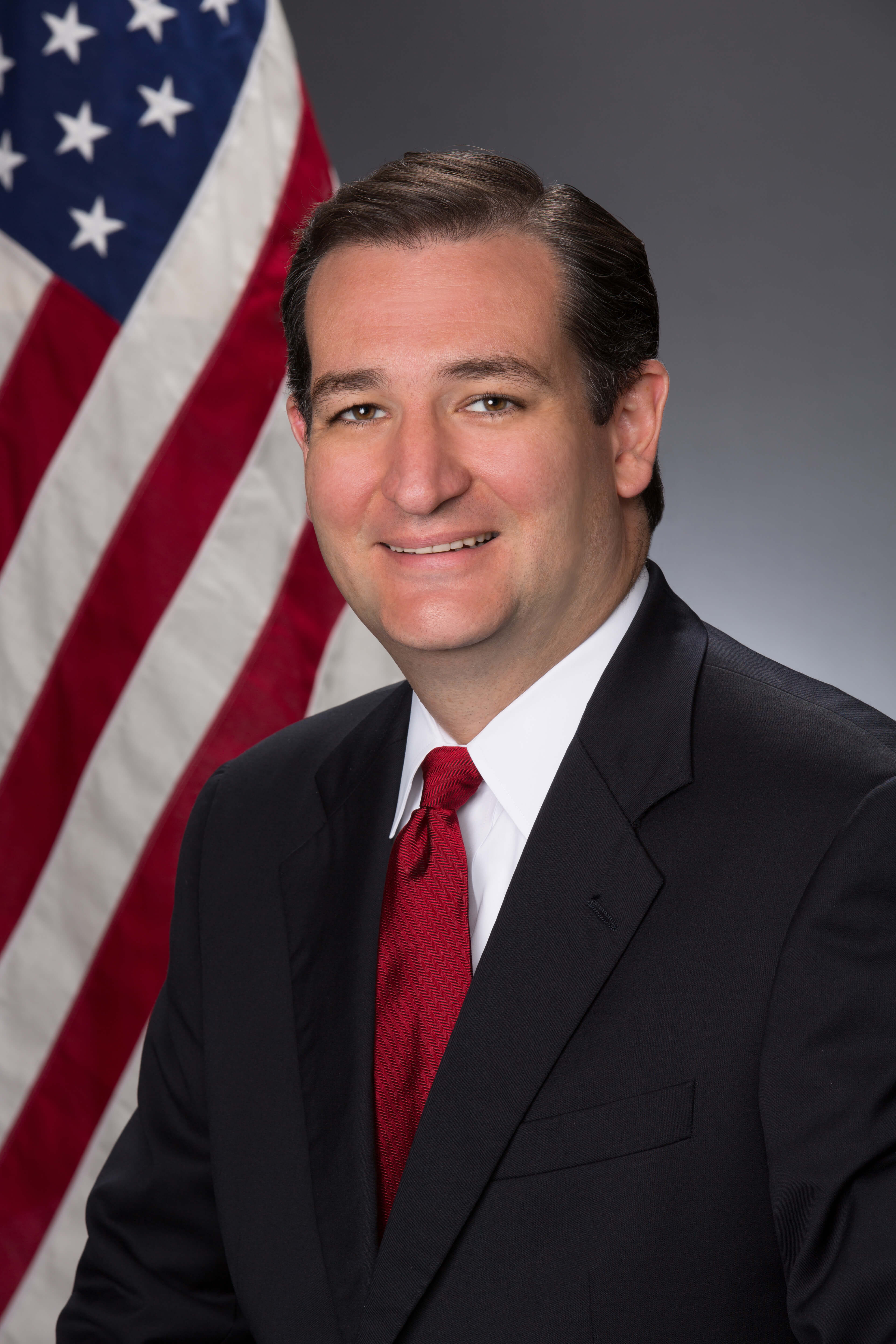 Figure 977: The Zodiac Killer, a Californian serial killer named for his literally cryptic letters, has nothing to do with either Watchmen or From Hell.
In some ways it's no wonder. It's not just the throngs of fans eager to tell Moore how much they admired Rorschach, a phenomenon that is surely associated with the sudden spike in Moore's popularity that turned comics conventions into deeply unpleasant experiences where he felt crushed ...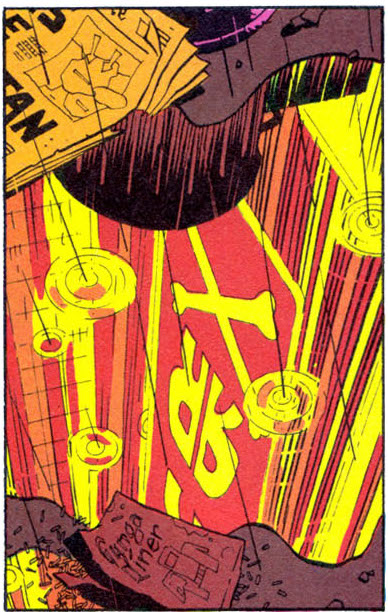 Moore's disorientation and confusion in the wake of Watchmen is wholly understandable. Even reading Watchmen is, at times, enough to generate a sense of dazed exhaustion. And this is very much the point - an effect consciously generated by Moore's use of the dense uniformity of the nine-panel grid. As Kieron Gillen puts it in Kieron Gillen Talks Watchmen, "if we're talking about the many icons of Watchmen, [the nine-panel grid] is the invisible one. It underlies everything. We're to watch these little boxes - hundreds of them - and make sense by combining them all into a larger piece of meaning. Watch," he says, and snaps his fingers to cue his projectionist to advance his PowerPoint to a shot of Ozymandias watching his wall of television screens. Gillen talks about the comic as a "clockwork machine" in which "everything is predetermined. The forces that are put into motion mean this… the clock will carry on ticking, and if you read Watchmen enough you'll know what the next tick is." Gillen, here, is talking about the comic's famously ambiguous ending, making a strong case that in fact there is only one possible "next step" for the book to take, and that ...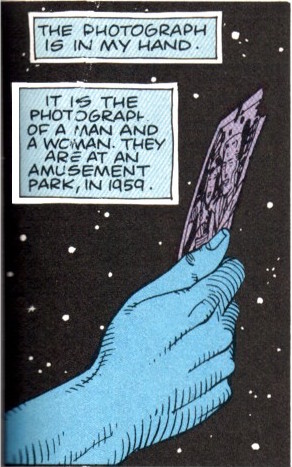 It is January, 1988. Alan Moore is thirty-three, and writing the introduction to the collected edition of Watchmen. His relationship with the publisher is in tatters, a fact he alludes to only vaguely when he notes that it is "the very last work that I expect to be doing upon Watchmen for the foreseeable future." He looks back to 1984, when the idea originated, and the giddy enthusiasm of it all. And yet there is something he cannot quite locate in this. He notes that at the start "we wanted to do a novel and unusual super-hero comic that allowed us the opportunity to try out a few new storytelling ideas along the way. What we ended up with was substantially more than that." But he cannot pin down the transition. Instead he describes a growing realization of the story's complexity and scale, but without a sense that the realization had an end point. Instead, "there was the mounting suspicion (at least on my part) that we might have bitten off more than we could chew, that we might not be able to resolve all these momentous strands of narrative and meaning that seemed to be springing up ...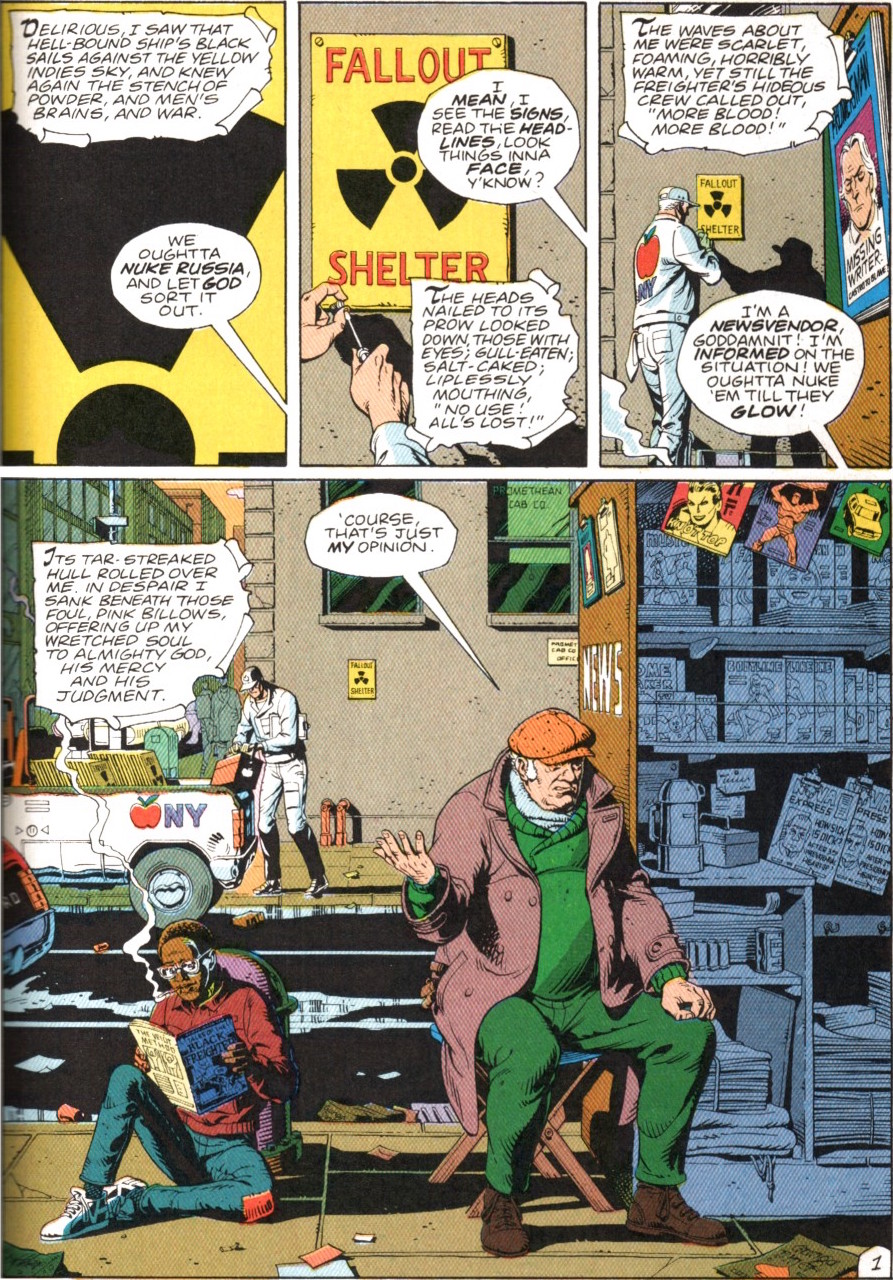 Part of the difficulty in tracking the fallout of Moore's split with DC is simply that it's so extensive. Once the rupture began it spread quickly, fueled in no small part by Alan Moore's tendency to, as he's put it, burn his bridges when reacting against something so as to make sure he's never tempted to go second guess himself. But in this case the fractal repetition of Moore's grievances with DC have served to make the initial issues harder to see, to the point where the standard wisdom is that Moore's break with DC came over a dispute in the handling of the Watchmen trade paperback when, in reality, he had made his decision not to accept any new work from DC in January of 1987, eight months before the trade paperback even came out, and five months before Moore was actually done working on it. This decision came during a wider dispute about DC's proposed creation of a ratings system for their comics. And even that point is not a single discrete cause that can be separated out from all of the others and identified as the original, true rift, but at best the third issue to arise ...