Viewing posts tagged Myriad Universes
Posted by: Josh Marsfelder 5 days, 18 hours ago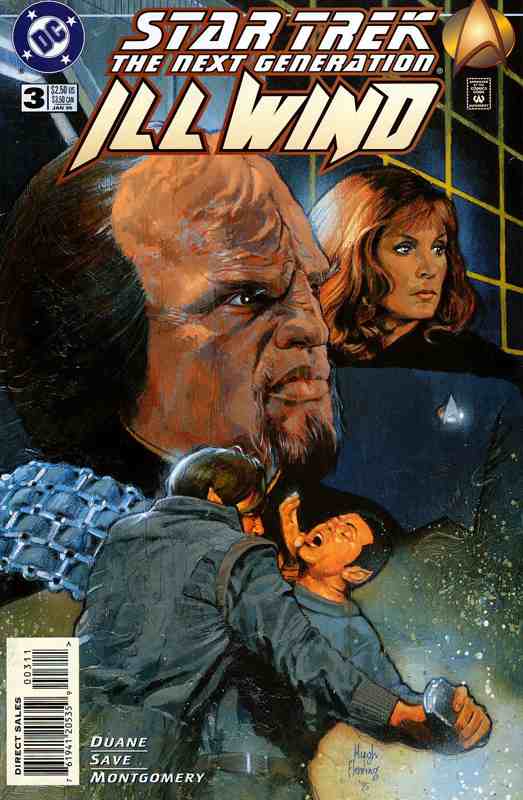 Geordi La Forge, Doctor Crusher and Worf are in the holodeck, reviewing security sensor footage. The ship's internal sensors detected the mysterious humanoid figure who we saw creeping through the engineering deck hallways to the shuttlebay in the teaser at the end of issue one, and now the crew is trying to determine who this person was because that's how they got access to the Scherdat ship in order to place a bomb on its hull. Although the figure was too far away to be captured in full detail, Goerdi, Bev and Worf see enough to make some general observations: Although they look humanoid, the outline of the body is odd and unnatural, particularly around the midsection. This is almost certainly a skinsuit disguise of some kind.
Geordi can pick up thermal signatures from the sensor feed through his VISOR. Although he can't yet get much on the figure itself, he can tell it's carrying a plasma bomb, though it hadn't yet been armed (which explains why the ship's sensors didn't immediately detect it as well). Once the figure enters the shuttlebay, Geordi can get more information because the sensors are more sensitive ...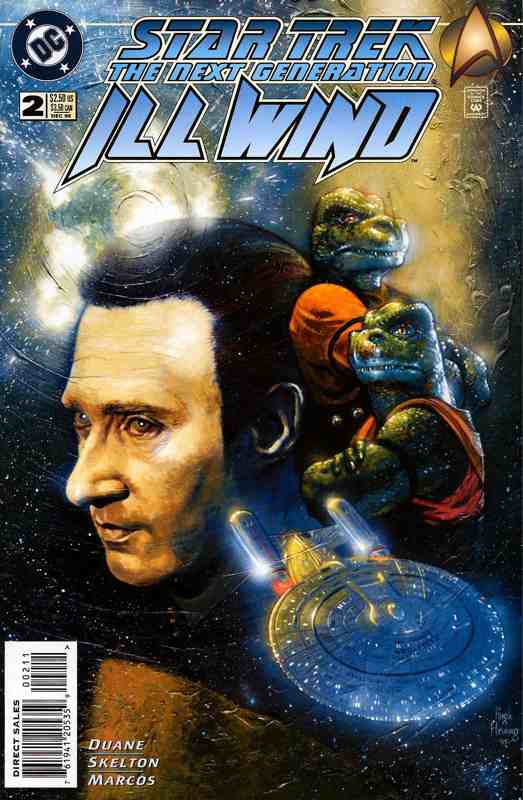 The racers are on their marks at the starting line. Captain Picard has Data call up the course schematics onscreen. It's a winding, zigzagging course around the star that will take the racers about three days to traverse, a quick pace for a solar sail vessel. But, as Captain Picard says, "These are the best". When Commander Riker asks him if he'd rather be "out there", Jean-Luc replies that he already is. The Enterprise crew wishes all the competitors good luck in turn, but when they get to the Cynosure team, Deanna observes that they're without their sail technician. Will comments that the Kihin navigator must not have found him "to her taste", to which Deanna replies "On the contrary...She found him very tasty indeed". Meanwhile the Thubanir captain is still alive, though Deanna quips that it's still early yet.
After the pre-race formalities, the Alkamin captain informs the Enterprise crew that they've seen something unusual on the keel of the Scherdat crew's yacht. Captain Picard asks the Scherdat if they've modified their ship in any way, but the Scherdat captain responds in the negative. Worf scans the ship and finds something ...
Posted by: Josh Marsfelder 2 weeks, 5 days ago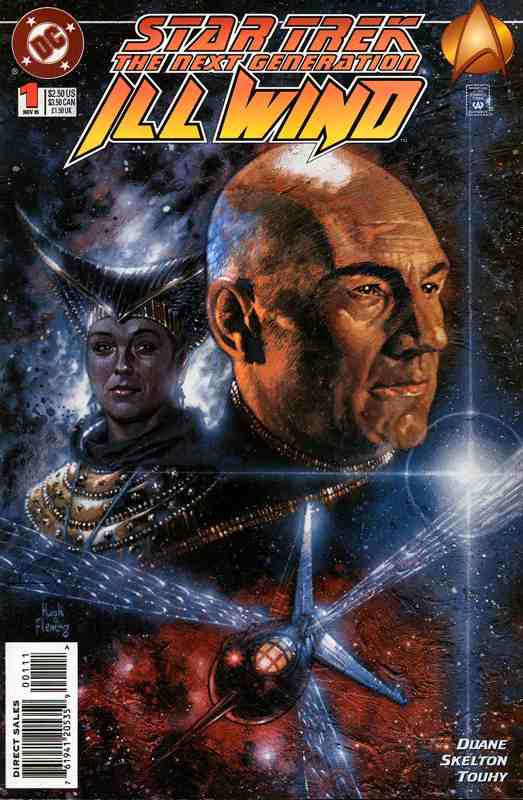 A sense of vastness and cosmic wonder. One almost expects a haunting synthesizer remix of "Space...The Final Frontier" to play over this resplendent scene of the Great Interstellar Dark. But instead, it's a caption box reciting John Masefield's "Sea-Fever". Slightly stilted and hokey, but perhaps evocative in its own way.
A comforting sight, as the starship Enterprise slowly materializes for us out of the night, just as we remember. And alongside it another ship, resembling a giant dragonfly with weblike lattice wing-sails on either side.
On the Enterprise bridge, Captain Picard exposits to us that the crew has been assigned to serve as referee and security for the eighth leg of the Centauris' Cup solar sailing yacht race around GC 2006. Will and Deanna tell us about how solar sail craft were once the workhorses of the cargo merchant trade, but are only used as pleasure craft now. Deanna remarks on the romance of it all, but Data doesn't understand why anyone would want to willingly pilot a "fragile and technologically primitive" ship. Captain Picard explains the appeal lies in the subtle way solar sail ships handle, the prospect of friendly competition with other enthusiasts in ...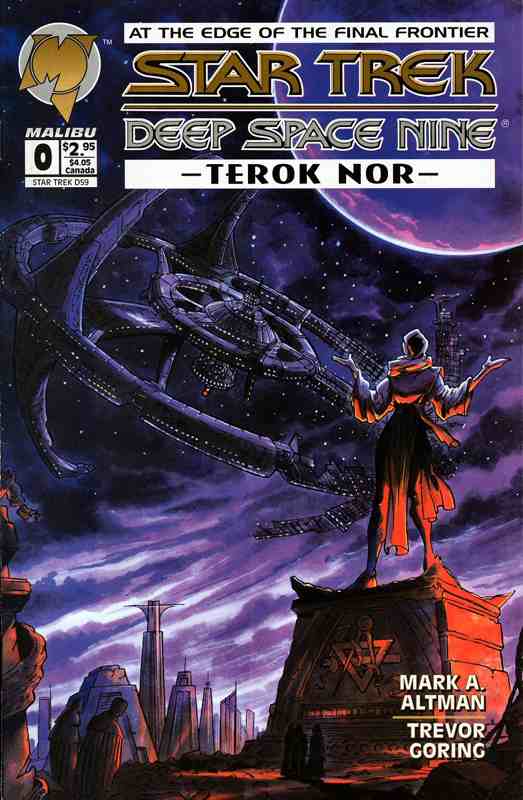 Jadzia Dax and Doctor Bashir are taking time out from a camping trip in the Bajoran wilderness to visit a museum honouring the planet's art, history and culture. Jadzia compliments the beauty of one of the pieces, whereas Julian tries to act like an art critic to impress her with his "knowledge" of different Bajoran styles. Jadzia is exasperated and, perhaps sensing he's fucked up, Julian changes the subject. He asks her if any of her hosts went on class field trips to museums as children. Standing atop a towering balcony, the two gaze down into the museum below, where it just so happens one such field trip is underway right now.
It's a large room, full of gigantic statues, all looming imposingly over the museum guests. A teacher is disappointed in her students, none of whom recognise the figure immortalized in stone before them. Her name was Charna Sar, who she says was a great hero of the Bajoran people whose name has been forgotten. The children wish to hear her story and the teacher obliges, but only on the condition they will continue to tell it themselves. The teacher begins the tale, saying the story ...
Posted by: Josh Marsfelder 2 months, 1 week ago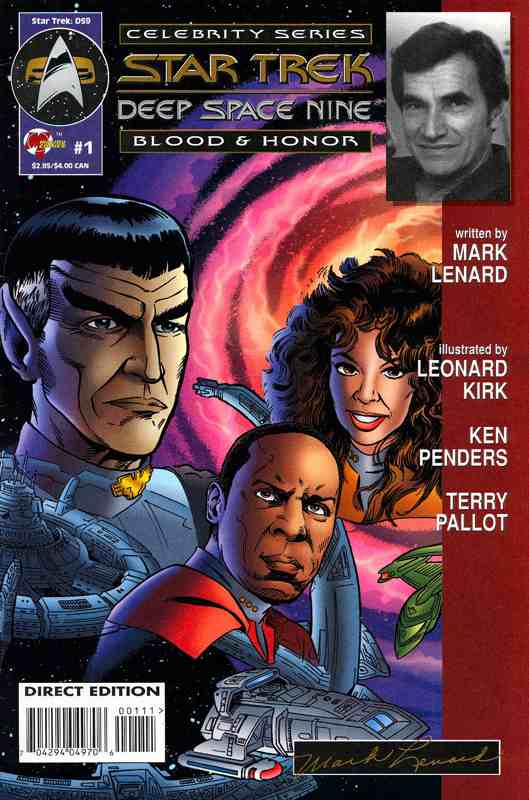 Returning from an exploratory mission in the Gamma Quadrant, Jadzia Dax informs us through a Science Officer's Log that her team has discovered something unique: A mysterious blue glowing artefact of unknown origin. Also on her team aboard the runabout USS Orinoco are her erstwhile travelling companion Doctor Julian Bashir, and an operations division ensign called Jamie. Before they can dock, however, Julian gets an urgent call from Commander Sisko that he's needed in the infirmary to tend to a medical emergency. Before he can even acknowledge, however, he's beamed there directly from the runabout cockpit.
A Lieutenant Jayakar has been unfortunately killed in some sort horrible malfunction. She was escorting a diplomatic party from the Romulan Star Empire led by an Ambassador Jannek when something seemed to go wrong with one of they airlocks. Jannek himself is on hand to offer his condolences, and urges diligence to Commander Sisko in determining whether it really was an accident, or whether the Lieutenant was murdered. Odo reports that mechanical failure seems like the obvious initial culprit, but he would never accuse Chief O'Brien of negligence, and is far more inclined to point the finger at deliberate sabotage ...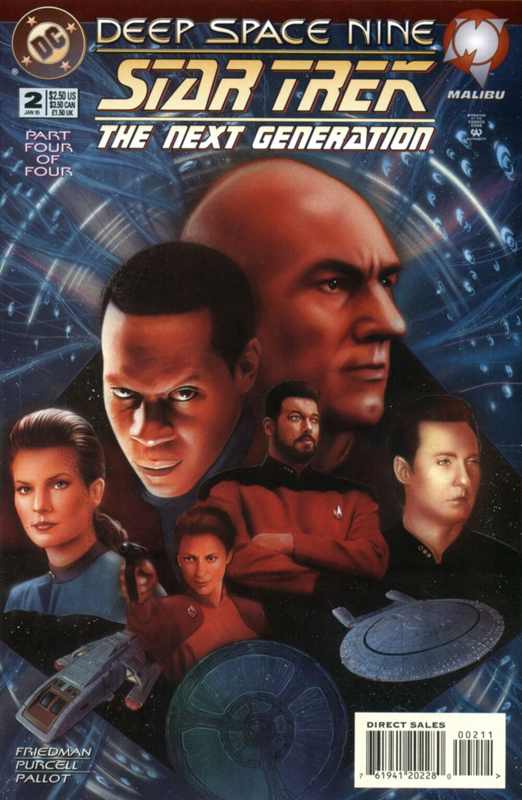 The Othersiders are gloating at having captured Data, Odo and Deanna. They order them to drop their weapons, which they do, but not before Data sets them to overload, causing yet another terrific explosion. The scattered away team uses the opportunity to kick massive amounts of ass, with Data punching people square in the gut with the full brunt of his android strength, Deanna unleashing sick karate moves and Odo turning into an awesome sludge monster to dispatch the rest. In sludge monster form, Odo praises Deanna's fighting skills in a tone that, if I didn't read him as asexual and aromantic, could almost be construed as a come-on. Deanna brushes it off by saying Worf trained her.
On Deep Space 9, Miles and Geordi have figured out what's causing the Wormhole to throw a fit. It turns out it's being assaulted by a certain kind of waveform, being broadcast simultaneously from two different stations: One in the Alpha Quadrant and one in the Gamma Quadrant. Miles figures that if they could knock at least one of those out, the Wormhole would go back to normal. Captain Picard doesn't want to send another away team ...
Posted by: Josh Marsfelder 3 months, 1 week ago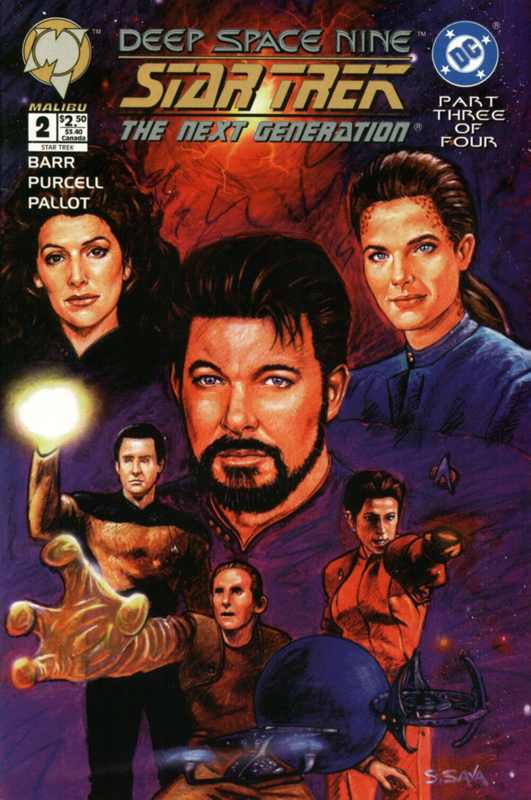 Commander Riker orders the ship to turn around immediately, but of course we can't do that. If they go back through the Wormhole too quickly, the circuitry that allowed the Runabout safe passage in the first place might be damaged. So Will thinks fast, has the crew divert all power to shields and beam over to the other Runabout (the one that carried the admirals' party). This shouldn't be possible because transporters famously can't penetrate shields, but whatever. And naturally, this plan doesn't work either as the Evil Aliens soon catch onto it and beam everyone aboard themselves in a stasis field. Because captures and escapes are just how serials work.
So after that bit of padding, we get some exposition. Because, again, serials. These Aliens, hereafter the titular Othersiders, explain to the team that they are pissed off at people from the Alpha Quadrant intruding on space they claim is theirs, and they're determined to strike back. Back on our side, Captain Picard suggests that he and Commander Sisko pass the time waiting for word from the away team by helping out with a humanitarian mission on Bajor. Because this team can't have ...
Posted by: Josh Marsfelder 3 months, 2 weeks ago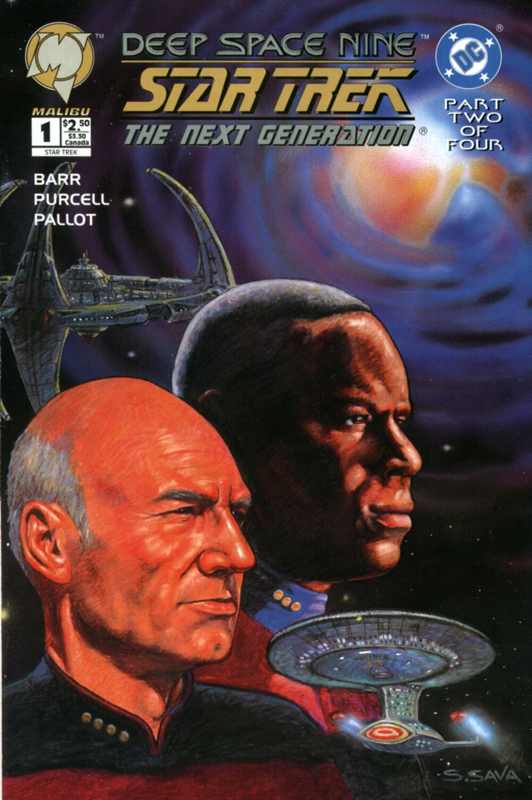 A fearsome storm rages on Bajor. Vedek Bareil surveys the fury from a balcony outside his temple. An attendant acolyte (who looks a hell of a lot like Vedek Winn but isn't cited as being her) fears for his health, but Bareil only asks if everyone who has lost their homes due to the storm has been given sanctuary within, stressing that no-one must be turned away. The acolyte hopes the Prophets stop the storm, but Bareil hopes they grant them their wisdom on how to act.
On Deep Space 9, Kira, Worf and Odo confront the Cardassian saboteurs. One of the assailants tries to gas the security team, but Worf is a quicker shot, and Odo turns into a praying mantis tentacle monster to subdue them. Not to be outdone, Kira swings from the rafters and kicks some dudes in the fucking face. But before they can arrest them, the intruders activate an emergency transport. Jadzia Dax couldn't catch them in time, but Data has found some technobabble that allows him to nullify the cloaking device used on their ship. Unfirtunately, neither Dax nor Data is able to snare the ship in a tractor beam before it ...