Viewing posts tagged neoliberalism
Posted by: Jack Graham 2 years, 1 month ago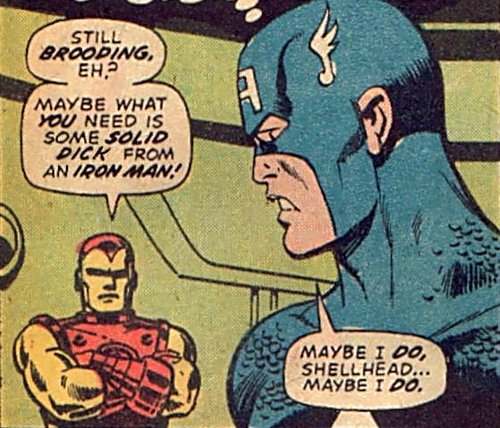 NOTE: This article has been amended to correct factual mistakes and clarify arguments.
Iron Man (2008), starring Robert Downey Jnr. and directed by Jon Favreau, is objectively one of the most evil films ever made. Possibly the most evil, actually.
Boilerplate
I'll get around to justifying that opening statement in a bit. But first, I just want to say… ahem… fuck Tony Stark. Seriously, fuck him. The arrogant, smug, privileged, sexist, immature, selfish, capitalist prick. The rich, preening, self-satisfied asshole. The callous, self-involved, vainglorious, narcissistic wanker. This guy isn't charming or funny or lovable. He's scum, masquerading as humankind's best friend. He's the 1% as saviour of the world, at a time when the 1% are directly and knowing destroying the world. He's the smiling face of the anthropocene (or rather capitalocene) extinction. He's genocidal imperialism as (lone) humanitarian intervention. He's neoliberal capitalism and neoconservative foreign policy as a series of bad-boy quips. He's private capitalist industry as heroism. He's mega-wealth as heroism. He's white male privilege as heroism. He's militarism, imperialism and American exceptionalism as heroism. He's the War on Terror as heroism. He's everything sick and twisted and rotten and filthy and evil and insane ...
Posted by: Jack Graham 2 years, 2 months ago
Jeremy Corbyn is a decent man, and he's closer to my viewpoint that just about anybody else in mainstream politics, but he's still basically just a moderate Social Democrat. The media buzz about him being "hard Left" is ludicrous nonsense. It's a sign of the media's extreme Right-wing agenda/viewpoint, a centre-ground shifted to the Right beyond anything known since the early 20th century, and the widespread (and very consciously inculcated) political illiteracy that now pervades the UK like a plague.
I think Corbyn's usefulness lies almost entirely in the opportunity he presents for us to push the conversation in certain ways. I will push him over the other candidates, and I will support the good stuff he says and does as Labour leader (if elected) because it'd be insane to do anything else. The opportunity for propaganda is itself reason to do this. The subsequent opportunity for anti-reformist, anti-Labour propaganda when Corbyn sells out - because he will, make no mistake... they always do, the structural logic of the situation makes that inevitable - will be worth having too, speaking as a revolutionary.
The Labour Party will be relieved to ...
Posted by: Jack Graham 2 years, 8 months ago
I very much enjoyed the
latest episode
of the Pex Lives? Podcast, which looks at 'Paradise Towers'. During it, Kevin and James' guest Jane (of
achairforjane?
and many fascinating comments - and an amazing
guest post
on
Lost
- at Phil Sandifer's
blog
) suggests a Marxist reading of the story in which the Rezzies are the consumerist bourgeois who ascend a few levels via the system which later consumes them. Totally valid and satisfying reading. (And I'm grateful for the lovely shout-out, as always.)
I think, however, that it illuminates a certain interesting ambiguity about what constitutes a 'Marxist reading' or a 'Marxist analysis'. I know Jane and the Pex Lives boys already know this, so this isn't
in any way
meant as a criticism of any of them, but I think a 'Marxist analysis' would really have to constitute more than finding some way in which aspects of the narrative function as an allegory of some aspect of the class struggle. I hold my hands up: that's often what I do here, and it doesn't really cut the mustard.
To do that is to bring Marxist categories to a text, but still to treat ...
Posted by: Jack Graham 2 years, 8 months ago
It's always puzzled me, this thing about people getting right-wing as they get older. You'd think that the opposite would happen.
I mean, as you get older, you notice that the world keeps having the same problems, and that they tend to have the same underlying causes, and that nothing is ever done about them. You notice more and more of the same kinds of scandals reoccurring over the years, time and again, and always based upon imbalances of power, and upon powerful people being unaccountable. You're more likely to have a mortgage and debts, the older you are. You're more likely to owe lots of money to banks and credit agencies, and to be crippled by these debts. You're more likely to have health problems, and thus to need medical care, and thus to see that the Health Service is underfunded and overstretched. You're more likely to realise that your investments and savings (if you have any) don't pay off in anything like the way you're told they will when you're younger. You're more likely to worry about how you will look after yourself and your partner ...
Posted by: Jack Graham 2 years, 9 months ago
Yes, yes, Syriza is a bourgeois reformist party which has drifted to the right even in the last few years. I know. A Syriza victory will not bring full communism in Greece. No, true. A Syriza government will cave in and give up all over the place. The way all bourgeois reformist parties always do, even quite Lefty ones. Yes. I know.
I knows and knows and knows.
The point is that, as with all Left-wing reformist parties, it will be as strong or as weak as the movement among the working class. It will be pushed to the Left by a genuine movement on the streets and in the workplaces. Or to the Right by the absence of such a movement.
The anti-reformist gloom of writing off Syriza before it starts is, paradoxically, the gloom of the reformist. It is the gloom of those who secretly expect (or want) elected governments to do it all for them.
A Syriza victory would create a space within Austerity neoliberalism for a challenge (however partial and bourgeois and reformist and imperfect) to the prevailing, even suffocating, orthodoxy. The punishing flow ...
Posted by: Jack Graham 3 years, 5 months ago
On the ballot paper in my region there are no less than five extremist Right-wing parties. Six if you include the Conservatives. Apart from that there are two centrist neoliberal parties: Labour and the Liberal Democrats. I know a fair few very nice, likeable and principled Lib Dems (online and in real life), but as a national political force the party is part of a coalition with the Tories and, as such, constitutes a de facto Right-wing party. So that's seven Right-wing parties of various shades running from crypto-fascist to poujadist to centre-Right - none of which has any serious quarrel with the neoliberal consensus - and one centrist neoliberal party, Labour... which is now so degraded and debased that it seperates itself from the Tories and Lib Dems by a few whiskers. Centrism has itself been shifted so far to the right that the modern Labour party is to the Right of the pre-Thatcher Tories on many issues.
That's democracy for you. That's apparently the best we can do. That's the freedom I'm supposed to relish and celebrate. What a barren wasteland of horror. What a terrifying ...
Posted by: Jack Graham 3 years, 7 months ago
Yes, the female companions of the Moffat era are smart, strong, capable, multi-talented, capable, prone to saving the day, etc.
But this is just the job of the companion. Even the worst of the classic series companions - Victoria, Dodo, etc - gets to be smart, strong, capable, etc when required. They don't tend to save the day in the classic series, but they always do what is needed and expected of them. It's a tautology: the companions do the companion things more or less successfully. That's not something that's entirely untroubling, but - for good or ill - it's how this works. In the revived series, a great deal more is expected of the companions. It's actually worrying just how much is expected of Martha. But the point is that they all step up because that's what they're in the text to do. The ones that don't, fail to be companions (i.e. Adam).
You also have to look at what they do and what happens to them
on top of
their basic role as companion. Rose rejects the roles of shop worker, daughter, girlfriend ...
Posted by: Jack Graham 3 years, 10 months ago
Mandela was unquestionably a great man. But he was great because he was once a fierce fighter against oppression, not because he was a saint with a nice line in inspirational aphorisms. He was also a flawed human being whose party, under his leadership, capitulated to capitalism, embraced neoliberalism and perpetuated drastic economic inequality. Let's mourn the passing of a fighter against racial discrimination, who endured decades of suffering (on a level that I can't even conceptualise, let alone imagine myself tolerating) for his principles. But let's not lose ourselves in lachrymose sentimentality and forget the real history of post-Apartheid South Africa.
Pilger:
http://www.newstatesman.com/2013/07/nelson-mandelas-greatness-may-be-assured-not-his-legacy
Klein:
http://www.naomiklein.org/articles/2011/02/democracy-born-chains