Viewing posts tagged proverbs of hell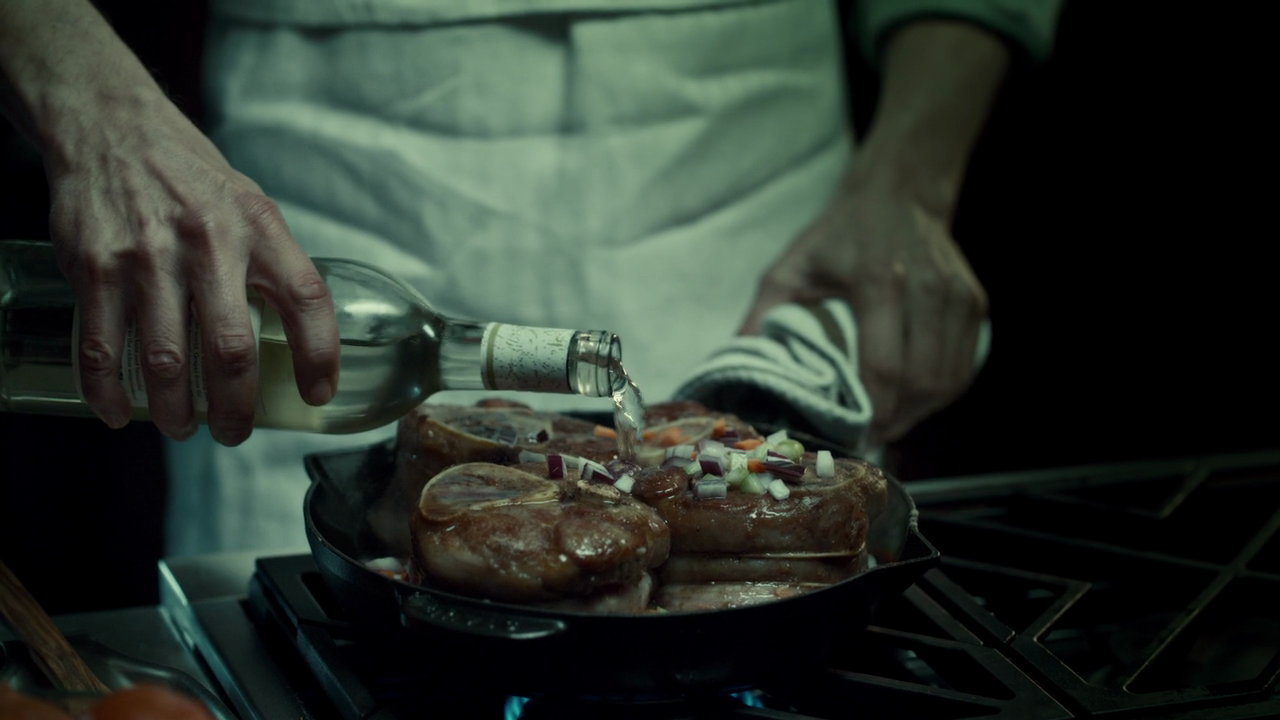 SAKIZUKE: Variantly spelled "sakizuki" and "saki-zuke," the latter on Janice Poon's blog, where she describes it as "a sampling of small appetizers whose ingredients, garnishes, and dishware sets the tone for the season and invites the gods to partake of the meal." Wikipedia, meanwhile, directly compares it to an amuse-bouche, I.e. the second episode of the first season.

The killer-of-the-two-weeks here is given an unusual sort of focus. On the one hand he's the least sketched out killer the show has ever done - he's literally only in the script as "Muralist," and essentially everything we learn about him is projected onto him by other characters. On the other, Roland Umber's awakening inside the mural is used as the cliffhanger, and the second episode luxuriates in this cold open, giving the sheer and visceral horror of the mural room to breathe. Fuller has said that his inspiration for this killer was equal parts Busby Berkeley and the film Jeepers Creepers, which is a pair of inspirations that boil down to "this is why you are the perfect showrunner for Hannibal."

The wide shot of Roland, already making a probably fatal leap into the water, being dashed ...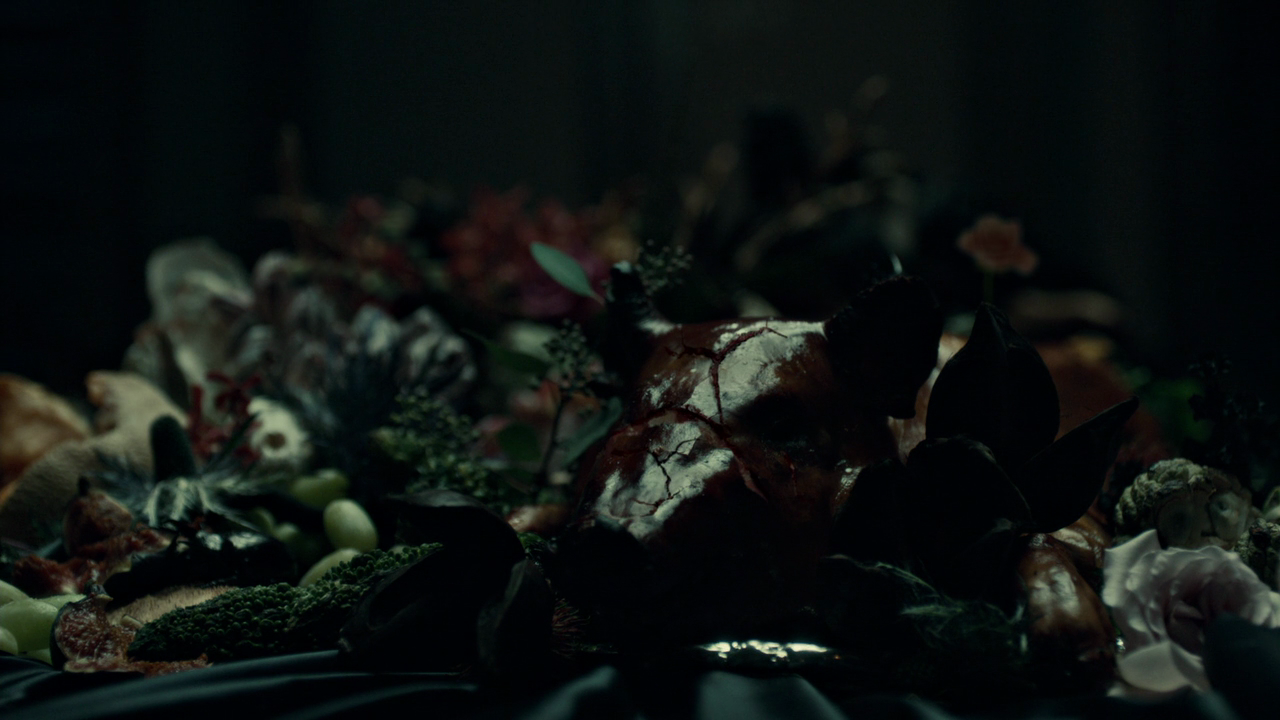 KAISEKI: An umbrella term for multi-course meals in the Japanese style - roughly equivalent to what renaming "Apéritif" to "Haute Cuisine" would imply. The gesture towards the whole season makes sense for an episode that opens with a flash forward to the finale. (I should disclaim that my knowledge of Japanese cooking is wildly less than my knowledge of French cooking, and that I'm going to be much more reliant on Wikipedia for these than I was for the first 13 parts.)

The flashforward to the Jack/Hannibal fight scene from "Mizumono" is interesting. The flash forward in general was trendy in television around this time, mostly due to the influence of Breaking Bad, which used them habitually. But Breaking Bad's default use of them was cryptic - they'd show short flashes of something that would hang over episodes or seasons as a mystery. This, on the other hand, is more of a promise at the expense of suspense. Hannibal pledges up front that Jack is going to figure out what Hannibal is up to, thus reassuring viewers before the season even starts that all of this business with Will being in prison will eventually be over. This has obvious narrative ...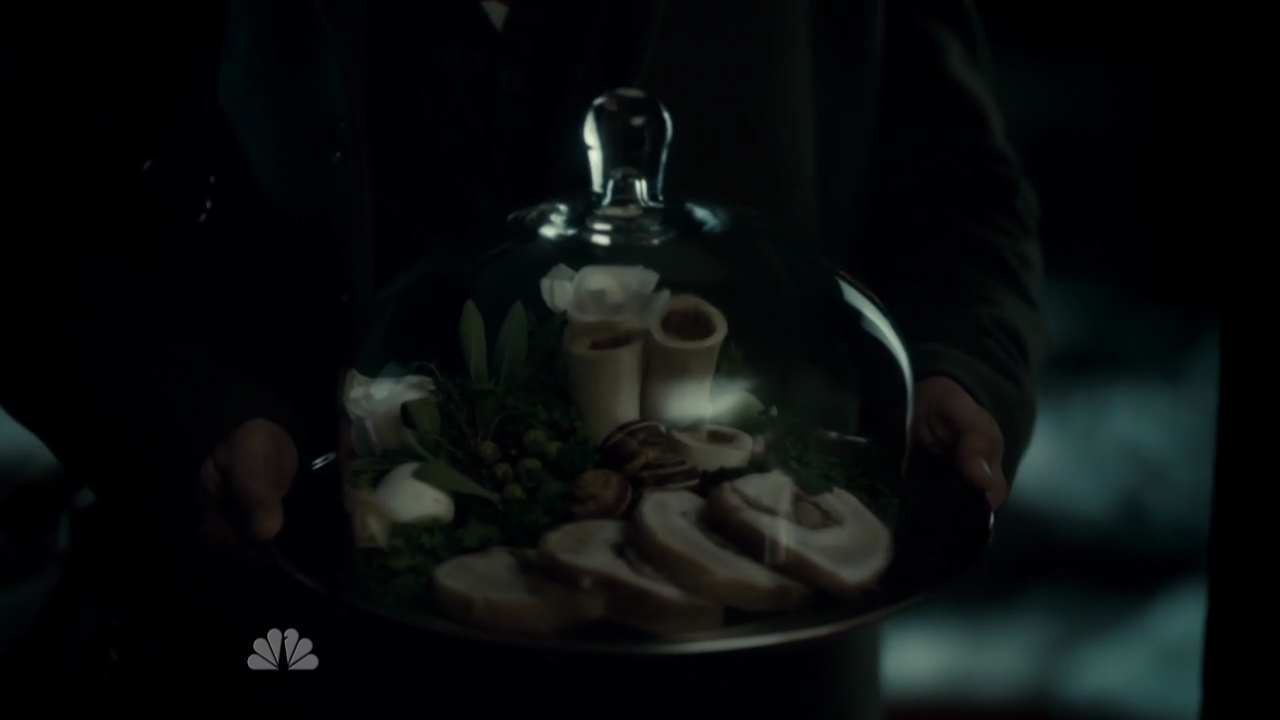 The Patreon is healthily above $320 now, so podcasts are good to go. That said, there's been a scheduling snafu on this one, so I'm not actually sure what day it'll post. Sorry about that.
SAVOUREUX: I'll just quote Fuller: "a savoury dessert appealing to diners with no interest in a sweet ending to their meal."

Will is unambiguously hunting here, as opposed to fishing, and right on the heels of making the distinction with Abigail. There are more visceral demonstrations of the idea that Will has been pushed to the edge, but this is perhaps the clearest demonstration that this edge consists of more than just the side effects of encephalitis, also encompassing a genuine moral shift.

The first appearance of the Wendigo, aka the mature form of Will's stag hallucinations, reflecting his understanding that the figure he's been stalking is in fact Hannibal. What's interesting, of course, is that Will doesn't know that Hannibal is the copycat killer yet. His appearance here could be mere foreshadowing - that is, broadly speaking, the point of a hallucinatory cold open after all. But more to the point, it suggests that Will does not know all that he ...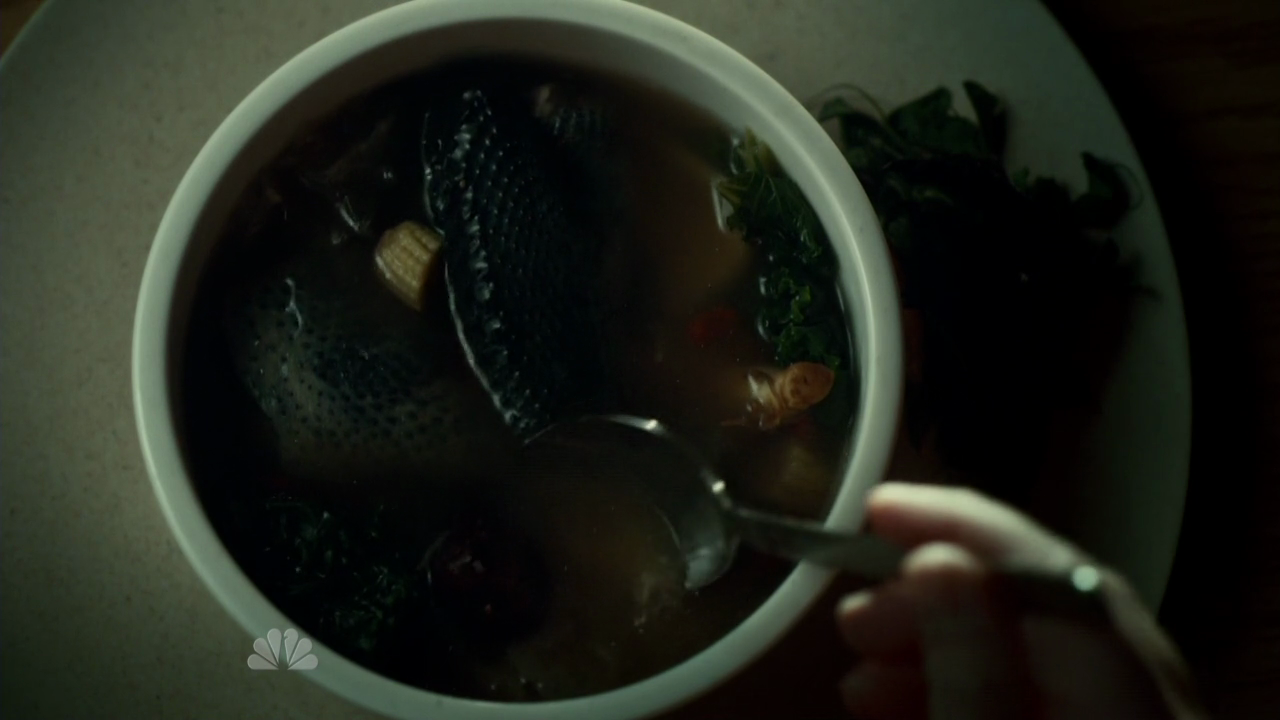 RELEVÉS: Properly "removes," but best understood in the sense of a relief pitcher, with the idea being that the course replaces the previous one. In practice, it is the big set-piece course, and so functioning much the same way that "Rôti" did.
GEORGIA MADCHEN: They say what's wrong with you?

WILL GRAHAM: Just the fever. They're trying to find out what else.

GEORGIA MADCHEN: They won't find anything. They'll keep looking and keep giving you tests and keep giving you false diagnosis and bad medicine. But they won't find anything wrong. They'll just know you're wrong. (Pause) I hope you have good insurance.
One assumes the FBI has decent insurance, but it's a delightful joke and, given how little time we actually get to spend with an on-the-mend Georgia, probably the key
The sense of being wrong, as opposed to having something wrong with you, is a deep-seated fear for Will. It's worth recalling his description of the Chesapeake Ripper as "one of those pitiful things sometimes born in hospitals" that fails to die, a description that puts Hannibal in much the same place.
GEORGIA MADCHEN: They said I might remember what ...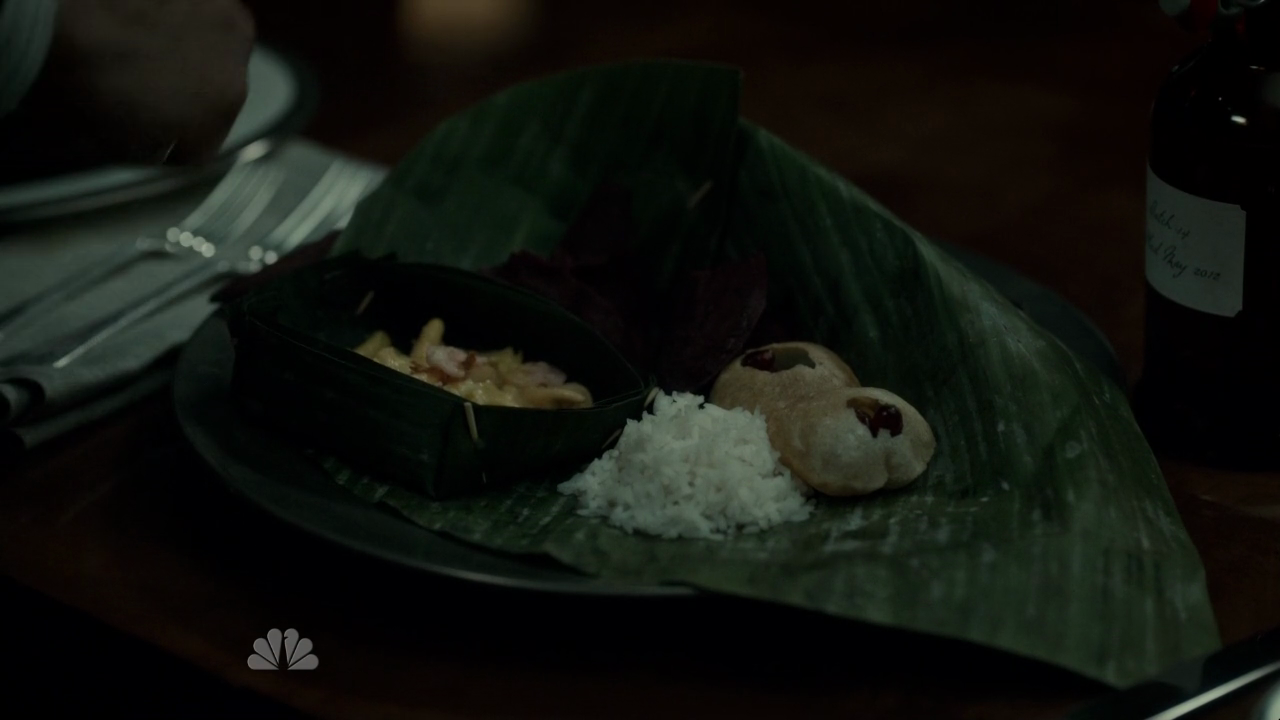 RÔTI: Roast, specifically roasted game birds, but in this case likely a straightforward case of "and now we arrive at the big centerpiece courses."
HANNIBAL: Someone who already doubts their own identity can be more susceptible to manipulation.Dr. Gideon is a psychopath. Psychopaths are narcissists. They rarely doubt who they are.

DR. CHILTON: Tried to appeal to his narcissism.

HANNIBAL: By convincing him he was the Chesapeake Ripper.

DR. CHILTON: If only I had been more curious: about the common mind.

HANNIBAL: I have no interest in understanding sheep. Only eating them.
One of Hannibal's more bluntly callous secret confessions. Its unusual viciousness is probably explained by his understandable frustration at having to relate in any way, shape, or form to Chilton. Also interesting is the selection of animals for the metaphor - a departure from the show's default choice of pigs that flags the particular disdain with which Hannibal holds Chilton.
DR. CHILTON: I thought psychic driving would have been more effective in breaking down his personality.

HANNIBAL: Psychic driving fails because its methods are too obvious. You were trying too hard, Fredrick. If force is used, the subject will only surrender temporarily.
Hannibal is, of course, obliquely ...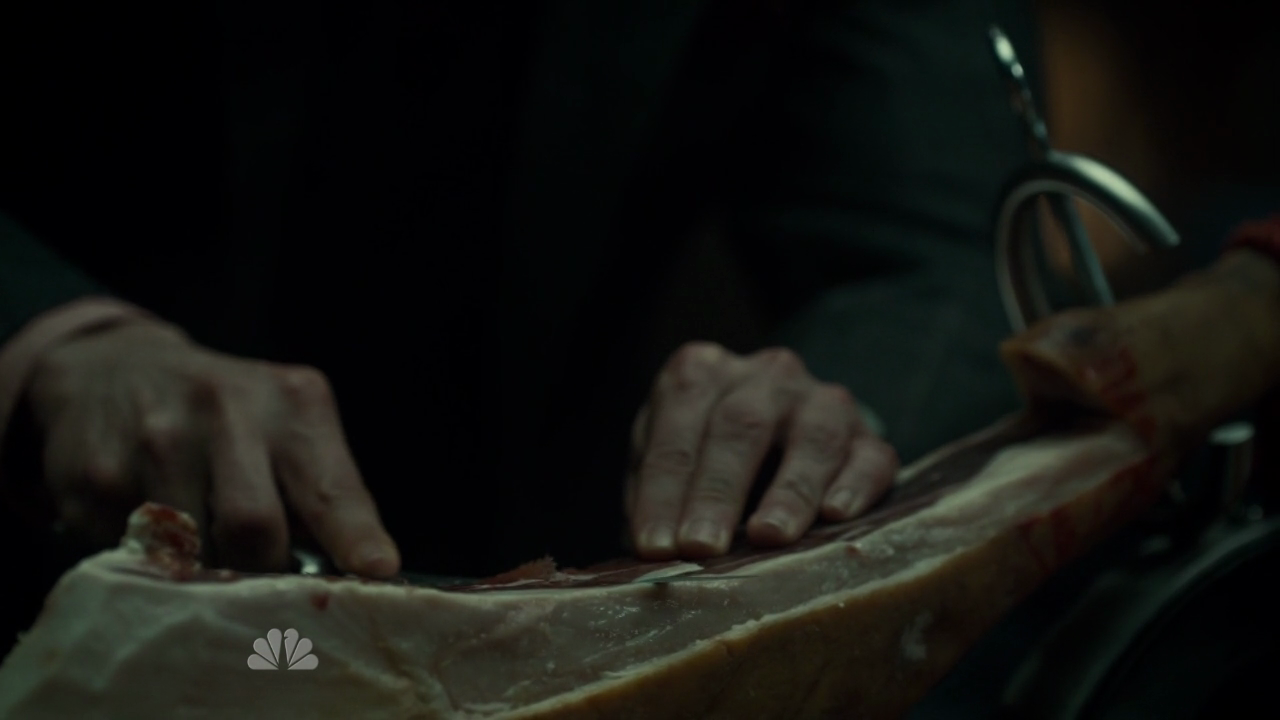 BUFFET FROID: Literally "cold buffet," referring specifically to a charcuterie platter of thin-sliced meats. In this context, a joke about Georgia Madden's shredding skin.

It goes without saying that there is a strange unreality here, but this is presented very differently from how Hannibal usually proceeds. It's never before had to conjure a disposable POV character just to kill her off a few minutes later. Part of this is the peculiarities of Georgia Madden - she's unsuitable to be a POV character herself, and there's only one other choice. But a more basic reason is that this is the opening of a horror movie, with Madden being positioned as something that comes at the show from an odd angle She doesn't quite belong in this series. Unlike with "Œuf," a previous case of a killer of the week who's not quite right for Hannibal, this is something the show is at least conscious of this time.

Timeline of events.
May 2013: "Buffet Froid" airs.
July 2013: Steven Moffat casts Lars Mikkelsen, brother of Mads Mikkelsen, in "His Last Vow"
February 2014: Moffat writes "Listen," featuring a monster that grabs your ankle from under the bed.
I leave ...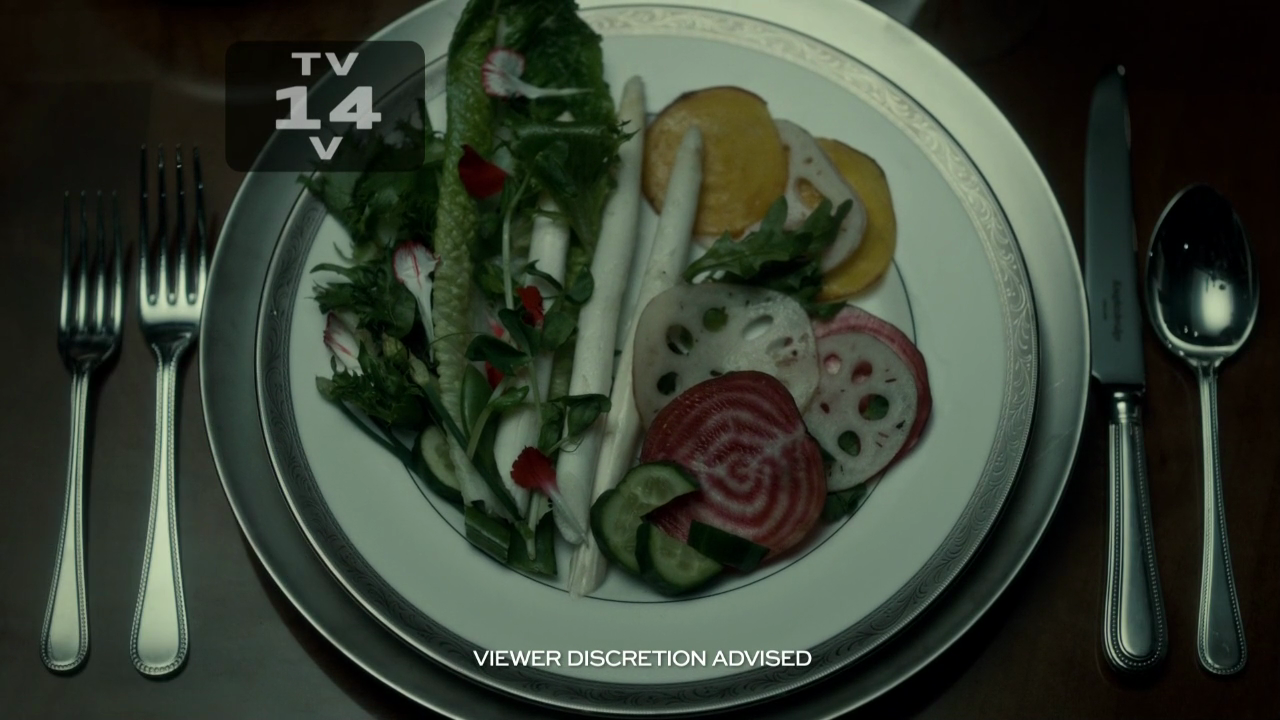 TROU NORMAND: A palate cleansing drink of apple brandy, sometimes with a small amount of sorbet. Your guess is as good as mine, frankly.

One of the show's most emphatically memorable murder tableaus - probably the only one to give Eldon Stammetz and his mushroom people a run for their money. It also serves, however, as a case study in the schizoid nature of this season. More than anywhere else in the first season, "Trou Nourmand" demonstrates the degree to which these cases of the week are a charade. The totem pole murders are barely a feature of the episode, squared away with almost comical efficiency midway through the fourth act while the plot focuses instead on Will's psychological collapse and new developments with Abigail.
BRIAN ZELLER: The world's sickest jigsaw puzzle.

JIMMY PRICE: Where are the corners? My mom always said start a jigsaw with the corners...

BRIAN ZELLER: I guess the heads are the corners?

BEVERLY KATZ: We've got too many corners. Seven graves. Way more heads.

In which Zeller, Price, and Katz demonstrate that the aesthetics of murder tableaus are not their strong suit.

WILL GRAHAM: I planned this moment... This monument with precision. Collected all my raw ...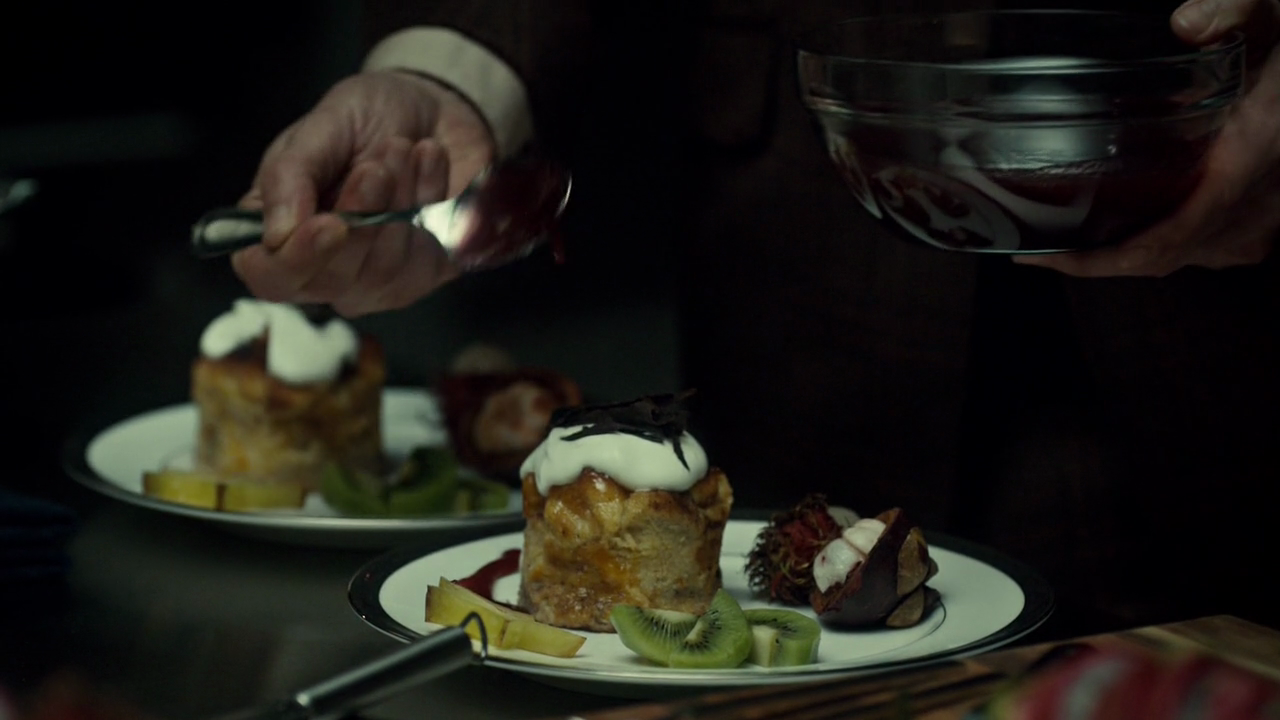 FROMAGE: Cheese. Relating this directly to the episode contents is tricky - it's most likely a reference to Franklyn's declaration last episode that he and Hannibal are "cheese-folk," although it's certainly possible Fuller imagined this episode to be somehow cheesier than previous ones. I mean, it does involve opening people up and playing them like cellos.

The soft-focus montage of stringmaking plays out over an unusually harmonious bit of music, making this particular process of dismembering people and repurposing their bodies an oddly pleasant, idyllic thing. It is worth contrasting with Blake's The Marriage of Heaven and Hell, in which his (non-murderous) printmaking process is detailed as the workings of "a printing press in hell," whereas here infernal content is presented in more sacred terms.
ALANA BLOOM: Why are you assuming I don't date?

WILL GRAHAM: Do you?

ALANA BLOOM: No. Feels like something for somebody else. I'm sure I'll become that somebody some day but right now I think too much.

WILL GRAHAM: Are you going to try to think less or wait until it happens naturally?

ALANA BLOOM: I haven't thought about it.
For the episode where the Will/Alanna sexual tension is finally grappled with ...