Viewing posts tagged slavery
Posted by: Jack Graham 4 years, 3 months ago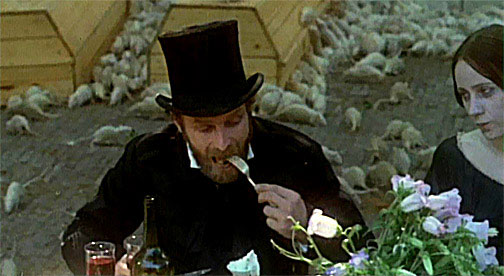 I was there at the birth,
Out of the cloudburst,
The head of the tempest.
Murderer!
Murder of calm.


- Kate Bush, 'Little Earth'


Let's, for now, posit a classical Hegelian dialectical triad. And let's take the pig as the first point of our triad: the thesis. And let's - as per Phil's suggestion - take cancer as another point of the same triad: the antithesis. What would be the synthesis?
It's worth making a short digression actually, on the issue of whether or not cancer and pigs are antithetical. In one sense, obviously not. Pigs get cancer. Pigs are used in cancer research. Eating bacon - even a tiny bit, once - will definitely give you cancer, as research has recently proved.
David Cameron is a cancer eating away at the heart of our society, and he once had intimate relations with a pig… and yet it's hard to say that those relations, for all their intimacy, were not antithetical. After all, the pig in question was dead, and had presumably been killed and decapitated so that it could be brought to table for the members (ahem) of the Piers Gaveston society. There can hardly be any more ...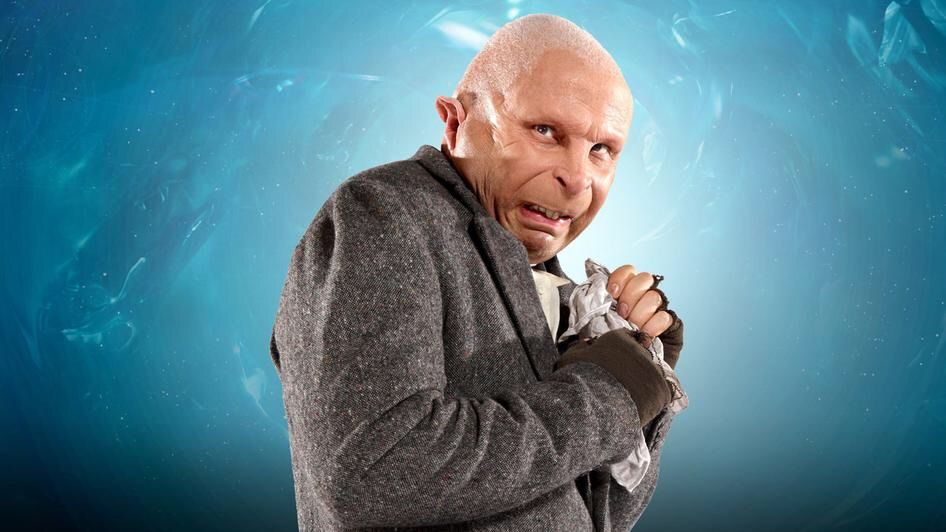 Following Jack's exploration of the Tivolians yesterday I came upon Daniel Harper of the Oi! Spaceman podcast's take on some of the same issues. Daniel graciously agreed to let us repost it as a guest post, and it's my pleasure to bring it to you.
Wednesday I posted the Oi! Spaceman podcast episode dealing with our reaction to Under the Lake/Before the Flood, which was a fascinating recording for us because it really was a case of finding some of the meaning of the story as we discussed it. It might make for a slightly disorganized listen, but it was enlightening for myself and I think for my wife and co-host.
The primary way my own views on the story evolved was in the discussion of Prentiss, the Tivolian undertaker, a member of a race of happy slaves imagined as a mincing sexual submissive. I originally took the portrayal at face value, primarily there to provide exposition and provide some levity (ha ha look at the ridiculousness of masochism!), but Shana correctly pointed out that putting this character within the context of a story in which magic runes implant subconscious commands that influence the way you ...
Posted by: Jack Graham 4 years, 4 months ago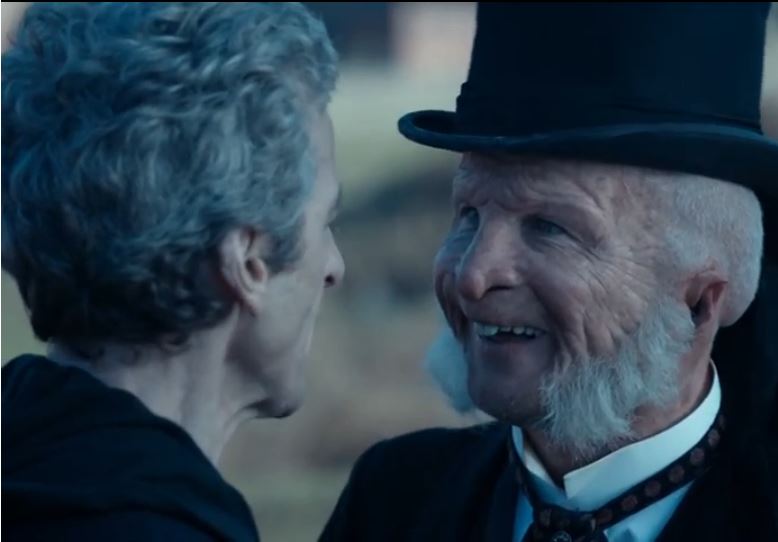 Happy Slaves
All those Doctor Who fans who were disappointed by the way the Ood were depicted in 'Planet of the Ood', and who wanted them to be a race of happy slaves, will be happy now that Toby Whithouse has provided them with the Tivolians.
I'm not sure how many people that actually was, but I had conversations at the time of 'Planet of the Ood' with people who thought it would've been 'interesting' if the titular planet had been the planet of people who voluntarily wore slave hats. It seems that some people would've found this edgy or different or difficult or challenging or something.
The concept of the happy slave has been treated in SF. Rather extensively actually. The robot is basically created to be just that. The word even comes from 'robota', the Czech word for the drudgery of serfs. Perhaps the problem is that the happy slave so often rebels for the sake of drama, and ruins the fantasy. Asimov's robots, for instance. The Dumbs and Vocs of Kaldor City. Even Marvin grumbles to the point of infuriating his owners into insanity (Douglas Adams did also give us the cow who ...
Posted by: Jack Graham 6 years, 3 months ago
There's so much I love about 'Planet of the Ood'. Picking a moment will be hard.
I love some of the things other people hate.
Unlike Lawrence Miles, I love that Donna ticks the Doctor off for his "Who do you think made your clothes?" crack. Why the hell should Donna put up with smuggery like that from a guy wearing
Converse trainers
? Who makes
your
clothes, Doctor? (Apart from anything else, one answer is probably 'women'.) Okay, he apologises for making her feel uncomfortable, which is problematic... but it isn't as if the episode lets the matter rest there.
Unlike many people, I love that the Ood thank DoctorDonna for, essentially, doing nothing. I love that they free themselves without any help from the Doctor. I like him better as an ally than as a messiah. The Ood don't suffer the fate of the N'avi: they don't get Whitey leading them to freedom. The DoctorDonna doesn't interfere. DoctorDonna renounces any claim they might think they have to judge the oppressed, to moralise when the oppressed free themselves by any means necessary.
I love ...
Posted by: Jack Graham 6 years, 3 months ago
"My goodness..." says the Doctor as yet more fine fare is brought to the Tharils already-laden table, "You live like kings."
"We
are
kings," says Biroc impassively. He merely states it as a fact. He is both part of this feast and an observer of it. He was at it, and now he returns later in his personal timeline. He can travel along his own trajectory. He sits at a table he once sat at long ago, in the same seat. He acknowledges this past life and does not disown it, yet he does not embrace it either. His tone is neutral. Truthful.
Meanwhile, at the same table many years later, after history has revolved, men - who make their living capturing, chaining and shipping creatures like Biroc for sale and industrial use - are sitting down for their lunch break. They pass round sandwiches, pickles, thermos flasks.
Their boss, Rorvik, regards them with the wary contempt that only a truly stupid person can feel for those slightly more stupid than he is. He has so little success trying to make them listen to his inanities that he has to wave his ...
Posted by: Jack Graham 6 years, 3 months ago
John offers the Doctor some sugar for his tea. John is a black man with a Caribbean accent.
"Ah," says the Doctor ruminatively, regarding his sugarless tea, "A decision. Would it make any difference?"
"It would make your tea sweet," says John, humouring this strange customer.
"Yes, but beyond the confines of my tastebuds, would it make any difference?"
"Not really."
"But..."
John is suddenly strangely interested. "Yeah?" he prompts, wanting to hear more. (I used to think of John as a manifestation of the '
magical negro
' stereotype... but actually he's just an ordinary Londoner who meets a magical Scotsman. As such he's one of the better examples of the Cartmel era representing black people. Sadly, those years often saw black men cast simply because the character was a rapper or a blues musician.)
"What if I could control people's tastebuds?" suggests the Doctor, "What if I decided that no one would take sugar? That'd make a difference to those who sell the sugar and those who cut the cane."
One person making a little decision doesn't change much. Lots and lots of people making lots and lots of ...
Posted by: Jack Graham 6 years, 3 months ago
The committee want to know about Vorg and Shirna's 'ritual'.
Shirna tries to explain. "We're entertainers." She does a little dance. "Understand?"
Pletrac regards her, his face blank.
"No," he says.
Vorg jumps in.
"Our purpose is to amuse, simply to amuse... nothing serious, nothing political."
Who is he talking to? The committee? The BBC? Us?
In any case, the commitee retire - scandalised - into secret session.
"Amusement is prohibited," gabbles Kailk in cold panic, "it's purposeless."
"Zarb is considering lifting that restriction," says Pletrac. Zarb is their leader. "The latest thinking is that the latest outbreak of violence among the functionaries is caused by lack of amusement."
The 'functionaries' are their slaves. (Sadly, they are portrayed as rudimentary and stupid.)
The committee members are caught between two possible choices, both of them extremely attractive to any ruling class: stop the 'functionaries' thinking about anything but their function, or amuse the 'functionaries' and thus keep their mind off the fact that they are slaves.
So it turns out that amusement is pretty serious and political after all.
Meanwhile, inside Vorg's silly, apolitical machine, white English imperialists complain ...
Posted by: Jack Graham 7 years, 1 month ago
Kant's categorical imperative is an expression of the bourgeois liberal ideas of the 18th century, expressed as morality. It is progressive in the sense that it attempts to derive morality from Reason. It is part of the Enlightenment. It also expresses the new, universal promises of the bourgeois revolutions in that it universalises (i.e. "All men are created equal"). It is based on the principle of universality. What you do must apply to all people or it fails to be truly moral.
However, it is also based on a bourgeois notion of rights. The concept of 'rights' is a product of the rise of bourgeois property/trade relations. One brings one's rights to the market place and, on that basis, one participates in the putatively level playing field. For Kant, one negotiates the conflicts between these rights on the basis of contractual clauses. If the Party of the First Part undertakes to do such and such, the Party of the Second part will be understood to be obliged to do so and so. It is this which finally inverts the universality of the notion into an ...