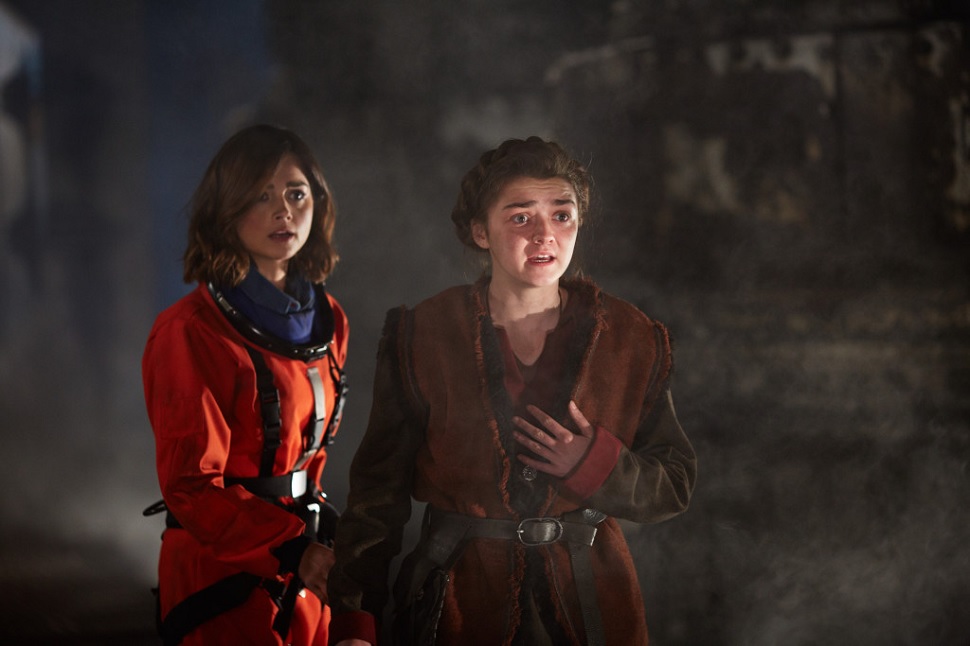 A girl has no spacesuit
It's October 17th, 2015. Justin Bieber is still at number one, with The Weeknd and Jamie Lawson newly entering the charts. In news, Home Office figures are released showing that hate crimes in England and Wales have risen by 18% in a year, and the first primary debate for the 2016 Democratic Party nomination is held in Las Vegas, over the course of which Donald Trump gained more Twitter followers from live-tweeting events than any of the actual candidates.
On television, meanwhile, it's the return of Jamie Mathieson and the debut of Maisie Williams's Ashildr/Me. Let's start with the latter, as it's Series Nine's big piece of celebrity stunt casting, and one the show seeks greater mileage out of than, say, Keeley Hawes or David Suchet's appearances. Part of this is that Maisie Williams is coming to Doctor Who from a currently-airing hit show. But Game of Thrones is not the cultural juggernaut in the UK that it is in the US; its all-time high ratings were 3.5m for the Season Seven finale, which is more than a million lower than Doctor Who's worst-ever episode, and more to the point came two years after this aired; the record at the time was the Season Five debut, at 2.6 million. This is still quite good, especially for a premium channel like Sky Atlantic, but the fact remains that at least in the UK, Maisie Williams is moving up a weight class in appearing on Doctor Who; indeed she pulled four million more viewers for this than she ever had on Sky Atlantic, and it remains the highest rated thing she's ever appeared on in her native country.
And yet all of the marketing treated this as an absolutely huge thing. Williams's casting got headlines, she's prominent in the promotional photos for both this and The Woman Who Lived, and her returns at the end of the season are treated as big, audience-pleasing surprises. This is low-key odd, to be sure, though not hard to explain. What matters, obviously, is that Maisie Williams's celebrity impact is bolstered by the fact that she's famous for appearing on a hit sci-fi/fantasy show. This isn't unheard of in Doctor Who—consider the guest casting of Jacqueline Pearce in The Two Doctors. But the era we're reaching back to there is significant as well. As with the continuity-packed opening of The Magician's Apprentice, there's a clear statement about what sort of show Doctor Who is and who its intended audience is. The show is unapologetically catering to genre fans. This obviously isn't being done with the gross incompetence of the late-Saward/Nathan-Turner era, nor in a way that's overtly hostile to other types of viewers, but the core audience here is very clearly geeks. It's an expansive definition of geeks that's miles from the sort that use phrases like "ethics in video game journalism," but it's geeks all the same.
That said, understanding Williams's casting entirely through the lens of marketing is a mistake. The more basic reason she's here is that she's uniquely suited to the role. The Girl Who Died essentially asks her to to play a likeable child heroine in a medieval setting. But each of her subsequent appearances add increasing levels of darkness to her character. This is more or less exactly her arc over the course of Game of Thrones, where she starts as a charming tomboy princess before acquiring a nuanced appreciation of the productive possibilities of stabbing people in the face. Maisie Williams is as obvious a choice for this character as Brian Blessed was for Odin (which of course they also tried only to be derailed by his medical difficulties in the early part of 2015); the promotional opportunities of casting a fan favorite from Game of Thrones were obvious, but clearly a bonus.
Past that, there's not a ton to say about Ashildr here. Her starting point is not what's interesting about her character, and the extent of what this story does with her is to make her a fairly standard "character who would be a perfect companion and so dies at the end of the story" figure, with the slight twist that she's brought back as an immortal in a cliffhanger. So let's put her aside for the moment and move on to Jamie Mathieson, the conquering hero of Series 8, who returns here for a story that is… markedly less beloved. So what's up with that?
The most obvious answer is both probably correct and depressing as hell: Mummy on the Orient Express and Flatline were scary, action-heavy pieces, as is his also acclaimed Series 10 piece, whereas this one is a goofy semi-comedy piece about bumbling Vikings. As should be obvious to anyone who's read my work on the series, I have no sympathy whatsoever for this view. There are plenty of shows that do terrifying action set pieces better than the BBC ever will. The value of Doctor Who isn't its half-measure attempts at being an action-horror show, it's that they come sandwiched between the moon being an egg and the entirety of London being overtaken by a Blakean forest.
But the existence of a silly story among the consensus picks does force something of a reevaluation of Jamie Mathieson. Were his reputation to rest entirely on Mummy on the Orient Express, Flatline, and Oxygen he'd straightforwardly be read as a gun writer. A very good gun writer who never made a misstep, but a gun writer nevertheless. But this story is pure frock. I mean, sure, it has potentially the highest death toll of any of Mathieson's stories (depending on how many people you think were in the kitchen on the Orient Express), but it's a story in which the scary aliens are defeated by telling the right story and then setting the video footage to "Yakety Sax." One could opt to put weight on the fact that Moffat takes a cowriting credit here, but an inspection of Moffat's other cowriting credits makes it clear that this is not always an indicator that the episode has been substantially rewritten—more likely Moffat fine-tuned Ashildr's resurrection and glossed a few other bits to set up what he'd need later in the season, as opposed to embarking on a large-scale reworking of Mathieson's script.
So what's consistent here? First of all, there's Mathieson's deft creation of central concepts. Unlike the Boneless and the Mummy, the Mire are not a particularly clever monster (although the conceit of them slaughtering Vikings to drink their testosterone is wonderful), but they're also not the actual concept here. The concept is the Doctor pulling a Seven Samurai to protect a village of bumbling Vikings. This isn't a neat visual concept in the same way as the sixty-six second countdowns of Mummy on the Orient Express or the anamorphic horrors of Flatline, but it's still an effective central concept. It's worth comparing to Under the Lake/Before the Flood, in that it harkens back to the big central set-focused approach of Troughton-era bases under siege. One doesn't really notice that this is the second base under siege story in a row, in part because a frock base under siege is a fairly odd concept. It's not quite without historical precedents, but most of those are ones where you'd have to spend a bit arguing the case. This, on the other hand, is straightforward: a contained location preparing itself for the inevitable onslaught of some clanking robot monsters. But there are other advantages here. Changing the futuristic base to a village full of Viking screwups changes the whole tone of things. Lofty, Daphne, Noggin the Nog, ZZ Top, Heidi, Limpy, and Einarr are mostly un-characterized, but there's still a feeling of humanity to the village that no undersea base or space station has ever really matched. When Ashildr says that leaving it would be death itself, there's a weight to it that it's hard to imagine anyone from the Drum or the acid monastery ever offering much of anything.
The second thing to remain consistent is Mathieson's conception of who the Doctor is. We talked back with Mummy on the Orient Express about Mathieson's effective cleaving of the "lonely god" gordian knot by portraying the Doctor as someone who is simultaneously exhausted by the moral consequences of what he does and compelled to continue doing it. And that's the backbone of the Doctor's plot here. His default setting through the entire story is a sort of wearied irritation at the entire setup—a frustration that the village won't just flee the Mire and avoid the entire doomed confrontation. This isn't presented as a selfish "not my problem" unwillingness to help, but rather as a dread of the expected outcome, a mood set by his defensiveness over the resolution of the unseen adventure saving the Velosians, where he talks about the outcome being "the best I could do." He stays and helps because he has to—because there is a baby who is scared and crying and he can plausibly make a difference. But for most of the story he doesn't believe he can, and is preparing the village for "a good death" while furiously resenting them for making him.
Balanced against this is Clara. This is the one episode of the season that actually has a spine of Doctor/Clara interactions running through it—everywhere else they're either separated for most of the episode (The Magician's Apprentice/The Witch's Familiar, Before the Flood, The Zygon Invasion/The Zygon Inversion, Face the Raven, Hell Bent), the episode is a procedural action piece that doesn't stop much for character moments (Under the Lake, Sleep No More) or Clara is simply absent from the episode entirely (The Woman Who Lived, Heaven Sent). But here there are five separate conversations across the episode in which the Doctor and Clara aren't talking in pragmatic terms about what they're going to do or delivering exposition, but are either debriefing on what they've done or discussing their feelings about what they're going to do. What this means in practice is that Clara spends most of the episode essentially coaching the Doctor through the defense of the village, performing the emotional labor of helping him work through his adventure in a psychologically healthy way.
This is a gendered dynamic to be sure, but so is the Doctor/companion one. Women often do provide emotional labor of exactly this sort. Clara, at least, is given agency in this and has this treated as a skill she has honed; the assertion that this labor is her hobby calls back to Into the Dalek where she explicitly notes that he couldn't afford her. In other words, the emotional labor is actually being portrayed as work to be respected. It's a small flourish, but it speaks volumes about the maturity of this relationship.
So Mathieson stands revealed as a writer with more gears than his reputation would suggest—a writer who's actually capable of managing the breadth of Doctor Who. There aren't a lot of new series writers you can say that about—most have a particular type of episode they're associated with. Peter Harness writes political ones, Mark Gatiss writes genre pastiches, and Paul Cornell writes emotional tearjerkers. This doesn't always accurately describe the scope of their abilities—we talked about this with Gareth Roberts, but an even better example is Moffat, who had a particular type of episode he wrote under Davies but who necessarily expanded his range when he took over the show. But it's still rare, on the new series, for a writer to demonstrate flexibility early like this. (Hell, it's rare on the classic series—there are a lot more writers like Eric Saward, Terry Nation, or Malcolm Hulke who have clear pigeonholes than there are like Robert Holmes or Louis Marks.) There's obvious value in this. One of the reasons the Capaldi era is on the whole more consistent than the Smith era is that Moffat finally cultivated a stable of writers he could turn to consistently. If we count Gatiss in their number—and I think his Capaldi era contributions justify that—then as of Series Nine eight out of twelve episodes can be assigned to reliable hands that aren't going to screw them up, and that's assuming no one but Moffat takes more than one episode. That Chibnall has opted to completely ignore this and bring in a completely new set of hands is certainly not a guaranteed disaster, but it stands out as the one deeply dubious decision he's made so far.
But of Moffat's new stable of reliable writers, it is Mathieson who has at this point emerged as the great utility player, going from gun to frock and from stories focused on the Doctor to ones focused on Clara without ever seeming to be thrown off his stride or letting himself get reduced to a pigeonhole. He is, obviously, not my favorite Capaldi-era writer, but he is easily the era's MVP—the writer whose name on an episode most immediately augurs a simple, straightforward quality. And while The Girl Who Died is often viewed as his weakest effort, in many ways it is the exact opposite: the one where he proves himself to be indispensable.