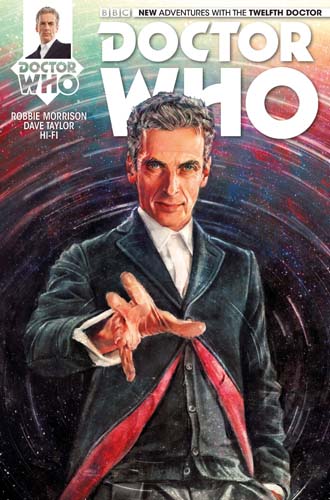 My my, it's been a while since we've checked in with the comics, hasn't it? The last time we looked was back at the end of the Smith era, where I did a quick check-in on IDW's Farewell to the License comic, Paul Cornell's "The Girl Who Loved Doctor Who." Since then, the comics line has been in the hands of Titan Comics, the comics publishing arm of one of the two the Forbidden Planet chains of comic shops. This had a number of effeects, the most prosaic of which was that Titan successfully negotiated an actual distribution license for the UK, thus ending the bewildering curiosity of a US-only line of Doctor Who comics.
Titan has done a number of interesting projects in its time. Paul Cornell's fascinating Third Doctor comic is dealt with in the newest edition of TARDIS Eruditorum Volume 3, for instance, and I'll deal with the Al Ewing-cowritten Eleventh Doctor series in the Matt Smith book. But both of these were daliances with the past, even if the Eleventh Doctor book had a good number of issues out before Deep Breath had aired. It was with this series, or, technically, triptych of series, as Titan relaunched the title as The Twelfth Doctor Year Two and The Twelfth Doctor Year Three at various points, that the line got to engage directly with the Doctor Who of the present.
Comics have always been a weirder fit for Doctor Who than one might expect. On the surface they should be a near-perfect fit for the series, freeing the underlying concept from the limitations imposed by television budgets. There are of course other media that offer similar promises, with varying degrees of success. Prose has been the most successful of these, creating a bespoke era of Doctor Who that can stand among the highlights of the television show. Audio has had a more modest track record, but much of that is due to the deep problems with the specific company that produces the bulk of it. And though experiments have been limited and mostly confined to remaking the visual components of lost 60s episodes, animation has obvious promise in its ability to combine visual storytelling and performance in a way that, while still tremendously expensive, at least doesn't really see a huge budgetary difference between "swamp monster the size of a building" and "two people arguing in a basement." But comics, even among this set, seem to have a unique set of strengths, balancing visual storytelling with cost in an appealing way.
And yet a brief perusal of the various times I've checked in with the comics lines over the years will reveal that it is staggeringly rare for them to actually be any good. Occasionally they have a weird vitality, most obviously in the 1980s Doctor Who Magazine stuff, but even then the success was a sort of thrilling indiscipline as opposed to anything that could concretely be called good Doctor Who. For the most part Doctor Who comics have batted below the already fairly meager average of Doctor Who spin-off material.
Titan, it must be said, does not really break this streak. There are isolated moments of charm across the run—most obviously giving Rachel Stott a professional debut. Stott is straightforwardly the standout artist of the era, offering an expressive, communicative style that feels like the characters without sinking into the drab quicksand of photorealism. It is no surprise that she gets the two most formally expressive issues, the "Boneless attack via comic books" plot that it would have been criminal not to do and a two issue riff where the Doctor gets temporary companions who are a writer/artist team working on a book called The Time Surgeon that liberally rips off of UNIT's files on the Doctor.
Other high points include… let's see… basically anything by George Mann, but especially the stories where he gives the Doctor a temporary companion named Hettie who's a punk rocker from the future and a black woman to boot. Though the one where the temporary companion is La Maupin is pretty satisfying too. Clara is generally well-written (indeed mostly better than Capaldi's Doctor), even if she's never used especially cleverly. And, well, we've already started qualifying our praise, so let's just move on.
The problems, meanwhile, are mostly in the writing. Robbie Morrison, the initial writer, is mostly just a bit flat (although he is responsible for both of the aforementioned Rachel Stott stories, his 1-2 issue arcs generally being superior to his 3-4). Mann, as mentioned, was decent, although in a fairly pedestrian way—think reliably Gatiss-quality. And the third writer, Richard Dinnick, is a fountain of fanwank that puts the late Craig Hinton to shame. One of his two stories features the Flood from Waters of Mars vs. the Ice Warriors, with a second issue reveal that the real villain is Fenric and the vikings that had been in the story thus far are the ones from Curse of Fenric. And that's the restrained one of his two stories, with the other roping in Missy the Judoon, the reborn Blon Fel-Fotch Passameer-Day Slitheen, and the angel robots from Voyage of the Damned before a late reveal of the Weeping Angels. And yes, to answer your question, he has written for Big Finish.
So what we have is another flabby disappointment of both Doctor Who in comics form and the modern spinoff media. And this one, unlike BBC Books and Big Finish, from a company that actually had to hustle for the license and has some reason to try. And look, to be fair, as a line they have, or at least they've tried more than BBC Books or Big Finish. The Al Ewing co-written Eleventh Doctor stuff was great and inventive and loved using the medium. Getting Paul Cornell to do a Four Doctors crossover and a Third Doctor miniseries is a great idea. And even in the Twelfth Doctor comics in particular, there are numerous individual moments of charm and style. This is a line that's trying. So why is it too failing to amount to much?
It's easy to get overly nostalgic about spin-off materials of years past. The occasional "World-Shapers" or "Black Legacy" aside, we're mostly left with stuff like "The Lair of the Zarbi Supremo," The Pestacons, or The Infinite Quest, some of which may spark nostalgia, but very little of which is actually even remotely good. But most of that comes from an era where spinoff material was done by largely unsupervised companies looking to make an easy quid. We've already talked about the way that the modern series has collapsed all of this into a Doctor Who Industry that, for a long time, had a dedicated brand manager (and still has its act sufficiently together to do pointless shit like imposing the current logo on all releases of past material), and the way in which it has made the product altogether blander. But it goes further than that, and the Titan Comics are indicative.
Take the Doctor and Clara—the most emotionally fraught and complex Doctor/companion relationship in the history of the series. Although Clara and, eventually, the Doctor are both written pretty well (the first few issues clearly predate the airing of Deep Breath), their interactions basically never spark. Cornell unsurprisingly does a grand job of it in The Four Doctors by having Clara open the story with more knowledge than any of the Doctors, but that's about it. There's no story arcs that are about their relationship. And that's only sort of a criticism. For the most part, stories about this relationship aren't possible because all of the major turns in the relationship are already written and on television.
There's no easy solutions to this. Fitting extra stories into a character-based arc is just harder than a fully episodic anthology arc like that of the classic series. It leaves the spinoff material necessarily having to be lesser, and that's before you don't let them touch anything that the showrunner thinks he might be using anytime soon. Compare to eras where, for instance, you could give the Doctor two grandchildren neither of whom are Susan, or blow the tone of the series as hard as "The Iron Legion" or "Voyager" did, and the degree to which this sense of being stuck in the tight orbit of the television series, by rule unable to stray outside its bounds.
And yet it feels strangely hard to believe that it has to be this way—that spinoff material has to be so frustratingly crap. It feels like having minor leagues in which writers can work on Doctor Who without the stakes of the TV series must be a good idea in which we get new ideas and new voices. This can't actually be as pointless and sterile an operation as everyone to try it makes it look. And I'd love to come to a clear account of this—an explanation of why it's so universally mediocre. I don't actually think the explanation of the TV show's eating up the emotional space for character arcs and fixing everything in its orbit is sufficient. It should be possible to do something like (and I don't believe I'm citing this as a positive example) Under the Lake/Before the Flood in which the Doctor/Clara relationship drives the plot without experiencing any major shifts in their status. The use of the Boneless makes it clear that follow-ups and expansions on series concepts are fair game. There's space to play well here and I honestly don't understand why it's so hard to find writers who can take advantage of that.
It's not the top priority for any new showrunner. And heck, the change might originate perfectly well from the bottom, with editors at the companies that make these things deciding to, you know, actually make good Doctor Who. I don't know. But good lord it's frustrating to have gotten through the sixth one of these posts for the era (thirteenth if you decide to count Class towards the problem, and it's not like its quality breaks the pattern) and have had nothing to do but marvel at the basic lameness of it all. The spin-off materials have never ben the thread of this project I've most enjoyed, but in the Capaldi era they've been genuinely infuriating. And making it not like that seems worthwhile. Making the spinoff materials have some weight and some worth—to actually feel like they have ambitions other than selling for a price point—seems like a good goal. On a basic level, it just seems like a nice idea, y'know? We could have a bunch more Doctor Who a year that was actually worth consuming. We could have venues for writers without extensive television credits to play with an adaptive format that enables cool ideas. Give a decent editor reign over a line with an open submissions policy. It's worked before. Whereas this sure as fuck isn't.