Viewing posts tagged media
Posted by: Jack Graham 1 year, 11 months ago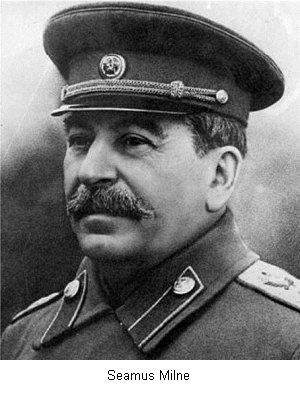 Jeremy Corbyn, leader of the British Labour Party, recently asked Seumas Milne to be his director of communications. Milne is one of the few journalists currently working in the British media who is genuinely worth reading. Milne, for instance, wrote The Enemy Within, which is not the novelisation of the 1996 TV movie (Gary Russell courageously tackled that one), but rather a rigorous investigative expose of the way the Tory government - with help from the 'security services' and the tabloid press - set about trying to covertly undermine, smear and frame the NUM and Arthur Scargill during the 1984-5 Miners' Strike.
Certainly, when you recall that David 'Pigfucker' Cameron's choice for an equivalent post was Andy Coulson, you see evidence of a stark division – authentically based on a decency and honesty gap – opening up between the parties for the first time in quite a while.
Milne, however, is one of those Left-wing journos who has been repeatedly (and rightly) criticised by Media Lens for being less than brave about criticising the paper he writes for, even as he savages bias elsewhere. So he will already have ability to ruthlessly criticise other people for doing stuff that his own employers do ...
Posted by: Jack Graham 2 years ago
Aww, don'tcha just love the bourgeois mainstream? I mean, ain't they precious and priceless? Isn't their disingenuous, blithe, untroubled faith in recieved opinion; and their unquestioning belief in the fundamental goodness and honesty of the world they live in; just kind-of adorable? Like toddlers who treat Mummy and Daddy like all-knowing, ever-protective gods. And aren't they sweet the way they get all serious about pondering the eternal verities they take for granted, like the way little kids are when they get all serious about a let's-pretend game they're playing.
I mean, look at this...
Dostoyevsky's characters "justify murder in the name of ideological beliefs" which, according to the BBC, means he "foresaw the rise of the totalitarian state".
Because it goes without saying that 'democratic' states never ever justify murder ideologically.
Nuh-uh
.
The idea
.
Mindless, vacuous, unconcerned contentment of this type is sort-of cute, like the way cattle just mooch aimlessly around fields taking in the same sights over and over again, and happily munching on the cud.
Posted by: Jack Graham 3 years, 2 months ago
I was going to do
this
post all over again... (this is what we do with Palestine: say the same bloody things over and over again, because the same bloody things keep happening over and over again)... but Richard Seymour has already done it for me,
very succintly
.
(EDIT: I originally posted a screencap of Seymour's tweet of a screencap. But Seymour has now posted the original screencap itself on his blog. So it seems only fair to remove my screencap of his tweet and just link to him. Not that he needs hits from me.)
Posted by: Jack Graham 3 years, 4 months ago
The main headlines today.
THE BBC NEWS DIVISION HAS TAKEN OVER OWNERSHIP OF OBSCURE DOCTOR WHO BLOG SHABOGAN GRAFFITI
"The blog will now be run according to proper BBC guidelines of impartiality," said that lying Zionist shitsack James Harding, head of BBC News.
In other news...
UKIP SURGE FORWARD AND ONWARDS TO CERTAIN FORWARD MARCHING MARCH OF ONWARD SURGING SURGENESS AHEAD ON SHABOGAN GRAFFITI.
The BBC Newsroom is reporting that despite there being no sentiments ever expressed on Shabogan Graffiti that a Ukipper would ever find acceptable, UKIP have broken through with a breakthrough on Shabogan Graffiti and are now surging forward and ahead to breakthroughs and surges on the unpopular blog.
"Apparently the vast majority of the British electorate do not read Shabogan Graffiti," said a hairdo on top of a suit behind a desk, "but even so, the fact that UKIP have now broken through and surged across the blog shows clearly that the British public think UKIP are a force to be reckoned with and a reckon to be forced with and surging and breaking through and getting the mainstream establishment parties running scared."
Finally...
BBC ANNOUNCES NEW SERIES OF POSTS ON SHABOGAN GRAFFITI, TO BE ENTITLED ...
Posted by: Jack Graham 3 years, 10 months ago
"We waited here in the dark space," booms the Dalek Emperor, "damaged but rebuilding. Centuries passed, and we quietly infiltrated the systems of Earth, harvesting the waste of humanity. The prisoners, the refugees, the dispossessed. They all came to us. The bodies were filtered, pulped, sifted. The seed of the human race is perverted. Only one cell in a billion was fit to be nurtured."
So, In Russell's rewrite of 'Revelation of the Daleks' (which would be a better title for this story than it was for Saward's script), the Daleks are no longer harvesting the elite. Brought to the brink of extinction, they have been forced to resurrect themselves from the 'dregs'... which seems to be synonymous with the contestants who lose game shows. The Daleks take the people who get knocked out before the finale. Because the Daleks have become TV producers. They've become the people who run
Big Brother
and
Trinny & Susannah
and
The Weakest Link
. They've become the bosses of reality TV. They've become Simon Cowell. (Which is kind of an insult to the Daleks, if you ask me.)
Big Brother, in our ...
Posted by: Jack Graham 3 years, 10 months ago
For March Against the Mainstream Media Day
The Editor (apparently he edits the whole of human society) has uncovered Suki's true identity. Instead of being just another inoffensive wannabe employee, she's actually...
"Eva Saint Julienne, last surviving member of the Freedom Fifteen. Hmm, self declared anarchist, is that right?" His tone is patronising. Non-mainstream political principles are a quaint and amusing affectation.
"The Freedom Foundation has been monitoring Satellite Five's transmissions," says Suki, pulling a gun on the smug bastard, "We have absolute proof that the facts are being manipulated. You are lying to the people."
"Ooo, I love it," he giggles, still in the same tone of amusement, as though he's listening to hilariously naff dialogue in a period drama, "Say it again."
"This whole system is corrupt. Who do you represent?"
The Editor is self-aware enough to know that, for all his power, he's a slave himself.
"I answer to the Editor in Chief.... If you don't mind, I'm going to have to refer this upwards."
Suki looks up, to see what the Editor is referring to.
"What is that?" she asks.
"Your boss. This has always been ...
Posted by: Jack Graham 3 years, 10 months ago
A flying ship has plunged into a tall public building, causing panic.
Outside 10 Downing St., the media have been sat around for hours with their cameras trained on the closed black door, waiting for someone official to come out and hand them their version of events... which will, of course, be repeated verbatim as The Story.
Luckily for these relentless seekers after truth, a politician comes out to give them a press conference.
"Our inspectors have searched the skies," he tells the journalists, "and they have found massive weapons of destruction, capable of being deployed in 45 seconds. We face extinction unless we strike first." He goes on to beg the UN for "an emergency resolution" which will give them permission to launch this pre-emptive strike. His words are relayed on the TV news without comment... except by the Doctor and the other people watching.
As satire, this isn't subtle. It's like a sledgehammer to crack a nut... because that's what the WMD story always was: an easily cracked nut. But in a world in which barely anyone in the global media is capable of cracking nuts even with a ...
Posted by: Jack Graham 3 years, 11 months ago
Simon Schama gets a huge slab of BBC money and airtime to obfuscate the truth in the service of Apartheid state Israel, taking official Israeli lies as the basis of his 'case'. See
here
.
Simon Schama, thinking profound thoughts about history 'n' stuff.
Licence-fee money well spent there.
Best bit, on the wall:
"I want to say, nobody, including me, ultimately has the moral right to say that shouldn't have happened, the wall shouldn't have happened. Before the wall happened, hundreds of people were dying every year from terrorist attacks; after the wall happened very, very few...."
Actually, since the start of the wall, over 4,000 Palestinians have died... but they obviously don't come into the category of 'people' for Professor Schama, no more than the Haitian slaves who didn't get mentioned in his massive book on the French Revolution.
He continues:
"In some senses, if you don't live in Israel — I don't live in Israel — you are morally obliged to be nearly silent."
So shouldn't that mean that Professor Schama should be "nearly silent" about it? No, of course not. He means that people who
disapprove ...