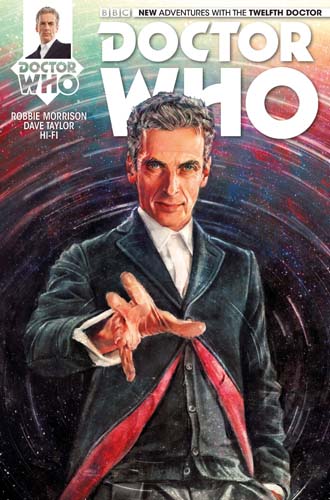 My my, it's been a while since we've checked in with the comics, hasn't it? The last time we looked was back at the end of the Smith era, where I did a quick check-in on IDW's Farewell to the License comic, Paul Cornell's "The Girl Who Loved Doctor Who." Since then, the comics line has been in the hands of Titan Comics, the comics publishing arm of one of the two the Forbidden Planet chains of comic shops. This had a number of effeects, the most prosaic of which was that Titan successfully negotiated an actual distribution license for the UK, thus ending the bewildering curiosity of a US-only line of Doctor Who comics.
Titan has done a number of interesting projects in its time. Paul Cornell's fascinating Third Doctor comic is dealt with in the newest edition of TARDIS Eruditorum Volume 3, for instance, and I'll deal with the Al Ewing-cowritten Eleventh Doctor series in the Matt Smith book. But both of these were daliances with the past, even if the Eleventh Doctor book had a good number of issues out before Deep Breath had aired. It was with this series, or, technically, triptych of series, as Titan relaunched the title as The Twelfth Doctor Year Two and The Twelfth Doctor Year Three at various points, that the line got to engage directly with the Doctor Who of the present.
Comics have always been a weirder fit for Doctor Who than one might expect. On the surface they should be a near-perfect fit for the series, freeing the underlying concept from the limitations imposed by television budgets. There are of course other media that offer similar promises, with varying degrees of success. Prose has been the most successful of these, creating a bespoke era of Doctor Who that can stand among the highlights of the television show. Audio has had a more modest track record, but much of that is due to the deep problems with the specific company that produces the bulk of it. And though experiments have been limited and mostly confined to remaking the visual components of lost 60s episodes, animation has obvious promise in its ability to combine visual storytelling and performance in a way that, while still tremendously expensive, at least doesn't really see a huge budgetary difference between "swamp monster the size of a building" and "two people arguing in a basement." But comics, even among this set, seem to have a unique set of strengths, balancing visual storytelling with cost in an appealing way.
And yet a brief perusal of the various times I've checked in with the comics lines over the years will reveal that it is staggeringly rare for them to actually be any good. Occasionally they have a weird vitality, most obviously in the 1980s Doctor Who Magazine stuff, but even then the success was a sort of thrilling indiscipline as opposed to anything that could concretely be called good Doctor Who. For the most part Doctor Who comics have batted below the already fairly meager average of Doctor Who spin-off material.…