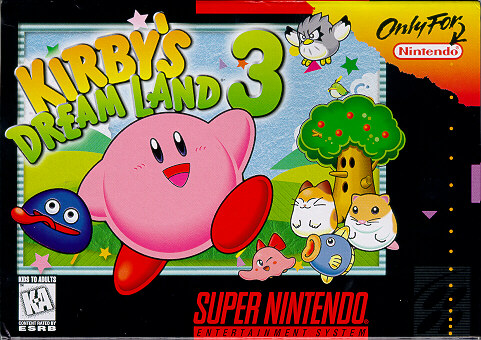 Moore, drawing from Bunyan, calls it Mansoul. Blake goes with Eternity, while the Aboriginal Australians call it the Dreamtime. Kabbalistically it's Yesod. It is the world in which the implications of things are made real, their secret histories and imagined futures stretching into the horizon, ghosts and possibilities not haunting them so much as simply inhabiting them, the ordinary and everyday population of the vast and surreal psychic metropolis. When your children asked you where Mario goes when he's out of lives, this is what you were afraid to tell them.
The peripatetic pink puffball before us may seem a strange psychopomp, but he's got prior form, with his sole NES game also post-dating that console's obsolescence. At least in his early days, this was simply what he did, the Nintendo character who appeared at the end of a console's life to usher it into this glittering and sunken realm of lost nostalgia. And in a sense he's the perfect guide to this shimmering realm; he is literally a consumer, eating the dream-creatures around him and taking on their essence and nature. This is, after all, how the mass culture of video games works. For years, it's what we did. Now here, at the end of everything, he repeats the service.
Ignore the slight twinge of absurdity. That's simply the state of things, a point John Higgs slyly makes when he uses Super Mario Bros. as his frame with which to explain the famously thorny question of "what's postmodernism" during his astonishing history of the 20th century Stranger Than We Can Imagine. There is a place you go after you die, and when you get there you are greated by Kirby. He is terrifying to behold, falling into an uncanny valley you didn't quite realize existed. On the occasions you imagined a video game character physically manifesting before you (and don't even try to pretend you haven't done that) you imagined it as a sort of explicitly digital thing – harshly delineated squares hovering in space in front of you, two-dimensional projections into a three-dimensional world. That or Minecraft. Either way, it was 8-bit. You never imagined this.
It's not the way he's always facing you even if you try to circle around him. That's unsettling, triggering a vague sense of motion sickness in your memory of a physical body, but you have a conceptual framework for it from Doom or 3-D movies or the parallax effect on your phone. That's uncanny, but at least within the domain of what you could imagine. No, it's the shadow. Inasmuch as you expected him, you expected him to be pink like a raw nerve, pink like a 1 and not a 0, absolute and platonic. But instead there's a dappled splatter of tincts across his surface, a depth map cast by an imaginary light that clearly does not exist in the space you inhabit.
Also, there are fucking scanlines. Jesus Christ that's weird.
Still, you understand what you're looking at even from the inadequate and low-res icon that it projects as its face.…