Back in my TARDIS Eruditorum post on The Caretaker, I mused on what Gareth Roberts might have written if he'd been allowed to write Doctor Who that reflected his politics of English middle class supremacism as opposed to being constantly pigeonholed into writing comedy romps, suggesting this would have been preferable and interesting. With Kerblam! we finally test that, and the results are as fascinating and infuriating as you'd expect.
On one level, this is the biggest political fuckup of an episode in recent memory. I mean, it's a satire of Amazon that comes down firmly on the side of Amazon. It's consciously pitched as a critique of labor activists in favor of exploitative corporations—one that is overtly hostile to younger generations and that treats concerns about the effects of automation on individual workers as contemptuous. It is overtly in favor of of corporations that aggressively micromanage workers' exploitation in favor of efficiency, of bullying and abusive bosses, and of automated systems that kill people to make a point. It's like the Cartmel and Davies eras as rewritten by Nick Land.
The thing is, that's actually a hell of a pitch. And the first part of it is key—this episode is technically steeped in what made those eras work. It's full of good ideas that are intelligently put together. Warehouses are a brilliantly achievable setting for Doctor Who. The Kerblam! bots are a delightful mix of creepy and charming. It does a great job of satisfyingly leaning on Doctor Who tropes while still feeling fresh and weird. And I mean, it has killer bubble wrap. I'm ridiculously and overwhelmingly there for killer bubble wrap. The mixture of bright and colorful with spookiness and action sequences is a balance that almost always works for Doctor Who, and it works here. And, in common with scripts that haven't had Chibnall's name on them, there's a sense of focus to this. It knows what it's about and has the intelligence to focus on the theme. Indeed, it even uses its politics to good effect, trusting in the standard morality of Doctor Who to do the work of setting up red herrings without it having to actually comment on anything so that, for instance, the audience is suspicious of Kerblam! because of its labor practices even when the Doctor doesn't actually say anything about them. It's a perfectly good episode of Doctor Who that just happens to be, you know… evil.
In terms of judging its quality, that's easy enough. Contrary to my detractors who accuse me of exclusively judging Doctor Who by its politics, I've been consistent in my view that well-done conservative science fiction is worth doing. This qualifies. I am fascinated by its pathologies—by what it does and doesn't let itself notice about the world it's set up, and by how it manages to make this completely and utterly fucked ethical and political assessment work in the context of Doctor Who. In one sense, the detail at the end of closing the plant for a month but only giving the workers two week's pay is as fantastically perverse as the detail of Cordo's father's body being worth more than his life savings in The Sunmakers. Yes, this loses some points for its politics, but it's not going straight to the bottom of the rankings by any measure. I mean, I wish its evil had been more insidious and seductive instead of just coming out in one "holy shit, really" exposition dump at the end, but honestly, this is fine.
That said, let's think about what it means that the Chibnall era has this in it. I've remarked before on the strange passivity of Whittaker's Doctor, and the fact that we've had a pro-corporation anti-labor story before we've had one in which the Doctor is just unambiguously on the side of people being oppressed makes this all the more damning. This is a Doctor Who whose ethics consist firmly of tone arguments and respectability politics; where what you say is less important than whether you say it appropriately. It's a Doctor Who of "sure, one side is building concentration camps for babies, but the left graffitied Tucker Carlson's driveway." It probably thinks no platforming is awful and that restaurants shouldn't refuse service to fascists. And it is clearly hostile to revolution, upsetting the apple cart, or being disruptive unless those things happen in an orderly and already historicized way.
In this regard, the overt focus on representation in front of and behind the camera feels odd. This is, after all, one of the most conservative eras of Doctor Who we've ever seen, sitting alongside the Innes Lloyd base under siege factory, the Dicks/Letts "you know what's lovely, the military" era, and the Saward "OK but what if more toxic masculinity" approach. And yet it's also doing more with diversity than any other era. The people saying ratings are falling because it's all SJW politics are clearly wrong about both halves of that statement, but the fact remains that this kind of self-conscious push at diversity usually is the mark of considerably more leftist shows.
What this mostly serves to reveal, I think, is the shallowness of diversity as a sole or even primary marker of progressive cred. That's not to say that diversity isn't important; I'd argue that it's necessary to being meaningfully leftist in 2018. But it's not the be-all and end-all, and a lot of that is because it's so cooptable. (The right, curiously, has always recognized this, hence the profusion of prominent people like Milo Yianopoulous or Candice Owens within the movement not because of any actual talent or insight they have but because of the favorable optics of "the gay alt-righter" or "the black woman who supports Trump.") It is increasingly clear that Chibnall's interest in diverse casting and production teams is a bit of canny brand management based on recognizing what's hot in pop culture right now and aping it. In the more cynical reads of this, one might even suspect that Whittaker's casting was more about getting free publicity from entitled man-children than about any actual investment in the benefits of representation; certainly it's the most useful Ian Levine has ever been in promoting the show.
But beneath the surface iconography of "doing wokeness" it is increasingly and distressingly clear that the Chibnall era's aesthetic purpose consists of packaging up the concerns of small-minded middle aged white men and selling them to kids who deserve better. (The big tell is that in a diverse cast full of young people the show is by miles most interested in Graham.) It thinks Trump is worth no more than a dirty look, that the past exists as nothing more than prologue for the perfectly adequate present, and now that trying to make a stand for labor rights in the face of automation is the province of madman terrorists. The ratings are still good, so it's not doing any damage to the sow, and the diversity of this era will pay dividends for generations, but at this point I think we can confidently declare the Chibnall era to be a soulless affair with no investment whatsoever in the mercurial.
But hey, at least Kerblam! was pretty fun while revealing the dead-eyed cynicism at the heart of this era.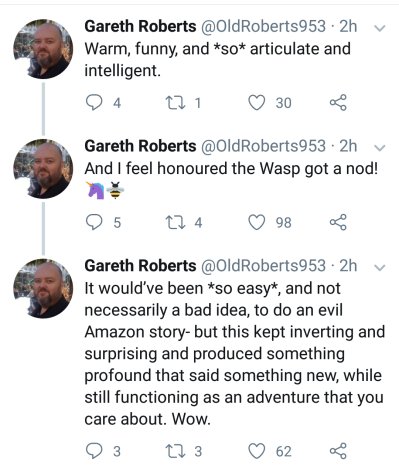 I know I've been complaining about a lack of thematic focus, but calling the company that's hijacked into shipping exploding packages "Kerblam!" might be a smidge far.

It's a pity the delicious fucked-upedness of Kira being lured by the promise of the second gift in her life and then killed by explosive bubblewrap is undermined by the utter cheapness of the death, which amounts to a fridging needed purely because they needed Charlie to abruptly give up his involvement. This may be the most fucked ratio of brilliant death scene to terrible narrative purpose of the death in Doctor Who.

Although I do have to say, burning "killer bubble wrap" in the last five minutes of an episode is a tragic waste. This gets at an oddity of

Kerblam!

, which is that it's blatantly the setup for the best Auton story never to happen.

It's genuinely bizarre that seven episodes in we've only actually had two in which the Doctor defeats the villain. Like, aside from the general matter of the Doctor's passivity, a 29% rate of "the Doctor actually takes deliberate action to stop the villain" as opposed to "the villain stupidly gets himself exploded in the course of the Doctor's plan."

The podcast guest for this week will be the fabulous Deb Stanish of the

Verity!

podcast.

In closing, I'd like to give

Kerblam!

real credit for finally and conclusively proving that there's nothing inherently left-wing about Doctor Who as a format. You can do a profoundly reactionary pro-capitalist story and it still works. It might involve swimming against the tide of narrative expectation and a decent portion of the series' history, but the idea that Doctor Who is magically immune from being conservative is blatantly nonsense. Mercury may be in its DNA, but there's no inevitability here.
Rankings
Demons of the Punjab

The Tsuranga Conundrum

Kerblam!

Rosa

Arachnids in the UK

The Ghost Monument

The Woman Who Fell to Earth