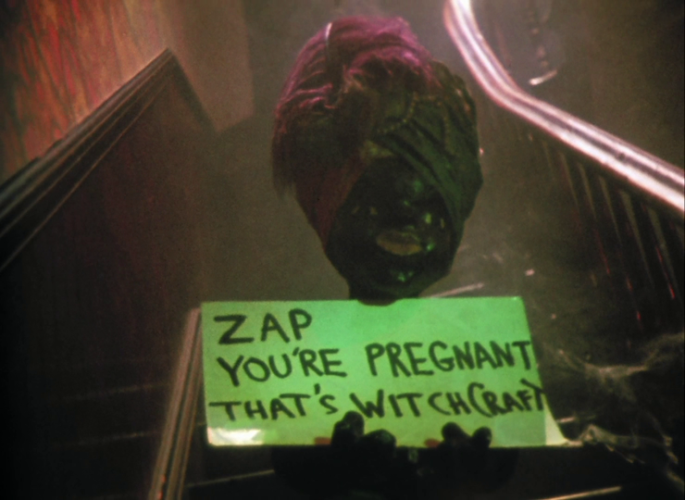 Previously in The Last War in Albion: After finding success with Animal Man, Morrison was brought on to revitalize the floundering Doom Patrol comic, which they began by leaning hard into themes of trauma and mental illness.
"Religions are fictions that modify the world. It's just that this fiction is more radical and aggressive." – Alan Moore, Providence
Of course, Doom Patrol was at its core a superhero book, and it wouldn't do to have it full entirely of fucked up people discussing their trauma. And so with the remainder of Crawling From the Wreckage, which transitions to a plot about the "Scissormen," mysterious figures who speak in nonsense phrases like "The leaching will be novelistic for effacement! Curdle your pilgrimage! Curdle your pilgrimage!" and who cut people out of existence, leaving a white void where they'd been. This is inventive—a sly use of the two dimensional portrayal of comics, where cutting a character from the page makes obvious sense, that then gets extended to the imaginary third dimension that the characters occupy. These, it's revealed, are creatures  who came into existence with the composition of The Book With No Title, a book that describes the composition of a book called The Book With No Title, which is designed to alter human thought by introducing parasitic ideas, describing a city called Orqwith full of glass labyrinths and bone towers, that infiltrates other realities and slowly takes them over. Ultimately Rebis, Jane, and Roboman go to Orqwith where Rebis destroys it by addressing two clock-faced entities, one of whom always lies and the other of whom tells the truth, asking them "why is there something instead of nothing?" 
This is a pleasant bevy of ideas, but astute and well-read readers will have recognized the central one as borrowed from Borges, specifically his story "Tlön, Uqbar, Orbis Tertius." This story is structured much like a classical Lovecraft story, with a protagonist who investigates a mystery that leads inexorably towards a vast and reality-warping horror that drives him mad. It begins with the narrator, who purports to be Borges, learns about an aberrant version of an encyclopedia containing a description of an ancient city called Uqbar. Slowly Borges investigates, finding more information on Uqbar and its own fictional world of Tlön. Eventually it emerges that Uqbar and Tlön were created by a 16th century secret society as part of an elaborate plot to transform the world into a better version of itself by having Tlön slowly take it over, which, it's revealed at the story's end, it is doing so. 
This is a clear swipe, though ultimately no more blatant than any number of swipes other writers have done. Crawling From the Wreckage is no clone of "Tlön, Uqbar, Orbis Tertius," which lacks a terrifying city of bone, the Scissormen, or the accompanying theme of mental illness and trauma. But what is interesting about it is in many ways what Morrison doesn't do, which is leave any sort of breadcrumbs leading the reader back to Borges.…