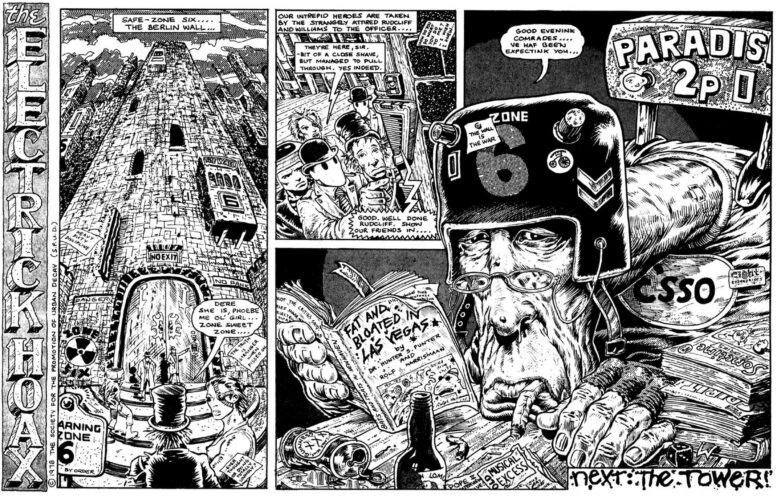 Previously in The Last War in Albion: The short-lived Fleetway magazine Revolver saw one of Neil Gaiman's few publications with the company, which he generally eschewed due to the feeling that it was a poor investment for his career.
Has time worn so thin? Have men grown so small? Are all the Seven Cities sleeping? Does only one beloved thing remain in the wreckage of a world that once was Rama? -Grant Morrison, Vimanarama
This was, in its own way, on display with his story for the Revolver Horror Special, "Feeders and Eaters." The story itself is a minor work—a nine pager that wraps the disquieting central image of someone being slowly cannibalized while still living into a basic frame story, told moodily by Gaiman's Miracleman collaborator Mark Buckingham. But the version in the Revolver Horror Special is one of three separate versions of the story that Gaiman has written and sold in his career. Six years later Gaiman revisited the idea for Ellen Datlow's anthology Off Limits: Tales of Alien Sex, this time calling it "Eaten (Scenes from a Moving Picture)" and reconstructing it as "an outline for a pornographic horror film I'd never make." Much of the plot is different this time, although the focus on sex as consumption remains, as does an image of someone exposing their hand to reveal that "her fingers look like ribs, or chicken wings, well-chewed and rescued from a garbage can—dry bones with scraps of flesh and cartilage." In 2002 he revisited the story again, this time for Stephen Jones's anthology Keep Out the Night. This version was a direct adaptation of the comic, although it recycled language from "Eaten (Scenes from a Moving Picture)" in its description of a hand where "most of the flesh had been picked from the bones, chewed like chicken wings, leaving only dried morsels of meat, scraps and crumbs, and little else." Across the three versions the story saw print in ten separate anthologies, including two Year's Best Fantasy & Horror collection and two of Gaiman's own short story anthologies, as well as getting a television adaptation as part of Sky Arts' Neil Gaiman's Likely Stories anthology, an impressive spread of moneymaking opportunities that decisively fulfilled Gaiman's stated goal of not writing one-offs. 
The other major strip in Revolver, at least in terms of the War, was Rogan Gosh, an effort by Peter Milligan and Brendan McCarthy, who had previously created Paradax, one of the primary inspirations on Morrison's creation of Zenith. Milligan was another of the War's minor combatants—he got his start in 1978 in Sounds running the strip The Electric Hoax along with McCarthy (It was their slot on the comics page that Moore took over in March 1979 for Roscoe Moscow) before settling into a career writing for 2000 AD with a series of Future Shocks followed by the original strip Bad Company) alongside his independent work in Strange Days.  McCarthy, meanwhile, wielded a gonzo and often psychedelic style, and Rogan Gosh saw the pair leaning fully into this tendency with a psychedelic vision quest that jumped freely throughout multiple timelines.…