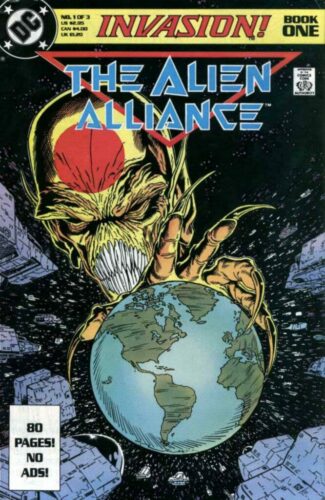 Previously in The Last War in Albion: After an initial arc widely and at least somewhat accurately described (including by Morrison) as an Alan Moore imitation, Morrison found their own style with the fifth issue of Animal Man, "The Coyote Gospel," which featured a Wile E. Coyote pastiche trapped in the real world and trying to overthrow the tyrannical demiurge of his.
Hello alien friends! Do you like bullet violence? —Kieron Gillen, Peter Cannon: Thunderbolt
The comic returns to Animal Man staring at a scroll of incomprehensible symbols. "I'm sorry… I… I can't read it," he explains, as the man returns, takes aim at Crafty once again, and shoots him again with a silver bullet. The man and Crafty both perish, Animal Man comforting the dying beast as the view pulls back, revealing him lying, arms outstretched, at a crossroads, while a hand hovering above the page with a paint brush adds his dying blood to the frame. "The end, folks!"  It is a spectacularly bleak piece of comics, full of righteous anger and heartbreaking bitterness. It is perhaps not entirely clear what Morrison is trying to say with it. In many ways it appears to simply be a grim and tragic joke—a morbid commentary on the fractured ethics of storytelling from the perspective of those within it. But to look at it in this sense misses the point. What is most bracingly evident about "The Coyote Gospel" is simply that it is a stunningly creative and effective comic—an invigorating fusion of clever ideas and emotionally powerful moments. This was, simply put, a comic that was self-evidently the work of a major talent.
Indeed, Morrison's usual line on "The Coyote Gospel" is an assertion that it marked the moment they stopped doing an Alan Moore impersonation and began their career in earnest, claiming it as a personal favorite story of theirs. As Morrison put it, after acknowledging Moore's influence on the start of Animal Man, "My personal work from the same time is written in a very different style, and is more in the vein of Doom Patrol or The Invisibles.You don't have to take my word for this: it can be verified by looking at the Near Myths material or stuff like the 'Famine' strip in Food For Thought from 1985. It can even be gleaned by looking at the clear difference between the first four Animal Man issues and the fifth – 'The Coyote Gospel'." Morrison was even blunter at the time. Interviewed by Mark Millar in 1989 after slagging off their first four issues, they noted that "it gets better from issue 5 onwards, or at least I'M happier with the work I've done, which is the main thing." And yet just as the first four issues of Animal Man show rather less Moore influence than Morrison disparages them for having, "The Coyote Gospel" is far more indebted to Moore than Morrison would like to admit. The central concept of dropping a pastiche of a familiar funny animal story into your DC series, after all, originated in Moore's "Pog" issue of Swamp Thing in which Swamp Thing met a thinly-veiled Pogo knockoff.…