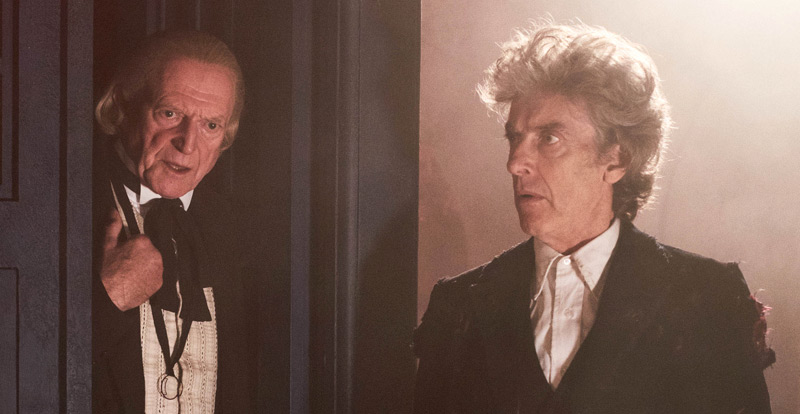 In 2063 they should do a special in which they cast different actors as William Hartnell, Richard Hurndall, and David Bradley, then have them all appear together in an adventure called The Three First Doctors.
It's December 25th, 2017. Ed Sheeran is at number one with "Perfect." The Pogues, Mariah Carey, Wham, and Eminem also chart, one of them with Ed Sheeran appearing on the track. We'll call this an exercise for the reader. In news since Series Ten wrapped up, neo-Nazis held a rally in Charlottesville, Virginia that resulted in the death of a counterprotester, Heather Heyer, when a Nazi deliberately drove his car into a crowd. Following the rally, President Trump praised the "very fine people" on both sides of the "are black people human" issue. There's a lot of other Trump bullshit, but honestly summarizing six months of it in a paragraph is a challenge, so let's just leave that at "also more fascism" and call it a day. Martin Shkreli is found guilty of a variety of crimes including disrespecting the Wu-Tang Clan. Vince Cable becomes leader of the Liberal Democrats. Theresa May's government promises that Parliament will get a vote on any Brexit deal. Fifty-eight people are killed at a concert in Las Vegas when a gunman opens fire from an overlooking hotel window. Disney announces its impending acquisition of 21st Century Fox, delighting Marvel fans who don't give a shit about growing corporate control of the media landscape, which is to say Marvel fans. Also, I start transitioning, which isn't exactly news, but given the autobiographical strand of this project seems worth mentioning.
On television, meanwhile, the Moffat era ends how a lot of people would expect: an undisciplined and messy story long on misplaced confidence and casual sexism. That the people who expected this were mostly wrong about the entire rest of the era is ironic, but does not change the underlying matter here. It's not that Twice Upon a Time is bad; merely that it isn't great. It's not a triumphant final statement of any of the eras that it closes, instead coming off as sort of line one of those decent but clearly extraneous bonus tracks that get put at the end of album rereleases and end up vaguely diminishing the album's close. It would have been a better ending for the Capaldi era had it closed with a slightly longer World Enough and Time/The Doctor Falls that found time for a regeneration speech. Not, again, because this is a bad story, but simply because that was an emphatic statement and this is a pleasant mess.
This is not a surprising, given that it's the second extension of the Moffat/Capaldi era that we've had. After being persuaded to stay one more season after his "could be my last" Husbands of River Song, Moffat discovered that Chibnall did not wish to kick off his tenure with a Christmas episode, and so agreed to figure out his third way of departing the series in two years.…