Remember how I had a podcast?
All joking aside, I'm really, really proud of this one. Please join me in extending a very warm welcome to the wonderful Bob from RetroRGB.
Bob has done tireless work gathering information on how to preserve every aspect of classic video games: Not just the systems and the games themselves, but the whole experience of retro gaming. From the best way to hook up your old consoles to a modern flatscreen digital HD TV to the best way to track down and safeguard a CRT to build your own personal arcade, Bob's website RetroRGB is a wellspring of everything you'd ever want to know about the technical side of video game history and preservation. Over the course of an hour and a half, Bob and I share our thoughts on the retro lifestyle, some of our favourite video game memories and talk about what keeps us coming back to the old classics and retro aesthetics year after year.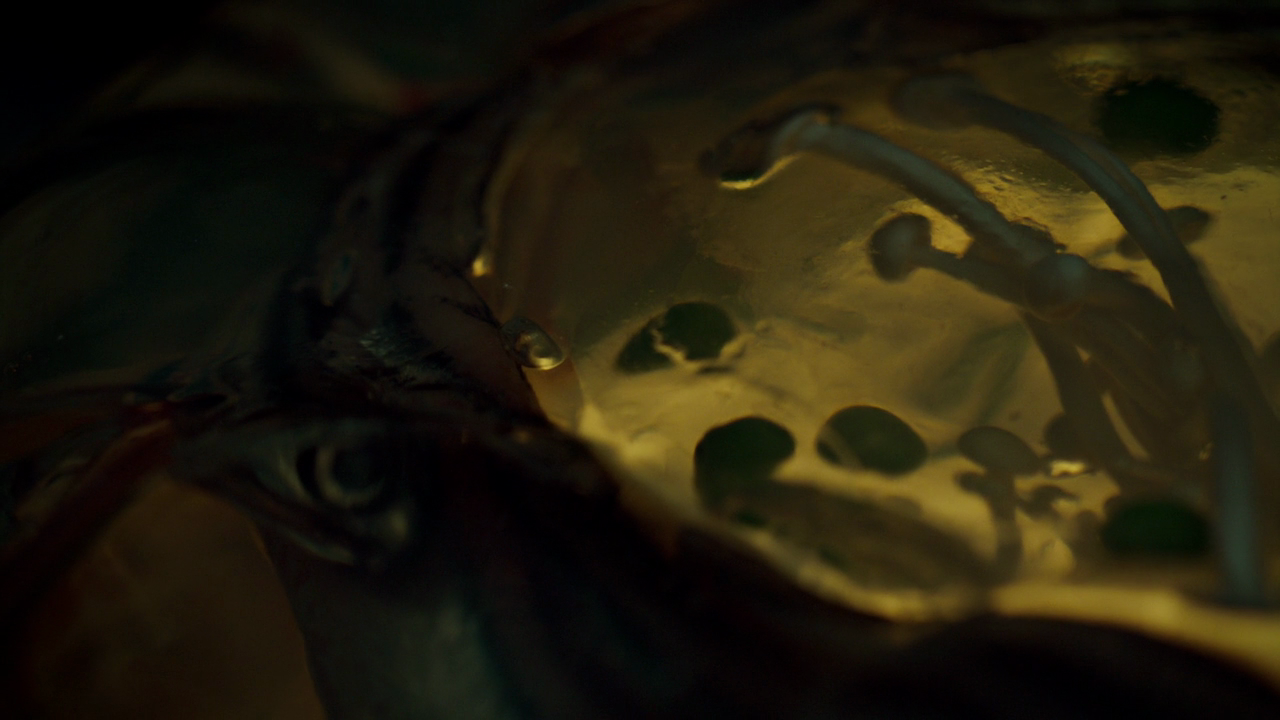 TOME-WAN: A miso or vegetable soup with rice. This signifies nothing more than the approaching end of the meal.
WILL GRAHAM: Can you explain my actions? Posit my intentions? What would be your theory of my mind?

HANNIBAL: I have an understanding of your state of mind. You understand mine. We're just alike. This gives you the capacity to deceive me, and be deceived by me.

WILL GRAHAM: I'm not deceiving you, Dr. Lecter. I'm just pointing out the snare around your neck. What you do about it is entirely up to you.

HANNIBAL: You put the snare around my neck.
This is going appreciably differently from Will and Hannibal's previous efforts to get people to murder the other for them. Hannibal's first line is the closest thing to an explanation - at this point they are so enmeshed in one another's psyches that trying to kill each other is, as Steven Moffat would put it, their flirting. Will, however, misses the real takeaway, which is Hannibal's note that he has the capacity to deceive him. Spoilers: this is going to go badly for Will. (Admittedly that spoiler is basically just always true.)
HANNIBAL: Why did you tell Mason ...
Posted by: Josh Marsfelder 5 months, 1 week ago

While out walking, Garfield comes across a hill. There's a sign planted next to the hill, indicating that Paradise can be found at the top.
This hill is different from the ones we normally see in Garfield; rounded moguls upon which the cat will lay back and look up at the clouds on a warm summer day. The prominence appears quite challenging even for a seasoned climber, which is probably part of the reason Garfield has the reaction he does upon seeing it. The general design indicates less a typical Garfield hill and more a location that showed up in the strip a few times in the earlier part of the decade: A jagged, rocky mountain whose summit we cannot see from the vantage point of the strip, but upon which dwells a Wise Man whom Jon tells us "has a long beard" and "says grand things about life". To further the continuity link, one Wise Man strip features a sign that literally says "Wise Man" partway up the mountain, a kind of spiritual road sign or mile marker, with an arrow helpfully pointing to the summit, much as the sign for "Paradise" does here.
We can read the ...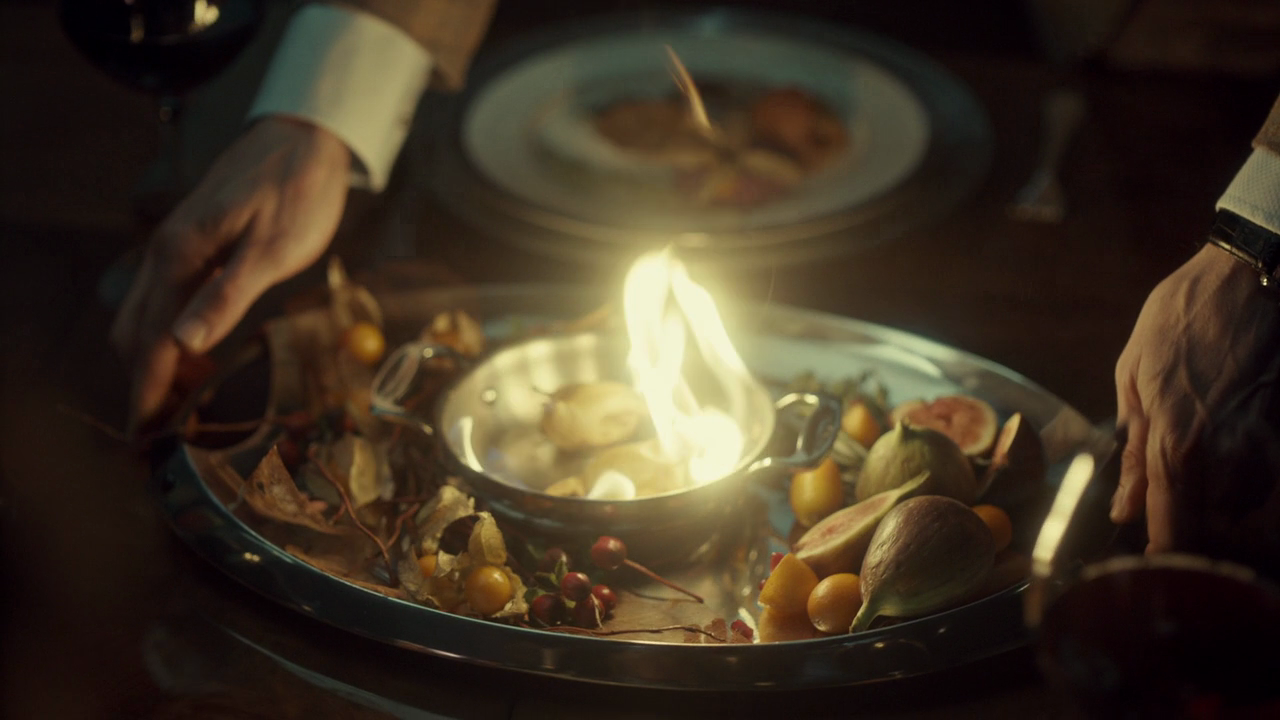 KŌ NO MONO: An assortment of pickled vegetables. Janice Poon suggests that this signals the approaching denouement, and also makes a nice metaphor about the vegetables sharpening the senses, which is what Alanna needs. The reality is that the second season is not so much going off the rails as plummeting down the gorge, watching mournfully as the rails disappear into the sky.

The script calls this the Wildigo, which is the best part of the entire conceit. That a silly portmanteau is the best part speaks to the intense and pointless violence being done to the show's narrative principles here. "Kō No Mono" is primarily structured around a cheap and theatrical bit of audience deception, maintaining the illusion that Will killed Freddie. This is already cheap - a way to manufacture drama out of structure when you obviously don't have it in your actual character work. This is a common way for formally inventive storytelling to run aground - when the formal complexity becomes a way of making a story work in the first place instead of working better. Mostly Hannibal avoids it, not least because it's got the core of the Harris books, which clearly and demonstrably do work dramatically ...
Posted by: Josh Marsfelder 5 months, 2 weeks ago
Last one of these for a little bit, but only because I need to record another session and get back up to where I left off because I lost this save file. Thinking of doing some other videos in the meantime though: I was gonna do one on Raiders of the Broken Planet and Metroid, but I found myself far less inspired by that game than I was hoping I would be. I could do Quake Champions, but that would just be me getting humiliated and curb-fragged over and over again. Maybe I'll just end up gushing about Warriors All-Stars for an hour or two because, to paraphrase one of the achievements, it has in fact become my life. I'll have to see how things go.
Check out previous entries in the Bloodmoon series to catch up if you wanna: Here's Part 1, Part 2 and Part 3.
I'm pleasantly surprised at, and very appreciative of, by the way, the reaction this series has gotten (really, any reaction at all). This project is not at all remotely what I originally envisioned it to be, and I'm glad people still seem to like it.
Anyway ...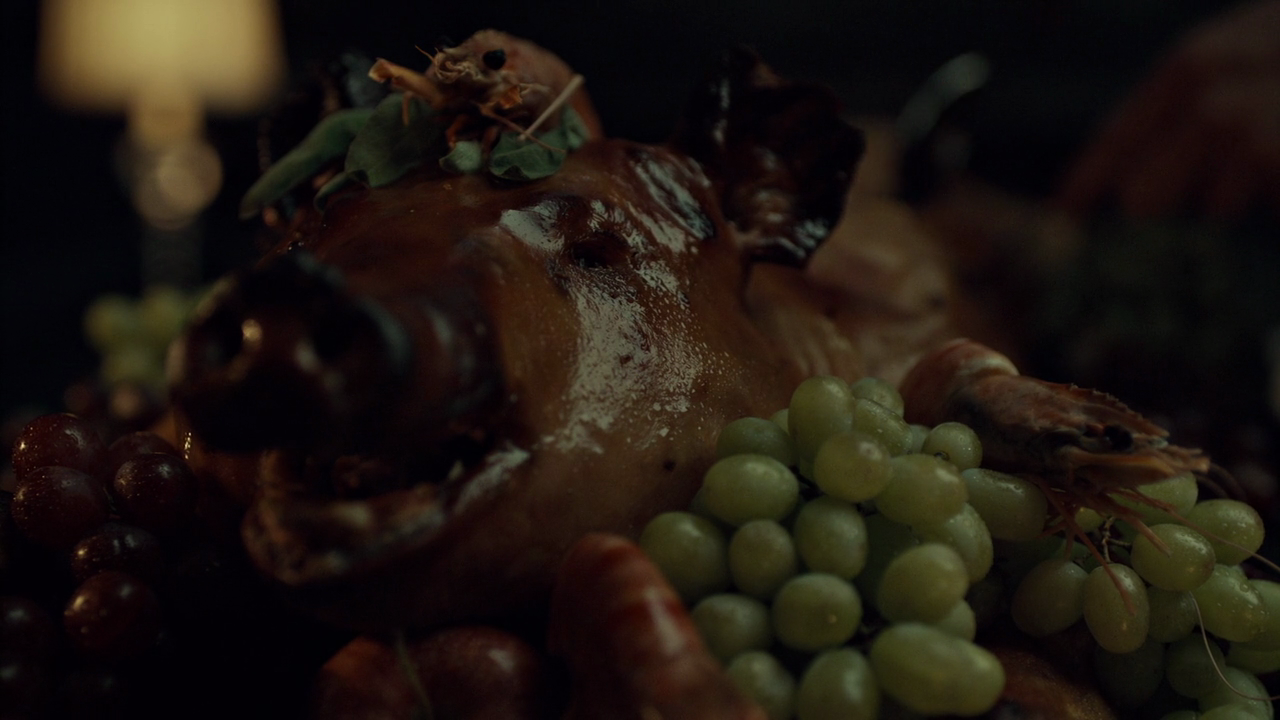 NAKA-CHOKO: A citrusy soup, used as a palate cleanser. Hannibal does suggest that a meat has citrus notes, but that's a stretch. Not even Janice Poon tries to explain this one.

It is tempting to say that this episode opens with a revision of the previous one's finale, but based on the scripts it's more accurate to say that the previous episode's finale was revised to be a streamlined version of this opening, cutting the actual fight scene down to Randall bursting through the glass (and making one other major change, which we'll get to in a moment). Here we get the psychic landscape version, in which Will murders Randall-as-representation-of-Hannibal, which, in light of the cuts to the previous episode, becomes the sole and definitive version.
WILL GRAHAM: I'd say this makes us even. I sent someone to kill you, you sent someone to kill me. Even-steven.

HANNIBAL: Consider it an act of reciprocity. One positive action begets another.

WILL GRAHAM: Polite society normally puts such taboos on taking a life.

HANNIBAL: Without death, we'd be at a loss. It's the prospect of death that drives us to greatness.
The other post-shooting script revision to the end of ...
Posted by: James Murphy 5 months, 3 weeks ago
You find me, EP readers, in the midst of my annual Elvis Kick, the time of the year where, werewolf like, the Presley geek within rises and takes the wheel for about six months. Hence the title of this post, a kinda play on Jumpsuit Elvis' I Just Can't Help Believin', the BJ Thomas cover I'm playing and replaying at an aggressively antisocial volume.
("We all immediately understood that, James! Don't talk down to us, the audience! And don't anticipate our reaction within the body of the text, who do you think you are? Jim Gaffigan?")
Alright, the business of the day. Lots of fun and unusual bullets in my arsenal this time out.
Kevin and I haven't yet had the chance to reconvene in my podcast marriage, Pex Lives, after how we spent our summer vacation, but, barring a terrible catastrophe, we're all go for Sunday, so keep your eyes peeled and your ears open for that one. We pride ourselves on being scheduling geniuses and have, let me be clear, never made any ridiculous mistakes around a) the clocks changing, or whether GMT is all year round, b) which weekend "Next weekend ...
Posted by: Josh Marsfelder 5 months, 3 weeks ago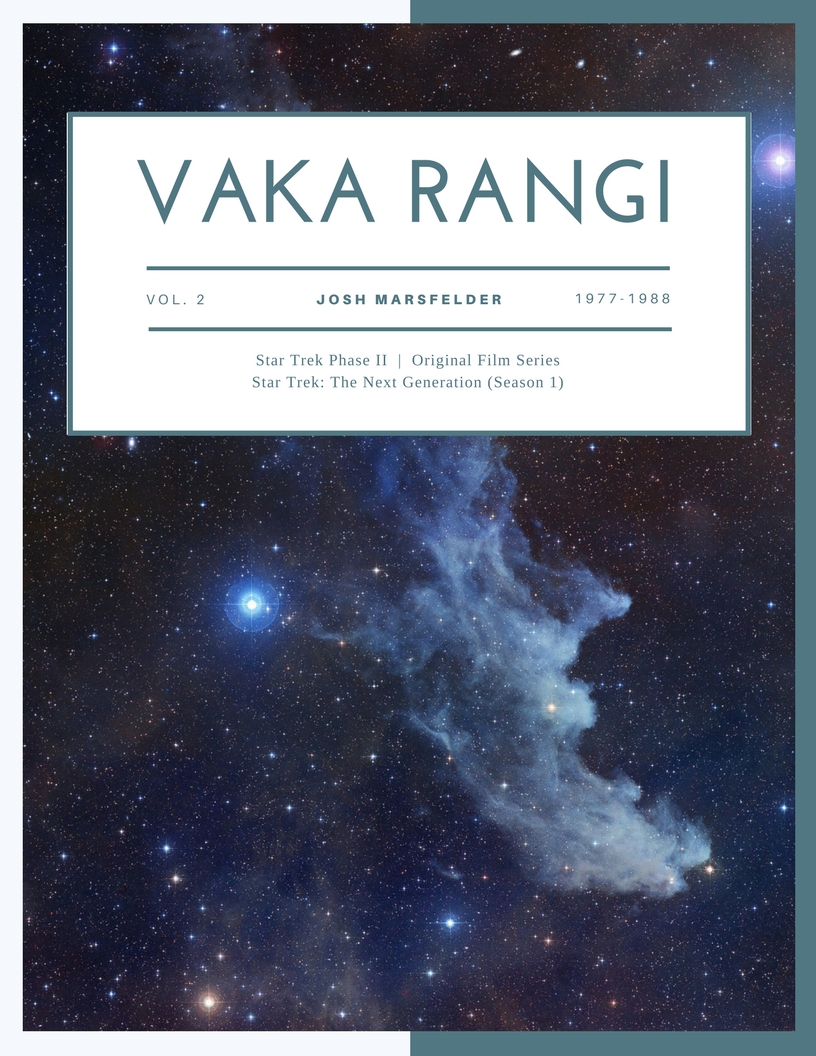 In honour of Star Trek: The Next Generation's 30th Anniversary today, Vaka Rangi Volume 2: Star Trek Phase II, Original Film Series and Star Trek: The Next Generation (Season 1) is now available for order from certain online retailers.
This volume covers the years 1977-1988 and aims to tell the story of Star Trek: The Next Generation's conception and birth over the course of that decade, starting from the fandom's staunch resistance to letting Star Trek go in the late 70s leading to the abortive Star Trek Phase II project, which eventually morphed into the Star Trek film series. Every pitched Star Trek Phase II script is examined in detail, with particular emphasis on the ones that were eventually adapted into television episodes and movies: "In Thy Image" (Star Trek: The Motion Picture), "The Child", "Devil's Due" and "Kitumba". Also covered during this section is the fanmade Star Trek Phase II web series and the famous and illustrious "Star Trek Trilogy"-Star Trek II: The Wrath of Khan, Star Trek III: The Search for Spock and Star Trek IV: The Voyage Home.
Moving beyond fandom history, the book explores the other, less-frequently acknowledged pop culture influences ...