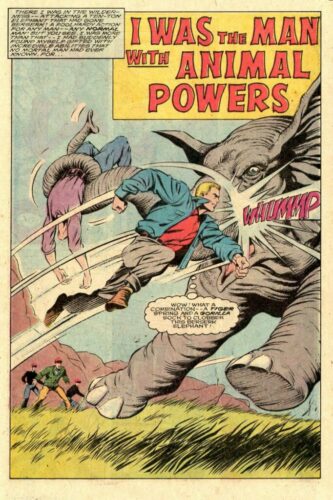 Previously in The Last War in Albion: Grant Morrison's run on Animal Man quickly came to intersect with the company's linewide Invasion! crossover, which saw a bunch of aliens invading the Earth and triggering some mysterious effect that resulted in a cliffhanger splash of Animal Man in dramatic monochrome negative image and an injunction to read the third issue of Invasion!
It's Doctor Destiny: claiming he dreamt the JLA into existence and threatening to 'de-imagine Detroit' if you can't prove him wrong. —Grant Morrison, JLA
Readers who obeyed would discover that the black and white effect was the Dominators' gene bomb, which sent anyone whose superpowers were a factor of the hazily defined "metagene" (which was, in a rather bald-faced pillaging of Marvel's massively popular X-Men franchise, apparently responsible for most superpowers on planet Earth) into a deathly coma after their powers briefly exploded out of control. This was eventually reversed after a group of unaffected heroes (mostly those with purely technological powers or whose powers were either from or because they were aliens) successfully struck back, restoring the status quo at last. Animal Man's role in the book was minimal—he was seen on a rooftop as his powers raged out of control and then simply became one of the many comatose heroes in the book—but the events of the book would have long-term implications for him on a number of fronts.
The first of these began to become clear in Animal Man #8, in which Morrison revamped the occasional Flash villain the Mirror Master as a Scottish mercenary and had him attack Animal Man in his house. The threat is repelled, in part because Mirror Master turns out to have been under explicit orders not to hurt anyone, but it's notable that at no point in the fight does Animal Man use any of his powers. Although mostly an excuse for Morrison, an avowed Flash fan, to do a trippy romp with a beloved favorite, this also served to set up a plotline in which it would turn out that Animal Man's powers had not fully recovered from the gene bomb, and that his attempts to reach out and grab a specific animal power were typically going awry. The second was also mentioned in Animal Man #8, but was in practice not primarily a concern for Morrison themself, since it was mostly going to play out in a book they didn't write: the newly launched Justice League Europe.
The Justice League is a concept within DC that is, to say the least, historically complex. Its origins lie all the way back in All-Star Comics #3 in 1940, where Gardner Fox assembled various DC superheroes like Hawkman, Green Lantern, Flash, Sandman, and Hour-Man who were operating below the Batman/Superman tier of popularity into a team. (Wonder Woman eventually joined as, in one of the more cringeworthy moments of 1940s comics, the team's secretary.) The structure of the comic was convoluted—the characters spent most of every issue on solo adventures drawn by their primary creative teams with only a frame story stitching it together into a team book.…