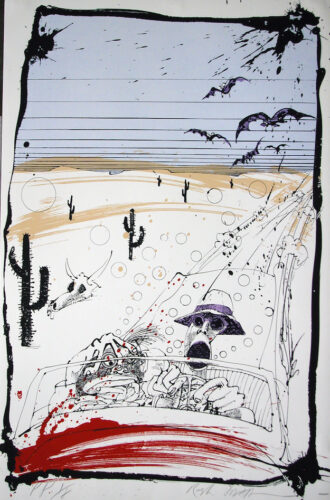 Previously in The Last War in Albion: Bill Sienkiewicz got his start as a Neal Adams imitator drawing Marvel's Batman imitator Moon Knight, but eventually moved on to a more prestigious project: New Mutants.
I have heard the languages of apocalypse, and now I shall embrace the silence. – Neil Gaiman, Sandman: Endless Nights
This was one of the books in the X-Men line, written by Chris Claremont, then at the apex of his clout as a major figure in the industry. New Mutants was a book focused on the younger generation of mutant characters. Among these was Dani Moonstar, a Native American mutant. From the earliest issues of New Mutants it became clear that Dani was haunted by a bear spirit—one that had previously killed her parents. A year and a half into the book's run, as Claremont prepared to pay off this story, he grew frustrated of working with Sal Buscema. As Claremont saw it, "[Buscema] looked like everything else. And I didn't want that. I wanted this to be very much a kid-centric book. There needed to be a totally different visual sense." And so he turned to Sienkiewicz.
For his part, Sienkiewicz had been on a kick of reading Hunter S. Thompson, with the memorably grotesque art of Ralph Steadman, and watching David Lynch films, and so when Claremont came to him with a story that took place largely in an abstracted spirit world and a mandate to bring a distinctive visual sense, he cut loose. Reasoning that "the benefit of dealing with dream logic and nightmares is that anything goes," Sienkiewicz embraced a harsh and abstract line that made characters feel as though they had been clawed into the page, less drawn than scratched. His Demon Bear was a towering monolith of crazed eyes, murderous teeth, savage claws, and the vague yet terrifying implication of a snout. The result was moody, kinetic, and like nothing mainstream superhero comics had seen before. It was not, to be clear, that Sienkiewicz was creating new techniques; ultimately he was simply importing concepts from the fine art world (in which he had trained before seeking a career in comics) that the stodgy comics industry had largely neglected—the same concepts that artists like Dave McKean and Duncan Fegredo would hit on as well. But Sienkiewicz's run on New Mutants was the first time these techniques had been employed in a mainstream American comic. It was also a massive hit, and Sienkiewicz ended up spending a year on the book instead of the originally planned three issues, introducing the cybernetic alien Warlock, who, in Sienkiewicz's conception, was an shifting mass of circuitry that got to cyberpunk horror a full five years before the twin 1989 releases of Tetsuo the Iron Man and "Driller Penis: Yes, He Does What You Think He Does."
Sienkiewicz's work on New Mutants was aided by the particular dynamic he had with Claremont, who, in 1984, was arguably the single most mainstream writer in superhero comics.…