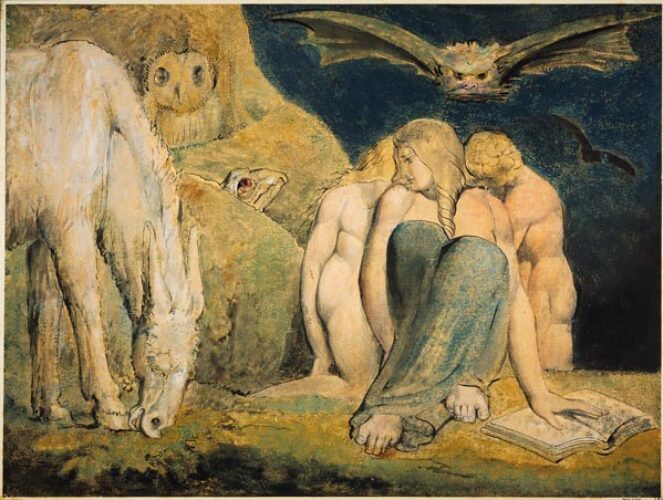 Previously in The Last War in Albion: Morrison's take on Batman was of a sexually repressed character unable to have a relationship, and they seeded Arkham Asylum with a number of images reflecting this. Oddly, however, they made little use of female characters.
You sit with your sisters, beneath all creation. She who spins the thread of life. You are the queen of seers, all-seeing. Of what is. Of what must be. Of what must be concealed. -Kieron Gillen, The Wicked + The Divine
Aside from Arkham's relations there is only remotely substantive woman in the story is the psychologist Ruth Adams, whose main role is to be endangered in the climax. (Batman's reaction to her peril is the impetus for Morrison's above quoted digression.) Perhaps most surprisingly absent are any of the major female Batman villains; Morrison's asylum contains neither Poison Ivy nor does Catwoman (admittedly by this point no longer really a villain). Instead Morrison is more interested in the image of the "Mother's Son," also described as the "Widow's Son," a reference to the Masonic allegory of Hiram Abiff.
This is in many ways a significant oversight in the comic as Morrison conceived it; a diagnosis of Batman's psycho-sexual dysfunction that resolves with neither the presence of any women nor any serious engagement with queerness—an omission that's even more obvious when one considers Morrison's original insistance that the Joker should appear in drag as Madonna, part of a theme that Morrison describes as "shamanic transvestism" but that in practice meant that Morrison intended to put more of a focus on a crassly transphobic view of gender fluidity as transgressive and forbidden than on the idea that a story about sexual repression might benefit from having some women in it. In this regard, it is perhaps fortunate that Warner Bros.' anxiety about Jack Nicholson and Dave McKean's shadowy and abstracted representation of Batman conspired to more or less eliminate the entire theme from the published comic. Regardless, the failure perhaps does much to explain why Morrison's claimed purification of the 80s Batman into the version from their JLA run requires skipping over eight years of Batman comics that only doubled down on the elements Morrison was trying to critique.
The one piece of clear feminine imagery that made it through into the comic as published is the structure of Amadeus Arkham's family, which Morrison explains at the outset "form a Classical Triad—his mother, the Hag aspect, his wife, the fertile mother, and his daughter, the virgin." This division, more popularly listed in the reverse order as maiden, mother, and crone, refers to a specific interpretation of the figure of the triple goddess common in post-industrial neopaganism. This is not strictly speaking the origin of the idea—the ancient Greek Hecate was represented as a triple goddess, as was the Celtic Morrígan, and numerous other triumverates existed such as the Norns in the Norse and both the Moirai and and Erinyes in the Greek. William Blake, meanwhile, reworked a painting of Hecate into The Night of Enitharmon's Joy, depicting Enitharmon sheltering two other figures, their faces and identities hidden.…