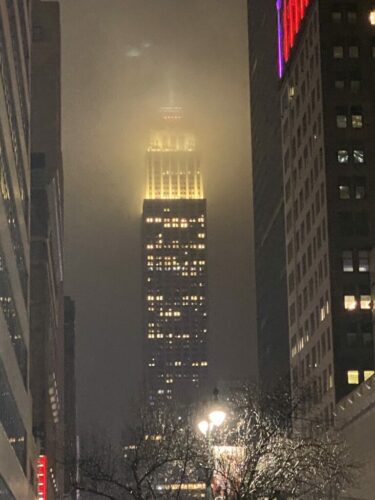 Efforts to not feel impossibly behind on everything ever continue to flounder, and I'm starting this Thursday evening, so let's see how much content we can create!
What I'm Up To
I finished "How to Be an Egg in the Age of Lilith Fair," and it's started going out to Patrons. Be on the site in a few weeks. So now I get a handful of days to look at fiction before the month rolls over and I have to figure out where my ten thousand paying words are coming from this time. 
You may notice a certain grind-hardened jadedness there.
Penn's done layouts on the next scene of Britain a Prophecy, though I think now he has to bog down and do two big pieces of character design. 
Oh, and I went to New York and hung out with Lexi.
Obnoxious Vacation Recap
So yeah, Lexi's usually Ithaca based, but is spending the first chunk of the year living in Brooklyn because she's a big city girl at heart. The downside of this is that Penn and I don't get to see our girlriend regularly. The upside is that when we do, we do it in Brooklyn. So we headed down on Friday. The Ithaca to New York drive is actually one of my absolute favorites—looping through the Poconos and then heading over the Delaware Water Gap is just gorgeous, and then you get the thrilling suspense of whether you get to suffer through the abject misery of the George Washington Bridge or the slightly different abject misery of beating your way through Manhattan. And it's the perfect length to build what Penn and I refer to as my frog boil playlists, long multi-hour things that slide impishly among genres. Here's the one we listened to, which moves slower than usual, preferring a sort of meta-frog boil structure that slides from the Lilith Fair stuff I'd been working on into harder stuff that's closer to what Lexi listens to. Music as pretentious ritual and all. (Entertainingly, we brought Lexi our copy of Phonogram to borrow.)
So we got in late afternoon and started our trip with dinner, which was at Claro, a Mexican place in Gowanus we'd previously gone with Christine before my Neoreaction a Basilisk talk back in October. Within fine dining—a sphere in which I have numerous preferences on account of being a bougie cunt—I'm very partial to the more casual and relaxed style of fine dining. Which is to say that I'm always going to prefer a Brooklyn Michelin star to a Manhattan one, and this is firmly an established favorite now. 
Although in some ways the real highlight was the trip down, which we decided to take on foot in a spirit of psychogeography, and so had a nice two mile walk through Brooklyn to reflect on extremely pompous notions of cities as human-created gods and use the word "vibe" a lot. And then, at the end, there was food.
Christ, This Is Already Obnoxious, Can We Do a Tumblr Ask or Something?…