Posted by: Josh Marsfelder 2 months, 3 weeks ago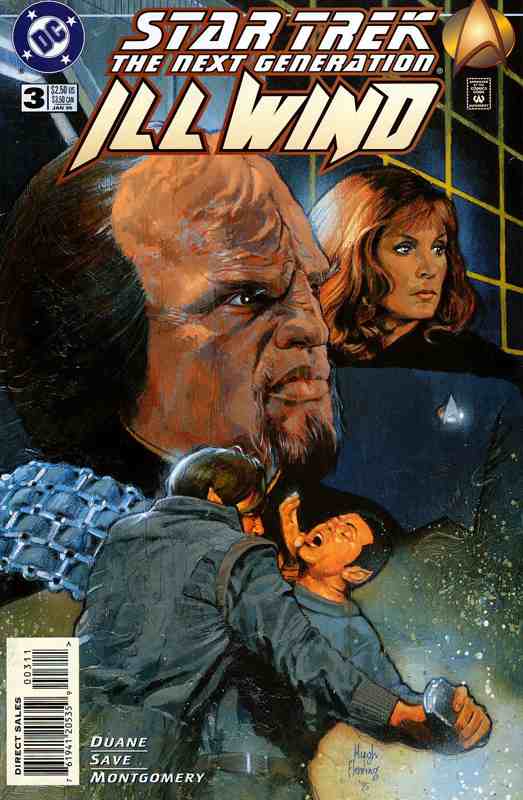 Geordi La Forge, Doctor Crusher and Worf are in the holodeck, reviewing security sensor footage. The ship's internal sensors detected the mysterious humanoid figure who we saw creeping through the engineering deck hallways to the shuttlebay in the teaser at the end of issue one, and now the crew is trying to determine who this person was because that's how they got access to the Scherdat ship in order to place a bomb on its hull. Although the figure was too far away to be captured in full detail, Goerdi, Bev and Worf see enough to make some general observations: Although they look humanoid, the outline of the body is odd and unnatural, particularly around the midsection. This is almost certainly a skinsuit disguise of some kind.
Geordi can pick up thermal signatures from the sensor feed through his VISOR. Although he can't yet get much on the figure itself, he can tell it's carrying a plasma bomb, though it hadn't yet been armed (which explains why the ship's sensors didn't immediately detect it as well). Once the figure enters the shuttlebay, Geordi can get more information because the sensors are more sensitive ...
Posted by: Phil Sandifer 2 months, 4 weeks ago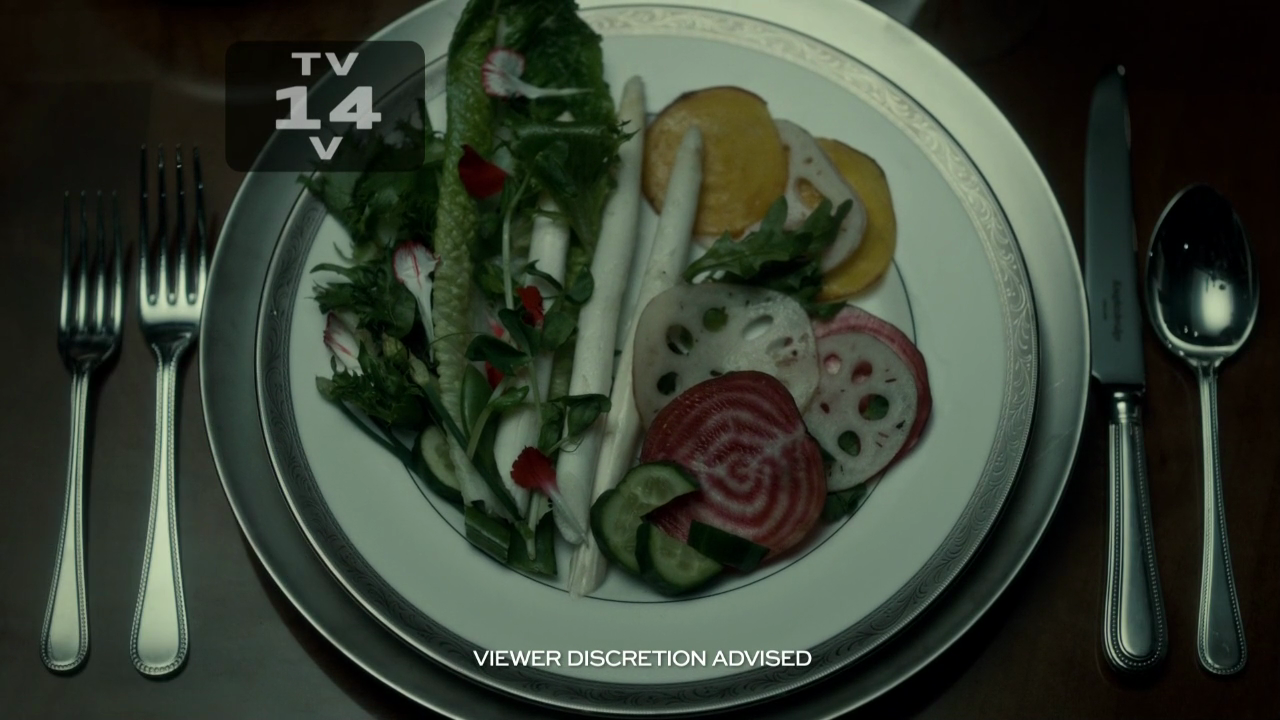 TROU NORMAND: A palate cleansing drink of apple brandy, sometimes with a small amount of sorbet. Your guess is as good as mine, frankly.

One of the show's most emphatically memorable murder tableaus - probably the only one to give Eldon Stammetz and his mushroom people a run for their money. It also serves, however, as a case study in the schizoid nature of this season. More than anywhere else in the first season, "Trou Nourmand" demonstrates the degree to which these cases of the week are a charade. The totem pole murders are barely a feature of the episode, squared away with almost comical efficiency midway through the fourth act while the plot focuses instead on Will's psychological collapse and new developments with Abigail.
BRIAN ZELLER: The world's sickest jigsaw puzzle.

JIMMY PRICE: Where are the corners? My mom always said start a jigsaw with the corners...

BRIAN ZELLER: I guess the heads are the corners?

BEVERLY KATZ: We've got too many corners. Seven graves. Way more heads.

In which Zeller, Price, and Katz demonstrate that the aesthetics of murder tableaus are not their strong suit.

WILL GRAHAM: I planned this moment... This monument with precision. Collected all my raw ...
At its structural root, it's Moffat doing Doctor Who like it's Sherlock, which is the sort of thing where when you do it, you know it's probably time to move on in your career. This, of course, does not mean it's bad. It's not even a criticism - more just a reality of Moffat's set pieces twelve years into his writing for the program. He passed Robert Holmes for most screen minutes of Doctor Who written somewhere around the "sit down and talk" speech in The Zygon Inversion. (Yes, I counted Brain of Morbius for Holmes as well.) His stylistic tics have long since evolved to cliches, blossomed into major themes, and finally twisted into strange self-haunting shadows that echo endlessly off of each imprisoned demon and fractured reality. They become difficult to actually talk about on some level And so approaching them from the standpoint of their dramatic engines becomes productive.
The first thing to note, then, is that Sherlock provides a pretty good narrative shell for Doctor Who to inhabit. The globehopping thriller has always worked for Doctor Who, and the Vatican is a good choice for "who should bring a case to the Doctor." The double structure ...
Posted by: Jack Graham 3 months ago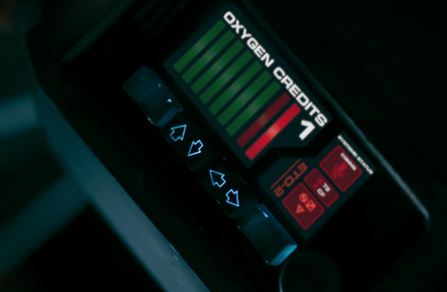 When the world is a danger to Doctor Who, does it raise up in rage or does it keep getting stranger?
*
Today, suffocation has a very specific meaning. In America, you can tell upon which side of the divide someone stands by seeing what their t-shirt tells you about their ability – or otherwise - to respirate. The divide in question is one created by a system of oppression that chokes people. It chokes them figuratively, and then has the brazen impudence to choke them literally as well.
One statement of resistance is the simple proclamation "I can't breathe", which derives its power from its ability to inhabit both the metaphor and the brute reality.
Part of the peculiar power of the metaphorical referent is that it expresses a feeling of helplessness as part of a demonstration of strength. Weaponised weakness.
'Oxygen' flirts with the SF trope of the post-racial future. The people of the future don't understand why Bill should face prejudice. They don't see colour. Except that there is the business with the blue man (played by a white actor, of course, because whiteness is perceived as neutrality, blankness, non-ethnicity, vanilla standard ...
Our guest this week is Shana and our episode this week doesn't suck. What more can you ask for? Well, a link to where you can download it, obviously.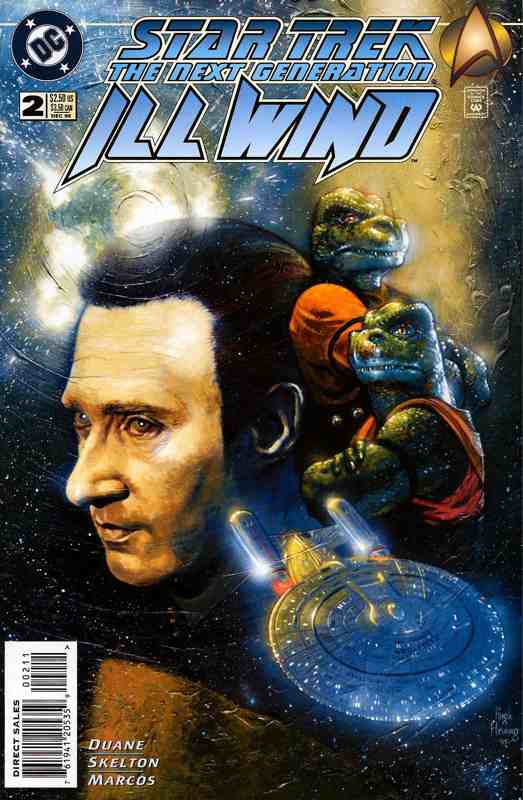 The racers are on their marks at the starting line. Captain Picard has Data call up the course schematics onscreen. It's a winding, zigzagging course around the star that will take the racers about three days to traverse, a quick pace for a solar sail vessel. But, as Captain Picard says, "These are the best". When Commander Riker asks him if he'd rather be "out there", Jean-Luc replies that he already is. The Enterprise crew wishes all the competitors good luck in turn, but when they get to the Cynosure team, Deanna observes that they're without their sail technician. Will comments that the Kihin navigator must not have found him "to her taste", to which Deanna replies "On the contrary...She found him very tasty indeed". Meanwhile the Thubanir captain is still alive, though Deanna quips that it's still early yet.
After the pre-race formalities, the Alkamin captain informs the Enterprise crew that they've seen something unusual on the keel of the Scherdat crew's yacht. Captain Picard asks the Scherdat if they've modified their ship in any way, but the Scherdat captain responds in the negative. Worf scans the ship and finds something ...
Posted by: Jack Graham 3 months ago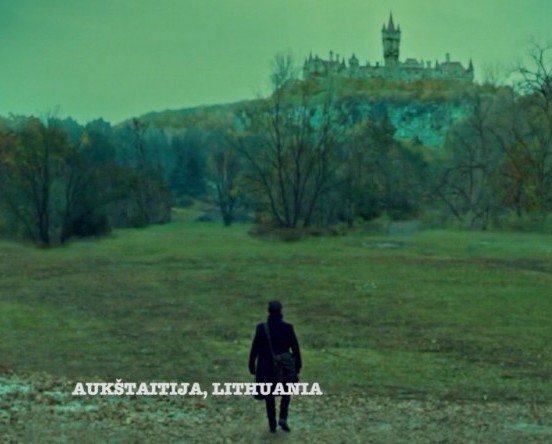 Phil was nice enough to cite me in the most recent of his (wonderful) 'Proverbs of Hell' series. I just thought I'd be cheeky and repost a little reheated morsel of the stuff of mine that he referred to... because I think it's quite interesting.
In Hannibal Rising, the boy Hannibal emerges from privilege, from the Renaissance, from the Sforzas (a right bunch of bastards). But he also emerges from the aftermath of Barbarossa. His childhood tutor is a Jew who escaped the holocaust. He is adopted by a woman from Hiroshima. His early years are haunted by mention of the Nuremburg trials. He is born of the 20th century's ultimate horrors.

Cannibalism is part of WWII-Gothic. Most particularly Barbarossa-Gothic. Thanks the Siege of Leningrad, and to Andrei Chikatilo's (possibly bogus) childhood reminiscences, it is linked to the aftermath of the German invasion of the Soviet Union (see also Child 44). It is particularly appealing to the capitalist culture industries to depict the people of the Soviet Union preying upon each other "like monsters of the deep", for reasons which should be tediously obvious. Famine ...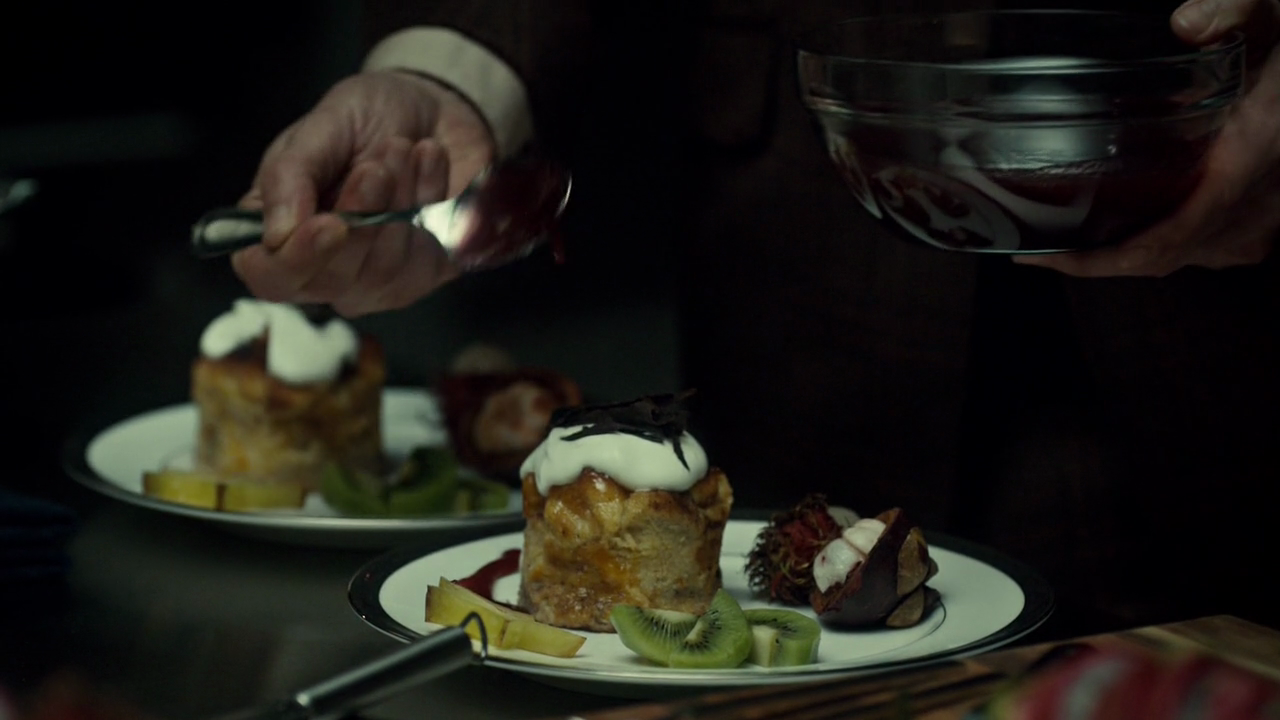 FROMAGE: Cheese. Relating this directly to the episode contents is tricky - it's most likely a reference to Franklyn's declaration last episode that he and Hannibal are "cheese-folk," although it's certainly possible Fuller imagined this episode to be somehow cheesier than previous ones. I mean, it does involve opening people up and playing them like cellos.

The soft-focus montage of stringmaking plays out over an unusually harmonious bit of music, making this particular process of dismembering people and repurposing their bodies an oddly pleasant, idyllic thing. It is worth contrasting with Blake's The Marriage of Heaven and Hell, in which his (non-murderous) printmaking process is detailed as the workings of "a printing press in hell," whereas here infernal content is presented in more sacred terms.
ALANA BLOOM: Why are you assuming I don't date?

WILL GRAHAM: Do you?

ALANA BLOOM: No. Feels like something for somebody else. I'm sure I'll become that somebody some day but right now I think too much.

WILL GRAHAM: Are you going to try to think less or wait until it happens naturally?

ALANA BLOOM: I haven't thought about it.
For the episode where the Will/Alanna sexual tension is finally grappled with ...