Viewing posts tagged politics
Posted by: Jack Graham 1 year, 6 months ago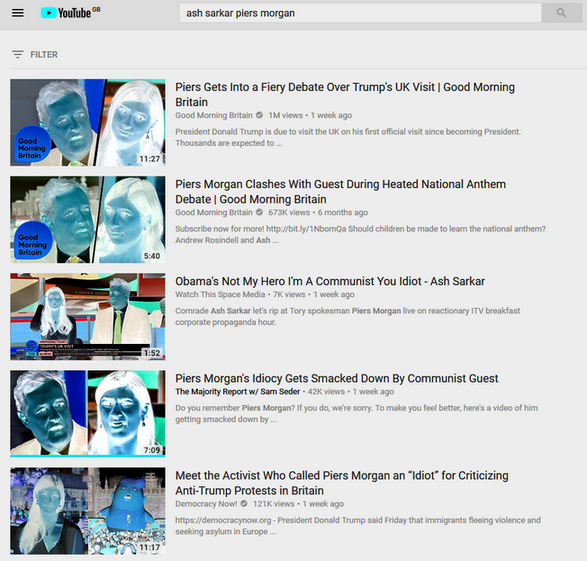 "I'm a communist you idiot!" declared Ash Sarkar on Good Morning Britain, in response to the heckling and strawmanning of Piers Morgan. (Video here.) She's subsequently been all over the media. Morgan has accidentally made this into her 'moment'. As she herself humourously overstates, he's even accidentally rehabilitated communism. Turns out, if it's communism or Piers Morgan, the British people seem more likely to give communism a try.
Sarkar, senior editor at Novara Media, was being interviewed as a representative of the anti-Trump protestors descending on London (despite Trump's well-advised absence from that city). As it happens, I suspect very few of the 100,000-250,000 who assembled were communists - despite the Daily Mail's characterisation of the protest as consisting of what they rather confusingly called a "rent-a-leftie mob".
(I'm wondering if there's any money in lefty-rental. Can I hire myself out? And who does the renting? George Soros? The Mail seems to imply it's Corbyn... but isn't he one himself? Shouldn't he be on the books rather than keeping them? Could I start my own franchise ...
Posted by: Jack Graham 2 years, 7 months ago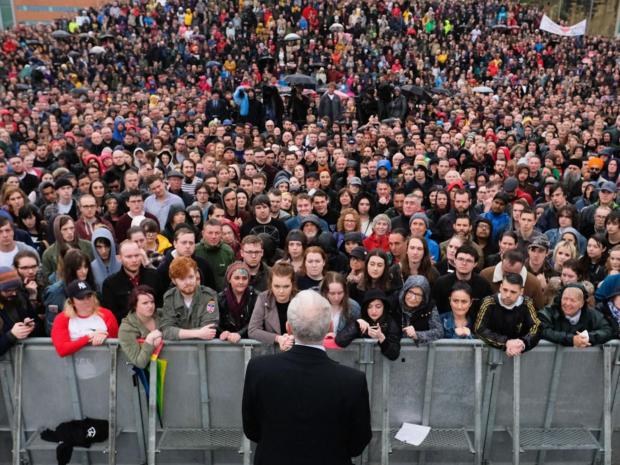 So, interesting times, huh.
Actually, incredible times.
The Labour Party under Jeremy Corbyn fights the Tories to a hung parliament after years in the wilderness. Go back in time and tell me that in early 2015 and I'd laugh in your face. Not because I ever had anything but respect for Corbyn. I've always considered him a man of seriousness, principle, and dedication. And not becaue I think left-wing policies (or what passes for them these days) can't sway people, can't be popular, can't win elections. They can, and do.
(The truth is that, spread out across Labour, the SNP, Plaid Cymru - and taking into account the many people who vote LibDem for left-liberal reasons, and the many more people who abstain because they're too left-wing to feel represented by any party, even if they themselves don't necessarily understand themselves that way - the majority of the British public are to the left to some degree. As Milton Friedman once bewailed, the public are irretrievably collectivist.)
No, I'd have laughed primarily because I would never have thought Corbyn would be able to get the nominations ...
Posted by: Jack Graham 3 years, 3 months ago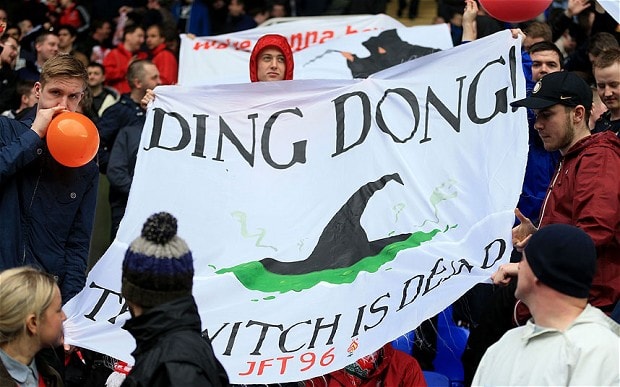 This is post is kindasorta both a Tricky Dicky and a Psychic Landscape entry. It doesn't quite fit into either series, but should - hopefully - be read in the context of them.

When Margaret Thatcher died in 2013, so many people downloaded the song 'Ding Dong! The Witch is Dead' from iTunes that the BBC were seemingly forced into the position of having to play it on Radio 1, in line with their usual practice of giving airtime to songs that are currently in the charts. (In the end they copped out and played a clip - of a song that's under a minute long anyway - with an explanation. I didn't hear it but I'd stake internal organs on it involving use of the word 'divisive'.) This awkward situation for the BBC, very much not of their choosing, created what is called a 'row', or a 'controversy', or a 'scandal'. This is when the right-wing media, rather than report the facts with headlines like 'Thousands Celebrate Baroness Thatcher's Death by Downloading…', instead publish stories with headlines like 'Outrage as BBC plans to Celebrate Baroness Thatcher's Death by Playing…'. The 'outrage' the paper is supposedly reporting is always illustrated with ...
Posted by: Jack Graham 4 years, 3 months ago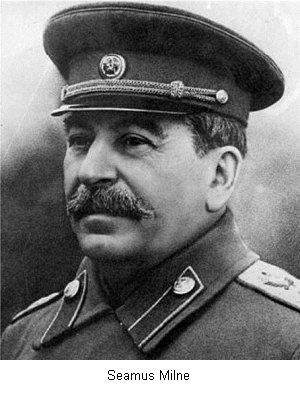 Jeremy Corbyn, leader of the British Labour Party, recently asked Seumas Milne to be his director of communications. Milne is one of the few journalists currently working in the British media who is genuinely worth reading. Milne, for instance, wrote The Enemy Within, which is not the novelisation of the 1996 TV movie (Gary Russell courageously tackled that one), but rather a rigorous investigative expose of the way the Tory government - with help from the 'security services' and the tabloid press - set about trying to covertly undermine, smear and frame the NUM and Arthur Scargill during the 1984-5 Miners' Strike.
Certainly, when you recall that David 'Pigfucker' Cameron's choice for an equivalent post was Andy Coulson, you see evidence of a stark division – authentically based on a decency and honesty gap – opening up between the parties for the first time in quite a while.
Milne, however, is one of those Left-wing journos who has been repeatedly (and rightly) criticised by Media Lens for being less than brave about criticising the paper he writes for, even as he savages bias elsewhere. So he will already have ability to ruthlessly criticise other people for doing stuff that his own employers do ...
Posted by: Jack Graham 4 years, 5 months ago
Diversity and social justice issues were creeping into the Hugo Awards, or rather into the cultural artifacts they celebrate, as such issues creep into the culture generally. It happens because people are getting more and more interested in them, more open to them, and caring more about them. This is, by the way, the product of material struggles for recognition and equal rights by people who are marginalised by mainstream culture in the West (i.e. racist, sexist, transphobic, bourgeois-hegemonic culture). It must be stressed that such claims are not only valid on their face but also are represented, in artistic terms, by valuable work that deserves recognition.
The Puppies saw this trend and it infuriated them. Just as they are doubtless infuriated by any such progress, by the increasing volume of the voices they used to be able to talk over and down to with impunity, by the increasing - and increasingly recognised - validity of these voices, not only in themselves but in their abilities. The Hugos are, the Puppies think, their turf, just as the rabble of GamerGate, and the constituency they pander to, imagine that video games are
their
turf. They took ...
Posted by: Jack Graham 6 years, 2 months ago
The committee want to know about Vorg and Shirna's 'ritual'.
Shirna tries to explain. "We're entertainers." She does a little dance. "Understand?"
Pletrac regards her, his face blank.
"No," he says.
Vorg jumps in.
"Our purpose is to amuse, simply to amuse... nothing serious, nothing political."
Who is he talking to? The committee? The BBC? Us?
In any case, the commitee retire - scandalised - into secret session.
"Amusement is prohibited," gabbles Kailk in cold panic, "it's purposeless."
"Zarb is considering lifting that restriction," says Pletrac. Zarb is their leader. "The latest thinking is that the latest outbreak of violence among the functionaries is caused by lack of amusement."
The 'functionaries' are their slaves. (Sadly, they are portrayed as rudimentary and stupid.)
The committee members are caught between two possible choices, both of them extremely attractive to any ruling class: stop the 'functionaries' thinking about anything but their function, or amuse the 'functionaries' and thus keep their mind off the fact that they are slaves.
So it turns out that amusement is pretty serious and political after all.
Meanwhile, inside Vorg's silly, apolitical machine, white English imperialists complain ...
Posted by: Jack Graham 6 years, 3 months ago
On 'The Space Museum'
Recently, while tracking some hits this blog received, I discovered a new
Doctor Who
podcast called
Pex Lives
. It's great stuff, well worth listening to... and I'm not just saying that because the guys who make it - Kevin Burns and James Murphy - kindly linked to me and mentioned me in one of the episodes. Their third and latest podcast is just out, and centres upon 'The Krotons'. Their second podcast is about 'The Space Museum' and they delve into the piece with lots of wit (in both senses of the word) alongside anarchism, Tolstoy, progress and political change. Not many
Who
podcasts touch on stuff like this. My favourite quote: "we're both ambivalent about violent revolution". (For the record, so am I.) It also helps that they both have likeable voices. Kevin sounds like Terry Gilliam (i.e. he has one of those American voices that sounds as though it is filtered through a permanent grin of enthusiasm) and James sounds like a gigantic, sentient, wryly raised eyebrow that has somehow gained the ability to talk with the voice of a hip-hop DJ. Even ...
Posted by: Jack Graham 7 years, 4 months ago
I finished reading Stephen Baxter's
Doctor Who
novel
The Wheel of Ice
today. The novel had its moments. There is one description of an attack upon Zoe by a group of 'blue dolls' - fabricated avatars of an ancient artificial intelligence - that is rather well done. The blank black eyes and needle teeth are fairly routine but there is something oddly disturbing about the descriptions of their paddle-like hands.
On the whole, however, I found the book rather uninspired. The phrase I just used - "ancient artificial intelligence" - says a lot about the book's use of somewhat familiar tropes. There seems to have been an attempt to evoke the 'base under siege' / 'humans in the future' formula so often said to be typical of the Troughton era... but with the 'siege' coming from within the colony. However, Baxter is perhaps a little too interested in the technical details of the solar system. We get an awful lot of scenes where the action stops dead so the characters can explain neutrinos to each other, or describe the chemical composition of Titan's atmosphere. There's also a lot of stuff about how a ...