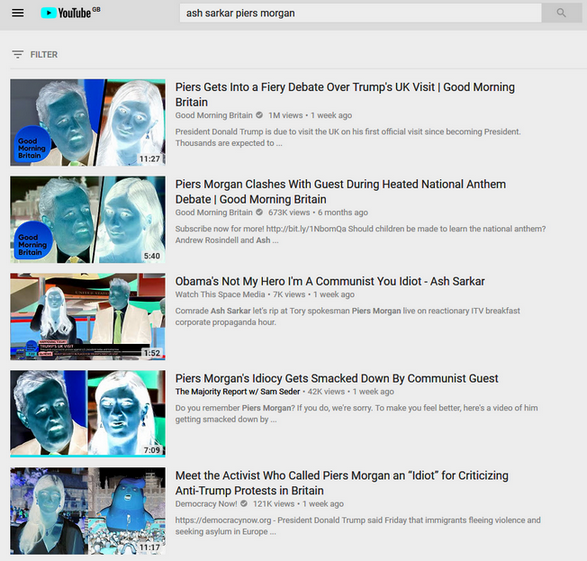 "I'm a communist you idiot!" declared Ash Sarkar on Good Morning Britain, in response to the heckling and strawmanning of Piers Morgan. (Video here.) She's subsequently been all over the media. Morgan has accidentally made this into her 'moment'. As she herself humourously overstates, he's even accidentally rehabilitated communism. Turns out, if it's communism or Piers Morgan, the British people seem more likely to give communism a try.
Sarkar, senior editor at Novara Media, was being interviewed as a representative of the anti-Trump protestors descending on London (despite Trump's well-advised absence from that city). As it happens, I suspect very few of the 100,000-250,000 who assembled were communists – despite the Daily Mail's characterisation of the protest as consisting of what they rather confusingly called a "rent-a-leftie mob".
(I'm wondering if there's any money in lefty-rental. Can I hire myself out? And who does the renting? George Soros? The Mail seems to imply it's Corbyn… but isn't he one himself? Shouldn't he be on the books rather than keeping them? Could I start my own franchise? "Ah, so you're a socialist but you make money from lefty-rental? Hmm… interesting.")
Morgan is one of those puzzling people who continue to enjoy a high profile in Britain despite the fact that almost everyone in Britain hates their guts. Alongside other such specimens – Tony Blair, for instance – Morgan is one most disliked people in Britain, capable of provoking scorn from even his ideological kindred. He's a nasty lout who – as Editor of the Daily Mirror – apparently presided over endemic illegal telephone hacking. (The subsequent Leveson inquiry found his denials "unpersuasive".) He's so repellent, so self-evidently cynical and foolish, that not even his posh(ish) British accent was able to make anyone in America take him seriously. He doesn't come off looking significantly preferable to his interview subjects even when they're Alex Jones (he did at least manage to be broadly on the right side of that 'debate') or Donald Trump himself. (To give you some idea of Morgan's technique: in one interview he asked Trump if he was a feminist.) Sat opposite Ash Sarkar – whom he talked-over, patronised, misrepresented, and unrelentingly attempted to shout-down – he looked possibly more asinine than ever before in his misbegotten life, which is quite an achievement when one contemplates the sheer levels of misbegottonness involved in that life. It was like watching a petulant toddler throwing a tantrum because his increasingly exasperated babysitter wouldn't let him have a fifth funsize Mars bar. It was only appropriate that he should try to strawman her. What else has a man of straw got?
Morgan has seemed, in recent months, to be trying to make a new career out of Trump-sycophancy. He has recently been castigating London mayor Sadiq Khan (a favorite target of Trump's, and of Trump's online constituency, for depressingly non-mysterious reasons) for permitting the infamous Trump-baby balloon. We won't get into that, except to note that Morgan (whining on Twitter) genuinely didn't seem to understand that there was a particular reason for portraying Trump as a baby, namely Trump's characteristic infantilism. …