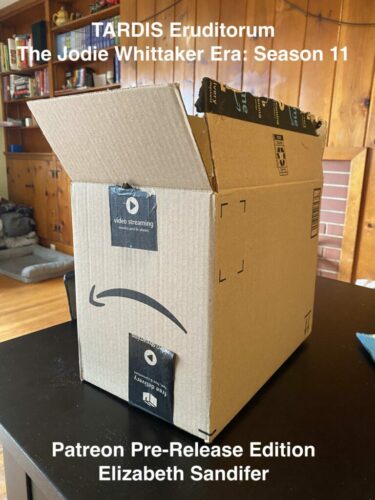 Hi folks. I'm going to start with the big headline announcement, and then get into the myriad of details and obvious questions. But, basically, both of my existing Patreons, the one for criticism, and the one for Britain a Prophecy, are shutting down, and instead I have a brand new single Patreon that will cover all of my projects at a flat monthly rate. You can find that Patreon at the same url as my old criticism one, https://www.patreon.com/elizabethsandifer. If you backed either of my previous Patreons, you should be able to get a significantly improved set of rewards for roughly the same amount a month that you were paying before. (Note that if you were backing my criticism one, the number will be 5x whatever you were doing per post, because I always did five posts per month.)
It would mean a lot to my short term financial stability if you would go back that Patreon, because doing this means abruptly nuking roughly $4000 a month in income across both projects and if I don't get the new Patreon up to that level quickly then I'm going to immediately be in serious trouble.
You might fairly ask why I'm doing this, given that fact. The answer is multi-faceted. My longrunning Patreon for this site has always been a per-creation deal. That was because I created it in August 2014 to fund reviews of Peter Capaldi's first season, and I've been locked into that ever since, churning out five posts a month every month for years. That's been awkward for years, but in the last six months it's become unmanageable as I transition to doing more fiction work. I really, really need to be on a "bill monthly" style of Patreon for my mental and physical health. Unfortunately, because Patreon is, technologically speaking, a steaming pile of garbage that survives mainly by dint of not having any direct competitors, it turns out to be impossible to convert a per-post Patreon into a monthly one. My only option was to start a new Patreon. So here I am, abruptly starting my Patreon from scratch despite the fact that my ability to eat and pay rent is dependent on it.
So here's how things work on the new Patreon. The basic entry-level tier is $5 a month. That's equivalent to the old $1 per post tier, and will get you all of the writing I do that isn't for another venue. So, like, I'm not going to post those two REDACTED that I have coming out with REDACTED to it because I don't own those, but any essays or short fiction I write? $5 a month. If I decide to go review every Cure album in another baroque effort to flirt with Lexi? $5 a month. And I'll be posting at least one new TARDIS Eruditorum essay to the Patreon every month.
The $5 tier also includes all of Britain a Prophecy, which was previously a separate $5 a month pledge.…