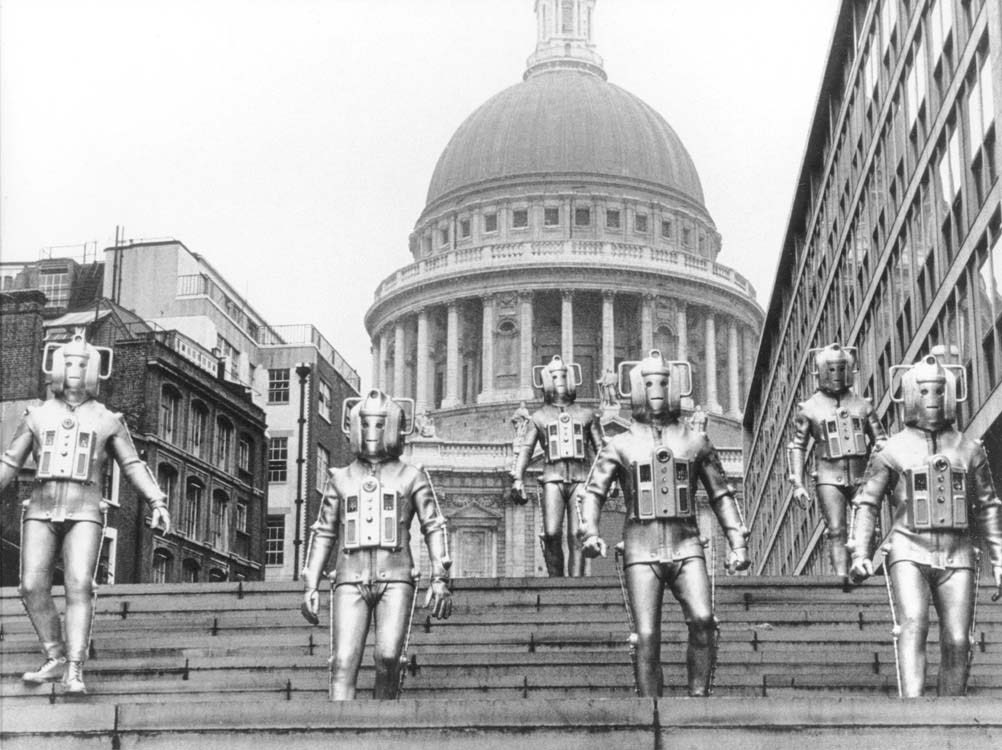 It's November 2nd, 1968. Between now and December 21st, a mine explosion will kill seventy-eight in West Virginia, twenty-two will die in a factory fire in Glasgow, two will be shot by the Zodiac Killer, and numerous people will die in the Vietnam War, including 374 civilians in Laos when the US Military targets a cave in the incorrect belief that it housed Viet Cong troops and not refugees. In addition, Upton Sinclair will die in a nursing home in New Jersey, Enid Blyton will die in a nursing home in London, and John Steinbeck will die of heart failure in New York. A flu pandemic rages, ultimately killing one million, and the world drifts ever-closer to the eschaton. Also, The Invasion airs.
Miles and Woods begin their elaborately judicious review of The Invasion—a document that manages to at no point actually indicate if they like the story—by noting the peculiarity of its title. This is the definite article, as the saying goes—not an invasion of Dinosaurs, Androids, Zygons, nor even of Daleks, but simply the invasion—a type specimen against which all others are to be recognized. Given this, any interpretation must start with the money shot—the Cybermen marching down the steps of St Paul's Cathedral. Contrary to Philip Sandifer's lengthy attempt to brag about having been to London/plagiarize Alan Moore, the relevant fact here is not which London landmark the Cybermen are tottering down (St Paul's is mostly notable for having a staircase down from an instantly recognizable view, as opposed to any larger mystical significance) but simply the sense of juxtaposition between iconic cityscape and iconic monster.
Let's pivot from here to the moment immediately before the invasion cliffhanger, in which Isobel and Captain Turner reflect on the serene, peaceful nature of morning in London right before this peace is shattered. The episode is not subtle about this—the scene is meant to build up tension, with Isobel's last line immediately before the invasion begins being to reflect on how "Looking at all that peace out there, it's so difficult to imagine" the Cybermen attacking. This is a familiar line of thought about the nature of civilization and society, and the way in which its seemingly solid and constant normalcy can abruptly shatter—one that resonates even more in 2020 as we waltz with unsettling calm into the jaws of climate change than it did in 1968 as cultural memory of the second World War began to fade into the seeming permanence of the Pax Americana.
This impermanence is increasingly shifting to be a part of Doctor Who's brand. From The War Machines through the Troughton era we've watched as the base under siege formula, with its paranoid dread and BBC-achievable claustrophobia, became the default setting of the series. But The War Machines always promised an even more direct simplification of this: having the monsters attack contemporary Britain. The Invasion was consciously designed as a trial for this approach, establishing UNIT as a ready-made set of supporting characters for a regeared version of Doctor Who that would, in fact, mostly consist of various aliens invading contemporary Britain.…