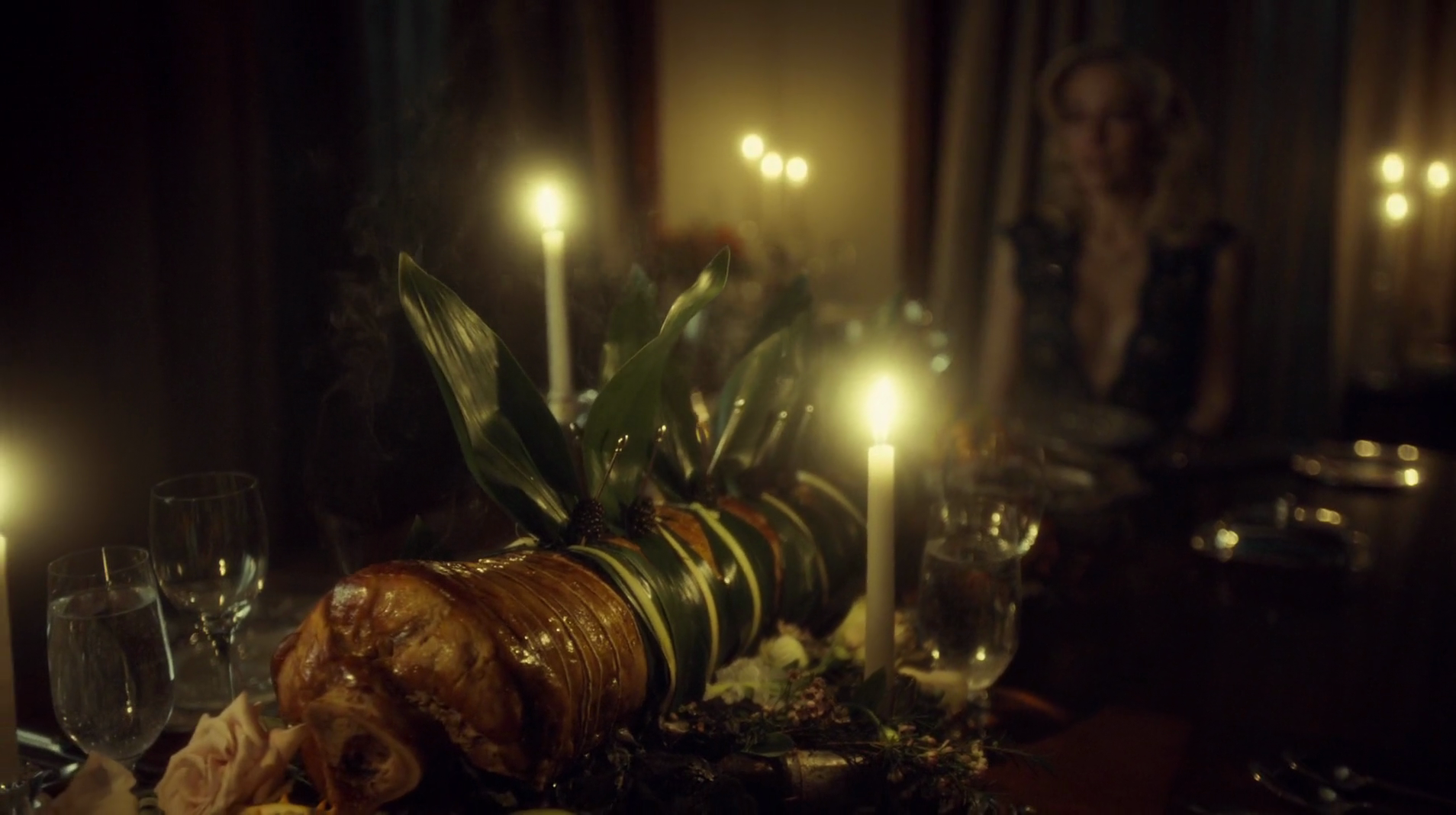 THE WRATH OF THE LAMB: Reframing the title scheme for the back half of the season away from "Blake paintings" and towards "lines from Revelation," and not entirely honestly. The title drop in the proceeding episode forces single vision, such that it can only refer to Will's vengeance against Hannibal, although it's not as though it would have been long on ambiguity without that.

I complained on Twitter a while back that there are no good instances of the deceptive edit, in which information is withheld from the audience purely by selectively editing around it so as to obscure it. The general problem with this is that it depends on selectively and covertly breaking the basic narrative codes of the medium, which state that editing is for communicating information, not for casual lying without any hints to this effect. Hannibal likely comes closer than most to being able to get away with it by the simple virtue of its editing never really suggesting a directly communicated reality in the first place. But the real reason it just about gets away with having an unseen cadaver in the room for this entire scene is just that the deception is mercifully ...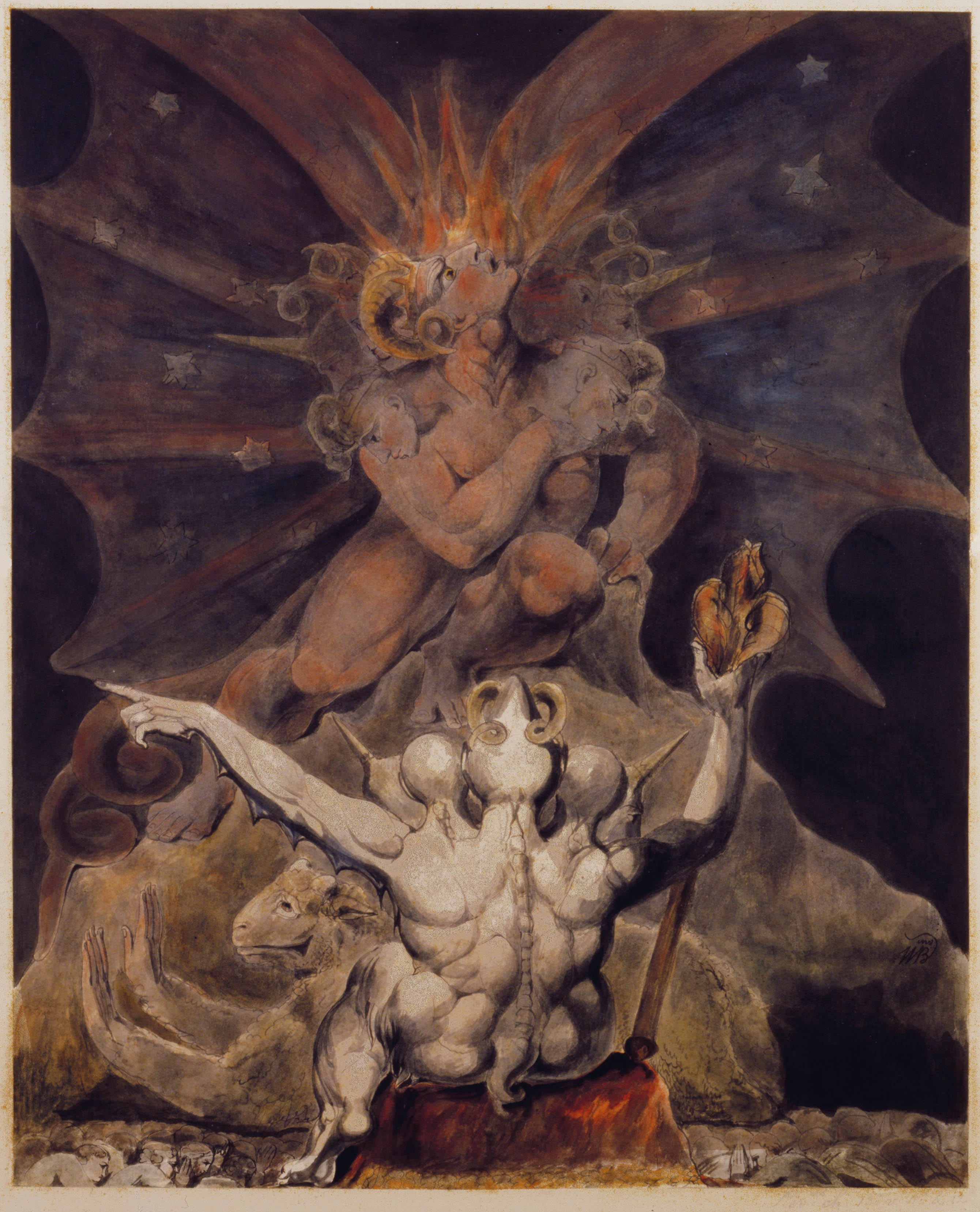 THE NUMBER OF THE BEAST IS 666: Last and in most ways least, it is to "The Great Red Dragon and the Beast from the Sea" what "The Great Red Dragon and the Woman Clothed with the Sun" is to "The Great Red Dragon and the Woman Clothed in Sun"—a drabber and less chilling counterpart. The dragon is in an awkward pose that serves to expose the limitations of Blake's anatomy, his face flattened in profile in such a way as to lose all animalistic grandeur. It is the one of the paintings to arguably look better when Fuller and company recreate it in "And the Woman Clothed in Sun." Its one interesting element is the lamb-like figure behind the Beast from the Sea, a point of contrast and dissonance that enlivens the whole.
BEDELIA DU MAURIER: It's hard to predict when brittle materials will break. Hannibal gave you three years to build a family and a life, confident he'd find a way to take them from you.

WILL GRAHAM: And he has.
The blunt fatalism of this admission surprises, and doesn't really seem to follow from any of Will and Molly's interactions last episode. Nor is ...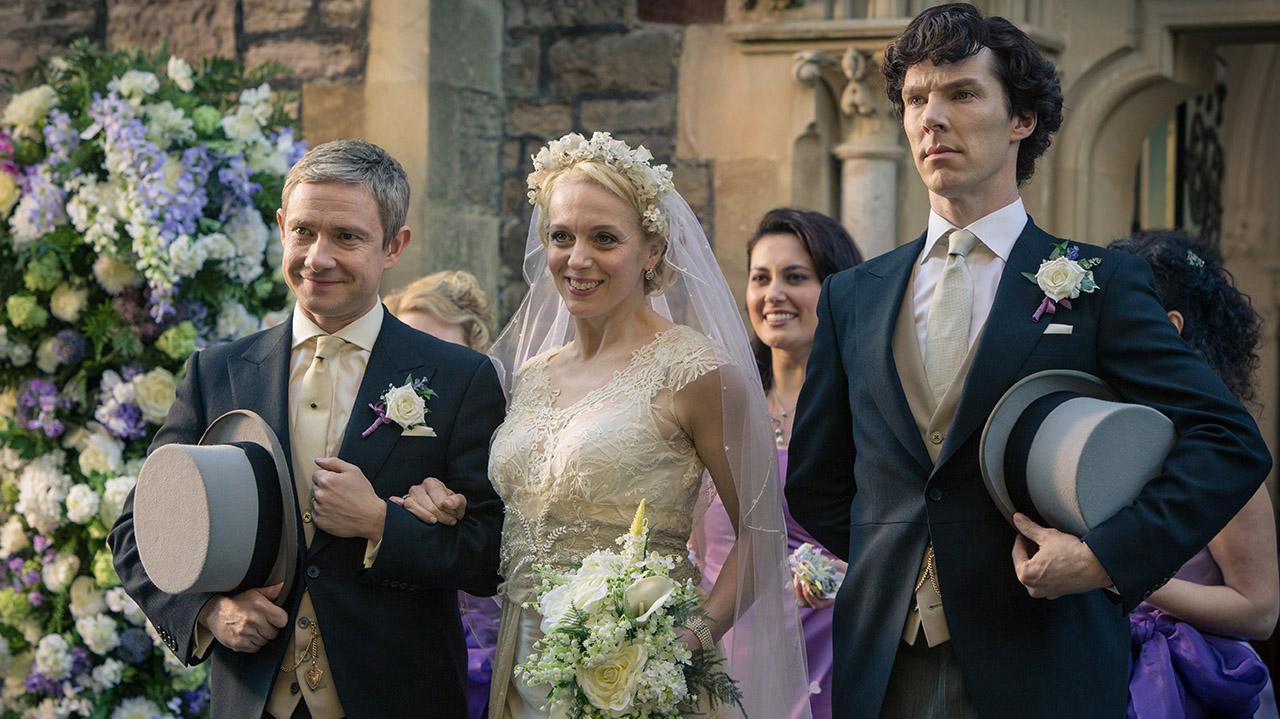 We continue to count down towards the TARDIS Eruditorum relaunch on March 19th with revised versions of some old blog posts on Sherlock. Proverbs of Hell will run its final two installments on Tuesday and Thursday this week.
It's January 5th, 2014. Pitbull and Kesha are at number one with "Timber," and while the rest of the charts are pretty similar to four days ago, we've got Avicii, Jason Derulo, Martin Garrix, and OneRepublic as artists we didn't actually mention last week. News is about as sleepy as you'd expect for four days at the beginning of the year, although there's some flooding in Wales, Scotland, and the west of England. On television, meanwhile, the third season of Sherlock continues its twelve day blitz with The Sign of Three.
Let's talk about what Sherlock is. Although its main character is a detective, it is not quite a detective show, in that the solving of mysteries is not its main narrative engine. One suspects that had it been comprised of six hourlong episodes a season it would have been, as it would have had several filler episodes each run that would have ended up being case of the ...
Posted by: Jack Graham 6 months, 3 weeks ago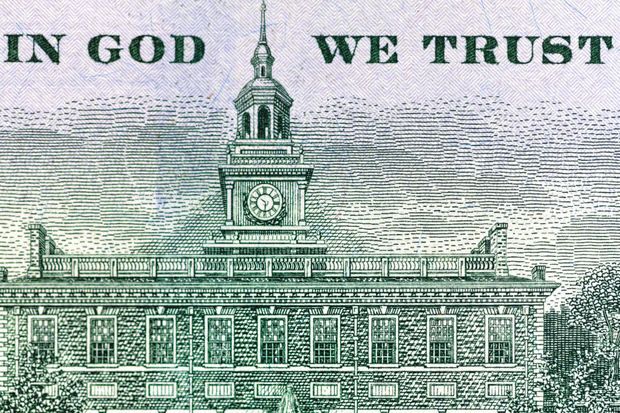 Part 1 can be found here.
*
The religious world is but the reflex of the real world. And for a society based upon the production of commodities, in which the producers in general enter into social relations with one another by treating their products as commodities and values, whereby they reduce their individual private labour to the standard of homogeneous human labour – for such a society, Christianity with its cultus of abstract man, more especially in its bourgeois developments, Protestantism, Deism, &c., is the most fitting form of religion.

– Marx, Capital vol.1, Chapter 1, Section 4
It is an historical irony that, though they today seem to embody a view of life dear to the moralistic Right, the Puritans were the 'Left' in the great political debates of the era of the European transition from feudalism to capitalism. But, while ironic, this is hardly accidental. They were expressing the views and imperatives of the rising class of bourgeois, this class being both product and inheritor of what is now the capitalist system. This is, of course, the very market system the Austrians (and those like them, because they are by no means as distinct as they ...
Posted by: Josh Marsfelder 6 months, 3 weeks ago
With the re-release of her first two games on the Nintendo Switch, a third on the way and her creator already musing ideas for a fourth, Bayonetta is in the news again. And, as is typically the case with Bayonetta, she's drawn quite a crowd and her fair share of controversy and anger. But of course, you can't be a powerful, confident and self-assured woman and not.
Bayonetta is the modern day evolution of the archetype pioneered by Lara Croft and Rayne, and is the most honed, polished and refined version of that concept. She is an overwhelming, overclocked, unstoppable, inescapable feminine force of nature, and that confuses and frightens lesser people. The protagonist of an eponymous series of action games created by Hideki Kamiya and his studio Platinum Games (formerly Capcom Clover Studios), known for Resident Evil, Viewtiful Joe, Devil May Cry and Okami, Bayonetta is a witch who carves out her own niche in the war between Heaven and Hell by laying waste to legions of angels and demons as a one-woman mercenary army. She is pure magick, and, like all witches, she is liminal figure who stands outside of social norms and conventions. She makes ...
TARDIS Eruditorum will return on March 19th. But as a prelude, we're rerunning lightly edited versions of some old essays from the earliest days of the Patreon, now reskinned as the Outside the Government essays for Series 3 of Sherlock. I would also be remiss if I did not note that we are in the final 48 hours of the TARDIS Eruditorum Volume 7 Kickstarter, and it's a nailbiter whether we'll make all the stretch goals.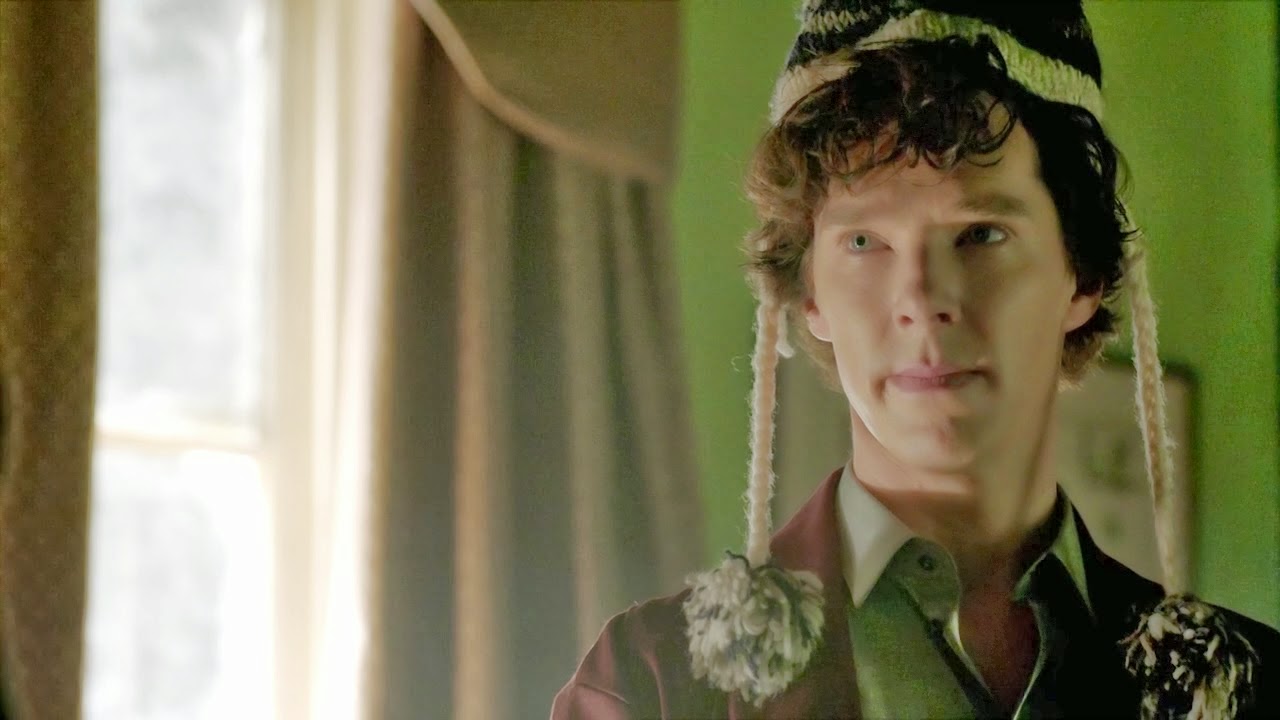 It's January 1st, 2014. Pharrell Williams's "Happy" has unseated Sam Bailey at number one, while Eminem and Rihanna, Lily Allen, Ellie Goulding, Katy Perry, and One Direction also chart. In the news, since Matt Smith got old and died it's been exceedingly quiet. Obama signed a budget deal, marijuana was legalized in Colorado, incandescent light bulbs became illegal to sell in the United States, and Latvia adopted the Euro. While on television,
Sherlock
informed the audience that it was going to lie to them, and then went on to do just that. It had, in the tradition of fair lies, given ample warning. "It's a trick. Just a magic trick." And so, of course, it was. Indeed ...
Posted by: James Murphy 6 months, 3 weeks ago
I'm delighted to share the most exciting news of February. The eagerly awaited return of, and the link to, the new episode of Pex Lives.Kevin and I talk - for free, I'll remind you, we're just giving this stuff away - about the Peter Davison serial Kinda. Classic stuff to keep you company as you tidy that filthy hovel you call a home or commute to that job you can tolerate, or during the job itself, or however you listen to podcasts. i don't know, you can do as you please. But it is lovely to be able to continue to sit down with Kevin and still be chatting nonsense at eachother about our favourite show after all these years. In this episode, Kevin binds me to a promise to write erotic Tegan focused Dr Who fanfiction when I get 50 patreon supporters. So, that'll be a thing I spend my time doing.
http://pexlives.libsyn.com/44-kinda-or-the-not-we-must-know
Lee Russell is one of my best damn friends in the world and our Amicus podcast is excellent. Late last night, while recording an upcoming Wrong With Authority, my tongue slipped and I embarrassingly called him Lee Daniel ...
Posted by: Jack Graham 6 months, 4 weeks ago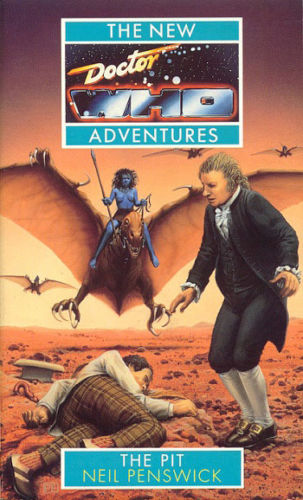 Yes, it's the long-awaited (by a tiny number of people) return of the Shabcast.
And for my big relaunch I'm joined by a mystery returning guest who has a kickstarter going for a new book about the McCoy-era and Wilderness Years of Doctor Who, complete with some chat about the Virgin New Adventures, the new series, and sundry other inevitable digressions. Because it's us.
Bet you can't guess who my guest is.
That's a Kickstarter you should totally contribute to, by the way. In fact I'd almost say you were morally obliged at this point. Here's the link.
And here's my Patreon.
Happy listening and pledging-of-money-to-Kickstarters-for-new-books-about-the-McCoy-era-and-possibly-also-to-my-Patreon.
(Plus, you can still buy our mystery guest's last book, to which I made a modest contribution. It too was made possible because people funded a Kickstarter.)