The Shabogans are the invisible underclass on Gallifrey. The plebs. The nobodies. The skivvies. They're not the posh drop-outs. They're not the soup-making rustics. They're the unseen guttersnipes trapped inside the Capitol. They always leave the room just before you enter it. They're the vandals who shoot stasers at the Seal of Rassilon. And maybe, sometimes, they do more than that. Maybe they riot. Maybe they erect barricades. Maybe they throw stones. Maybe they daub things like "GALLIFREY WILL NEVER BE HAPPY UNTIL THE LAST CASTELLAN HAS BEEN HANGED WITH THE GUTS OF THE LAST CARDINAL" on the walls of the Time Toilets. Because if there is hope, it lies in the Shabogans.
I'm Jack Graham. Gothic Marxist. Advocate of the struggle in terms of the strange. Shakespearean villain. Doctor Who fan. Less an organic intellectual than a one-man morbid symptom.
And I did this:
Posted by: Jack Graham 4 days, 4 hours ago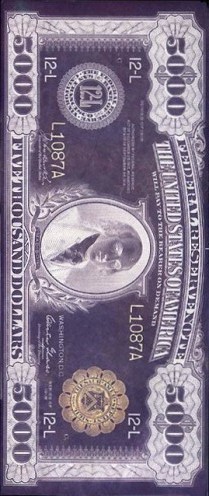 In an article entitled 'Democracy Isn't Freedom', Ron Paul wrote:
Americans have been conditioned to accept the word "democracy" as a synonym for freedom, and thus to believe that democracy is unquestionably good.

The problem is that democracy is not freedom. Democracy is simply majoritarianism, which is inherently incompatible with real freedom. Our founding fathers clearly understood this, as evidenced not only by our republican constitutional system, but also by their writings in the Federalist Papers and elsewhere. James Madison cautioned that under a democratic government, "There is nothing to check the inducement to sacrifice the weaker party or the obnoxious individual." John Adams argued that democracies merely grant revocable rights to citizens depending on the whims of the masses, while a republic exists to secure and protect pre-existing rights. Yet how many Americans know that the word "democracy" is found neither in the Constitution nor the Declaration of Independence, our very founding documents?
Now, an important thing to note here is that Paul is absolutely right. Most of the Founding Fathers did not envisage their new republic as a democracy. Indeed, Madison (as Chomsky is fond of reminding us) explicitly saw the task of designing the new government ...
Posted by: Jack Graham 1 week, 4 days ago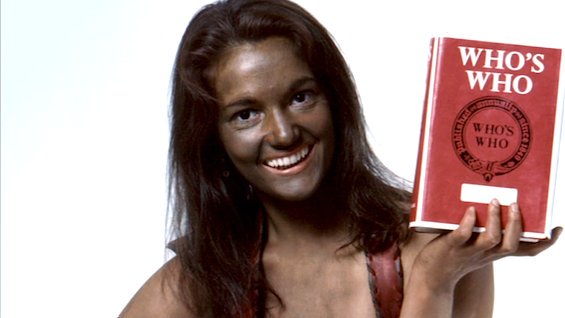 "There has never been a document of culture, which is not simultaneously one of barbarism. Not even Doctor Who."
- Walter Benjamin, 'On the Concept of History' (quoted from memory)
*
Where was I?
Oh yeah, it's unfair to pick on 'Talons of Weng-Chiang' for being racist because all Doctor Who is racist.
So what do I mean by that?
Well, I don't just mean that there are lots of stories in Doctor Who that contain implicit or explicit racist ideas, representations, or implications … though it does, and it might be worth going through some of them.
There's 'An Unearthly Child', for instance, which associates 'tribal' life with brutishness and savagery, and suggests that tribal people need to be taught concepts like friendship and cooperation by enlightened Western liberals from technologically advanced societies… as if, historically, enlightened Western liberals from technologically advanced societies haven't been the ones slaughtering tribal peoples. Native peoples, by the way, know what friendship and cooperation are. Sometimes better than us. And we are talking about native peoples in 'Unearthly'. Because of Europeans' historic encounters with native peoples as European imperialism and colonialism spread across the globe, we've come to associate the notion of ...
Posted by: Jack Graham 2 weeks, 4 days ago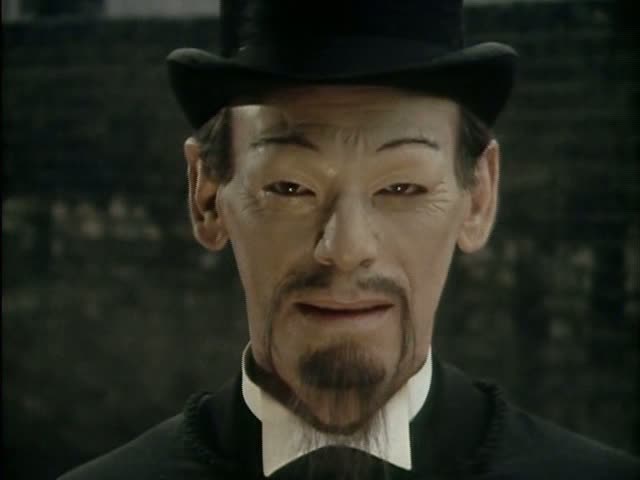 Thanks to the various people who looked over this and made suggestions, especially Holly. The mistakes are, of course, mine alone.
This post was originally going to have the alternative title 'Why I'm No Longer Talking to Doctor Who Fans About Race' but Andrew Rilstone got there before me, damn his eyes. Seriously, go read Andrew's post because it's excellent. Amongst other things, he looks directly at the arguments put forward in Marcus Hearn's Doctor Who Magazine editorial. Which is, of course, what started this.
*
We live in a strange world. I'm being told, on the one hand, that Jeremy Corbyn, the most consistently and committedly anti-racist MP in the Commons, is an antisemite, and, on the other, that 'Talons of Weng-Chiang', a story in which a Fu Manchu style villain - played by a white actor in rubber 'yellowface' - abducts white women with the help of a Tong of "opium sodden" Chinese cultists working out of Limehouse, isn't racist. You just know, don't you, that some professional Doctor Who hacks are convinced that Corbyn, if elected, would institute Britain's very own reenactment of the Final Solution, but will also quibble with you over whether or not Julius Silverstein ...
Posted by: Jack Graham 1 month ago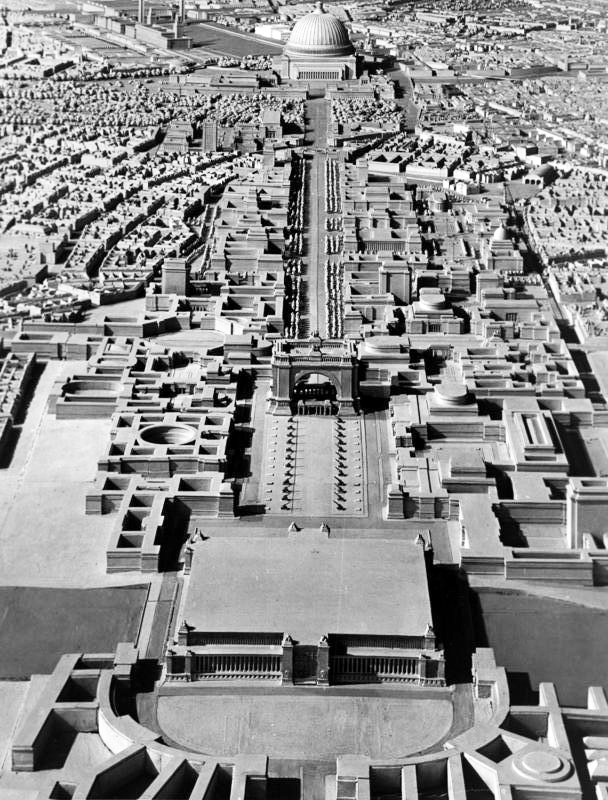 The Nazis won the war. They invaded and colonised the Western consciousness. They marched into, occupied, and restructured our heads. They redrew the maps in our minds. They razed and rebuilt our perceptions. They re-engineered our entire civilisation. They purged the libraries of our brains of the books they didn't like, and convinced many of us to burn those books, happily, with smiles on our faces, certain that in so doing we were fighting intolerance and tyranny. They wrote new books, and we filled the shelves with them. They rewrote our entire story, and we still live in their unfolding plot.

*
The counterfactual genre tends to imagine that, in a victorious Nazi state, the Holocaust would be a dark secret.

In reality, if Germany had won, today the Holocaust would be known about in Germany.

It would be part of public consciousness - a small part. It would even be studied, talked about, theorised - by a few.

The twenty-first century Nazi state would be perfunctorily apologetic, and claim moral superiority anyway. Indeed, the 'mistakes' of the past would be one way in which that state, that society, comprehended and oriented its sense ...
Posted by: Jack Graham 1 month, 1 week ago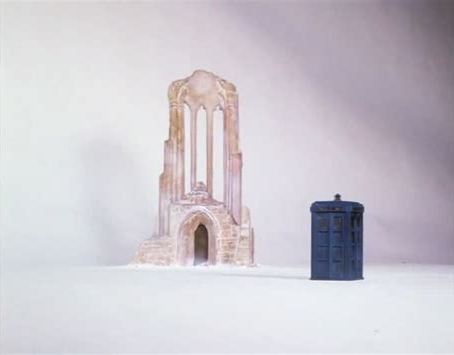 Paleolibertarianism was a consciously devised mutation of Austrian-influenced libertarianism, concocted by the late-20th century's most prominent devotee of Austrian dogma, Murray Rothbard (and his fawning cohorts).
Libertarianism today draws on several sources. Ayn Rand is the best known, but the more influential is arguably Murray Rothbard. (Rothbard's attitude to Rand fluctuated.) Rand is more influential for her 'ideas'. Rand is more accessible, despite putting up a superficial show of intellectualism. Rothbard is harder to get a handle on. Unlike Rand, he is a genuine intellectual – which is often a question of how one couches ideas rather than the ideas themselves. And he develops. And he writes long, involved, serious articles (though they get less serious-minded as he gets older). I would argue that his influence is less in actual ideas and more in the surrounding spheres of aesthetics/style and tactics/strategy. After all, in fusing libertarianism with conservatism to create paleolibertarianism, the libertarians consciously submerged certain libertarian ideas. What succeeded – from the libertarian point of view - was arguably less the fusion than the style: the strategic attempt to use populist reactionary politics to further the ...
Posted by: Jack Graham 1 month, 2 weeks ago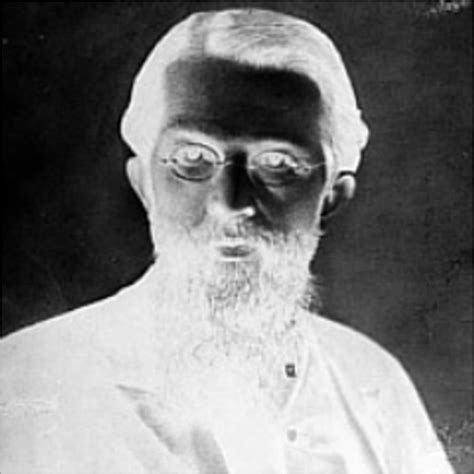 As we know, the Austrian School is - but is not limited to - a heterodox branch of bourgeois economics. It is, however, founded upon a more-or-less explicitly political project. And this project continues to animate its zombie, and its zombified victims, infected by its bite. But then the Austrians' iteration of the new (in the 1870s) bourgeois economic doctrine of marginalism was always a political project, even in its dry theoretical basis.
Marginalism itself arose as a way to escape the increasing obviousness of the fact that capital exploits labour. This was a necessary project as capital spread across the globe. It took the conscious form of an attempt to address genuine weaknesses in the classical labour theory of value. These weaknesses were interpreted as evidence that the theory needed to be discarded precisely because the class position/alignment of the theoreticians addressing the issue pushed them towards a view of value which did not derive from labour. It became an even more necessary project after the Paris Commune scared the shit out of the bourgeoisie.
The Austrian School, in the person of Menger, helped create marginalism. But it continued to ...
Posted by: Jack Graham 1 month, 3 weeks ago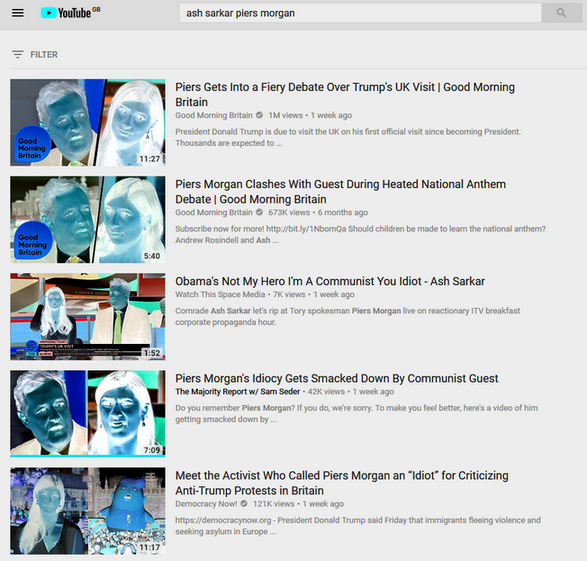 "I'm a communist you idiot!" declared Ash Sarkar on Good Morning Britain, in response to the heckling and strawmanning of Piers Morgan. (Video here.) She's subsequently been all over the media. Morgan has accidentally made this into her 'moment'. As she herself humourously overstates, he's even accidentally rehabilitated communism. Turns out, if it's communism or Piers Morgan, the British people seem more likely to give communism a try.
Sarkar, senior editor at Novara Media, was being interviewed as a representative of the anti-Trump protestors descending on London (despite Trump's well-advised absence from that city). As it happens, I suspect very few of the 100,000-250,000 who assembled were communists - despite the Daily Mail's characterisation of the protest as consisting of what they rather confusingly called a "rent-a-leftie mob".
(I'm wondering if there's any money in lefty-rental. Can I hire myself out? And who does the renting? George Soros? The Mail seems to imply it's Corbyn... but isn't he one himself? Shouldn't he be on the books rather than keeping them? Could I start my own franchise ...
Posted by: Jack Graham 2 months, 1 week ago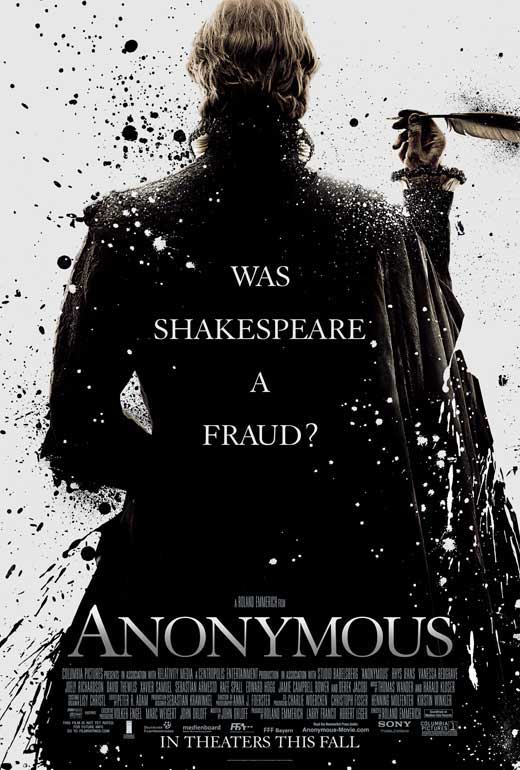 This time, Jack indulges his unhealthy obsession with Anti-Stratfordianism, and forces James, Kit, and Daniel to watch Roland Emmerich's 2011 self-funded passion-project Anonymous.
Anonymous; 2011; d. Roland Emmerich; w. John Orloff; starring Rhys Ifans, Vanessa Redgrave, Joely Richardson, David Thewlis, Rafe Spall, Jamie Campbell Bower, Mark Rylance, and Derek Jacobi; distributed by Columbia Pictures.

It lost about 15 million dollars.

Based on the wackiest version of the longstanding conspiracy theory that the plays of Shakespeare were secretly written by Edward de Vere, 17th Earl of Oxford, Anonymous is both less entertaining and less plausible than the rest of Emmerich's films, including the ones about aliens and giant lizards.

It was 'controversial' at the time, in the sense that everyone who knew anything about Shakespeare both ridiculed and denounced it, especially its attempts to market itself via 'information packs' provided to schools.

In the process of telling his dreary, plotless, and confusing shaggy dog story, Emmerich encourages some of the finest Shakespearean actors of our time to make utter fools of themselves. Not that some of them need all that much encouragement. The whole thing manages to be simultaneously totally insane, quasi-fascistic, and profoundly dull... which is ...