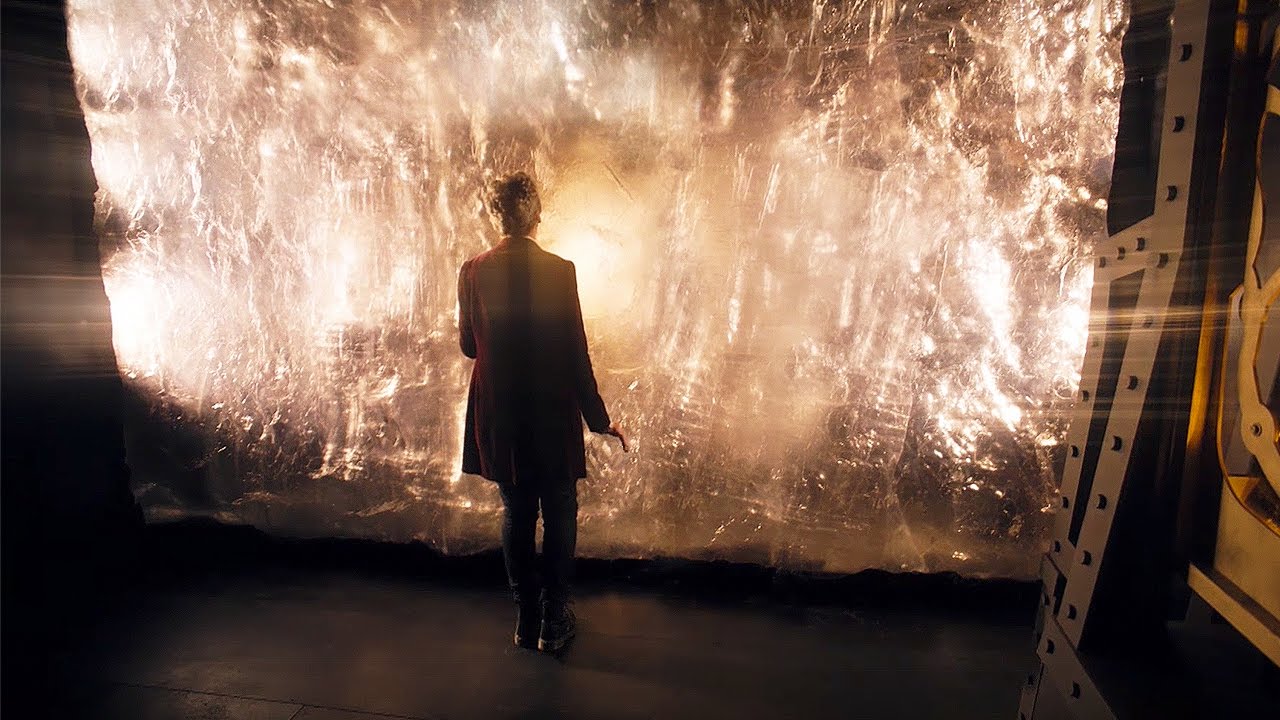 I got a rock.
It's November 28th, 2015. Justin Bieber continues his assault on the top ten, holding number one with "Sorry" while "Love Yourself" and "What Do You Mean" are also in the top ten. One Direction and Nathan Sykes also chart. In news, a gunman attacks a Planned Parenthood clinic in Colorado Springs and Turkey shoots down a Russian jet on the Syrian border, sparking a bit of an international incident.
On television, meanwhile, Moffat's masterpiece. Which means that we should start by talking about Blink, the story to which any supposed Moffat masterpiece must be compared. It is not that Blink is straightforwardly and unquestionably the best Moffat story; picking The Pandorica Opens/The Big Bang or Day of the Doctor is an eminently respectable choice. But a masterpiece is different from a mere best, implying not just raw quality but a sort of technical proficiency that shows off the writer's skill. This is why Blink serves as the type specimen for Moffat—a story long on formal constraint and ostentatiously clever structure that plays elaborate games with time and causality. Its ostentatious grandeur hangs over the whole Moffat era, a high watermark whose reputation seems to foreclose the possibility of ever topping it.
And yet Heaven Sent brazenly tries to. This is clear from the basic technical premise: a one-hander, in which Peter Capaldi is left to carry an entire fifty-five minute episode by himself, with no co-stars save for a silent monster, a cameo by Jenna Coleman, and a young boy with no dialogue in the cliffhanger. Where Blink was a doctor-lite episode, Heaven Sent is its radical opposite, an episode that is not so much Doctor-heavy as it is Doctor-exclusive. There's an almost petulant quality to the anxiety over self-plagiarism, a sense that in going to the opposite extreme Moffat has only confirmed the validity of the comparison. But what is perhaps more telling is the nature of the technical challenge laid out. Blink existed because of a scheduling challenge, minimizing the Doctor's appearances so it could be double blocked with Human Nature/Family of Blood, Heaven Sent is a one-hander for no reason other than to be impressive. It's not a clever solution to a production problem; it's clever because the show wants to be appreciated for how clever it is.
Is this arrogant? Narcissistic? Self-congratulatory? Yes, of course it is. There is no point in pretending that Heaven Sent is not an exercise in vanity that seeks to put a final and decisive triumph on Moffat's record before he departs. That it unequivocally succeeds does not change the task in question. But we've kind of buried the main point in all of that. Heaven Sent is a story that only makes sense in the context of Moffat's presumptive departure. Its presence in the season is a crystal clear sign that he's reaching the end of what he has to say about Doctor Who. This can hardly be called a surprise. He's already done a season more than Davies, and somewhere in the midst of The Zygon Inversion he surpassed Robert Holmes for total minutes of Doctor Who written over the course of his career. Better to go out with glory than to wait around for another Series Seven to happen.
In this regard, it's worth noting the content of Heaven Sent: a middle aged Scottish man is forced to do the same thing over and over again in an endless and nightmarish loop. This is certainly not the only thing going on in the script, but it's clearly the case that the story can be read as a metaphor for television production and the sense of writing the same thing over and over again. On a very basic level, though both this and Blink are reveling in formal complexity and response to constraints, Blink is full of possibility and eagerness to try things. Heaven Sent is exhausted, its eye continually on the coming end, both diegetically and not. It feels like Moffat's version of the Robert Holmes "fuck you for commissioning this" script (e.g. The Space Pirates, The Power of Kroll, or The Two Doctors), except of course that he commissioned it himself, and so can't really throw his toys out of the pram in the same way. All the same, there is a similar angry cynicism at the basic nature of the request. "Oh, you want another big story that shows how good a writer I am? Fine. Let me tell you the story of my resignation."
This is, of course, why it's so good. Moffat has always been at his best when his work is motivated by a streak of anger. And more to the point, it's generally when he's trying to please everybody that his worst instincts are likely to strike. That's not to say that every crowd-pleaser is a disaster; far from it. But the worst thing Moffat could have done for his crowning set piece would have been to try to please everybody. Instead he did a prickly, difficult episode that demanded attention and was in many ways even more dismissive of casual viewers than his season opener. Its AI figure, an 80%, is lower than anything else in the Capaldi era save for Sleep No More; the only other times the new series has been at 80 or below are Love and Monsters and the first three episodes of the Eccleston era. This after shedding 15% of the audience at the start of the season. To some extent it's a wonder Moffat was brought back after an indulgence like this.
We'll get to that part of things in good time, but for now let's be clear that however we want to describe this—hubris, madness, or ambition—it is amazing and we are lucky to have it. There are at best a handful of moments in the series' history where it has been this thoroughly bent out of shape and reconfigured according to a single person's visions and preferences. The easiest analogy is probably the late Pertwee era's steady drift towards, if not Buddhist parable, at least Barry Letts's best understanding thereof. Past that, the closest thing is probably the early Davies era, where the show was overrun by his sheer determination to break all the rules about what Doctor Who could be.
Indeed, the Davies parallel is instructive, because there's a similar story towards the end of his run: Midnight, which is similarly claustrophobic, companionless, and experimental. But Davies dashed Midnight out in in a feverish weekend of desperation, patching around a failed script to write a story more than he'd intended that season; it's essentially an accident. Heaven Sent is planned genius, which is part and parcel of its vague cynicism. The comparison is on the whole odd; while I'm largely inclined to view Heaven Sent as the better episode, it's oddly diminished by being put side by side with Midnight. Davies' story, after all, is a work of smoldering anger—a contemptuous denunciation of the idea of human goodness. Moffat's story, on the other hand…
I mean, nominally it's about grief. That's certainly the idea upon which its most explicit attempts at pathos are hung. But I watched this a couple of days after I had to put down my dog that I've had since before I got my PhD, and while I loved it, it had fuck all to say to the experience. The bit about grief and boredom resonates a bit, though more with my memories of staggering around Connecticut for two weeks after the weekend from hell in which my first marriage collapsed and my father had a massive stroke. It reads slightly better as recovery from mental illness with all the laborious futility implied, but as can often be the case with Moffat, ultimately it's more a good line than a vivid depiction of human experience.
So in the absence of a strong sense of being about anything we are left with an episode that is essentially a demonstration of technical skill. Thankfully all of the people called upon are long on it. Moffat, as we've noted, crafts a script that's as good as it's clearly bragging that it is. Its technical problems are solved well and its reveal is a good one well-executed (although it's worth noting that it works by being a straightforward opposite of Moffat's usual "timey-wimey" solutions, making it at once a marker of cleverness and a sign of the well running dry). But it's a script that asks for massive amounts from the people working on it, especially Rachel Talalay and Peter Capaldi.
Let's start with Capaldi. Simply put, this isn't something that would have been worthwhile without an actor of Peter Capaldi's craft and discernment. Maybe you could have done this story with Matt Smith, but fundamentally his gregarious relationship with the camera is wrong for it. Fifty-five minutes with a character as loud as Smith's Doctor is vaguely uncomfortable. Capaldi's Doctor, who if anything can tend towards understatement, is suitable for this in a way nobody since Peter Davison really has been. And similarly, this just isn't something you could throw at an actor during their first season in the part; it depends on a level of maturation. It serves the same role for him that it does for Moffat: it stakes a high point that manifestly will not be surpassed, the existence of which gestures at the inevitable finish line.
We have spoken previously about Capaldi's generosity as a collaborator; the way in which he elevated Jenna Coleman's performance by leaving her space in which to have it. And in an odd way this is his most generous performance yet, as he resolutely underplays every step of his own star vehicle, allowing Moffat's script to rely on him instead of using it as a platform for soaring moments. God willing nobody is ever going to make Sylvester McCoy or Colin Baker improvise a speech from this at a convention. For all that this is an egotistical episode in every imaginable sense, the two male egos in the room are both admirably inclined to play it quietly.
Which leaves the third part of this episode's triad, Rachel Talalay. Talalay, of course, is an eternally generous chameleon who gives each story what it needs without visible ego. But with Moffat and Capaldi getting out of each other's ways and literally nobody else to call on she steps in and provides a foundation for it all. Her choice of expressionism is perfect for the material, honoring its ostentatiously gothic quality and vamping around enough to carry everything while still remaining fundamentally understated. It's an exquisite choice that matches Moffat and Capaldi both in showing off and in getting out of everybody else's way.
With the three major figures in this episode each hitting their marks with aplomb, the supporting players are left mostly to fall in line, which they do. The late and ever brilliant Michael Pickwoad could surely do a gothic castle in his sleep, but makes this one the most Gothic and Castley imaginable. Jenna Coleman makes every one of her thirty-five seconds in this story count. Even Murray Gold mostly keeps it in his pants, orchestrating the final act's more or less constant crescendo without actually overwhelming it.
So we are left with an episode that is as much of a closed energy loop as the castle within it. Its sole idea is "what if everyone was just really fucking brilliant for fifty-five minutes or so?" And then everyone is. Being capable of doing that is worth celebrating. It is an act that justifies itself and all of the at times strained pacing of the episodes on either side of it that is required to make it work. It's an act of sublime egotism on the part of a bunch of people who are every bit as good as they think they are. It's astonishing, triumphant, an absolute gift, and yet in its wake there is an eerie and final certainty: nothing like this is ever worth trying again. No one involved will ever top it. Everything after this is just a victory lap. As of now, the Moffat and Capaldi eras are functionally over.