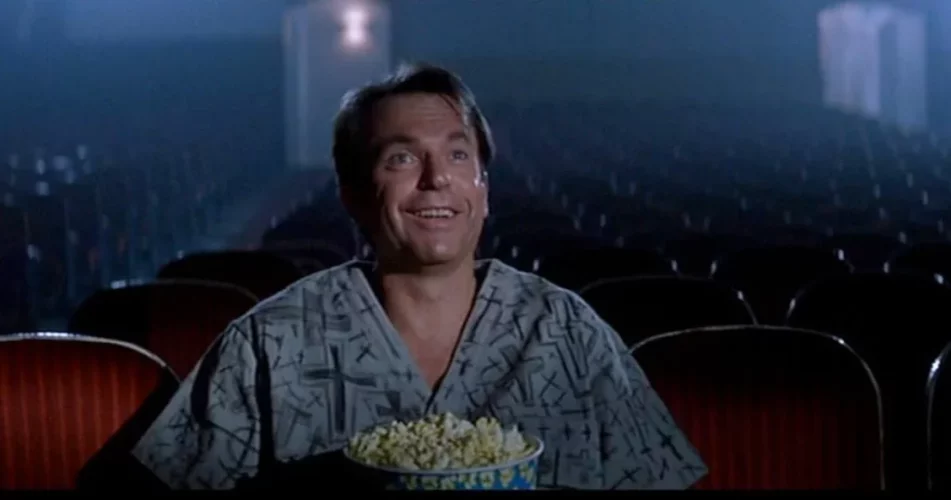 Part 3 of a consideration of John Carpenter's In The Mouth of Madness (1994).  The ideas in this essay were partly developed in conversation with George Daniel Lea and Elliot Chapman.  Putting aside the issues I said I would address this time, let's instead go back to the film and try to start drawing things together a bit.  If previous installments in this series were prefatory, this one gets down to it.
*
"Someone once said that it is easier to imagine the end of the world than to imagine the end of capitalism. We can now revise that and witness the attempt to imagine capitalism by way of imagining the end of the world."

– Fredric Jameson
The hostile manifestation in human 'reality' of the characters and places of mass-produced mass-cultural mass-fiction is, of course, a textual expression of commodity fetishism.  This is true but is a generality.  This is true of the entire sub-genre of fiction in which fiction itself springs to life and confronts the reader or viewer as something "hostile and alien".  It is equally true of the entire nest of genres in which artificial human images, human replicants, human created automata, etc, etc, etc, so spring to life.  The era of bourgeois modernity is the era in which humanity is surrounded by the products of their own labour alienated from them, hostile to them, reinforcing their oppression and exploitation.  It is the era in which, as Marx observed, society treats things as people and people as things, makes relations between people into relations between things, and vice versa.  This is precisely why Horror and SF are the quintessential genres of modernity.
To be specific about In The Mouth of Madness we need to go beyond this essential but basic ground assumption, as does In The Mouth of Madness itself.
In the Mouth of Madness is a zombie apocalypse movie, but the zombies are us, normal people living normal life, and the apocalypse is caused by those who wake up from their zombified state and rebel.
The normal world is the apocalypse.  "Nothing surprises me anymore," says John Trent (Sam Neill), "We…" (he means the human race collectively) "…fucked up the air, the water, we fucked up each other. Why don't we just finish the job by flushing our brains down the toilet?"  He's referring to the massive sales, the global cultural phenomenon, of the writing of Sutter Cane.  The books are explicitly pulp trash.  Their covers are designed to look lower-brow than Garth Marenghi.
The film opens with shots of massive printing presses churning out copy after copy after copy of Cane's newest novel.  The comment on 'authenticity' inherent in any summoning of 'the work of art in the age of mechanical reproduction' is only emphasised by the music playing: a Carpenter-created pastiche of a track by Metallica (notorious guardians of their intellectual property) to which he couldn't get the rights.
In a key, early scene, Trent is walking through the city at night.  He looks at urban walls covered in posters for Cane's books; these posters are tattered yet omnipresent.  …