Viewing posts tagged capitalism
Posted by: Jack Graham 3 months, 1 week ago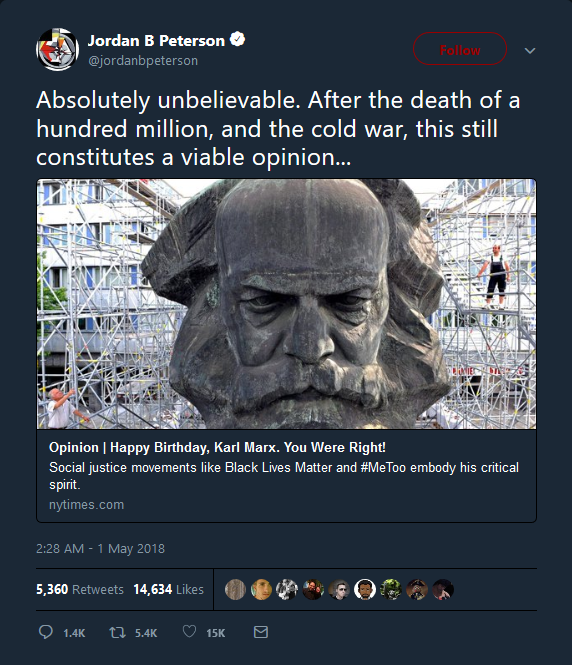 This post will be somewhat disjointed. This is partly because I am not well at the moment. It's also partly because I didn't start on it early enough and never quite worked out what I wanted it to be. To be honest, I forgot the anniversary. I am notorious for my bad memory and often forget dates. It's only Twitter – with its automatic mechanisms for pricking the unpaid contributor to fill it with content, even to the point of scavenging almanacs – which has made me as date-conscious as I am now.
Marx liked his drunken London pub crawls. Think of this as a semi-lucid crawl around the inns (and outs) of my brain on 5th May 2018.
*
Today is Marx's 200th birthday. A piece of information to which many would respond "So what?" And I'm actually sympathetic to this view.
Someone recently asked me when I was going to go and see the Marx exhibition currently at the British Library. They just assumed I would go. But I'm interested in Marx for the ideas.
It's not that his life is of no interest. Nor is it that you can divide his ideas and work from ...
Posted by: Jack Graham 9 months ago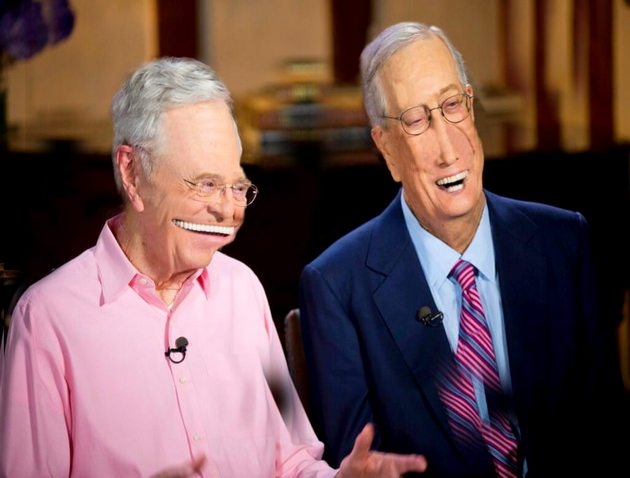 As some of you will be aware, especially those of you who've been following my whining about it on Twitter, I've recently been finishing up something I've been writing about the Austrian School of economics (y'know, Mises, Hayek, Rothbard, right-libertarianism, etc). It's my side of a collaboration with Phil for his next book. It's taken a long time (my fault) but I just finished. One of the reasons it took so long was because I kept falling down rabbit holes, so to speak. The good thing about that is that it has left me with excess material I can write up. And here's the first bit.

By the way, people who give me as little as $1 per month on Patreon saw this days ago.
*
The Koch Brothers. Billionaire reactionaries whose dad co-founded the John Birch Society, and who now act as money-pits and eminences grise for huge sectors of the US Right. Greasers of the wheels of the Tea Party. Suffice to say, they – along with others of their kind including the DeVos family – have also funded organisations like CPAC, the American Enterprise Institute, the Heritage Foundation, and the Cato Institute (co-founded by Murray Rothbard, by ...
Posted by: Jack Graham 1 year, 10 months ago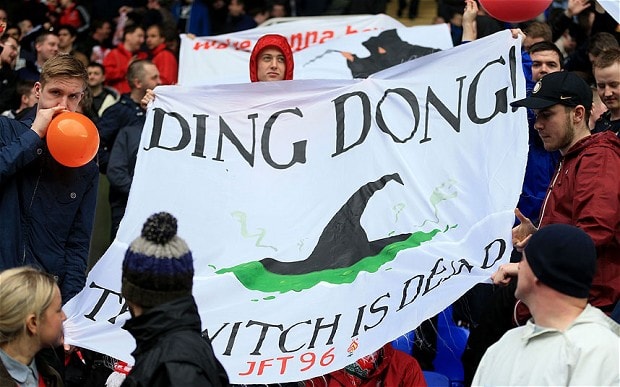 This is post is kindasorta both a Tricky Dicky and a Psychic Landscape entry. It doesn't quite fit into either series, but should - hopefully - be read in the context of them.

When Margaret Thatcher died in 2013, so many people downloaded the song 'Ding Dong! The Witch is Dead' from iTunes that the BBC were seemingly forced into the position of having to play it on Radio 1, in line with their usual practice of giving airtime to songs that are currently in the charts. (In the end they copped out and played a clip - of a song that's under a minute long anyway - with an explanation. I didn't hear it but I'd stake internal organs on it involving use of the word 'divisive'.) This awkward situation for the BBC, very much not of their choosing, created what is called a 'row', or a 'controversy', or a 'scandal'. This is when the right-wing media, rather than report the facts with headlines like 'Thousands Celebrate Baroness Thatcher's Death by Downloading…', instead publish stories with headlines like 'Outrage as BBC plans to Celebrate Baroness Thatcher's Death by Playing…'. The 'outrage' the paper is supposedly reporting is always illustrated with ...
Posted by: Jack Graham 2 years, 9 months ago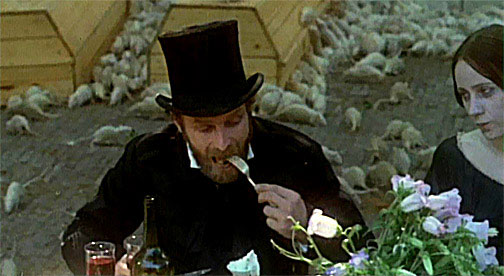 I was there at the birth,
Out of the cloudburst,
The head of the tempest.
Murderer!
Murder of calm.


- Kate Bush, 'Little Earth'


Let's, for now, posit a classical Hegelian dialectical triad. And let's take the pig as the first point of our triad: the thesis. And let's - as per Phil's suggestion - take cancer as another point of the same triad: the antithesis. What would be the synthesis?
It's worth making a short digression actually, on the issue of whether or not cancer and pigs are antithetical. In one sense, obviously not. Pigs get cancer. Pigs are used in cancer research. Eating bacon - even a tiny bit, once - will definitely give you cancer, as research has recently proved.
David Cameron is a cancer eating away at the heart of our society, and he once had intimate relations with a pig… and yet it's hard to say that those relations, for all their intimacy, were not antithetical. After all, the pig in question was dead, and had presumably been killed and decapitated so that it could be brought to table for the members (ahem) of the Piers Gaveston society. There can hardly be any more ...
Posted by: Jack Graham 2 years, 11 months ago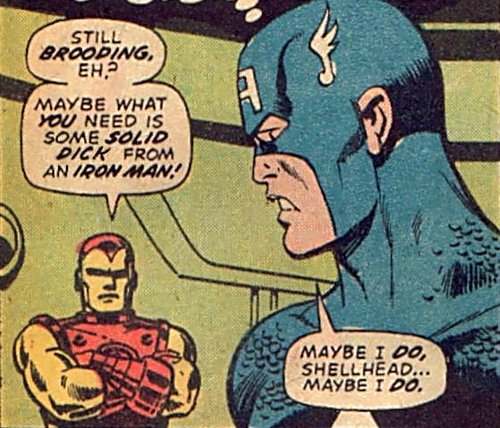 NOTE: This article has been amended to correct factual mistakes and clarify arguments.
Iron Man (2008), starring Robert Downey Jnr. and directed by Jon Favreau, is objectively one of the most evil films ever made. Possibly the most evil, actually.
Boilerplate
I'll get around to justifying that opening statement in a bit. But first, I just want to say… ahem… fuck Tony Stark. Seriously, fuck him. The arrogant, smug, privileged, sexist, immature, selfish, capitalist prick. The rich, preening, self-satisfied asshole. The callous, self-involved, vainglorious, narcissistic wanker. This guy isn't charming or funny or lovable. He's scum, masquerading as humankind's best friend. He's the 1% as saviour of the world, at a time when the 1% are directly and knowing destroying the world. He's the smiling face of the anthropocene (or rather capitalocene) extinction. He's genocidal imperialism as (lone) humanitarian intervention. He's neoliberal capitalism and neoconservative foreign policy as a series of bad-boy quips. He's private capitalist industry as heroism. He's mega-wealth as heroism. He's white male privilege as heroism. He's militarism, imperialism and American exceptionalism as heroism. He's the War on Terror as heroism. He's everything sick and twisted and rotten and filthy and evil and insane ...
Posted by: Jack Graham 3 years ago
Jeremy Corbyn is a decent man, and he's closer to my viewpoint that just about anybody else in mainstream politics, but he's still basically just a moderate Social Democrat. The media buzz about him being "hard Left" is ludicrous nonsense. It's a sign of the media's extreme Right-wing agenda/viewpoint, a centre-ground shifted to the Right beyond anything known since the early 20th century, and the widespread (and very consciously inculcated) political illiteracy that now pervades the UK like a plague.
I think Corbyn's usefulness lies almost entirely in the opportunity he presents for us to push the conversation in certain ways. I will push him over the other candidates, and I will support the good stuff he says and does as Labour leader (if elected) because it'd be insane to do anything else. The opportunity for propaganda is itself reason to do this. The subsequent opportunity for anti-reformist, anti-Labour propaganda when Corbyn sells out - because he will, make no mistake... they always do, the structural logic of the situation makes that inevitable - will be worth having too, speaking as a revolutionary.
The Labour Party will be relieved to ...
Posted by: Jack Graham 3 years, 1 month ago
Remember Lance Parkin's Big Finish audio 'Davros'? It's quite good, isn't it... if far too long. But he does some interesting stuff with Davros' backstory, subverting your expectations a bit. (It's got really good music too.)
Interesting stuff in it. The Doctor is depicted as wanting to stop the fall of the corporations. And, actually, I can see his point. At the moment, anyway. And as long as we're talking about a sudden, instant fall.
Simply remove capitalism at the touch of a button today and human civilisation as it stands would fall, and the human race might die out... for much the same reason that the animals in a battery farm would all die if y
ou murdered all the farm workers and the crime went undiscovered for weeks. As bad as it is, it is currently how things work. The system doesn't function efficiently, or for human benefit, but it does basically function, and it relies upon keeping a sufficient number of people alive, and a sufficient level of social wellbeing going, simply because it lives off its human livestock. So it keeps the ...
Posted by: Jack Graham 3 years, 2 months ago
Spoilers

The last episode of
The Blacklist
was hilarious. Red describes an international cabal - comprised of people in government and the private sector - who run the world behind the scenes, start wars, control the media, kill to protect their power, etc. It's supposed to be so edgy. Dark, terrifying conspiracy. He has to get loads of investigate journos to attend his briefing in secret. They're all stunned by what he says. But… he's just describing the ruling class! Seriously, the 'Cabal' is just the capitalist military-industrial-media-government complex. But we're supposed to be shocked by the existence of this group. Once informed about it, the
Washington Post
runs a front page story telling everyone of the breaking news. SHOCK NEW REVELATION: SMALL NUMBER OF POWERFUL PEOPLE ARE POWERFUL AND GET UP TO STUFF FURTHERING THEIR OWN POWER WITHOUT TELLING US! The evil director of the CIA looks at the paper in horror, like he's thinking "oh no, now everyone knows!" It's like structuring the big, dramatic denouement of a drama series around the astonishing revelation that water is wet, and having all your characters suddenly back away in terror ...