Viewing posts tagged nazis
Posted by: Jack Graham 5 months ago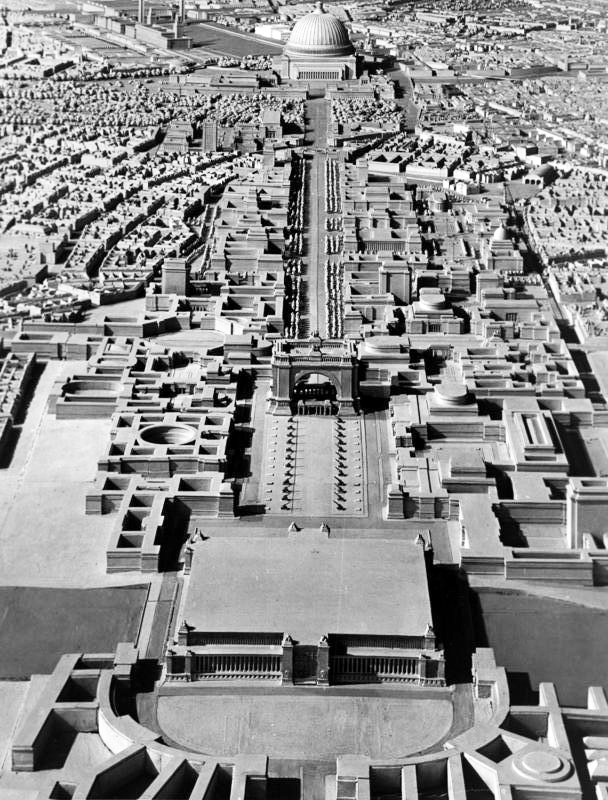 The Nazis won the war. They invaded and colonised the Western consciousness. They marched into, occupied, and restructured our heads. They redrew the maps in our minds. They razed and rebuilt our perceptions. They re-engineered our entire civilisation. They purged the libraries of our brains of the books they didn't like, and convinced many of us to burn those books, happily, with smiles on our faces, certain that in so doing we were fighting intolerance and tyranny. They wrote new books, and we filled the shelves with them. They rewrote our entire story, and we still live in their unfolding plot.

*
The counterfactual genre tends to imagine that, in a victorious Nazi state, the Holocaust would be a dark secret.

In reality, if Germany had won, today the Holocaust would be known about in Germany.

It would be part of public consciousness - a small part. It would even be studied, talked about, theorised - by a few.

The twenty-first century Nazi state would be perfunctorily apologetic, and claim moral superiority anyway. Indeed, the 'mistakes' of the past would be one way in which that state, that society, comprehended and oriented its sense ...
Posted by: Jack Graham 3 years, 7 months ago
Shabcast 6 is now available to download or listen to
here
...
BUT HANG ON!
This Shabcast is an accompaniment to this month's edition of Pex Lives (download or listen
here
), which features the long-awaited encounter between
Phil Sandifer
(from off of TARDIS Eruditorum) and 'Vox Day' (from off of fascism and fucking up the Hugo Awards).
Kevin and James have kindly turned the June installment of
Pex Lives
over to the Sandifer/Vox Day interview, in which Phil quizzes Vox about his attitudes towards two texts,
One Bright Star to Guide Them
by John C. Wright (which Vox loves and Phil hates) and Iain M. Banks'
The Wasp Factory
(which Vox hates and Phil loves).
One Bright Star...
slid into the Hugo noms on Vox Day's Rabid Puppies slate, by the way. Hmm.
Shabcast 6 is something in the way of an 'afterparty' for Phil, in which Phil chats with myself, Kevin and James about the Vox Day interview. Very much necessary listening. And lots of fun. After the serious business of the interview itself, the four of us kick back and have a chat which veers from the serious to the plain giggly ...
Posted by: Jack Graham 3 years, 9 months ago
Shabcast 3 was supposed to be the second part of my discussion with
Josh Marsfelder
. (
Here
's part 1 of that discussion.) But events have intervened. Now, Josh and I will carry on our talk in Shabcast 4 (hopefully out quite soon... so you'll probably get two Shabcasts this month, you lucky blighters). Shabcast 3, meanwhile, has been devoted to an emergency, hastily-convened discussion between myself, Phil Sandifer and Andrew Hickey on the subject of the recent right-wing incursion upon the Hugo Awards.
Download Shabcast 3
here
(thanks once again to the
Pex
Lives
guys for donating their bandwidth). We do a fair bit of fash-lambasting, and Andrew especially gives lots of background to this particular issue, but we also find time to roam and rove a bit around some related topics, such as modernism and postmodernism and geek privilege and GamerGate and "what is SFF anyway???".
Andrew
and
Phil
have both blogged about the Hugos issue (which is why I asked them to speak to me about it), and here are some more links...
Here
's Charlie Jane Anders at io9.
One of the movers behind this business is the utterly reprehensible fascist ...
Posted by: Jack Graham 4 years, 7 months ago
Finally finished Kershaw's biography of Hitler. I've been working on it - both volumes, unabridged - for years, picking it up for a bit, putting it down for a bit, etc. (This is how I usually tackle mammoth reading projects.)
Can't help feeling underwhelmed. I mean, I'm in absolute awe of the scholarship and knowledge and patience and effort involved in such a massive and detailed project... but it fails to live up to the hype from the middle-brow and/or reactionary reviewers - Paxman, Sereny, Hastings, Burleigh, etc - that is splashed so proudly all over the back covers.
Kershaw has produced something that is, at least for long stretches, narrative history. The narrative history of one protagonist. This would be fine if the protagonist possessed fascinating and complex (if vile) interiority. Hitler, however, did not have anything of the kind. He appears to have been a nonentity, a psychological nullity, a hazy cloud of pedestrian neuroses, a reflex machine made of clockwork prejudices, a lazy fool, a windbag, a crashing bore, a plodder, a cold and self-involved man, a man with little capacity for any passion other than fury, and little ...
Posted by: Jack Graham 5 years ago
To me, the most striking thing about the
racist Christmas card
circulated by the British National Party (or the Keystone Stormtroopers, as I like to call them), is how utterly mainstream it looks.
There is clearly a racist message here because
a) it's being circulated by a racist party of fascist Nazi racist racists,
and
b) because of the oh-so-clever hidden subtext of the phrase 'white Christmas' that Cyclops/Fuhrer Dickibegyourpardonnick Griffin's reichschancellory full of political geniuses have cryptically woven into it.
But, as
Metro
have
pointed out
, it's an altered stock image, also used by thoroughly mainstream publications.
The Aryan child - pale and blonde and blue-eyed - is still the vanilla standard of beauty and innocence in the aesthetic system that capitalism calls Christmas. Mainstream adverts and cards will engage in tokenism so as to simperingly hook in with sentimenal one-world platitudes, and sell to more than just white people, but non-white faces are still the variety sprinkled around the white standard.
It's not the young model's fault, of course. She's just peddled her own image in a system of bodily commodification (as we all must peddle ourselves, one way or another ...
Posted by: Jack Graham 6 years ago
Why do some monsters have names while others don't?
The best place to start may be with the Cybermen. After all, they went from having names to not having names. Moreover, they did it more or less within one particular story, 'The Moonbase' (if I remember rightly, they had names in the script but these were not mentioned on screen).
The first thing to mention is that this is the story in which they went from being threatening because they are emotionless and logical to being threatening because they're one of those "terrible things" bred in those "corners of the universe" that "we" have to fight, when they were no longer fighting to save their planet but to steal ours, when they lost their human hands, when they started (so early!) saying things like "Clever, clever, clever!", i.e. when they became overtly and deliberately
evil
. But there has to be more to it than that. After all, vampires keep their names. Loss of humanity and the acquisition of evil intent are not enough to strip them of their names.
Moreover, the Cybermen are not the only
Doctor Who
monsters to lose their ...
Posted by: Jack Graham 6 years, 7 months ago
I have a massive, endlessly-lengthening list of books, old and new, that I want to get around to reading. Donny Gluckstein's new book
A People's History of the Second World War
just went straight in near the top of the list.
Gluckstein's argument seems to be that WWII was actually two wars, fought in parallel. One was an imperialist squabble between established empires and up-and-coming imperialist nations that were set to clash with them. Britain, France, Russia and America (which was already a continental empire and was ready to expand globally) found themselves violently competing for hegemony with Germany, Italy and Japan. Running beneath this conflict there was a people's war against fascism (the form taken by the new empires) underpinned by dreams of freedom and democracy. The imperialists running the first war knew that had to appeal to the priorities of the people fighting the second war in order to enlist their support, hence the democratic rhetoric.
I mention this here because Gluckstein has done an
interview
for New Left Project, in which he has some things to say about Winston Churchill, the subject of my irregular '
Victory of the ...
Posted by: Jack Graham 6 years, 8 months ago
I think there is something inherently dodgy about the notion of 'redemptive readings'. It seems to imply a determination to look at a text in a positive way that is at odds with what could be called 'proper scepticism'. This objection is itself open to the objection that it's silly to approach a piece of entertainment product with 'scepticism', especially when it is part of a series of which one is supposedly a fan. But, this loses sight of context and agency. There are various ways of choosing to watch the same thing. When you sit down to enjoy an episode of a show you like, for fun, you're a bit odd if you're not expecting, hoping and trying to like it. When you're watching it with the express intention of analysing it and then writing about what it means, proper scepticism becomes appropriate.
Trying
to like what you're watching becomes a somewhat iffy strategy in that context. Besides, doesn't the necessity of
trying
to find ways of praising what you're analysing tell us something in itself? This muddle also loses sight of the distinctions that are always to be found within ...