Viewing posts tagged shakespeare
Posted by: Jack Graham 1 year, 8 months ago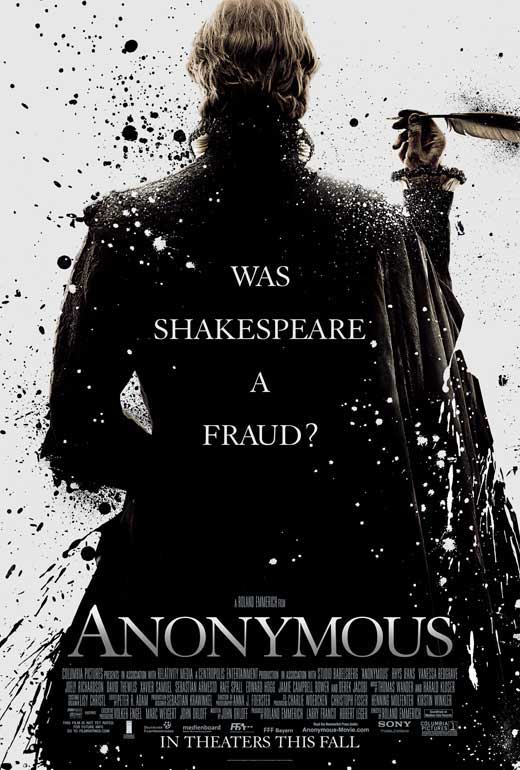 This time, Jack indulges his unhealthy obsession with Anti-Stratfordianism, and forces James, Kit, and Daniel to watch Roland Emmerich's 2011 self-funded passion-project Anonymous.
Anonymous; 2011; d. Roland Emmerich; w. John Orloff; starring Rhys Ifans, Vanessa Redgrave, Joely Richardson, David Thewlis, Rafe Spall, Jamie Campbell Bower, Mark Rylance, and Derek Jacobi; distributed by Columbia Pictures.

It lost about 15 million dollars.

Based on the wackiest version of the longstanding conspiracy theory that the plays of Shakespeare were secretly written by Edward de Vere, 17th Earl of Oxford, Anonymous is both less entertaining and less plausible than the rest of Emmerich's films, including the ones about aliens and giant lizards.

It was 'controversial' at the time, in the sense that everyone who knew anything about Shakespeare both ridiculed and denounced it, especially its attempts to market itself via 'information packs' provided to schools.

In the process of telling his dreary, plotless, and confusing shaggy dog story, Emmerich encourages some of the finest Shakespearean actors of our time to make utter fools of themselves. Not that some of them need all that much encouragement. The whole thing manages to be simultaneously totally insane, quasi-fascistic, and profoundly dull... which is ...
Posted by: Jack Graham 3 years, 6 months ago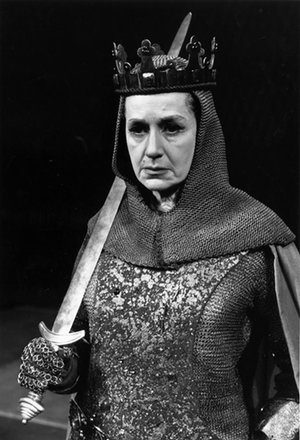 In Richard III, the deposed former queen, Margaret, widow of Henry VI, though notionally banished, continues to haunt the new Yorkist regime of Edward IV. She has no role anymore, no status. (In most theatre productions she literally has no role - she is cut from the play for time reasons). She is a defeated enemy. An enemy, moreover, who is directly responsible for the death of the new Yorkist king's father. Even so, the Yorkists are content to let this relic of the defeated Lancastrians carry on perambulating around the court, snarling at them, cursing them, and wailing of her unjust plight at their hands. They occasionally grumble that she should be gotten rid of, but nobody does anything about it. Not even openly taunting and cursing the new queen, her replacement, can earn Margaret more than a verbal rebuke. Margaret haunts the outskirts of the play like a bad conscience, the bad conscience of all the other characters. That's certainly how she thinks of herself: as a living rebuke to those whose triumph is also her desolation. And it's hard not to think that they see her that way too, despite the fact that she has plenty to ...
Posted by: Jack Graham 4 years ago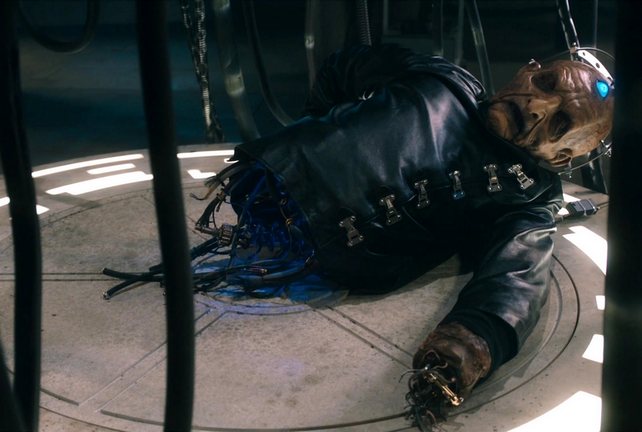 This should be read as, in some ways, a continuation of the previous instalment.

I, that am curtail'd of this fair proportion,
Cheated of feature by dissembling nature,
Deform'd, unfinish'd, sent before my time
Into this breathing world, scarce half made up,
And that so lamely and unfashionable
That dogs bark at me, as I halt by them;
Why, I, in this weak piping time of peace,
Have no delight to pass away the time.

Richard III, I, I
Used as the epigraph to Ben Aaronovitch's novelisation of 'Remembrance of the Daleks'
In Richard III, as I started to talk about last time (in Part 4), Richard draws upon his 'deformity' for an identity. As noted in a previous instalment, Richard is a narcissist (hardly an original observation) and a vital part of his narcissism is expressed in his concentration upon what he sees - or spins to us, the audience - as his own physical monstrosity. He concentrates on his physical 'defects', talking them up, poetically riffing on them and exaggerating them (if he were as monstrous as he says he is nobody would be able to look at him let alone accept him as colleague or husband) until ...
Posted by: Jack Graham 4 years, 8 months ago
There's a play called
Sir Thomas More
. It is never performed, despite having bits in it written by Shakespeare. Every Shakespeare play is performed. Even the rubbish ones. Except
Sir Thomas More
.
Sir Thomas More is never performed, ever
. Not any more.
Why?
Actually, in academia and the theatre world, it is well known how the play spread like an infectious disease, from city to city, from continent to continent, barred out here, confiscated there, denounced by Press and pulpit, censured even by the most advanced of literary anarchists. No definite principles had been violated in its wicked pages, no doctrine promulgated, no convictions outraged. It could not be judged by any known standard, yet, although it was acknowledged that the supreme note of art had been struck in
Sir Thomas More
, all felt that human nature could not bear the strain, nor thrive on words in which the essence of purest poison lurked. The very banality and innocence of the first act only allowed the blow to fall afterward with more awful effect
.
Basically, anyone who has ever seen
Sir Thomas More
performed has gone insane. (I'm not sure how ...
Posted by: Jack Graham 4 years, 8 months ago
What bloody man is that? It's bloody Jack Graham. Again.
The curtain rises on Shabcast 8. Listen and/or download
here
.
Another Shabcast so soon? Yes, but don't get used to this kind of schedule. It's only happening because time is out of joint.
This time, myself and my actorly buddy
Elliot Chapman
(returning guest from the
Macra shabcast
, and
Big Finish's new Ben Jackson
) discuss Shakespeare's great tragedy 'Macbeth' (we only shabcast about things that begin with 'mac'), and Shakespeare generally. We even say the word 'Macbeth' occasionally... hopefully without bringing too much theatrical ill-luck down upon ourselves. We chat as we watch the TV film of Trevor Nunn's legendary production from 1978, starring Ian McKellen and Judi Dench, and produced by Verity Lambert. The second most profound material she ever televised.
Elliot will be appearing in
a production of 'Macbeth' soon to run in Redcliffe Caves in Bristol
, produced by
Insane Root
as part of the Bristol Shakespeare Festival. Jack will be appearing in the kitchen soon to make himself an evil sandwich as part of a obscene, perverse ritual. Root for us insanely, and download our shabcast.
When shall ...
Posted by: Jack Graham 5 years ago
I wrote this for somebody as a favour, to fill some space. I thought I might as well post it here. It isn't really a Shabgraff piece, but it exists.
William Shakespeare wrote the plays of William Shakespeare. It wasn't the Earl of Oxford, or Francis Bacon, or Christopher Marlowe, or any of the other candidates sometimes suggested. But how can we be so sure?
We have the accounts of Shakespeare's contemporaries. His rivals, detractors, friends and colleagues had no doubt. Ben Jonson wrote in his published diaries about his criticisms of the plays - right alongside his love and admiration for his friend Shakespeare, their author. Nobody questioned Shakespeare's authorship of his own work for centuries. It wasn't until the middle of the 19th century that a brilliant but eccentric woman called Delia Bacon wrote a book in which she heavily hinted that the true author was Sir Francis Bacon. She convinced a few people – including Mark Twain and Sigmund Freud (who never believed anything silly, of course). The early-to-mid 19th century was an age still influenced by the Romantics, who had invented the idea of the Artist as a lone creator, driven by the ...
Posted by: Jack Graham 5 years, 7 months ago
This got cut from something else I was writing. I'm putting it here because I'd rather put it somewhere than just delete it.
At first sight, Flint and Rayna in the Star Trek episode 'Requiem for Methuselah' look like a fairly standard sci-fi reiteration of Propsero and Miranda. That's been done a fair few times, of course. Most famously in
Forbidden Planet
. (The reiteration of Shakespeare is apt enough, given that Flint owns a copy of Shakespeare's First Folio. He never claims to have been Shakespeare, but probably would if prompted.) Oddly though, the more 'Requiem for Methuselah' progresses, the more it looks like
Othello
rather than
The Tempest
.
Because 'Requiem for Methuselah' seems – rather astonishingly - to have a 'double time' scheme to it, very much like
Othello
. The play is famous for having two apparently separate and irreconcilable chronologies mapped onto each other within it. As many critics have observed, judging by the events we witness, there seems to be a space of about twenty-four hours between Othello and Desdemona's marriage and Desdemona's murder by Othello, and yet multiple other indications with the play – including ...
Posted by: Jack Graham 6 years, 12 months ago
It occurs to me that
this
post (in which I had a go at 'The Reign of Terror' for giving us a thoroughly reactionary and misleading picture of the French Revolution) should've been called 'That Isn't Right'. So I've given that title to this post instead, which is also about all manner of wrongness in the representation of history.
I wasn't going out on much a limb dissing 'The Reign of Terror' (the acronym of which is TROT, amusingly enough); nobody is terribly attached to it. 'The Aztecs', by contrast, is one of those stories that fan opinion tends to think of as irreducibly Good. It isn't that everybody likes it, but anyone trying to say that it's Bad definitely has the burden of proof upon them.
I'm not actually going to say that it's bad, as such. On the whole, it's very well made. But....
Black and White and Red All Over
"Tell me, Aged Servant of Yetaxa...
do you approve of interracial marriage?"
Firstly, the Aztecs are played by white people. It's not easy to tell for sure, but it looks like at ...