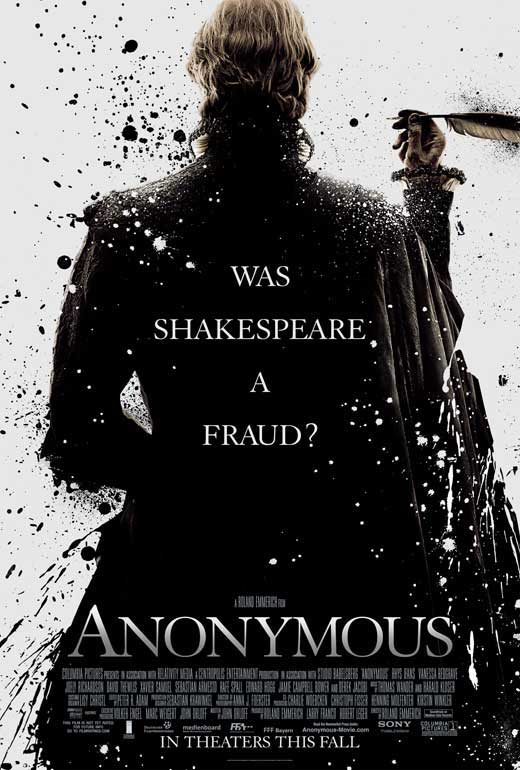 This time, Jack indulges his unhealthy obsession with Anti-Stratfordianism, and forces James, Kit, and Daniel to watch Roland Emmerich's 2011 self-funded passion-project Anonymous.
Anonymous; 2011; d. Roland Emmerich; w. John Orloff; starring Rhys Ifans, Vanessa Redgrave, Joely Richardson, David Thewlis, Rafe Spall, Jamie Campbell Bower, Mark Rylance, and Derek Jacobi; distributed by Columbia Pictures.
It lost about 15 million dollars.
Based on the wackiest version of the longstanding conspiracy theory that the plays of Shakespeare were secretly written by Edward de Vere, 17th Earl of Oxford, Anonymous is both less entertaining and less plausible than the rest of Emmerich's films, including the ones about aliens and giant lizards.
It was 'controversial' at the time, in the sense that everyone who knew anything about Shakespeare both ridiculed and denounced it, especially its attempts to market itself via 'information packs' provided to schools.
In the process of telling his dreary, plotless, and confusing shaggy dog story, Emmerich encourages some of the finest Shakespearean actors of our time to make utter fools of themselves. Not that some of them need all that much encouragement. The whole thing manages to be simultaneously totally insane, quasi-fascistic, and profoundly dull… which is quite a feat, in its way.
None of us were terribly impressed, it's fair to say. But, in between Jack galloping off on his hobby horse for uncomfortably long stretches of time, we also delve into some of the interesting history and politics concerning Shakespeare, Anti-Statfordianism, and conspiracy theories generally.
*
LINKS:
Jack has written a lot about Shakespeare in general here.
Here are some books which are either about, or touch on, this issue:
The Genius of Shakespeare by Jonathan Bate. Has an entire fascinating chapter on the 'Authorship Controversy'. The rest of the book is periodically excellent too.
Contested Will by James Shapiro. Brilliantly discusses the 'Authorship Question', not so much in terms of its actual claims (though Shapiro does address them) but rather as a phenomenon in itself, populated by fascinating people and deserving of study in its own right. Shapiro develops many insights about scholarship, history, literature, and politics.

Shakespeare, In Fact by Irvin Leigh Matus. A legendary work of factual analysis. Forensic, witty, and merciless.
Here's the Bill Bryson book James refers too. Boasts an amusingly irritated final chapter on the 'Authorship Question'.
Shakespeare Beyond Doubt, Eds. Stanley Wells and Paul Edmondson. A compendium of essays commissioned by the Shakespeare Birthplace Trust as part of their assertive response to Anonymous. Scholar after scholar examines every aspect of the issue. The definitive single-volume demolition.
The SBT also created this bite-size pamphlet – Shakespeare Bites Back: Not So Anymous – summarizing the main issues at stake. Free to download here.
Speaking of online resources, here's the Shakespeare Authorship Page. Lots of links to lots of articles and essays.
The lecture excerpted in the podcast is part of a series by eloquent Shakespeare scholar and former actor Peter Saccio. …