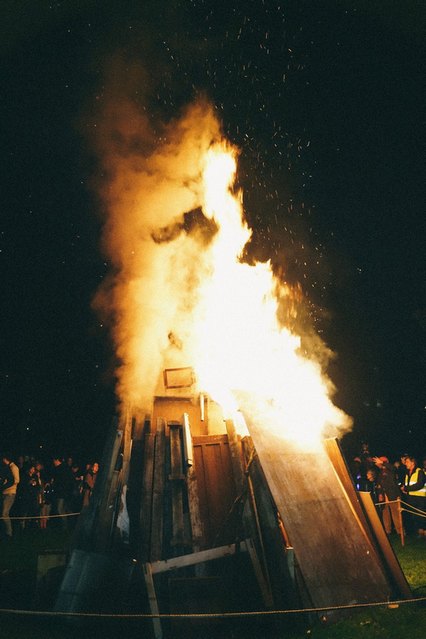 The only point having a character in a story make a prophecy is so that it can come true – unless the story is specifically about fake or failed prophecies.

We talked (a lot) last time about Queen Margaret in the First Tetralogy. Her main role in the last play of the cycle, Richard III, is to foretell the future. She predicts, more or less accurately, the fates of all her tormentors. When she tells Buckingham that he will one day rue his alliance with Richard, she tells him:
…remember this another day,

When he shall split thy very heart with sorrow,

And say poor Margaret was a prophetess!
…which is, of course, exactly what happens.

In a recursive moment – which anticipates the way the witches in Macbeth turn cause-and-effect into a moebius strip – Buckingham fulfills Margaret's prophecy by quoting it from his own memory, while waiting in one of Richard's cells to be executed. The comparison with Macbeth's witches or weird sisters is apt as, in her role as a prophet of doom, Margaret takes on the role of a witch. Richard calls her "foul wrinkled witch" in response to her accusations. This is ironic, given Margaret's own history of conspiring with her lover, Suffolk, to dispose of her enemy, Duke Humphrey's wife Eleanor, by enticing her to indulge in witchcraft and then expose her (see Henry VI, Part 2). Nor is this the only time that Richard – who has issues with the ladies, as we know – uses witchcraft as an accusation for his own political gains. Later in the play that bears his name he disposes of Hastings, an obstacle in his path to the throne, by accusing his (Hastings') mistress of being a witch and alleging that she and the queen have conspired to put a spell on him (Richard). This is at least partly owing to Richard's deeply ingrained misogyny as a character. But the discourse and ideology of witchcraft is to hand before he picks it up.

There are reasons why a patriarchal culture would develop and utilise the figure of an elderly woman as a vengeful seer. Amongst other things, and purely in terms of the genealogy of tropes, there is the figure of the tragic and lamenting female that traces a lineage back ancient tragedy. (Richard III is a play particularly influenced by the tragedies of Seneca, which made use of this trope.) That begs the question somewhat, but we'll leave it there. There are the usual ways in which elderly women are used as liminal figures within texts created within patriarchy. But there's more. We need to look at some of the political valences of prophecy in Early Modern England. In that time and place, prophecy was linked to both witchcraft and revolution.

It's widely known that Shakespeare wrote Macbeth partly to appeal to his new king and patron, James I of England and VI of Scotland. It's a play with Scottish themes, obviously, and James was a Scot.…