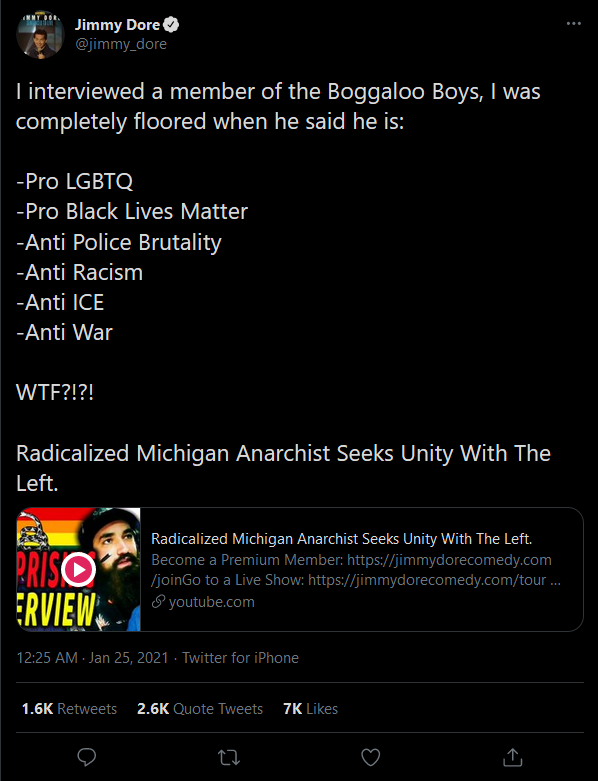 This week, it's another of our occasional News Roundup episodes. This time Jack takes the lead (and Daniel hits the whiskey) for a discussion about Jimmy Dore platforming a Boogaloo Boy. Plus a couple of other stories, the painful return of an old segment, and a very special but silent guest appearance.
Content Warnings.
Direct Download / Permalink / Soundcloud
*
Please consider donating to help us make the show and stay independent. From Jan 2021 onwards, patrons get exclusive access to one extra episode a week.
Daniel's Patreon: https://www.patreon.com/danielharper/posts
Jack's Patreon: https://www.patreon.com/user?u=4196618&fan_landing=true
IDSG Twitter: https://twitter.com/idsgpod
IDSG on Apple Podcasts: https://podcasts.apple.com/us/podcast/i-dont-speak-german/id1449848509?ls=1
*
Episode Links/Notes:
Jimmy Dore video 'Populist Right & Left Joining Forces Against Establishment': https://www.youtube.com/watch?v=-OP5OLBauCg
Jimmy Dore video 'Radicalised Michigan Anarchist Seeks Unity with the Left': https://www.youtube.com/watch?v=5ZMB9052rEs
Sam Seder response: https://www.youtube.com/watch?v=Ew3ZB7d19lw
Matt Binder response: https://www.youtube.com/watch?v=lb1eRi8B3dg
Emily Gorecenski's Ricky Vaughn tweets: https://twitter.com/EmilyGorcenski/status/1354479956961718276…