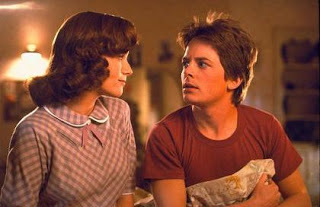 At long last, here is the first episode of a new strand of the 'Wrong With Authority' podcast supergroup, in which we (sadly we were Murphyless this time, but we expect to be fully Jamesed-up in future episodes) record commentaries on the movies that shaped and misshaped us, movies released between the first inaugurations of Ronald Reagan and George Bush the Elder.
This is 80s pop culture we're talking about pilgrim, so expect sickness.
This time, we mcfly backwards and forwards through time in a shitty car to discover that the deep psychological structure of America's understanding of its own history is best viewed through the prism of the oedipus complex.
Who'd have motherfucking thought it?