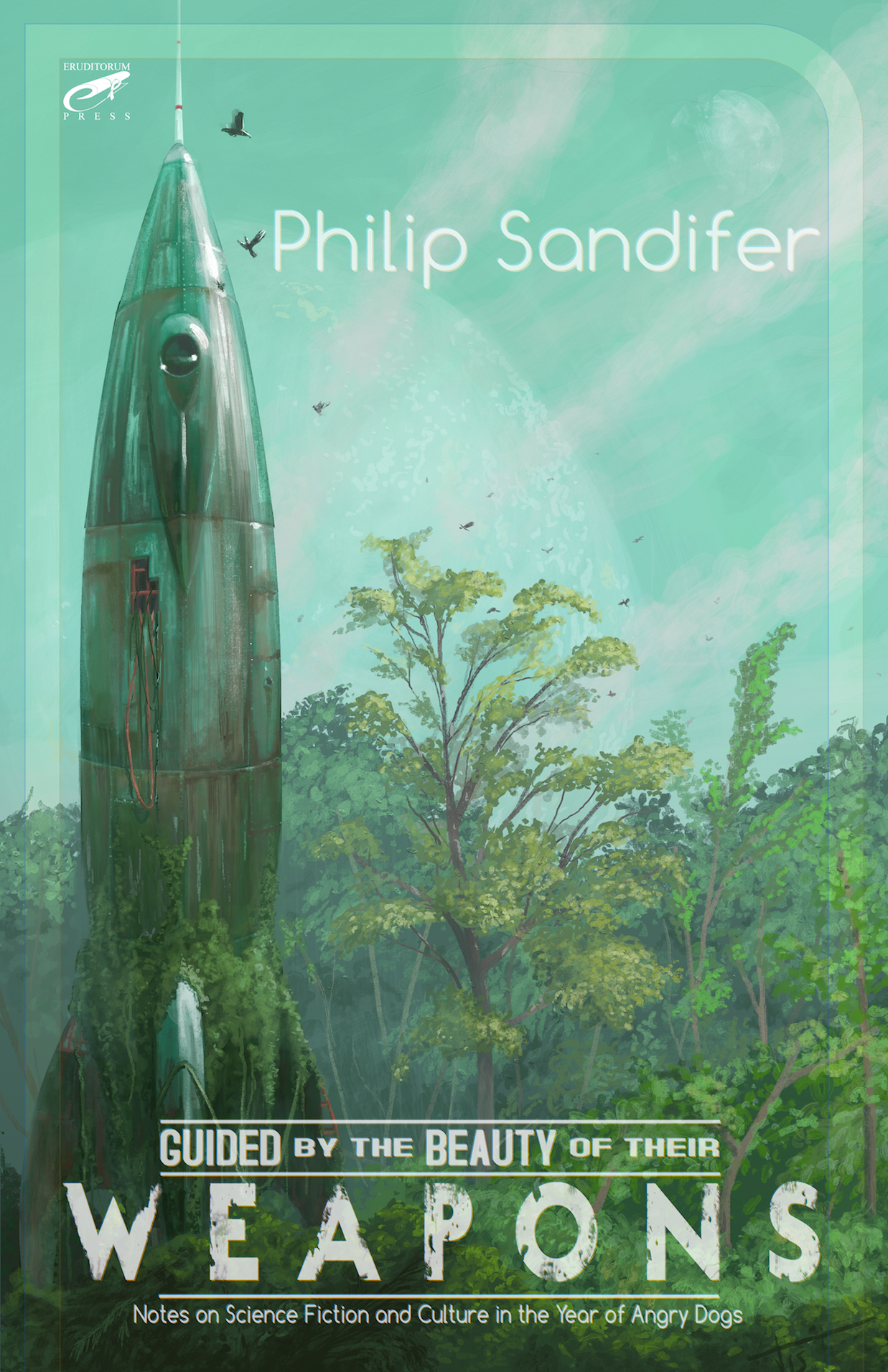 I just uploaded the final versions of the ebook files to Amazon and Smashwords, which means that I finally have the official cover to share instead of the low-res version I previously had. So here it is (and you can click on the image for the full 4 MB version of that if you want to). As ever, credit goes to James Taylor, at least for the front of the book. Pre-orders remain open – here it is on Amazon, and here on Smashwords (where it's available only in epub format because of some idiosyncratic rules on file size; the Amazon .mobi is DRM free, however). Print will be available to order sometime next week, with a slim chance of it being up in time for last minute Christmas orders.
And we've got an official book description too:
2015 was a messy and contentious year for science fiction, dominated by the Sad Puppies controversy, in which fascist entryists led by Vox Day, the pen name of Theodore Beale, exploited flaws in the Hugo Award nomination process to dictate the nominees, selecting works that favor his politics in an attempt to, in his view, save western civilization from people who poop wrong.

This anthology of essays written by acclaimed Marxist occultist critic Philip Sandifer during 2015 starts from the Puppies controversy, presenting an alternative vision of science fiction grounded in progressive politics and the ability of the genre to explore strange and unthinkable ideas – one that holds that its primary value is its ability to do new things, as opposed to being in permanent debt to antiquated ideas and styles.

The book includes:

Guided by the Beauty of Their Weapons, an epic takedown of Vox Day.
A transcript of a debate between Sandifer and Day about the relative merits of Iain Banks's classic novel The Wasp Factory and Puppy nominee One Bright Star to Guide Them.
Essays on Orphan Black, Hannibal, True Detective, Janelle Monáe, Ex Machina, Mr. Robot, and more.
A lengthy essay on V for Vendetta excerpted from the forthcoming first volume of The Last War in Albion.
Recursive Occlusion, a non-fiction novella about Doctor Who and occultism.
An exclusive interview with superstar Doctor Who writer Peter Harness.
Many other weird things.
I'll post again on the 26th when it officially launches with a more substantial musing on the book, but I think it's pretty much the best one I've written.