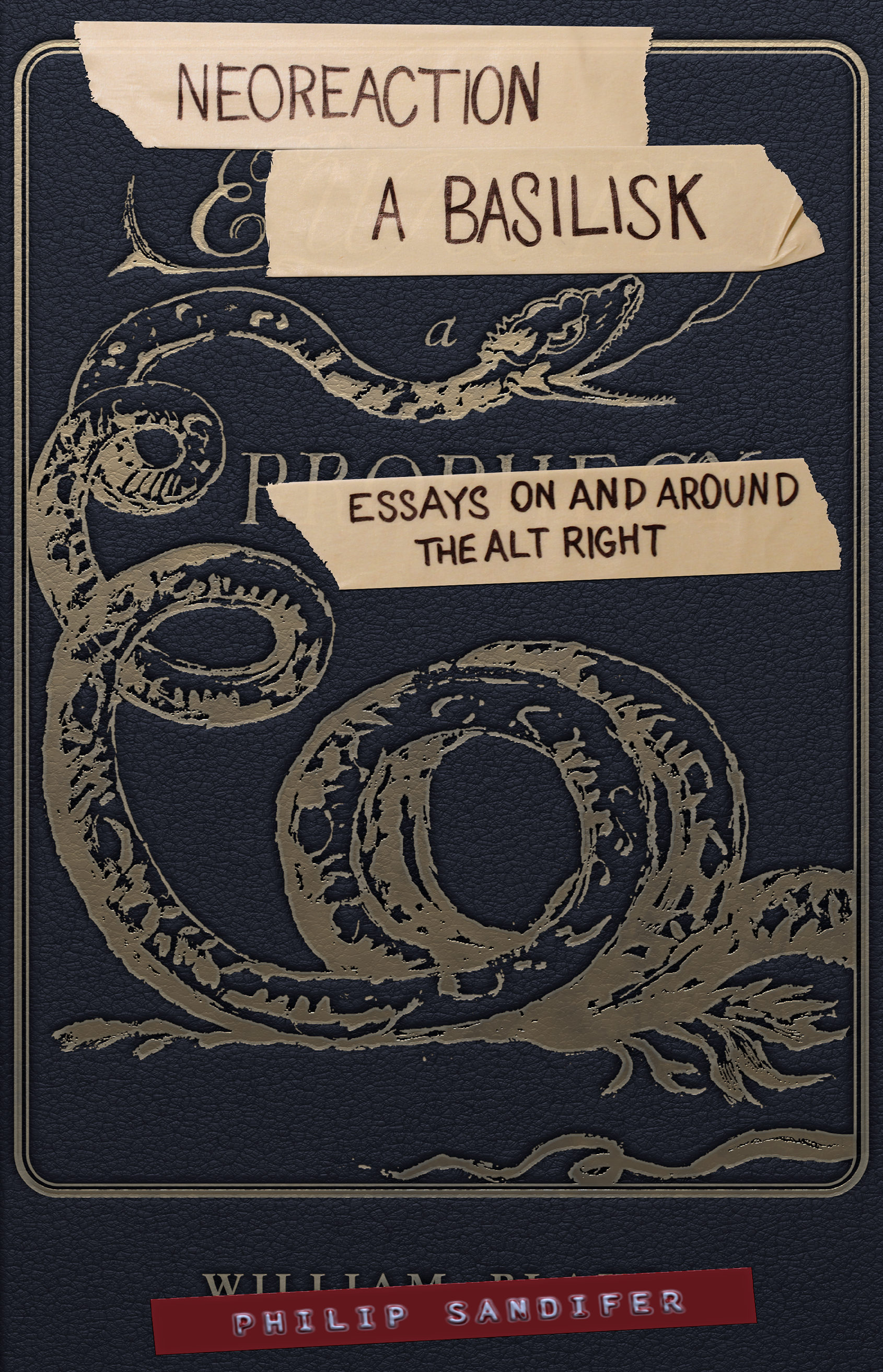 Proverbs of Hell will return next week.
Eruditorum Press is pleased to announce the publication of Neoreaction a Basilisk, my new collection of seven essays about the alt-right and the end of the world. A book of insane philosophy for our insane world, Neoreaction a Basilisk asks what the left can and should do in the face of literally apocalyptic defeats. Equal parts menacing horror philosophy and snarky humor, Neoreaction a Basilisk is less a roller coaster ride than a runaway train plummeting straight off a cliff and into a strange and tenebrous abyss beyond human comprehension. While making fun of right-wing assholes. And Eliezer Yudkowsky. In other words, exactly the book you need to make sense of 2017.
It's currently available in a variety of formats. All with a typically brilliant cover by James Taylor, who took the DIY cover of the Kickstarter editions and classed it up a bit while retaining the basic aesthetic. Anyway, you can get it at these links:
EPUB: Smashwords.
It's also available in a variety of other national iterations of Amazon, and I trust you to find it there.
If I may brag (and what else is a book launch for), this is the best book I've ever written. Honestly, it could be the best book I ever write. It feels like the sort of thing one never outright tops. And I'm OK with that. But if you like my work, I cannot recommend this one highly enough. If you know people who you think might like weird and funny books about politics, I cannot recommend buying them this book enough.
And either way, *please, please, please* spread the word about it. Word of mouth marketing is what I have. Your tweets about the book matter. Your Facebook posts about the book matter. Your wandering naked down the middle of the street late at night screaming "buy Neoreaction a Basilisk" at passing cars matters and I hope that you get the psychological help you obviously need (but feel free to cover another block or two first). And if you've got a site where you'd run a review of it, please let me know and I'll get you sorted with a review copy. If you'd like me to appear on your podcast or do an interview, please let me know and I'd be happy to. I want to get this book out to as many people as I can, and I am tremendously grateful for any help you can offer.
I'll save a detailed writers notes for the $5+ Patrons, but I'll give a quick overview of the seven essays.
Neoreaction a Basilisk: The title essay, previously published in a variety of Kickstarter-exclusive editions. This is the famous book I accidentally wrote – an exploration of Eliezer Yudkowsky, Mencius Moldbug, and Nick Land that starts from the premise "let us assume that we are fucked" and proceeds to careen through as mad a collection of topics as I possibly could. Now with footnotes, most of which are citations, but some of which are considerably more outlandish.
The Blind All-Seeing Eye of Gamergate: Previously published on this site, my deep dive into the swirling madness that is ethics in video games journalism. A bleak and savage howl of frustration and anger at how anything so full of complete bullshit and petty sadism could even happen. Has a Time Monster joke in it,
Theses on a President: Also previously posted on this site, but removed in a fit of horrified misery after the election. Now revised to grapple with the awful realities of his victory, which didn't require as much of a change as you might think. This is my psychogeographic analysis of the President, which concludes midway through that Trump Tower was an occult ritual in which he sacrificed his name for power. Also has a Time Monster joke in it.
No Laws for the Lion and Many Laws for the Oxen is Liberty: A Subjective Calculation of the Value of the Austrian School: You know those bits about the Austrian School that Jack has been posting since his return? They're the off-cuts of this essay, which is Jack's finest work. (And no, I'm not saying that because I have a co-authorship credit on it. I'm saying that because Jack did absolutely brilliant work, which I was honored to provide some initial direction and final polish on.) In which Jack and I search for the gothic horror at the heart of libertarian economics and find exactly what you'd expect Jack and I to find. No Time Monster jokes, but I did work in a Kieron Gillen reference.
Lizard People, Dear Reader: A bemused look at David Icke and his conspiracy theory that lizard people secretly run the world. This essay is where I unpack my longstanding interest in cranks and nutjobs, and argue for the value of looking at completely insane and self-evidently wrong ideas. Crock-full of stuff you'd expect me to write about, including a Terror of the Zygons reference and a bit about Glycon.
My Vagina is Haunted: Notes on TERFs: My essay on Trans-exclusive radical feminsits and why they're awful. Possibly the most optimistic essay in the book, and the one that most directly looks at the question of what the left can and should do in the future. As devoid of self-indulgence as an essay with epigraphs from Jim Balent and Seeming can possibly be.
Zero to Zero: A Final Spin Around the Shuddering Abyss at the Heart of All Things: Returning to the concerns of "Neoreaction a Basilisk," this is my look at Peter Thiel, his politics, and his vision for the world. What does the rich supervillain puppetmaster pulling the strings of the alt-right want? What is his nefarious scheme? And just what's up with that whole "drinking the blood of teenagers to stay young" thing? Find out here.
And that's the book. Thanks for your support – I hope you enjoy it, and please do spread the word.