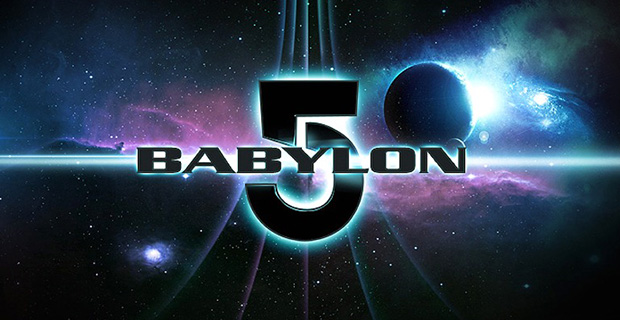 This is the fandom war I remember The first in the world.
OK, I'm not going there. Not tonight. Babylon 5 doesn't deserve that. Not least of which because this is a show that when I look at it I don't so much see something actively offensive as much as I do a case of heroic ambition tragically misplaced and misguided. Let's not beat around the bush and deal with the obvious straight upfront, shall we? Babylon 5 isn't very good. Phil has actually already articulated the reasons why very well in a piece for TARDIS Eruditorum some years ago, so I'm not going to make much of an effort to restate the arguments. Just go read that essay instead. There's way more interesting stuff to talk about in regards to Babylon 5 from a Star Trek: The Next Generation/Star Trek: Deep Space Nine context than tritely comparing their respective quality.
During the mid-90s, you couldn't go anywhere in sci-fi circles without publicly stating your position on the biggest, most controversial sore point since they announced a new Star Trek with a balding English thespian instead of Captain Kirk: Which was better, Star Trek: Deep Space Nine (and Star Trek more generally), or Babylon 5? Forget the Star Wars vs. Star Trek divide-Although I had my annoyances with the franchise, they were mostly personal. This was the real schism that caused people to grab for the torches and pitchforks back in the day. Although the fandoms didn't really get along, I was not trained to hate Star Wars the way Star Trek loyalists resented Babylon 5 opening up the genre TV market, or the way Babylon 5 fans seemingly resented everybody. It was a civil war the likes of which were unprecedented in the world. After all, it's not like anything else important was going on in 1994: Not like there was an international espionage scandal or an AIDS pandemic or genocide in Rwanda or anything like that.
I mean, apparently. So I was told. Set firmly outside fandom circles as I was, I could only observe the proceedings from a distance. And anyway, I was preoccupied with other things in 1994 entertainment-wise: I was hurriedly trying to catch up with Star Trek: Deep Space Nine reruns (really, Starlog episode synopses), trying to figure out what the hell Stargate was supposed to be about, really digging Batman the Animated Series and that Spider-Man show on FOX, mourning the end of Garfield and Friends, Disney's Marsupilami and The Little Mermaid (and yeah, Star Trek: The Next Generation too) and getting really intrigued by this mysterious thing called Project A-ko I kept seeing ads for in my Malibu DS9 comics. I was starting to finally get deeper into video games too: I rode the crest of the last real Sonic the Hedgehog wave as me and my cousin lived out the remaining days of the SEGA Genesis just as Donkey Kong Country mania swept the nation.
But did I watch Bablyon 5? Well, yes I did. And would you believe, at the time, I even liked it? And why wouldn't I? It was a new show about starships and space stations, and I was kinda into starships and space stations in 1994. Just as I willfully refused to pick a side in the contemporaneous Super Nintendo vs. SEGA Genesis war by playing on a Genesis but respecting and appreciating the libraries of both consoles, so too was I profoundly disinterested in being made to choose between Star Trek: Deep Space Nine and Babylon 5. My first and greatest love was Deep Space Nine of course because it was a relatively new and current obsession for me and retained a sentimental link to my favourite TV show, but I had nothing against Babylon 5 and enjoyed it perfectly well for what it was. I saw no reason why I wasn't allowed to like it just because I also liked Star Trek. I even considered myself something of a fan in later years, checking out the tie-in comic from Dark Horse (a sure sign of my commitment to a franchise if ever there was one) and every so often trying to hunt down the action figures from Premier Toys (but only a couple-I was not enough of a fan to give it the Playmates treatment) and the model kit from Revell. I never did find any of them, and I eventually just lost interest in the series.
The first time I heard of Babylon 5 was as part of a feature in Starlog Magazine from very early on in the first season interviewing some of the cast and outlining the basic premise and themes of the show. In hindsight, I probably should have expected trouble was looming on the horizon because, as I now think about it, half that article was dedicated to explicitly pointing out how Babylon 5 was going to differentiate itself from Star Trek and the rest of that issue was full of thinkpieces about whether or not Star Trek: Deep Space Nine was capable of filling Star Trek: The Next Generation's shoes. The entirety of the 90s genre fiction downward spiral was present and anticipated during the light months of 1994. Of course it would be terribly unfair to Babylon 5, or any other space-based science fiction show for that matter, to constantly compare it to Star Trek, as if Star Trek has a monopoly on stories about starships and life in futuristic space settings. But it does serve to emphasize the gravity and omnipresence with which Star Trek: The Next Generation loomed in pop culture during the late-80s and early 90s: Go back just a half-decade and the idea that Star Trek was the only sci-fi game in town would have been laughable. Just a few years later though, and now it seems like an obvious truism. One can perhaps understand the B5 fans' resentment.
(I'm trying now to remember where I would have watched Babylon 5 in 1994. It was bound to the WB network, which, because I didn't have satellite TV until 1995, I wouldn't have been able to see. It may very well have been one of the things I knew primarily through Starlog in its early years and I may have only actually picked up bits of the show itself in later seasons when I got more channels. And certainly I knew it through the comics: In Valen's Name is a miniseries I remember particularly well.)
It is, however, a deceptive one. Because, and this is the real reason the Babylon 5 vs. Star Trek: Deep Space Nine war was so embarrassingly silly, in practice the two shows have *absolutely nothing in common with each other*. The typical argument from the B5 camp was that DS9 somehow "copied" and "plagiarized" J. Micheal Stracynzki's show concept, and did a worse job of executing it to boot. Well first of all, no matter how you feel about Star Trek's strict episodic structure (and in spite of all of its pretenses Star Trek really is fundamentally episodic), it's tough to make a case for Stracynzki's "novel for television" approach when the first act of his mangum opus properly belongs to a novel that never got written because half the cast of characters quit, the fourth and fifth acts got condensed into one because the book decided it wanted to end itself sooner than the author did and the epilogue and sequel hook got artificially lengthened to pad out the rest of the page count when it changed its mind at the last second. In other words, novels for television simply do not work due to the production realities of making network television. Similarly, it's equally troublesome to argue Star Trek: Deep Space Nine ripped this structure off when it was never even intended to be serialized in the first place.
(What really gets me here is the argument that the two franchises sufficiently diverged once Star Trek's Dominion War arc started, because in my mind the Dominion War arc was way, way more egregiously similar to what Babylon 5 was doing than anything OG DS9 had done. And you can't even really make the case there, because the Dominion War was a direct response to Star Trek Voyager and, possibly and incredulously, Babylon 5 itself! And while it is also true that both shows do deal with religion and/or spirituality to some degree, one is thunderously Pop Abrahamic, almost technocratic, while the other…isn't.)
There is, of course, the historical fact that J. Michael Stracynzki did indeed pitch Bablyon 5 to Paramount as a companion show to Star Trek: The Next Generation in 1989, a full two years before even the most preliminary of pre-production work began on Star Trek: Deep Space Nine, and had his proposal rejected. But there is absolutely no evidence apart from conspiracy theories invented by very bitter and very sad fans that either Brandon Tartikoff, Rick Berman or Michael Piller had any idea Stracynzki or Bablyon 5 even existed when they were drawing up plans for a new Star Trek series set on a space station in 1991. Imagining some kind of vast corporate conspiracy to personally fuck over this one random jobbing TV genre scriptwriter in particular on the part of Paramount seems at the very least questionably egotistical.
Because as I said above, Babylon 5 and Star Trek: Deep Space Nine (and The Next Generation) truthfully couldn't be more different, and to argue otherwise to me demonstrates a worrying lack of critical reading and media literacy skills, namely that similar fantasy settings can be used as metaphors for and to symbolize very different things depending on the context. Both shows are set on a space station. So…? A space station is a common science fiction setting. Both stations are near a FTL jump point of sorts. Well, that seems like a logical thing you'd want to put near your space station so that you can make it easy for different characters to come to it. That kind of just sounds like basic dramatic sense to me. Saying that one copied the other on those merits is a bit like saying CSI: Crime Scene Investigation and The Mary Tyler Moore Show are the same because both are set in major metropolitan areas serviced by commuter freeway systems.
The key here is in parsing out what each of the respective space stations are meant to be code for. Deep Space 9 is a city, namely a port city: It's Casablanca or Shanghai or Singapore or Miami, just in outer space in the future. It's meant to be a place where different people from all walks of life who might not otherwise run into each other gather and mingle. It's a place everyone passes through on their way to and from the Gamma Quadrant and where very few people actually live permanently, and I think it's significant that the exterior of Ops is designed after an airport terminal and air traffic control tower. The whole space station bit is just a convenient metaphor. Babylon 5, by contrast, is a far more traditional depiction of an artificial megastructure of the sort you'd find in old fashioned Golden Age Hard SF novels, being very much a "space habitat". It's also a centre for immense and extreme privilege. There's a reason why everyone here is an Ambassador of something or other.
This is *markedly* different then the sociopolitical climate on DS9. For reasons I already laid out back when I criticized the depiction of the junior officers in "Lower Decks" I don't want to use words like "underprivelleged" or "working class" to describe the characters who frequent Deep Space 9, but even in its post-scarcity economic utopianism Star Trek does depict a certain feeling of class and ethnic diversity Babylon 5 lacks. Babylon 5 is a show about realpolitiking in the halls of power, and its idea of diversity is having a spectrum of Ambassadors from various "member countries" represented in the council within said halls of power. Now we're getting at the real germ of what separates these two shows and their central concepts, because, far from being Shanghai or Singapore, the titular Babylon 5 is instead the United Nations building, the great dream of liberalism projected into the future of all humanity. In fact, the station itself is *literally* described in pretty much those exact words diegetically in one of the show's many profoundly unsubtle bits of symbolism.
The reason why is actually pretty easy to explain, and it's all down to the two contrasting intellectual traditions Babylon 5 and Star Trek: Deep Space Nine came from. Babylon 5 is explicitly a throwback to 1940s and 1950s style Hard SF and, just like Foundation and its ilk, is all about Great Men (and women) of Power doing Great Things with meticulously researched speculative future technology (hell, Foundation even has a literal Church of Science, which Valen's stable time loop-based self fulfilling prophecy puts one in a bit of a mind of). And it's all set against the backdrop of a sprawling military war epic, because that's the kind of story writers who wrote in that tradition would default onto, partially because they were just coming off of World War II and that's all anyone in that social class was thinking about at the time, but also because it's an easy, pre-made narrative structure you can use as a crutch when your real interest is futurism. Star Trek meanwhile, in spite of what its fans would oftentimes have you believe, is manifestly *not* Hard SF. In fact, it's questionable you could even describe it as science fiction going by the original definition (though it is by mine), because all the technobabble is explicitly and constantly flagged as wallpaper and window dressing. Star Trek is fundamentally interested in something more ephemeral, esoteric and universal than that, or at least it wants to be.
So ultimately, there's no way Star Trek: Deep Space Nine could have plagiarized Babylon 5. Not only are the shows fundamentally not interested in exploring the same ideas, they're not even in the same *genre*.
And the sad irony is that in doing this the Babylon 5 fans created a self-fulfilling prophecy of their own. By making the ridiculous claim that Star Trek: Deep Space Nine ripped off Babylon 5, the corollary of which is that Star Trek: Deep Space Nine is functionally indistinguishable from Babylon 5, they reinforced the perception in 1994 that Star Trek: The Next Generation was the only way to do science fiction (at least space-based science fiction) anymore. By incessantly bringing up Star Trek and comparing it to Babylon 5, the Babylon 5 fans ended up sabotaging *their own* show and its reputation, because in that forced reductive comparison Babylon 5 is *always* going to (ironically enough) come across as the inferior me-too knockoff. And that's simply not fair to anyone involved: It erases the actual history of how these shows went from pitch to screen, misreads them both and forces a conflict where conflict doesn't need to be.
Frankly, both Star Trek and Babylon 5 have made enough of their *own* mistakes to warrant damnation. We don't need to invent new ones for them.