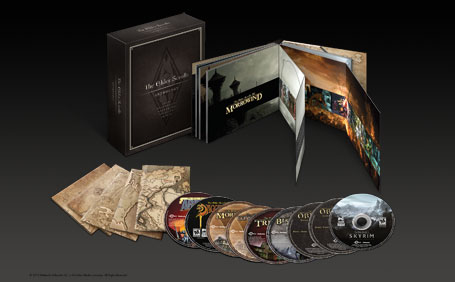 Just in time to see out the year, it's the debut of Yet Another Eruditorum Press Podcast! A show I have tentatively decided to entitle Spirit Tracks, because reasons. I'm really excited to be able to share this new series with all of you: It's a project I've been working on for a great deal of time and it's gone through a number of different conceptual phases and incarnations. In its current form, I expect to be mainly doing commentary tracks on assorted bits of visual media, but I also hope to build a stable of regular guests and topics as the show evolves. I've already got a great series of co-hosts lined up for the first block of episodes, and I can't wait to introduce you to each of them.
Tonight, for our first regular broadcast, I'm joined by friend of the blog, and my own personal friend, Ben Knaak, to talk about something that has been almost indescribably important and formative to both of our lives: The Elder Scrolls series. Because this is such a broad (and rather inaccessible) topic and Ben and I can (and have, as you are welcome to see) talk about it for hours on end, this particular episode is going to be Part 1 of at least two shows, looking at The Elder Scrolls from two different angles. In this part we take a more straightforward games journalism/video game historian approach to the series: We examine each major series entry to date in chronological order, talking about what made them historically important, what these games meant for us personally and what they contributed to the unfolding lore that makes The Elder Scrolls so utterly unique among large-scale video game franchises. Next time, we'll go into more detail about precisely what that lore is, what ramifications it has for the act of reading narrative fiction and perhaps, expose a little of the lineage-magicka that is The Elder Scrolls' biggest open secret.
Check out the episode here, over at the Pex Lives Libsyn site. The show clocks in at just over three and a half hours, average length for a standard radio talk show, but there are plenty of places to pause, take a break and come back to should you feel the need to do so. Also, do please note we had some issues first recording and then editing the myriad of audio files we generated: In particular, I ran into a series of rather gnarly audio sync problems. I did my best to get everything flowing together properly and, while it's not perfect, I remain quite proud of my first official podcast editing job. Thanks in advance for listening, and hope you enjoy!
A few liner notes to keep in mind as you go through the show-Just some things I neglected to mention during the recording, or slightly misquoted to the point it made me feel like a bit of an idiot when I went back and edited it…
It was Ken Rolston, lead designer on The Elder Scrolls III: Morrowind, who stated that he started The Elder Scrolls I: Arena "at least 20 times", and only managed to get out of the first dungeon *once*.
The full quote for what Michael Kirkbride had to say about Tamriel's Redguard people, and his experience writing and casting directing for The Elder Scrolls Adventures: Redguard, from an old forum post:


"No, I was actually referring to The Black Panthers and their radicalism.

As some people know I'm not really a fan of the United Colors of Beneton approach to Tamrielicreation, which smacks of white guilt and offensery rather than some holistic form of beautiful inclusion. Thus, it's my fault that the Asian analogues got eaten. Oops. Looks like others are bringing 'em back, though. But I promise my choice had nothing to do with Yellow Peril, it had to do with co-opting 'coolness of color' without thinking about it intelligently and compassionately.

(Hunkers down for the flame.)

That said, when I started writing Redguard I really thought about how unique the black people of Tamriel were: they came in and kicked ass and slaughtered the indigenes while doing so. They invaded. It was the first time I had encountered the idea of 'black imperialism'…and it struck me big time, as something 1) new, 2) potentially dangerous if taken as commentary, and 3) potentially rad if taken as commentary.

Who knows. AVault did say it had a story worthy of being on stage, and Michael Mack (Cyrus) once thanked me for giving him words that 'Black folks don't get to say' (referring to Cyrus' speech and the reversal of Son to the Father)… which broke my heart and made me puff my chest all at the same time.

Which is a long way of saying: panther-love."

According to prominent community member Lady Nerevar, Michael Kirkbride, Kurt Kuhlman and Todd Howard all cite Redguard as their favourite Elder Scrolls game.
Bethesda forum user Brash once stated that "It is impossible to cheat in a single-player game", in the context of the command line console present in TES games since Morrowind.
And finally, here's a whole bunch of external links you may find of interest if for some bizarre reason you managed to sit through all four hours of this and still managed to remain interested in the series: