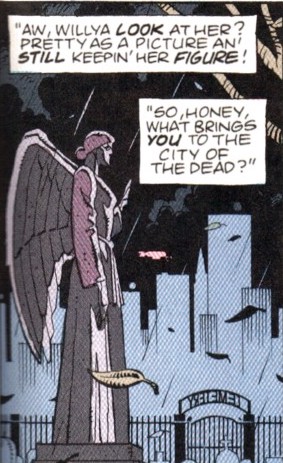 This is, perhaps, why so much ink has been spilled within the War on attempts to argue that this gap, in effect, does not exist – that
Watchmen
can be understood purely, or at least primarily, in terms of its influences, thus allowing those living in its wake to exist as though they are free from its vast and monolithic splendor. It is, after all, the easier option; it does not require staring too long at the cavernous depths within. It gives the comforting illusion that
Watchmen
is, at its heart, an easily solved mystery – a question with a definite answer. Nothing could be further from the truth, but for those who would otherwise find themselves caught in its blast, reduced to mere shadows cast by its incinerating radiance the idea that the book is simply some inevitable consequence of what came before is a useful delusion.
There are, of course, other factors involved in the particular obsession with Watchmen's influences, most notably the fact that Moore and Gibbons have both asserted consistently that Watchmen was envisioned as a creator-owned book, a claim that makes the degree to which its ideas originated with Moore and Gibbons relevant. More broadly, the fact that Moore has made a number of provocative statements about the ways in which DC Comics and, more specifically, Grant Morrison have profited off of the recycling of his ideas has led to a small cottage industry in attempting to demonstrate Moore's hypocrisy. And since Watchmen is both Moore's most prestigious work and one with several well-documented influences, it has long been Exhibit A for these attempts.
Most attempts to argue that Watchmen can be explained primarily in terms of its influences have focused on its relationship with characters DC acquired from the failing Charlton Comics. As a company, Charlton was formed in 1944, and published comics in a number of genres. But for the purposes of Watchmen, only six of Charlton's characters are actually relevant: Captain Atom, Thunderbolt, the Blue Beetle, the Question, the Peacemaker, and Nightshade. These characters come from a fairly narrow set of sources. Three of them – the Peacemaker, Nightshade, and Captain Atom were created by the astonishingly prolific Joe Gill, the latter two alongside Spider-Man co-creator Steve Ditko, who also created the Question. They also generally originated in a fairly narrow band of time – Thunderbolt, Nightshade, and the Peacemaker all debuted in 1966, while the Question debuted in 1967 and Captain Atom in 1960. Only the Blue Beetle forms something of an exception, having existed in two forms – a Golden Age version that predated Charlton, created by Charles Nicholas Wojtkoski in 1939 for Fox Comics, and the Silver Age version created for Charlton in 1966 by Steve Ditko.
The relationship between Watchmen and these six characters is both well-documented and oft-misrepresented. In the eyes of his detractors, Moore's contribution to Watchmen amounted to little more than changing the names of some obscure 60s superheroes, as in Dan Slott's suggestion that "the real Before Watchmen comic would show Alan Moore reading stacks of Charlton comics."
…