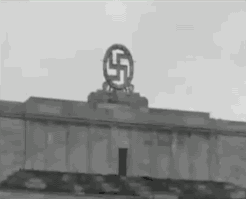 Or 'Faeces on Trump 2½'
Or 'Fasces on Trump'
So, a lot of people seem to be talking about fascism these days. It's the 'next big thing' stateside, they say. There are even some people who say it could catch on here in the UK. So I thought I'd take a moment to have a look at it and tell you what I think. So here goes.

First, a disclaimer: There are many perspectives on fascism. I've just written down mine. I have not gone into others here which I don't agree with. Because they're wrong, and the people who hold them WILL be punished.

Oh, and another disclaimer: Fascism shouldn't be reified into a 'thing' that can be easily and neatly classified. Fascism is a spectrum, not a discrete alien phenomenon. Fascism has contained many variations which have almost as many differences from each other as they do similarities: Italian Fascism, German Nazism, Spanish Falangism, possibly even Japanese militarism (this is hotly debated and I know comparatively little about it… which is my eurocentricity showing). Even so, certain essential common features can be delineated.

*
Fascism is distinctively a mass movement. It is not just normal reactionary politics in that it carries an active, energetic, and usually violent grassroots movement behind it. It doesn't necessarily represent the will of the majority, but of a sizeable and active chunk of the population.

Fascism tends to opportunistically use electoral politics, but the big fascist takeovers are not generally the result of winning elections outright. Mussolini had been elected as a member to the Chamber of Deputies, and his fascists were part of a coalition government along with various other groups including liberals, but he was appointed head of the government by the king. Hitler's Nazis never won a democratic election. They were, at one point, the largest party in the Reichstag, but failed to achieve the majority necessary to form a government under the proportional representation system. At the peak of their electoral success, the Nazis were vehemently opposed by a third of the electorate who voted for left-wing parties. The Nazis' vote was on the decline from its peak when Hitler was helped into power by bourgeois and reactionary politicians who hoped to use him and his movement as a bulwark against the left. Franco came to power as the head of a military coup and counter-revolution against the revolutionary Spanish republic.
Like Franco, Hitler and Mussolini both rode a wave of counter-revolution and reaction in response to revolutions in their respective countries. Fascism is, at base, a counter-revolutionary movement.
Fascism is a coalition, at times when a capitalist nation is in economic and political crisis, between the domestic petty bourgeoisie, the middle classes, small businesspeople, officials, elements of the police, etc, and domestic big capital. In Germany, Italy and Spain, the middle classes which provided the fascist the base were caught between two powerful groups: big capital above and a powerful workers movement below. One of the quintessential traits of those groups attracted to fascism – including the relatively narrow layer of workers and unemployed who went for it – was their lack of a unified and distinct class consciousness. …