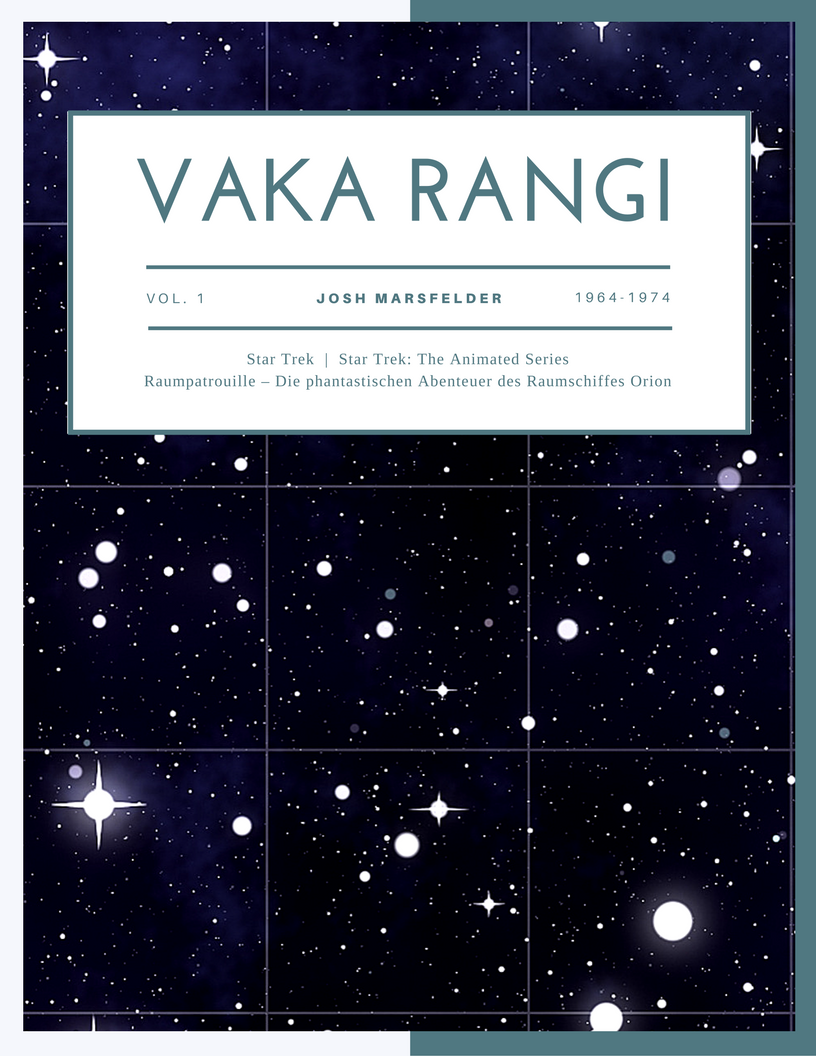 After a maddening series of missed deadlines and technical setbacks, I am very pleased (and somewhat relieved) to announce that Vaka Rangi Volume 1 is finally available as a physical book you can actually purchase and own: My acknowledgment of Star Trek's 50th Anniversary this month.
This volume collects the Vaka Rangi essays from 2013, which covered the first decade of Star Trek's history from just before "The Cage" in 1964 to the end of Star Trek: The Animated Series in 1974. So inside you'll find critical essays on every episode of both of those shows and a re-evaluation of Star Trek's emergent fandom in the 1960s and 1970s alongside "Sensor Scans" on pop culture artefacts of the time apart from Star Trek. Speaking of, one of those Sensor Scans back in the day was of the German cult classic TV series Raumpatrouille Orion that debuted at the same time as Star Trek and had a very similar premise, but was nowhere near as well-remembered. The book version of Vaka Rangi Volume 1 includes a brand-new section on Raumpatrouille Orion, with new essays for each of that series' episodes as well.
Apart from the new Raumpatrouille chapters, every other essay in the book has been completely revised and edited, and, in some cases, wholly rewritten from the ground up to accomodate new information I've gotten or my own changing perspectives. In fact, I've changed my tune entirely on some episodes, and cast aside some of my earlier theses and arguments. That tends to happen with three years of hindsight. With that in mind, here's some of what you can look forward to in this volume:
See how Star Trek began as a pop culture phenomenon for teenage girls of the 1960s counterculture. More often than not, sadly, in spite of itself, not because of it.
See how William Shatner's approach to acting and conception of performance art actively contributed to Star Trek's early success.
Ask the question: Is "Space Seed" the worst fucking thing in existence? Or are "Who Mourns for Adonais?" and "The Apple" actually worse?
Marvel at the spectacle of one of the worst writers known to mankind.
Learn how Raumpatrouille Orion became a better Star Trek than Star Trek, but still couldn't manage to escape the shackles of its heritage.
Discover the arcane and occult secrets of Star Trek's oft-overlooked, though obviously present (and almost certainly unintended) mysticism.
Tribbles.
See how Gene Roddenberry accidentally wrote a sympathetic portrayal of gender fluidity in contrast with internalized misogyny in Star Trek's series finale.
Wonder what Alice has to do with a critical history of Star Trek and voyaging starships in fiction.
Learn how D.C. Fontana and Gene Coon, took a ropy, unsustainable, self-contradictory oxymoron of a TV show and who, alongside their fans, helped transform it into something that has lasted the ages.
Discover the real story behind the Mary Sue, and learn the origins of slash fiction.
Flying Space Abraham Lincoln.
Uncover a secret war that has raged since the beginning of the universe fought on a battlefield that is the entire span of history and whose combatants seek to control the flow of time itself.
…