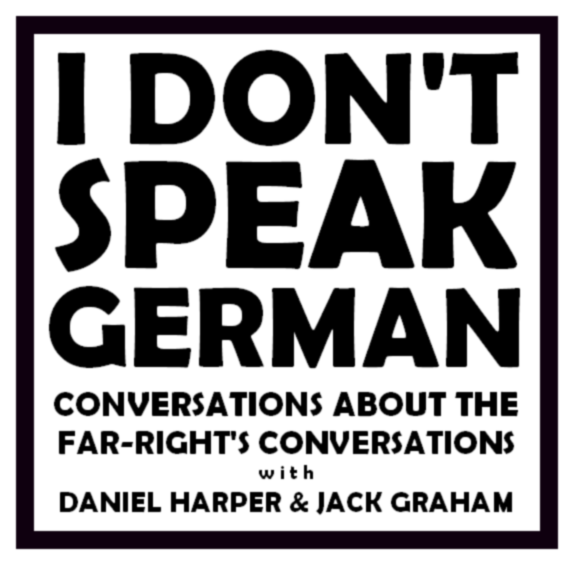 As many of you will know, our very own Daniel Harper has been researching the so-called 'alt-right' (really the far-right) for more tha two years now, listening to their podcasts and YouTube shows, documenting what they say to each other in their own spaces.
This new podcast series – entitled (very cleverly, I think) I Don't Speak German – will be me in conversation with Daniel, giving him an opportunity to tell us what he heard.
We're discussing fascism and racism, so this podcast comes with big warnings.
Here's the first episode, on perhaps the best-known representative of the 'alt-right', Richard Spencer, his career, style, and ideology. The episode also touches on the origins of the term 'alt-right', the infamous 'heilgate' occurance after Trump's election, etc.
Our episodes will cover one 'topic' per show. We plan to keep the episodes as short as possible, and crank them out regularly (in direct defiance of our usual operating methods).
The next episode will be on a more old-school fascist, David Duke, former Klan 'Grand Wizard' who spoke at Charlottesville.
Please consider spreading the news about this new show.
*
In other news, I'm going to be taking a bit of a sabbatical from posting so I can work on the Shabgraff book I promised Elizabeth about 100 years ago. It's planned to be a compilation of the best of the blog, but expanded and rewritten, and with new material. So I'll be absent from Fridays for the forseeable future, though I'll still be able to post podcast updates – and the occasional piece of writing, I hope – on Wednesdays. (I'm still planning to do the Dracula movie series.)
*
If you feel like helping me with these projects, here's my Patreon. And here's Daniel's, if you feel like you want to help him with his important project.…