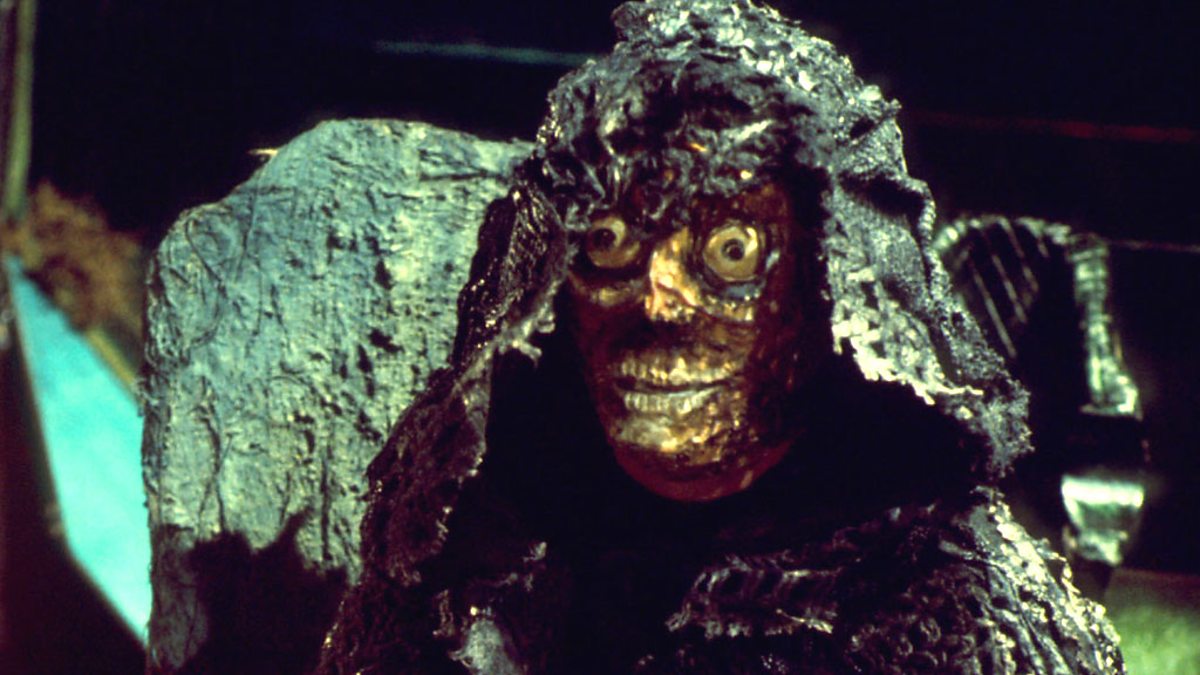 It is impossible to talk about The Deadly Assassin without getting into the weeds of Doctor Who continuity, a sentence that is arguably the most depressing thing yet written in this project. Phil Sandifer manages to belch forth nearly 13,000 words of typically fanciful speculation (although at least this time he manages to avoid anything quite so masturbatorily pat as "the Doctor is from the Land of Fiction," a critical conclusion so sickeningly self-congratulatory that it's no wonder its author has disappeared off the face of the Internet and indeed the planet), but he's hardly alone. Vast swaths of what Doctor Who gets up to when its worst instincts are indulged—waffle about the Eye of Harmony, Rassilon, Shabogans, and indeed Gallifreyan lore in general—all find their origin point here.
The degree to which this is a flimsy reed upon which to build a mythology is more than faintly staggering. It is not that, as (probably) Tat Wood suggests, this is a badly written mess. It's just that what it actually is isn't a self-conscious major epic that's trying to set a huge swath of lore down but a daft bit of satire of British politics and the Kennedy assassination. It's the sort of episode where Roger Murray-Leach designs some genuinely fantastic collars for the Time Lords that then get used for a ridiculous sight gag of a chalk outline of the President's body, collar and all. Structurally, this is bizarre and focused largely on serialization—the first two episodes are fairly coherent build, the third is an ostentatious and not entirely well thought out dream sequence, and the fourth is a slightly rushed conclusion. It is, all in all, a bizarre thing to hang a mythology on.
And yet there is a strange honesty to it. A consistent theme of these essays has been the reality that Doctor Who is about nothing save for the world in which it is made. Here Robert Holmes literalizes this by going to the heart of the show's mythology and then designing it as a mordant satire of the world. The Time Lords are a bunch of harumphing old men who complain that things change too fast nowadays and Presidents don't stick around more than a couple of centuries. They gossip and engage in preening over what "chapter" they're a member of and wear silly robes of different colors to show how important they think they are. They create inane schemes and conspiracies, and when a crisis comes along worry more about public perception than about actually managing it. They are, in other words, recognizably human, and more to the point recognizably made up of at least one vision of human flaws.
But it's also a very specific vision of human flaws. The Time Lords' taste for ceremony and pomp and the derision with which Cardinal Borusa treats Runcible is enough to imply a class system, but there's no real sense that poverty or deprivation exist. There's a fleeting mention of "Shabogan vandalism" that some writers have constructed an elaborate and fanciful mythology around in what are easily some of the most astonishingly confused attempts at Marxist revolution ever contrived, but the notion of exploitation is so far outside this story's vision as to seem entirely nonexistent.
Instead the flaws of the literal Lords of Time are firmly those that a grumpy middle class Tory would see in the world. The politicians are all corrupt, incompetent, or both, and everyone is simultaneously stuck in the past and losing track of the actual meanings of things. The big giveaway here is Castellan Spandrell, who fills the companion role in the interregnum between Sarah Jane and Leela. Spandrell has possibly the least suitable job for a companion, which is to say that he's a cop. But he's a heroic cop as written by Robert Holmes, who is himself an ex-cop, and is thus essentially a self-insert: sardonic, pragmatic, and put upon. He's not so much the one honest man in a world of criminals as the one quietly competent one in a world of corrupt blowhards. It is not that Spandrell has any particular insight into the nature of the Time Lords—indeed, like Holmes he doesn't actually seem to give a fuck about their lore. He's just a basically decent guy with a good head on his shoulders.
It's worth recalling explicitly that the world of 1976 was not one in which anyone in professional television production was thinking about things in terms of "lore" and "canon" and, for that matter, "the fans." Sure, there's the famous Jan Vincent-Rudzki review of it for the Doctor Who Appreciation Society, but that group had only formed five months earlier. It wasn't something that Robert Holmes gave a flying fuck about. Nor was long-term continuity, or any question of what a future showrunner might do with these details forty-four years later. This really is just Robert Holmes using a cool "the first story set on Gallifrey" hook for larking around with the Kennedy Assassination in amidst giving Philip Hinchcliffe an answer to his "what if an entire episode was a nightmare" question.
There are things we might say about this. The underlying fascination with the Kennedy assassination is part and parcel of a turn towards conspiracy theories, which can be understood as a variation of the bartering phase of grief as applied to the end of the world. "OK, we're all screwed, but there's secretly someone in charge of it all, right?" The conspiracy theory is a furious disavowel of the nature of history—a desperate attempt to invoke a secret author to events that don't have one.
But already we find ourselves back where every other writer on The Deadly Assassin does. If we're talking about the nature of history in a story about the Time Lords, after all, we're stuck talking about lore and what it actually means to be a Lord of Time. Lord implies a sense of feudal dominion, which in turn suggests that time is a domain that is producing some good or product. There are many things this could in theory be, but the most obvious one is that time produces history. This is consistent with the ideology espoused by the First Doctor under David Whitaker, which is very protective not only of history but of the historical process.
Phil Sandifer makes some stabs in this direction that are uncharacteristically interesting. He wisely picks up on the paradox that the Time Lords keep an archive of the minds of all of the deceased Time Lords but also don't know key details of their own fundamental history like who Rassilon is and what he did. Sandifer's conclusion is that the Time Lords consider history primarily through memory, which he treats as largely a matter of individual subjectivity. This is compelling, but ultimately doesn't work. The biggest problem is that there's literally nothing in the episode or indeed history of the show up to this point that suggests an individualistic model of Time Lord society. Individualism, in fact, seems wholly antithetical to what we see. The Time Lords who forge off on their own to explore the universe and experience things are, in this story, largely forgotten: nobody has heard of the Doctor or of the Master up front, and they're certainly not infamous renegades. Even the Gallifreyan leadership seems less than individualistic: Cardinal Borusa seems to aspire to disappear into the background of the system. Chancellor Goth is ambitious and charismatic, but this leads to his being rejected as a future President.
No, for the most part Time Lord society seems engineered to protect its framework. What are shown to be important are not people but institutions—the various chapters, the pageantry of Presidential succession, etc. Perhaps most notably, the office of President is not actually one of authority: "he holds the symbols of office, but otherwise he's no different from any other Time Lord." This is difficult to square away with other lines in the episode—Borusa and Goth talk of the President making difficult decisions, for instance. And there clearly is some sense of leadership going on—Borusa demonstrably carries some sort of authority. Nevertheless, there's a sense of a government consisting purely of civil servants, carrying out functions without any political leadership per se.
This would be thoroughly impossible were it not for the conceit of the Matrix—the aforementioned archive of deceased Time Lords. What is key to realize about this technology (and what Sandifer predictably misses) is that it is as its name suggests—a composited system of brains. It is not, in other words, a matter of millions of deceased Time Lords sitting around being talked to, but rather a gestalt entity. (The giveaway here is that when the Doctor and Goth enter it, they do not end up in a series of conversations with dead Time Lords, but in a virtual world.) Its job is "monitoring and predicting" what happens in the capital. This makes some sense of the main ceremonial chamber being known as the Panopticon. The term comes from Jeremy Bentham, who proposed a prison in which any prisoner could be monitored at any time. As used in Doctor Who, the term is most often taken to refer to the Time Lords' own practice of watching events throughout space and time, but given the apparent role of the Matrix within Gallifreyan society, it can just as easily apply to the way in which they themselves can be watched at any moment by the Matrix.
The sense here, supported by the fact that Bentham's panopticon was a prison designed to make controlling the prisoners easier, is of the Matrix as a system for tightly regulating Time Lord society. And given that it is comprised entirely of the minds and memories dead Time Lords, it necessarily is a regulation with an eye on the past. Things will run the way they have always run. It's notable the extent to which this imposes a sense of stasis upon the Time Lords. Never mind their "life of ordered calm" or the fact that they've wholly forgotten how their own civilization formed because, apparently, the content of history is not as important to them as the form of it. Consider the rarely remarked upon line about how the Time Lords "turned aside from the barren road of technology." There's an overwhelming sense here that the Time Lords have cut themselves off from any notion of change or progress. Things are not supposed to advance. They're not supposed to change. The process of history is instead defined by stasis—by the fact that it does not advance, and things do not change.
The late theorist Mark Fisher famously coined the notion of "capitalist realism" to describe the sense that there is no imaginable alternative to capitalism. And while Holmes's Time Lords are not overtly capitalist, they are clearly the product of a capitalist world. Indeed, Fisher's idea can find few better representations than the Time Lords of The Deadly Assassin. Under capitalist realism, capitalism is simply a system that exists and self-perpetuates without end. It's not run by anyone, it doesn't answer to anyone, and it has no goals other than its own continued existence. And under Robert Holmes, it is not just contemporary society that runs this way, but time itself. In many ways, it is the most cynical and pessimistic vision ever offered by Doctor Who: the engine of history exists only to stay still, spinning its wheels in place, a machine stamping out endless images of itself—forever.