I write things and am nominally in charge here. Below are my most recent posts.
The bulk of my work is in a style I have, in an act of mild narcissism, named psychochronography. Psychochronography, an offshoot of the artistic concept of psychogeography. Psychogeography is a practice originally developed by the Situationist International as part of their efforts to forcibly dismantle the established social order. Psychogeography is the study of how physical spaces impact social, cultural, and personal lives. Its central technique is what is called the derivé, or drift, in which one wanders through an urban area according to some idiosyncratic logic that causes one to cut against the usual lines and paths traced.

Psychochronography applies this notion to our internal landscape. Taking seriously Alan Moore's notion of ideaspace, psychochronography suggests that we can wander through history and ideas just as easily as we can physical spaces, and that by observing the course of such a conceptual exploration we can discover new things about our world. Topics I've applied this approach to include Doctor Who, British comic books, and Super Nintendo games.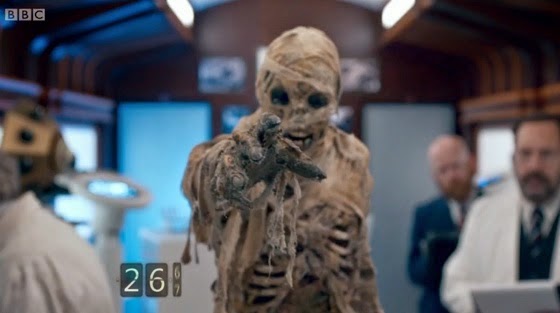 Oh no! The Doctor no longer has time to listen to all of "Minimum Wage" before he dies!
It's October 11th, 2014. Meghan Trainor is at number one with her body positivity anthem "All About That Bass." Lower in the charts are Magician, Sigma, and, yet again, Taylor Swift, who has been in with "Shake it Off" consistently since "Into the Dalek" aired. In news, Douglas Carswell wins reelection as a MP, this time as a UKIP member, while the US Supreme Court declines to hear a variety of appeals on same-sex marriage cases, making it legal in all but twenty states.
On television, meanwhile, the consensus best story of Series 8, and, for some tranches of fandom, the Capaldi era. This presents something of a problem. There's a longstanding tendency in TARDIS Eruditorum where well-liked stories come in for a bit of a kicking. Although heavily informed by my taste, TARDIS Eruditorum is not a series of reviews; it's a cultural history of Britain that uses Doctor Who as its lens and subject. (As my pitch goes these days, "you can tell a lot about what Britain is afraid of at any given moment by looking at ...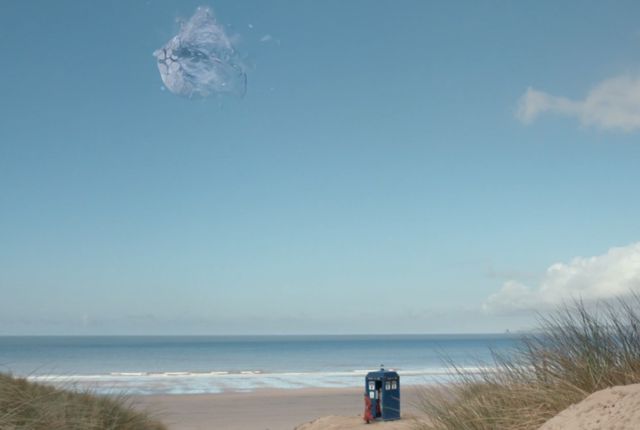 You can't make an omelet without killing a few moons.
It's October 4th, 2014. Jessie J, Arianna Grande, and Nicki Minaj are at number one with "Bang Bang." Iggy Azalea, Calvin Harris, Lilly Wood also chart. In news, protests in Hong Kong rapidly amp up as tens of thousands of people take to the streets in opposition to the proposed "electoral reforms" that would dramatically increase the Chinese Communist Party's control over Hong Kong. And the US has its first domestically diagnosed Ebola case in Dallas.
While on television, magic. I can still vividly remember the first time I watched Kill the Moon. There's a rare experience occasionally generated by art, best described as a high or altered state. It comes on as a buzzing thrum, a torrent of associations and realizations and vibrant, ecstatic sense of things coming together. This does not always correspond with greatness; one need only look to my moment of vivid and absolute certainty that Journey to the Center of the TARDIS was about to become an origin story for the Silence. But when it does come together and the work of art actually manages to pay off that thrilling crescendo of ...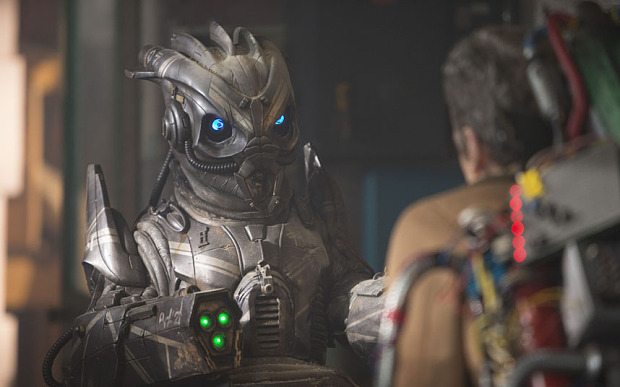 Its gender really is basically attack helicopter
It's September 27th, 2014. Sigma and Paloma Faith are at number one with "Changing," while Professor Green, Script, George Ezra, and Taylor Swift also chart. In news, the United States began intervening in the Syrian Civil War, coming in emphatically on the side of dropping bombs on a country that was already blowing itself up, while Mark Reckless, a Tory MP, times his defection to UKIP to coincide with the start of the Conservative Party's annual conference in a fairly spectacular moment of utter dickishness.
Speaking of utter dickishness, The Caretaker. Actually, let's pause for a moment. Because I should probably stress up front that I've known what I'm going to say in this entry for a while. I've been actively thinking about it since September. I've literally made major life decisions based in part on the timing of this essay. And though events in the last couple of weeks have shifted the approach slightly, it's a matter of degree. All the main points are ones I decided on a while ago. I don't know whether this fact matters, or if it should; nevertheless, it is a fact.
Anyway. The Caretaker ...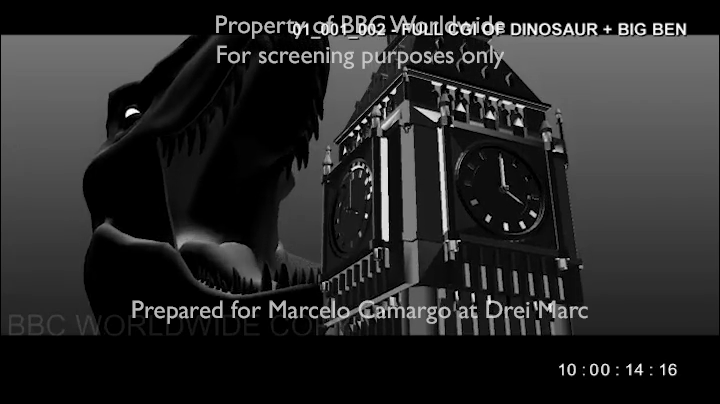 In early July 2014 it emerged that a server at a BBC Worldwide had been improperly secured and had been hacked, resulting in the leak of scripts for the first five episodes of Season Eight. A few days later it became clear that the leak was worse than it had initially appeared as a workprint of Deep Breath also appeared on torrent sites, followed, over the course of the next month and a half, by workprints of the other five episodes. The files had been prepared for a Brazil-based subtitling company called Drei Marc, and specifically for a gentleman named Marcelo Camargo who, despite having absolutely nothing to do with the leak itself, became the name most associated with it.
These thing, of course, happen, and generally speaking it's a sign that a show is popular enough to be worth hacking. And it's generally not actually a problem for the show. For all the talk of the leak being "embarrassing" for both Doctor Who and the BBC, there were no meaningful negative consequences. All five leaked episodes performed just fine, both critically and in the ratings; indeed they're among the best-performing episodes of the Capaldi era. Likewise, leak of Rose ...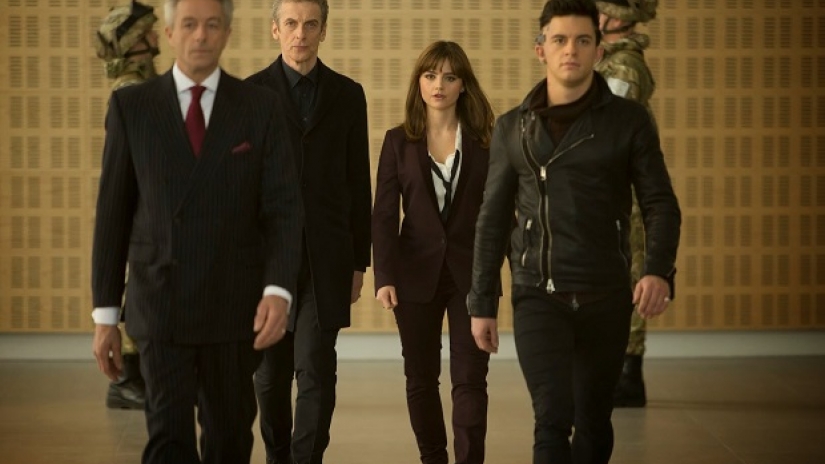 "So despite the fact that the best known heist movie is called Ocean's Eleven and you're the twelfth Doctor, they called it Time Heist."
"I don't want to talk about it. Keep slow walking."
It's September 20th, 2014. Calvin Harris and John Newman are at number one with "Blame," with Ten Walls , Chris Brown, and Taylor Swift also charting. Since Listen bowed, the main news is that after a dramatic last minute intervention in which David Cameron, Nick Clegg, and Ed Miliband issued a joint statement called "The Vow" promising further devolution, Scotland voted to remain part of the United Kingdom, to the massive relief of Cameron, who probably would have had to resign or something if he'd called a big showy referendum like that and then lost it. Microsoft paid two billion dollars to purchase the company that created Minecraft, while a man with a knife jumped the fence at the White House and made it to the East Room before being subdued, which is rather further than you're supposed to get doing that.
While on television, the Doctor robs a whole bank in Series Eight's weakest episode. There are two big things sabotaging ...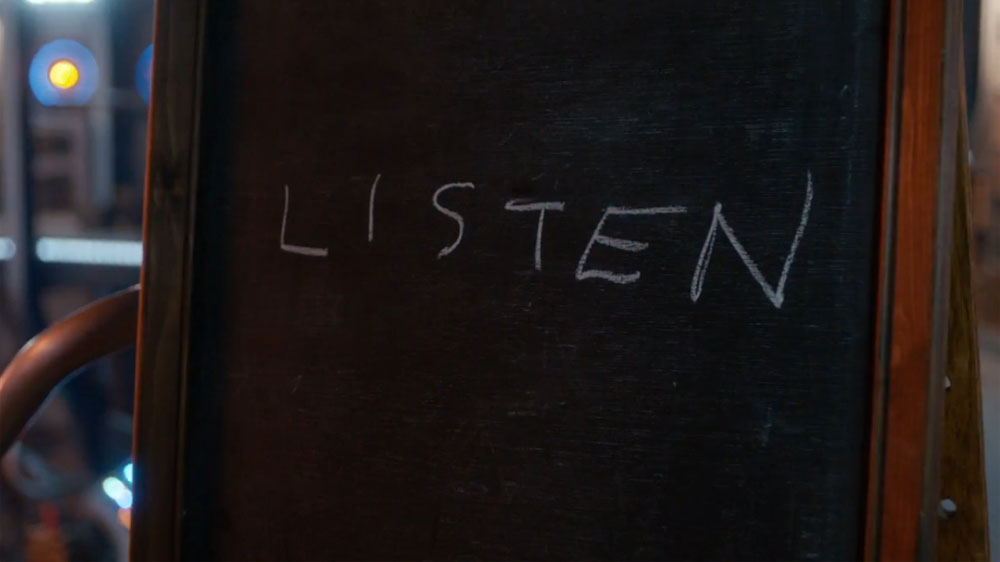 ur handwriting sux
It's September 13th, 2014. Literally; the bulk of this post is a lightly revised version of my initial review, which I cheekily declared would be its TARDIS Eruditorum entry without really considering how I'd feel about that three and a half years later. (Answer: I have some regrets, mostly about providing a satisfying experience for my Patrons, but I figured out how to address them.) Lilly Wood and Robin Schulz are at number one with "Prayer in C," while Iggy Azalea, Sam Smith, and Script also chart. In news, Oscar Pistorius has been found guilty of culpable homicide, the US has been finding a new way to announce that it's at war with ISIS, and it's down to the wire with the Scottish Independence referendum.
While on television, Doctor Who does Listen. At the moment, and I'm writing this paragraph about ninety minutes after transmission, this seems set at near universal praise. 85% rating it an 8-10 on GallifreyBase, with a staggering 42.6% giving it a ten out of ten. The immediate post-episode reviews all seem to love it. Blog and Twitter comments are raving, although people who tend not to like Moffat's stuff seem ...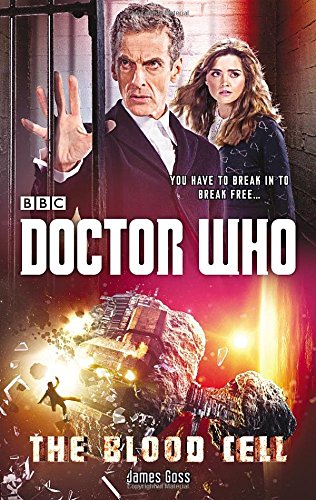 For all that the Capaldi era marks a golden age for the series, it also marked a heavy decline in the show's mass popularity. This was, contrary to paranoiacs on GallifreyBase, not a precipitous decline into crisis—the revived series has still never gone below 30th place in the weekly rankings, which puts its cultural footprint in the general vicinity of the Letts and Hinchcliffe eras. But this is still quite the falling from being the biggest show on television. And the fall is visible outside of ratings. The merchandising explosion that peaked around Series 5 had well and truly dried up by now, with only a handful of action figures for the Capaldi era ever filtering out. (So far as I can tell, Bill never even got one.) The rush of shorts that accompanied all of the Matt Smith seasons and peaked with Night of the Doctor abruptly stopped. Even the tie-in novels, which had released at a rate of at least six a season since the show's debut, dwindled to three per year. This is admittedly still three more novels than Line of Duty or Call the Midwife put out in a year (although Broadchurch turns out to have ...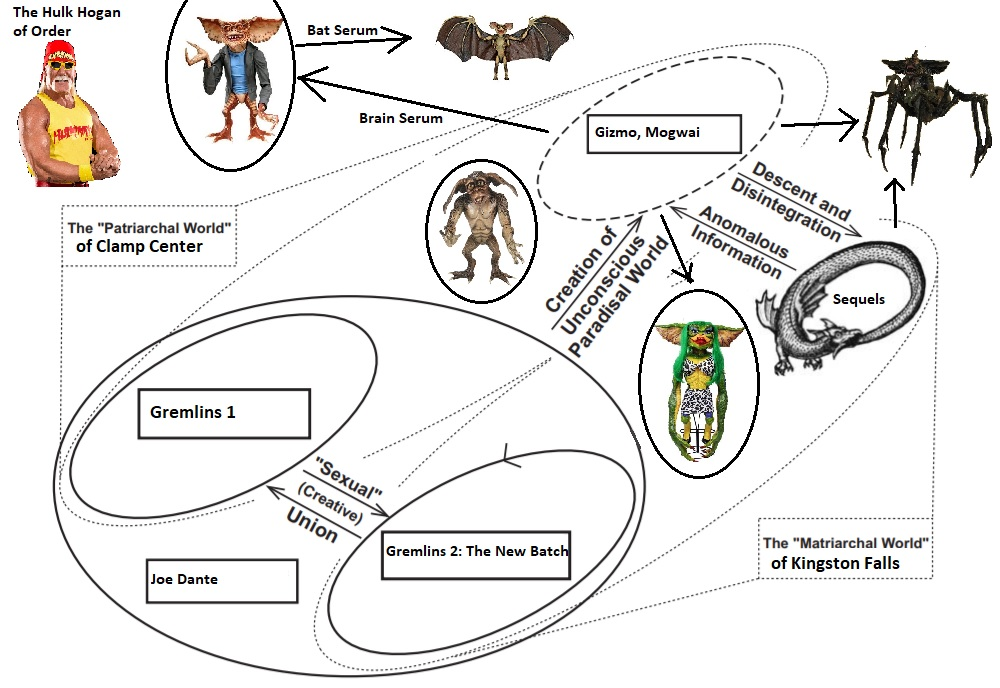 Eruditorum Press is delighted to bring you a guest post from the esteemed Institute of Gremlins 2 Studies, which easily the most intelligent and erudite voices in media criticism and indeed any field working today. You can read their output on their Twitter feed.
As the director of the Institute of Gremlins 2 Studies, I know a thing or two about pseudo-academic nonsense. I am not talking about the beloved Institute, of course, we are 100% serious about our work and hold ourselves to extremely high standards.
No, I'm talking about other academics. Especially Toronto-based professor Jordan Peterson, who has in recent months became a media sensation.
When I first set out to write this piece, I expected to be penning a vicious takedown. But after watching hours and hours of videos, I remain in awe at Peterson's accomplishment.
Never before have I encountered such a complex, intelligent, and daring work of satire. This "Jordan Peterson" character is the most cutting-edge performance art I have ever encountered. No sincere leftist commentary has ever exposed the link between seemingly banal conservativism and borderline-fascism in such an easily understandable way. This one-man-show is the bumbling Canadian answer to Laibach. As an ...